Wood Cold Pressed Sunflower Oil
Light on your heart, light on your gut
Handpicked seeds

No added chemicals

Cold pressed

No argemone oil
DESCRIPTION
Paying attention to the right things makes a difference in your life. Our sunflower cooking oil is extracted with traditional wood pressing and is a natural remedy for all your heart problems. This pure, natural oil comes from our farms, where it is sustainably grown, and wood pressed, ensuring purity and freshness every time.
View full details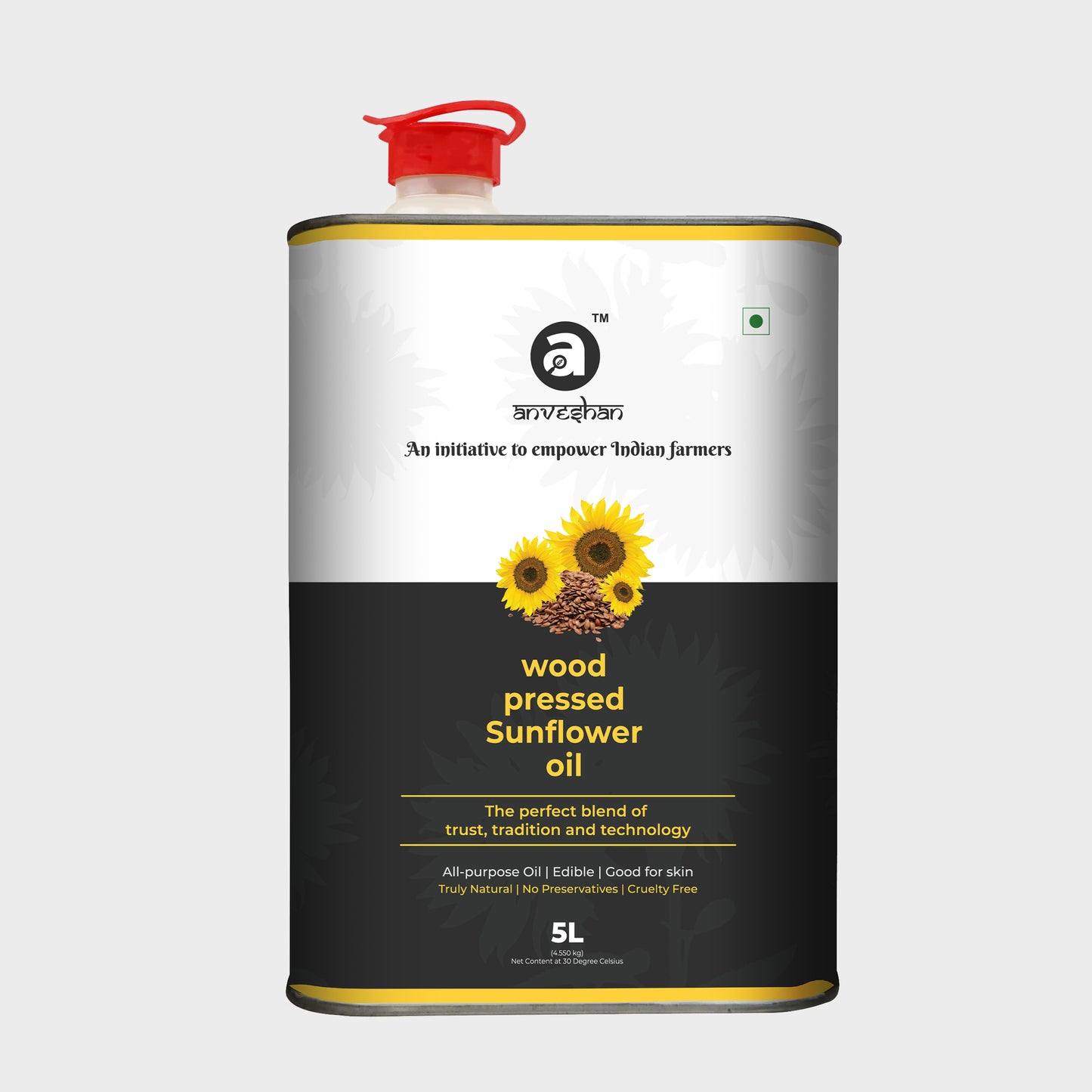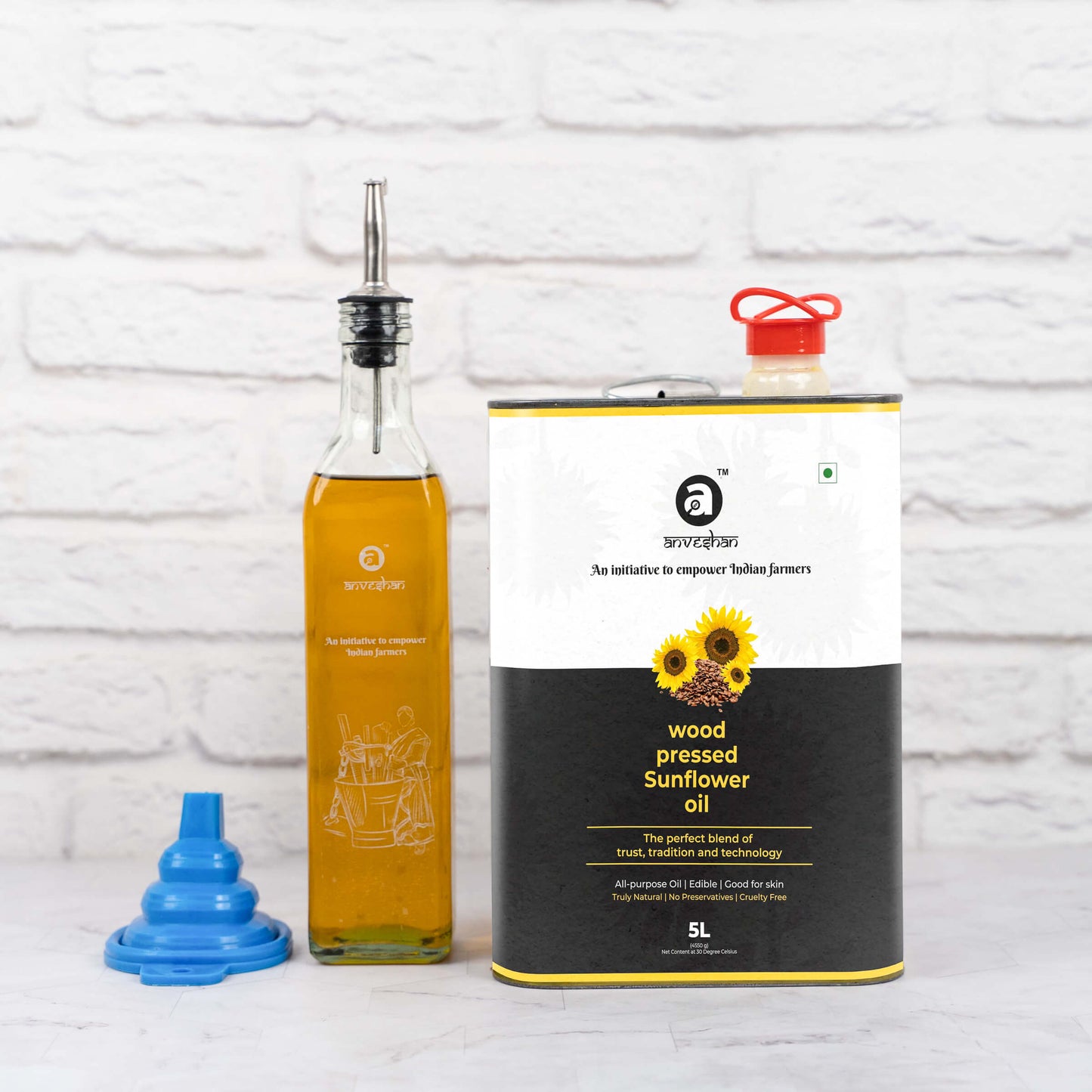 15+ Farmers Empowered

Procured from Karnataka

16 Lab Tests Done
Why it's Awesome

Journey of our Oil
We work with farmers directly and aim to produce the best quality products that are entirely natural. The oil may contain some sediments, not to worry! These sediments in your oil are a mark of cold pressed oil.
1

Ethically Sourced

We source our oils directly from farmers and offer them better prices. We also ensure fair treatment, community support, sustainable production and food quality.

2

Sun-dried

To ensure better taste and aroma, handpicked seeds are sun-dried for a few days.

3

Kolhu Pressed

The seeds are cold pressed (in wooden Kolhu) at a low temperature to maintain their high nutrient value.

4

Sieve Filtered

Then the oil is then left for sedimentation for 2-3 days. Following this, the oil is sieve filtered.

5

Quality Checks

Sunflower oil undergoes strict quality checks at our facility and conforms to FSSAI standards.

6

Packaging

It is then packed in a bottle/tin only when it clears all the mandatory tests.
Heart-friendly

It is rich in monounsaturated and polyunsaturated fatty acids, making it wholesome and heart-friendly.

Rich in vitamin E

The best source of vitamin E that keeps your circulatory system running smoothly.

Anti-inflammatory

It acts as an anti-inflammatory agent that works wonders for irritated, dry skin and assists in retaining the moisture better.

Aids digestion

It is light, easy to digest, and has mild laxative properties that make it good for digestion.

Keeps you energised

It has more unsaturated fats that energise you, boost metabolism and enhance healthy body functionality.

High Smoke Point

It is an ideal and safe choice for frying, roasting, baking, and grilling dishes.
All-in-one Solution

Cooking Oil
Perfect for making all kinds of veg & non-veg food as it adds a fantastic flavour to your dal and curries.

Skincare
It acts as a natural moisturiser for dry and sensitive skin. Vitamin E

Frizz Control
It works as a conditioner and softens dry and frizzy hair.

Deep Frying
It is ideal for deep frying and high heat roasting due to its low absorption and high smoke point.

Carrier oil
You can mix any essential oil you choose for added skin benefits or an enhanced scent.

Grease pan
You can use sunflower oil to grease or coat your pan or kadhai to ensure your dishes do not stick while you cook them.
Frequently Asked Questions
What is the difference between refined and cold-pressed oils?

Refined oils are colourless, odourless and flavourless fluids. The regular refined oils are extracted using solvents and grinding at high speed, which can generate heat up to 100°C, which degrades the oil's taste and nutritional composition. Trans fats are produced in this process, unfit for your heart.
While our cold-pressed oils are extracted through pressing and grinding seeds below a temperature of 50°C, though it is a slow and time-consuming process, they retain their natural flavour, aroma, and nutritional value. They are high in antioxidants and vitamins and contain good fats for a healthy heart.

Why are Anveshan cooking oils expensive?

Anveshan offers premium quality oils cold-pressed in wooden Kolhu by crushing raw seeds/nuts and forcing the oil through pressure. Our oils are also "First pressed," meaning that the seeds/nuts were crushed and pressed only once. As a result, the oils are unrefined, unbleached, and, most importantly, natural.
Oil extracted in this way retains its genuine flavour, aroma, antioxidants, and nutrients. It does not alter the properties of the oil and makes them great for cooking.

What type of cooking is it suitable for?

Sunflower oil has a light taste and appearance and is non-volatile all-purpose cooking oil. Its high smoke point stands up well to heat and is suitable for deep frying. It is also used in low-heat cooking methods like in sauce or as an ingredient in sunflower seed butter.

Is it safe to use sunflower oil on the skin?

Sunflower oil is among the most abundant sources of Vitamin E that can help protect skin from free radicals and the adverse effects of the sun. There are many ways you can use sunflower oil on your skin and obtain vitamin E's benefits for the skin.
Our sunflower oil is pure, chemical-free and safe to use. However, as a precautionary measure, we recommend trying a patch test.

How does it taste and smell?

It has a mild flavour and aroma with a subtle fatty taste, that is more pronounced in unrefined, cold-pressed sunflower oil. We assure you there is no added flavour or chemicals.
Wood Cold Pressed Sunflower Oil
Sunflower oil
Very genuine oil , filling very light ,my family liked the oil . only price point could be less.
Sunflower oil
Excellent but too expensive
Wood Cold Pressed Sunflower Oil
Packaging
I received package with oil leakage and unable to open lid(it was stuck inside) as per instructions provided on tin.