Assorted Raw Honey Gift Box
100% Pure

Unprocessed

No added sugar

Cruelty-free
DESCRIPTION
Because one is not enough! So, enjoy four flavours of raw and natural honey sourced directly from certified beekeepers of India. Our honey is prepared following safe, hygienic practices, following quality standards and lab tested before they are packed. Each honey has its distinctive yet fantastic taste and fragrance, which makes it difficult for you to choose.
View full details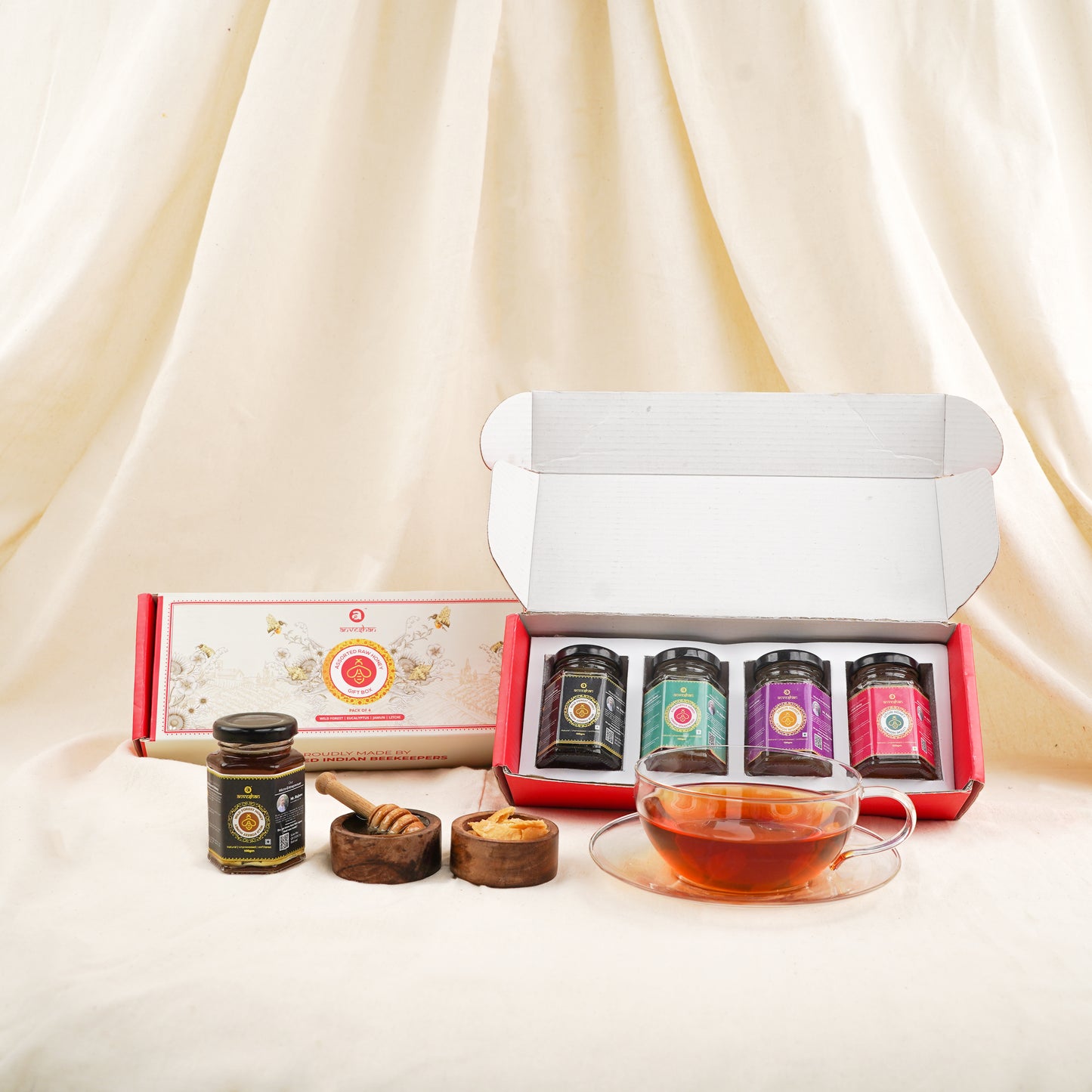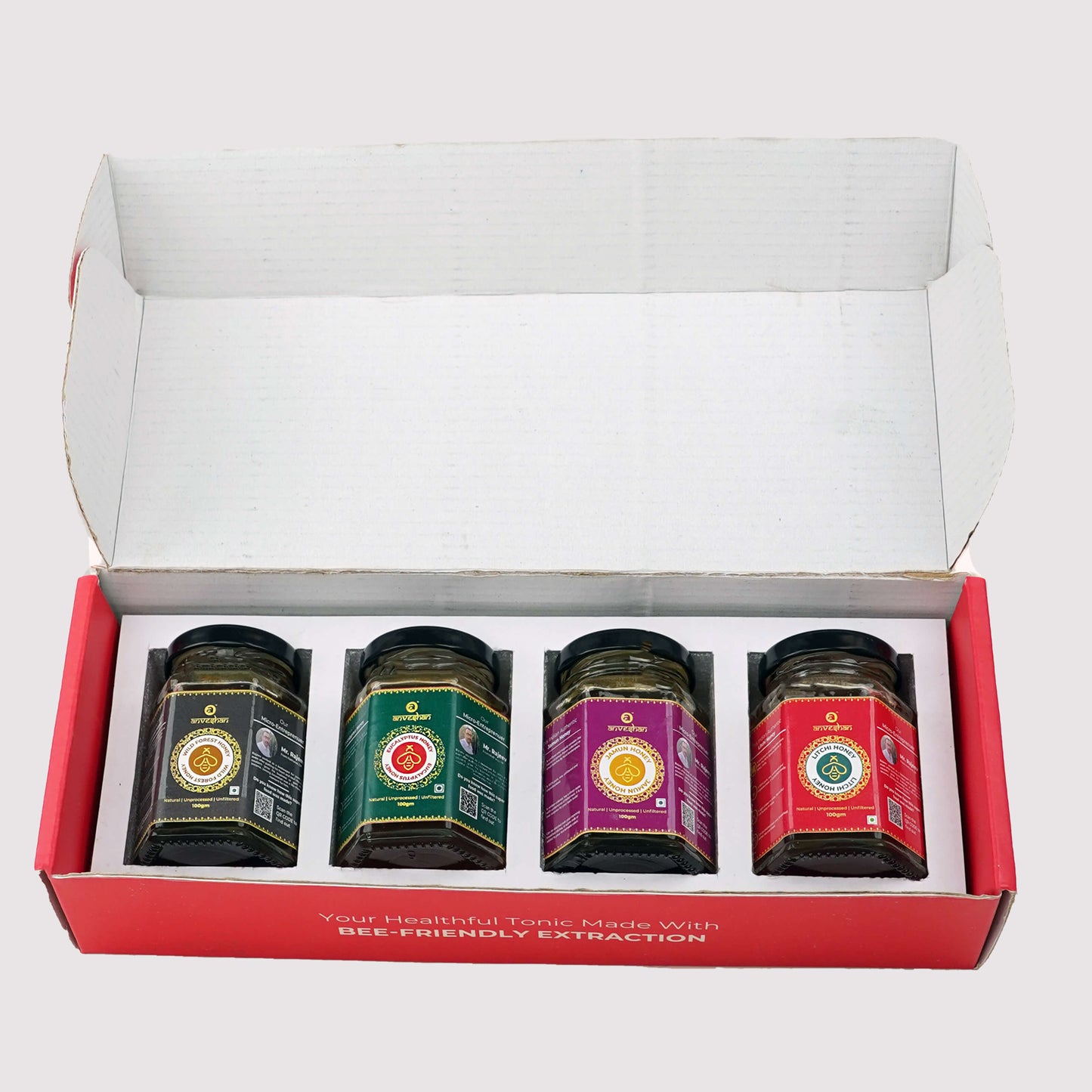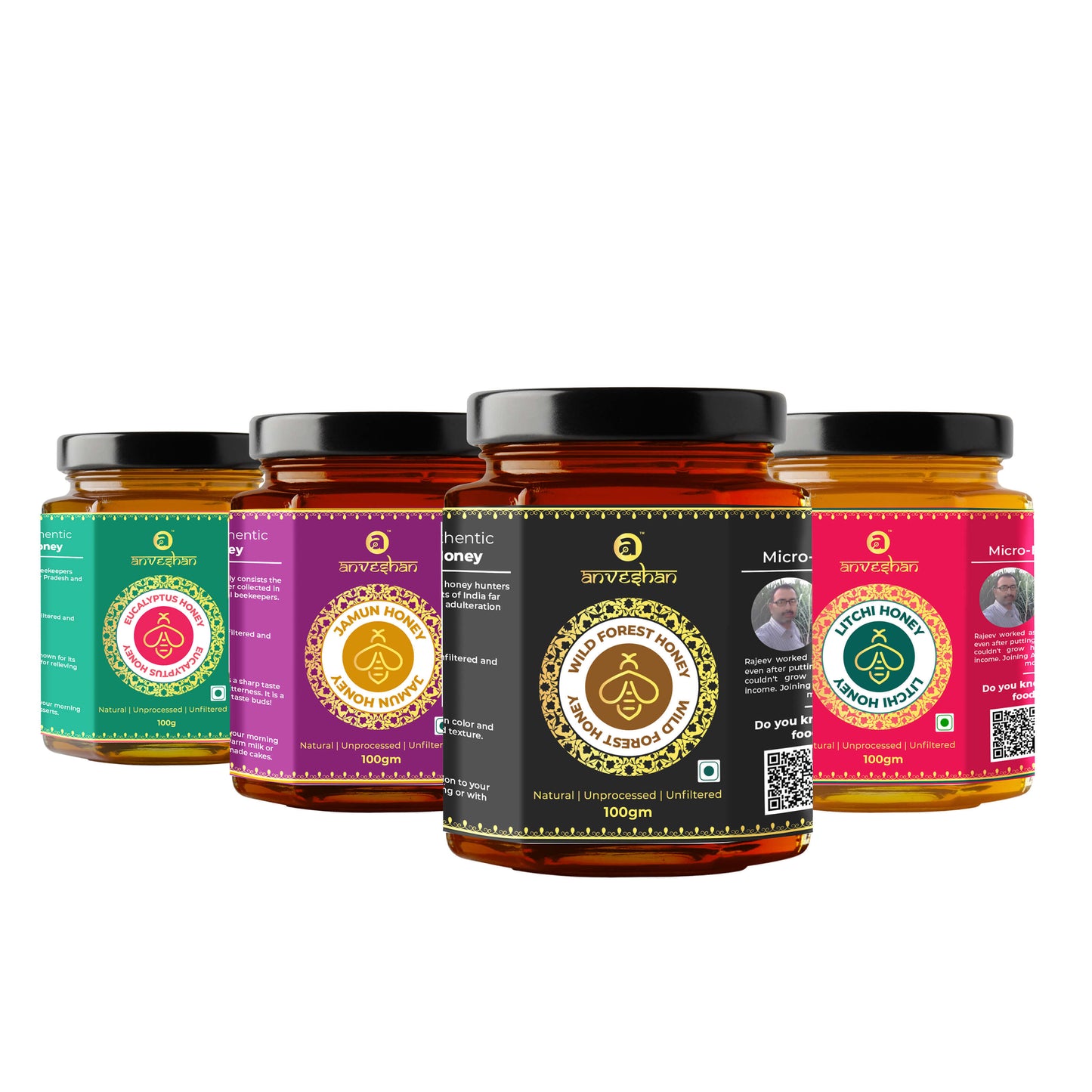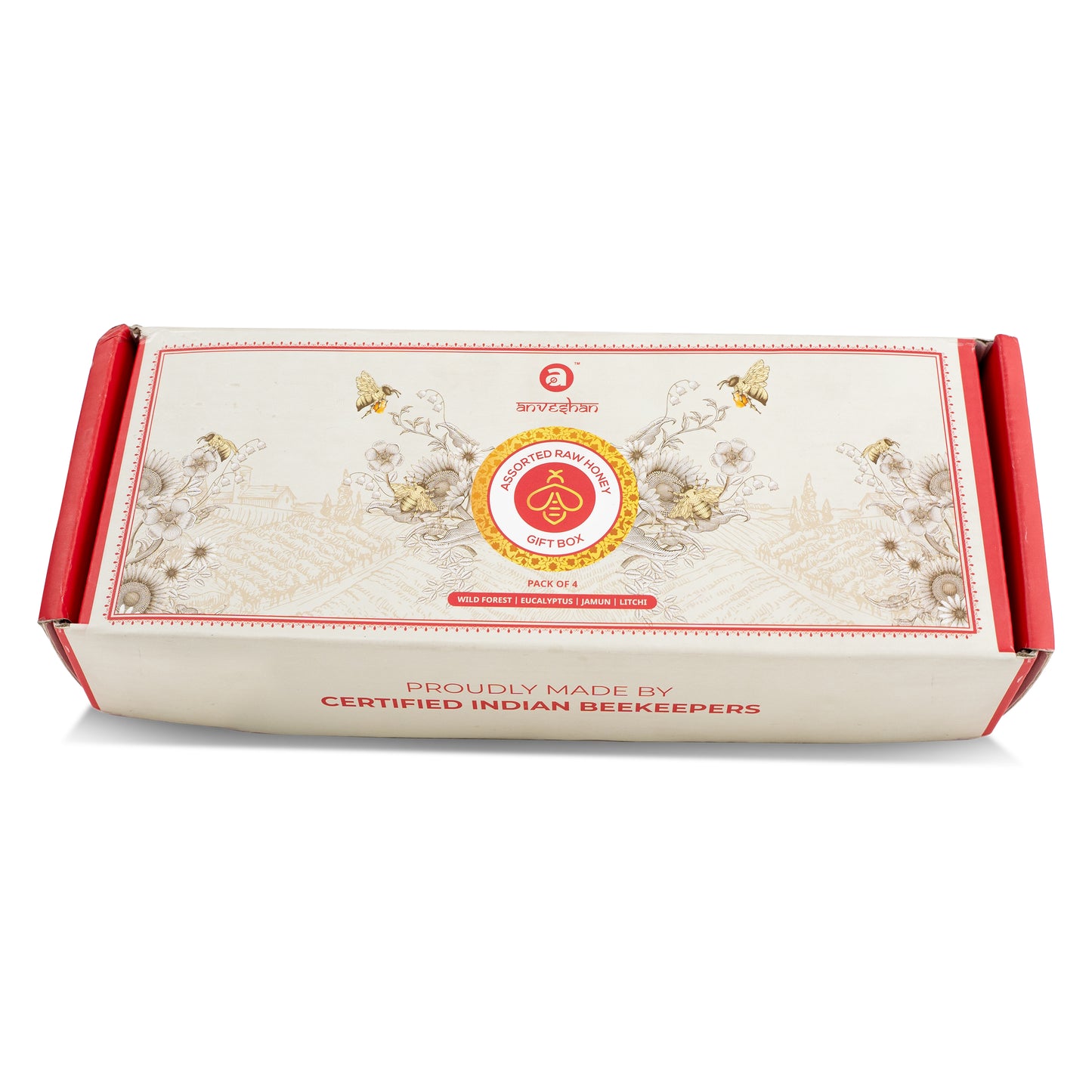 What's in it

Litchi Honey
Prepared from litchi blossom nectar, has a buttery delightful flavour and aroma.

Jamun Honey
With its mild and sweet flavour, it is often known to calm the mind and completely relax the body.
Eucalyptus Honey
It has a refreshing medium-sweet taste menthol flavour that is, fulfilling and soothing to your throat.

Wild Forest Honey
Collected from the beehives located in the deep forests, it is the by-product of the nectar of surrounding natural flora.
How to use it?

Skincare
Apply a spoonful of honey over your face and rinse with water.
Weight Loss
Have honey with warm water on an empty stomach in the morning.

Smooth Hair
Mix honey and warm milk, apply to your hair and rinse with shampoo.

Cures Cough
Boil ginger, and tulsi, clove in water, strain it, and add honey. Kadha is ready!

Soothe Burn Marks
Wash the wound with water and apply honey over the burn.

Drizzle on Dishes
Garnish your pancakes, smoothies, cereals, and breakfast bowl.
Know how our honey is made by our founder
Frequently Asked Questions
What is the difference between raw honey and regular honey?

Raw honey can be described as honey that exists as it is in the beehive. It retains the beneficial enzymes, nutrients, and antioxidants found in bee pollen that can help support your immune system.
On the other hand, regular honey undergoes both pasteurisation and filtration before bottling. This removes the natural aroma and harmful enzymes present in the honey.

Do you add flavour to your honey?

No. The flavour of our honey variants comes from different nectar that the bee collect from their surrounding flora. We offer raw honey without adding sweeteners, chemicals, or preservatives.

For how long can I keep my honey?

If you store your honey correctly and away from direct sunlight, it can last long. Make sure to use a dry spoon to scoop the honey to keep it well.
Assorted Raw Honey Gift Box
Awesome...Great Taste and pure
Its really very good. Good in taste and best part is very pure.
Assorted Raw Honey Gift Box
It's wonderful taste
The honey is distinct from the market available product, and appreciate the effort of Anveshan in bringing such natural product at our doorstep.
Dear Binjal,
Thank you!!!
Sneak peak into the healthy world