Aloe vera and Coconut oil are skin superfoods! When you want your mood to be good, you eat healthy food. Well, if you want your skin to feel good, feed your skin healthy food.
Aloe Vera for Skin
Aloe vera is used as a topical gel. The inner raw pulp or parenchyma tissue of Aloe vera approximately contains 98% water which easily gets absorbed into the skin and keeps it hydrated. The remaining 2% contains water-soluble and fat-soluble vitamins, minerals, enzymes, and other complex carbohydrates, making it an effective skin moisturiser and pain reliever.
Aloe vera helps to heal and protect the skin at the cellular level. It has anti-inflammatory properties which are great for acne and eczema. It has been traditionally used for minor cuts and small abrasions as an antiseptic.
Benefits of Aloe Vera and Coconut Oil on Skin
Aloe vera is a source of natural treatment of various skin ailments and coconut oil is the best natural source of saturated fats which is essential to maintain skin health. When paired, it's a hydrating powerhouse. Let's discuss some of the major benefits of aloe vera gel with coconut oil on the skin.
Dry skin
The mixture is great at hydrating and has amazing healing properties to repair dry skin. This mixture also rejuvenates skin cells and removes the dead cells.
Inflammatory Acne
It has anti-inflammatory and anti-fungal properties which protect the skin from acne. It also decreases itchiness and redness with a cooling effect.
Sunburn
This mixture is great at removing sunburn from the skin. The sunburn affected area becomes dry and itchy, coconut oil helps in restoring moisture and helps you get rid of dryness and itchiness caused by sunburn.
Skin whitening
Using Aloe vera gel with coconut oil for skin whitening has major beneficial effects. Since both coconut oil and aloe vera are rich in vitamins and minerals, their combination gets easily absorbed in the skin, removes dead cells, and rejuvenates the skin cell. Hence, this mixture exerts a skin-whitening effect.
Anti-ageing
Coconut oil and aloe vera reduce wrinkles, lines, and dark spots. It helps in cell rejuvenation and production of collagen in the body, which reduces the sign of skin ageing by helping in skin tightening and increasing skin elasticity.
3 Ways to Use Aloe Vera and Coconut Oil for Face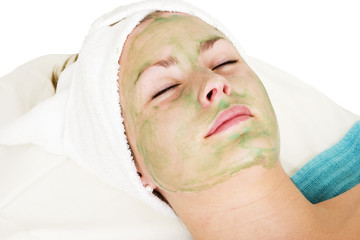 Let's enjoy the benefits of these two superfoods by using them as:
1. Aloe vera and coconut oil face mask
Ingredients:
1 tablespoon of virgin coconut oil
2 tablespoons of aloe vera gel
(It's recommended to keep the ratio 1:2 for the above ingredients)
How to:
Mix aloe vera gel and coconut oil in a bowl to get spreadable consistency, making sure the mixture is not too runny.
You can use your fingers or brush to apply the mask evenly to your face
Wait for 5-10 minutes but do not let it cross 20 minutes as it may irritate your skin.
Rinse it off with lukewarm water and pat it dry.
Apply your regular moisturiser.
2. Aloe vera and coconut oil scrub

Ingredients:
½ cup virgin coconut oil
½ raw or white sugar
¼ cup of pure aloe vera gel
How to:
First, take sugar into the bowl and add coconut oil to it, mix them well. Pour some pure aloe vera gel and blend it. Put it in the fridge for 5-10 minutes or enough time for it to blend completely. To use, gently scrub the mixture on your face in upward circular strokes taking notice of the nose, upper lip, and chin where you have to use criss-cross strokes. Apply it for at least 10-15 minutes while avoiding your eye area. Rinse it off with water and apply moisturising cream on the face.
3. Aloe vera and coconut oil face cream
Ingredients:
1 cup aloe vera gel
½ cup coconut oil
2 tablespoons jojoba oil
1.5 tablespoon beeswax pastilles
5-8 drops of nontoxic essential oil
How to:
Heat coconut oil, beeswax, and jojoba oil in a double boiler. Stir it so that it blends perfectly.
Put the mixture into a blender and let it cool down (it may take 1-1.5 hours).
Start the blender at low and add aloe vera gel into it. Keep blending it until light, fluffy texture forms.
Then blend 5-8 drops of essential oil. Wait for 5-10 minutes and then put it in a jar.
To use it for a longer period you can store it in a fridge, but maximum for 3-4 months.
Which skin type coconut oil and aloe vera are best suited?
This combination is best suited for dry skin as both ingredients are super moisturising agents. It helps in maintaining skin pH levels and improves hydration in the skin.
But to your surprise, it is good for oily skin too. As it clears flaky skin caused by oily patches and as it easily gets absorbed it removes pore blockage due to excess oil.
Risk and Warning
There is nothing that fits for all. Some people are allergic to aloe vera who may feel redness, irritation, and swelling by its application. For some people, it's a great moisturiser but to some, it may have clogged their pores. 
So, before you use any new substance on your skin, do a patch test on your wrist, behind your ear, or upper arm.