The natural goodness of coconut oil combined with a host of beneficial properties like Aloe Vera gives your hair strength and sheen you always wished for. 
Benefits of Aloe Vera with Coconut Oil for Hair
Aloe vera gel with coconut oil have exceptionally known health-promoting properties, making sure of the various benefits they provide to your hair. Major benefits of aloe vera and coconut oil are:
1. Makes hair silky and soft
It has proteolytic enzymes and high content of proteins, vitamins, and minerals to nourish hair follicles. It also has high smoothing and moisturising properties to control frizzy and dry hair. All of these lead to silky and soft hairs.
2. Strengthen and repair the hair
They are rich in conditioning properties. Aloe vera has healing enzymes which repair the dead skin cell and anti-fungal property to maintain the healthy scalp. Together with coconut oil, it removes dullness from the hair by repairing and strengthening the hair.
3. Removes dandruff
Aloe vera and coconut oil for dandruff are known traditional ingredients.
The skin cells on the scalp constantly renew themselves by pushing away old cells. This process is called flaking. This flaking is accelerated in times in case of a person suffering from dandruff adding itchiness to it.
Dandruff is caused due to a fungus called Malassezia globose.
The anti-inflammatory action of aloe vera and coconut oil reduces scalp irritation and anti-fungal properties protect against flaking and Malassezia globose.
4. Deep cleans oily hair
Excess oil on the scalp blocks the hair shafts from getting essential hydration and moisture. Aloe vera cleans the oil gently and coconut oil maintains the moisture and level of hydration, unlike other harmful chemicals.
5. Boost hair growth
Aloe vera has vitamin A, C, and F which contribute to cell turnover, and vitamin B12 and folic acids keeps your hair from falling. Coconut oil has fatty lipids that protect the hair from breakage and thinning by strengthening hair cuticles. Hence, aloe vera and coconut oil for hair growth are a must because the hair breakage and loss slow down which leads to thick, strong, and long hair.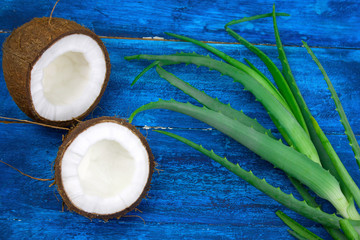 Is best suited for which hair type?
There is no such specification available to point out which hair type is best suited for coconut oil and aloe vera. But some of the recommendations are available by hair care professionals, who suggests that it's best for:
Oily hair
Dry and frizzy hair
Curly hair
Why? Because this combination smooth natural curls, reduce frizziness, detangle hair and act as a natural conditioner.
DIY-How to use Aloe vera and Coconut oil for hair?
The best way to use aloe vera and coconut oil for hair is by making a hair mask. A hair mask is a live-in treatment that provides enough time for intense healing and repair than other usual hair care routines. You can even put aloe vera and coconut oil for hair overnight.
DIY- Aloe vera gel and Coconut oil for hair mask
Ingredients:
2 tablespoon of aloe vera gel (fresh or store-bought)
1 tablespoon of coconut oil (virgin coconut oil at room temperature)
Directions:
Add aloe vera gel and coconut oil into a bowl and stir them together until they form a smooth, blended paste.
Put a towel around your neck to protect your clothing.
Divide long hair into sections.
Start applying the mask from mid-shafts towards the hair tips. Make sure to coat your hair properly with the mask.
Then you go back to the scalp and start gently applying it while slowly massaging it with your fingertips. Make sure you do not scratch your scalp especially if you are applying the mask to treat dandruff.
After applying the mask take a wide-toothed comb to untangle your hair. This will also help the mask to spread evenly.
Cover your head with a shower cap, plastic wrap, or towel so that it keeps your hair from drying out. This is comfortable also as the mask won't drip.
You can leave the mask from 30 minutes to 60 minutes depending on the hair type and need. 
Rinse off the mask making sure to wash aloe vera completely out of your hairs.
Use it once a week for boosting your hair health.
FAQs
Which Aloe vera is good for hair?
The best form of aloe vera for hair is the raw gel of the plant. You can scoop it out from live plant leaves. You can apply it directly or you can store it in the refrigerator for a day or two. The gel is clear in color and slightly watery.
Be cautious – Is there any risk associated with Aloe vera?
Though people apply aloe vera gel directly to their hair considering it safe but to some people it may be allergic.
So, if you haven't used aloe vera earlier then it is a must to do a patch test. If there is no redness, itching, or swelling within a few hours, it is good to go.
Purchase Anveshan's 100% Pure Coconut Oil