Coconut oil has been known for its health-promoting benefits, but in fact, several studies state that coconut oil is good for skin health as well.
Coconut for Skin
Coconut oil is traditionally made by extracting the oil from raw coconuts. It has been applied directly on the skin for many years as it is rich in medium-chain fatty acids, especially lauric acid, which reduces inflammation, keeps skin moisturised, accelerates healing, improves antioxidant status, and many more.
COCONUT OIL FOR FACE
Is coconut oil good for your face? Definitely, yes. It has numerous benefits, some you might as well know. Let's discuss some of the many benefits it offers.
Benefits of applying Coconut oil to your face
There are many ways of applying coconut oil to your face. Add it to your everyday skincare to reap the benefits.
Add 2-3 drops of coconut oil on a cotton pad and use it to clean your face. Allow it to penetrate your skin. It helps in dislodging the impurities and dirt from the skin without irritating and drying the skin.
Just before bedtime, take 1-2 drops of coconut oil in your palms (you can rub it between the palms to warm it if needed) and massage your face and neck in a circular motion. It's recommended to leave it overnight when your skin is not oily or acne-prone.
Put some oil in your hands enough to cover your face and neck. Rub it between your palms until it warms. Apply it on uneven tone skin and massage it until it gets absorbed. You may leave it overnight or wash it off and follow your daily skincare routine.
Add coconut oil, vitamin E oil, and other essential oils in a small mixing bowl. Stir them well and pour the mixture into a container with a lid. Let it sit for a while. Hence, the natural moisturiser is ready.
So, now whenever you want to moisturize your skin just open the lid of the container, take enough mixture to cover your face, and gently rub it in upward circulation. Pay close attention to slightly damp skin as coconut oil is good for dry skin.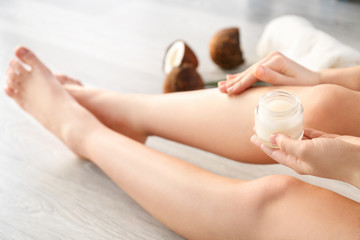 COCONUT OIL FOR ACNE
Coconut oil for pimples is a great idea. The lauric acid present in coconut oil can kill the bacteria that cause pimples. Coconut oil for face acne not only heals the skin but also prevents it from scarring. Exfoliating and cleansing are easier with coconut oil because saturated fats soothe irritation and inflammation with a moisturizing effect.
Benefits of Coconut Oil for Acne
Helps kill bacteria:

it has anti-fungal and antimicrobial properties which kill bacteria causing acne.

Betters acne scars:

yes! Coconut oil for scar is even used traditionally as it has fatty lipids with healing properties

Acts as a natural sunscreen:

acne prone skin needs to be prevented from sun. Coconut oil has an SPF of 4-5 which is enough for a few hours of sun exposure. So, this natural sunscreen not only protects against UV rays but also clears the suntan.

Works as a skin moisturiser:

it is rich in saturated fat, which provides enough moisture to the skin and It repairs dry and flaky skin.

Reduces Sebum production:

coconut oil has a high moisturizing property which reduces sebum production to maintain the oil balance.
Can you apply coconut oil on your face overnight?
Putting it in two words ─ Bad Idea. If you have oily skin, using coconut overnight might cause pore-clogging, which leads to blackheads, whiteheads, or pimples.
An overnight treatment is used to maximize the time of usage so that coconut oil gets completely absorbed providing a high moisturizing effect, which is beneficial for dry, chafed, or flaky skin. In the case of oily skin, this much time for moisturization is not required as it may end up adding on pore-clogging.
COCONUT OIL FOR LIPS
Apply a few drops of coconut oil to your lips while dabbing it with your fingers until the oil sets. You can repeat this process throughout the day.
Coconut oil on lips overnight
For an overnight treatment add honey with coconut oil in the same ratio. Apply to your lips and rinse it off in the morning.
Benefits of coconut oil on lips
Lips are particularly sensitive to moisture loss and moisturising is what coconut oil does which makes it ideal for dry lips. It's known that coconut oil has a skin-lightening agent that clears up the dark lips and adds a natural tint to them. Plus, coconut oil for chapped lips is best due to its healing properties.
COCONUT OIL FOR EYEBROWS AND EYELASHES
Soak a clean finger in cotton oil to cover the eyebrow thoroughly. Gently spread the oil in the direction of the hair growth. Leave it overnight and wash it off in the morning with lukewarm water.
The same applies to eyelashes. Take a small amount of oil by dipping your index finger (or you can use an eyelash brush or mascara wand), close your eyes, and gently rub the oil along your lash lines.
Coconut oil reduces the protein loss in hair, which leads to the ability to prevent breakage. Reducing breakage could result in fuller eyebrows and eyelashes.
It is a natural moisturiser and penetrates the hair better than other oils which translate to stronger and healthier eyebrows and eyelashes.
COCONUT OIL FOR DARK CIRCLES
Wash your face and pat it dry. Take about a teaspoon of coconut oil and gently massage it in a small circular motion towards the nose and then reverse it. Massage at least for 30 seconds under each eye. Let it absorb or you can keep it overnight.
Coconut oil can help cell turnover, leads to skin thickening, and acts as a skin lightening agent. If dark circles are caused due to bruising or damage, it can accelerate the healing process due to the presence of lauric acid which also has antimicrobial properties.
COCONUT OIL FOR BODY MASSAGE
Before you hop in the bath, take a mixture of coconut oil and essential oil and warm it between your hands. Beginning at your feet towards your face start massaging your entire body with upward strokes. Massage your joints and stomach in a circular motion. Wait for 5-10 minutes to let your skin absorb the oils and then rinse off extra oil in the shower. Coconut oil for face massage has the same process as above.
Coconut oil body massage is intended to stimulate circulation and calm the nervous system. It has anti-bacterial, hydrating, and healing properties to repair the skin. Also, it is rich in vitamin E and loaded with antioxidants that slow down skin ageing.
How to use coconut oil on the skin?
Coconut oil is solid at room temperature, but when heated it gets easier to apply directly on the skin. The oil has a special therapeutic and healing property that's why it has found use everywhere, especially for the skin.
BRING SALON AT HOME
Exfoliate Scrub
Exfoliating is the process of removing the top layer of dead skin cells. It helps in preventing acne. Make an exfoliating scrub at home.
Mix 1 tablespoon of sugar with 1 tablespoon of coconut oil.
Gently scrub it over your face. Avoid your eye area.
Scrub for at least 10-15 minutes daily, maximum one time per day.
Spot Treatment
Spot treatment is the process in which acne-fighting ingredients are directly delivered to the spot of the offending blemish. Here's an inexpensive treatment for you.
Melt 2 tablespoons of coconut oil
Add 2-3 drops of tea green oil as it can be harsh and drying on sensitive skin but, when paired with nourishing and anti-fungal coconut oil. Perfectly dries out pimple for a quick fix
Mix it well. Take a cotton bud (Q-tip), dip it into the mixture, and apply it directly to the blemish. Similarly, do it in all the affected areas.
Wash it off with water first and after that, use your face wash to clear excess oil. Use your regular moisturiser.
Face Mask
Face masks are important to hydrate your skin, remove excess oil, relax inflammation, provide enough time for healing, and improve pore appearance. Let's see this easy-to-go face mask!
Mix 2 tablespoons of coconut oil with 1 tablespoon of baking soda to form a paste.
Apply directly on the face, focusing on the areas where acne is more common.
Be careful that you do not allow this mixture to enter your mouth or eyes.
Leave it to dry for 10-15 minutes.
Wash it off with cold water and pat dry.
Which is the best Coconut oil for your skin?
Make sure to choose pure and natural coconut oil without any chemicals, and should be unrefined and processed at a minimal temperature. You can either pick virgin coconut oil for skin (made from fresh coconut meat) or wood-pressed (made from dry coconuts or copra).
Virgin or wood-pressed coconut oil is a comparatively more inflammation-reducing antioxidant than refined coconut oil.