Wood Cold Pressed Yellow Mustard Oil
Mustard the art of cooking!
100% natural

No artificial flavours

Cold-pressed oil

Gluten-free
DESCRIPTION
Our Yellow Mustard Oil is loaded with nutrients essential for your wellness and suitable for your meals. The handpicked seeds are extracted through a cold-pressed oil process, so our oil adds an incredible taste to your food without compromising health. A tinge of this sarso oil will awaken your sense of smell.
View full details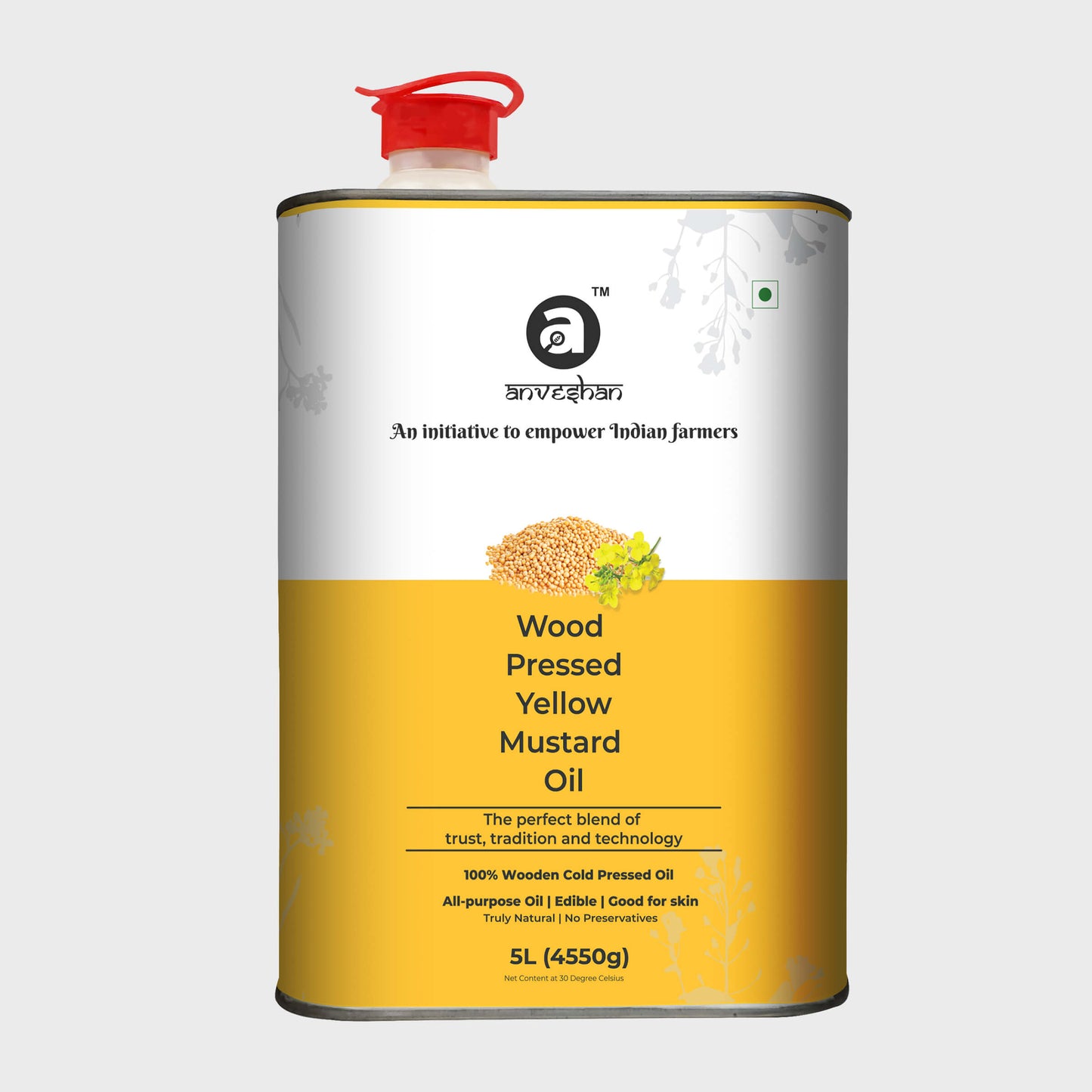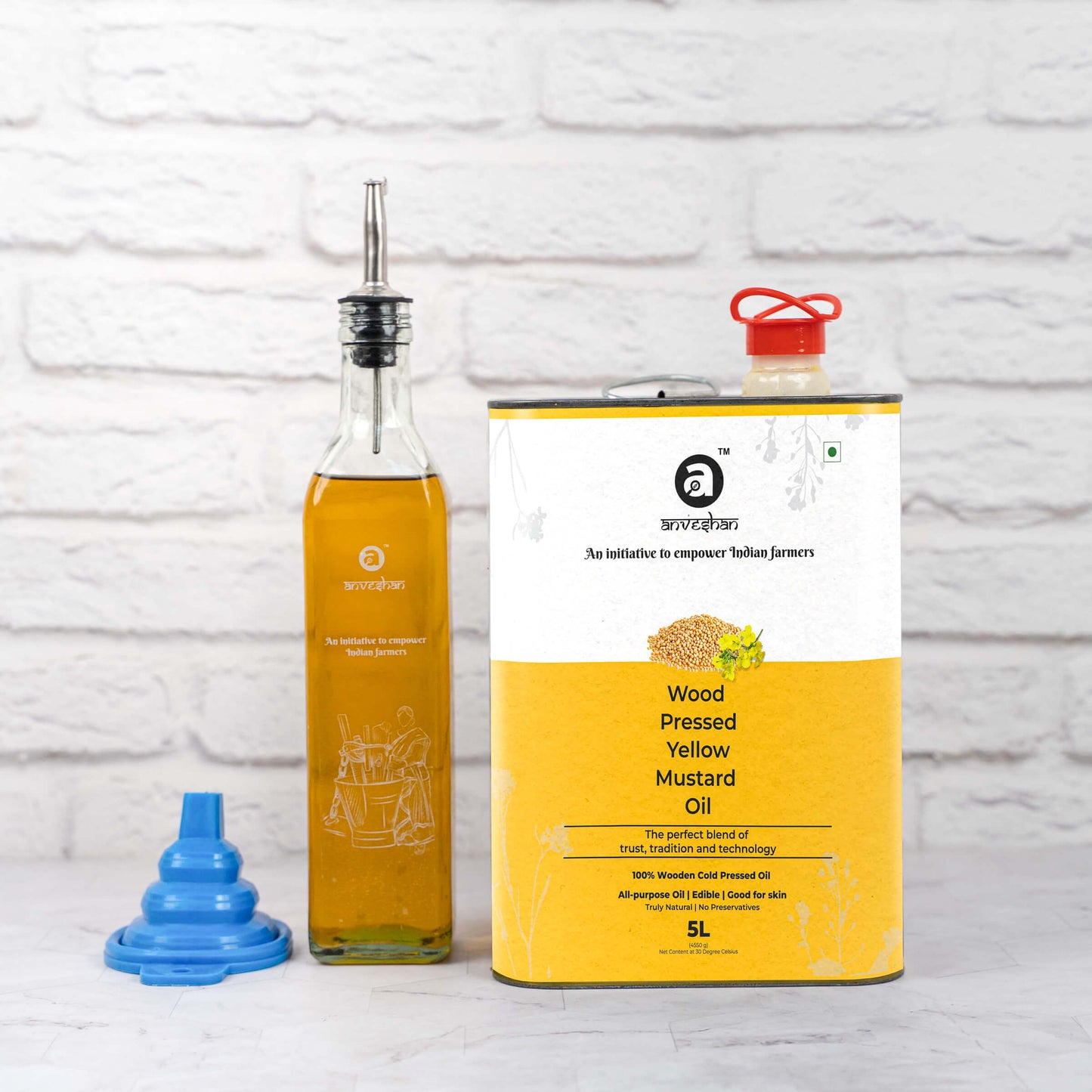 150 Farmers Empowered

Procured from Rajasthan

23 Lab Tests Done
Why it's Awesome

Journey of our Oil
We work with farmers directly and aim to produce the best quality products that are entirely natural. The oil may contain some sediments, not to worry! These sediments in your oil are a mark of cold-pressed oil.
1

Ethically Sourced

We source our oils directly from farmers and offer them better prices. We also ensure fair treatment, community support, sustainable production and food quality.

2

Sortex Cleaning

The yellow mustard seeds are sorted and selected on the basis of their size and colour to ensure better taste and aroma.

3

Kolhu Pressed

The yellow mustard seeds are cold-pressed (in wooden Kolhu) at a low temperature to maintain their high nutrient value.

4

Sieve Filtered

Then the oil is then left for sedimentation for 2-3 days. Following this, the sarso ka oil is sieve filtered.

5

Quality Checks

Yellow mustard oil undergoes strict quality checks at our facility and conforms to FSSAI standards.

6

Packaging

After clearing all the mandatory tests, it is then packed in a bottle.
Nutrient-rich

Rich in dietary fibre, protein, calcium, iron, selenium, and omega-3 fatty acids, mustard oil is good for health.

Heart-healthy

It has MUFA and PUFA fats that reduce the bad cholesterols and increase the good ones. Thus it reduces the risk of cardiovascular diseases.

Helps Metabolic Processes

An excellent source of magnesium and phosphorus, it contributes to the metabolism of carbohydrates, protein, and fats in the body.

Good for Bones and Teeth

The presence of calcium, phosphorus, manganese and magnesium promotes the growth and development of bones and teeth.

Soothes Cold and Cough

Use of mustard oil for cold is effective as it is a warm oil that acts as a natural decongestant.

Promotes Hair Growth

Loaded with beta-carotene, protein, iron and calcium, mustard oil is good for hair. It promotes stronger, faster hair growth.
All-in-one Solution

Skincare
Massaging cold-pressed mustard oil on your skin can eliminate tan and provide you with smooth and glowing skin.

Promotes Hair Growth
Massage your scalp regularly with lukewarm mustard oil for stronger and faster hair growth.

Gives Relief in Sinus
Add a few drops of mustard oil in nose to get instant relief from a runny nose.
Frequently Asked Questions
What is the difference between refined and cold-pressed oils?

Refined oils are colourless, odourless and flavourless fluids. The regular refined oils are extracted using solvents and grinding at high speed, which can generate heat up to 100°C. This degrades the oil's taste and nutritional composition. Trans fats are produced in this process, making the refined oils unfit for your heart.
On the other hand, our cold-pressed oils are extracted through pressing and grinding of seeds below a temperature of 50°C. Although it is a slow and time-consuming process, they retain their natural flavour, aroma, and nutritional value. They are high in antioxidants and vitamins and contain good fats for a healthy heart.

Why are Anveshan cooking oils expensive?

Anveshan offers premium quality oils that are cold-pressed in wooden Kolhu by crushing raw seeds/nuts and forcing the oil through pressure. Our oils are also "First pressed," meaning that the seeds/nuts were crushed and pressed only once. The oils are unrefined, unbleached, and, most importantly, natural.
When oils are extracted in this way, they retain their genuine flavour, aroma, antioxidants, and nutrients. It does not alter the properties of the oil and make them great for cooking and skincare requirements. Thus, cold-pressed oils cost more but are worth spending on.

How can I use yellow mustard oil for cooking?

Just like most cooking oils, our healthy and tasty mustard oil has a diverse set of applications. It has a high smoke point and can be used to sauté or stir-fry vegetables. It can also be used for marination, as a salad dressing, and as a natural preservative in aachar. Its aromatic qualities make it perfect for tadka.

Can I use it for body massage?

A regular massage with wood pressed mustard oil helps relieve aching joints and muscles. You also experience relief and comfort after a massage with yellow mustard oil.
Anveshan Yellow Mustard Oil is 100% pure and chemical-free, thus making it safe to use unless you are allergic to it. However, we recommend first trying a patch test as a precautionary measure.

Is mustard oil good for hair?

Yellow mustard helps hydrate your hair and keeps your hair healthy and fresh. In addition, it contains vitamin E and omega-3 fatty acids that can protect your scalp and hair from almost every possible hair concern.

What is the difference between Yellow Mustard Oil and Black Mustard Oil?

Yellow mustard oil is a perfect option for people who want the benefits of mustard oil but don't like its pungency. It is more aromatic and richer in vitamin E than black mustard oil.
Yellow mustard oil is packed with all the nutrients of black mustard oil except for the pungency and maintains the food's original flavour. Anveshan offers you both the oils, so choose what suits you the best.
Wood Cold Pressed Yellow Mustard Oil
Finest product
Good to have Anveshan in my kitchen
About Cold Wood Pressed. Yellow Mustard Oil
It's good for health & it's taste , fragrance is original yellow mustard flower. I personally recommend for all the age to take it for good health.
Wood Cold Pressed Yellow Mustard Oil
Wood Cold Pressed Yellow Mustard Oil