A2 Desi Hallikar Cow Ghee
Multiplies the flavour & your immunity
No bad cholesterol

Heart-healthy fats

Promotes weight-loss

Aids digestion
DESCRIPTION
Take your culinary dishes to new heights with our bilona churned ghee. It is made from the A2 milk of grass-fed Hallikar cows of Karnataka. Made in small batches our ghee is locked with a tempting flavour. We offer the most natural ghee with no compromise on quality.
View full details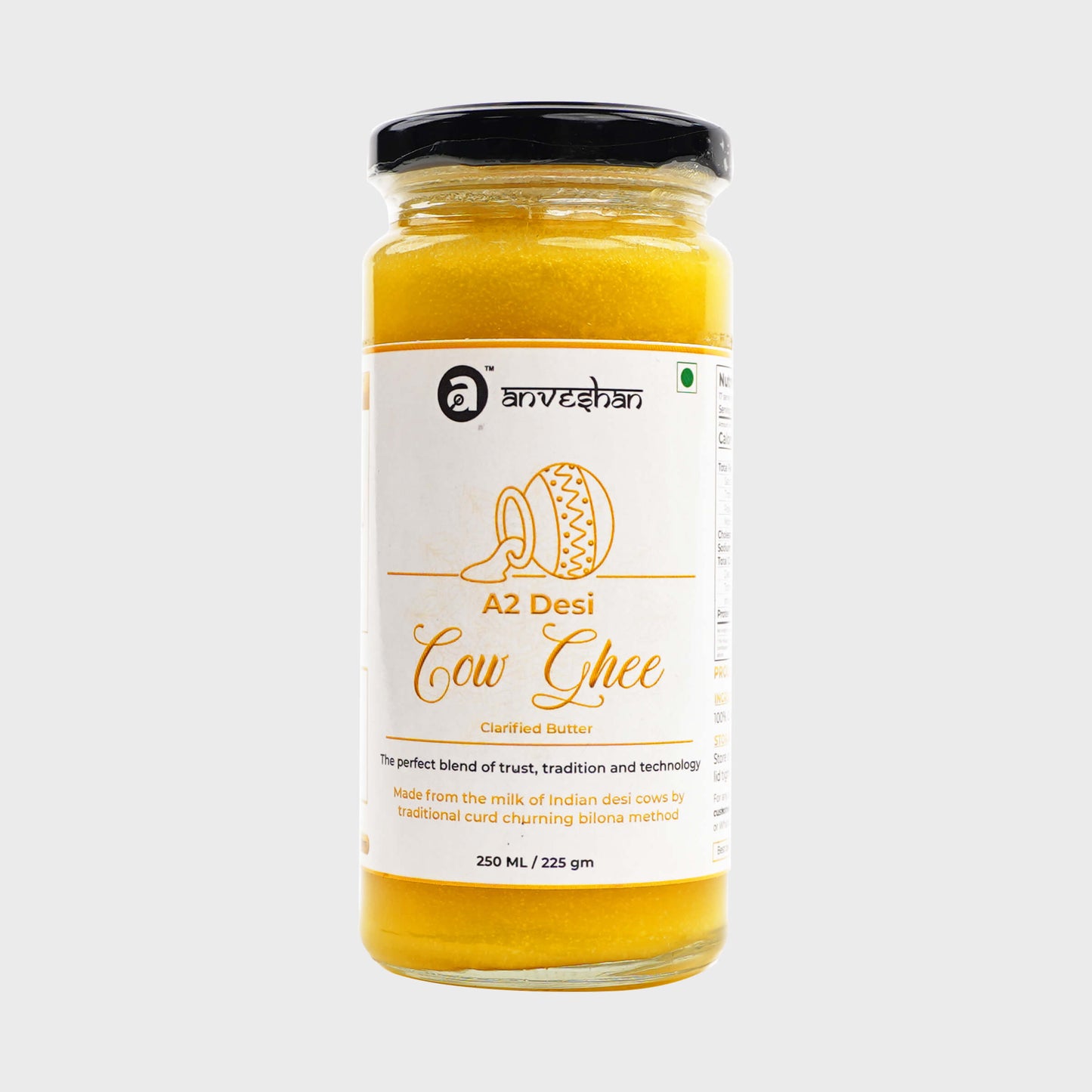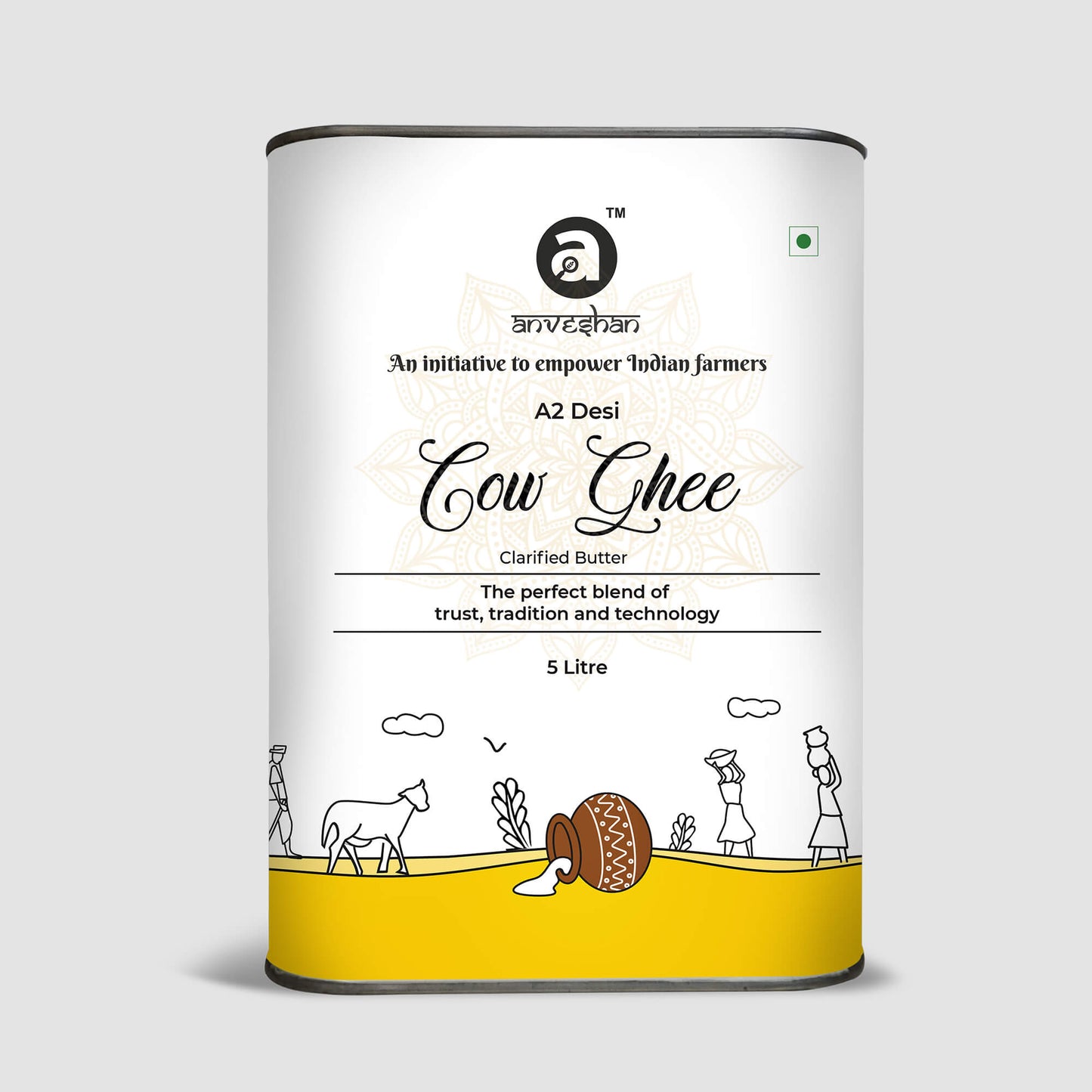 2000+ Farmers Empowered

Procured from Coorg, Karnataka

17 Lab Tests Done
Why it's Awesome

Journey of our Ghee
Our ghee is cooked the old-fashioned Ayurvedic way.
1

We Source the Best

Our ghee is proudly made in India. We source the native Hallikar cow milk from the farmers of Karnataka.

2

Cruelty-free

Cows are fed natural fodder. Milk isn't forced from the cows and is extracted only after the calf has sufficient milk.

3

Slow-cooked

Milk is boiled on firewood, cooled, and then set to curd at room temperature. This increases the Conjugated Linoleic Acid (CLA) percentage.

4

Bilona Churning of Curd

The curd is churned bi-directionally using a wooden churner that helps retain all essential nutrients.

5

Obtaining Ghee

The churning yields makkhan, which is heated on a low flame to obtain golden ghee.

6

Tested and Packed

Ghee is thoroughly lab-tested using 17 parameters to ensure quality standards. Then packed in glass jars & tin cans.
Good fat for your health

Studies show that eating and cooking vegetables with ghee helps the body absorb essential nutrients and reduces the accumulation of toxins in the body.

Does not cause lactose intolerance

Our bilona ghee-making process removes milk solids that have lactose content, making it lactose and casein-free for you.

High smoke point

The abundance of protein in lentils and vegetables gets absorbed better with ghee due to its high smoke point.

Vitamin D assimilation

Low vitamin D and high cholesterol go hand-in-hand. Adding ghee to your diet helps in the absorption of vitamin D and other fat-soluble vitamins.

A natural laxative

Being rich in butyric acid, ghee improves metabolism, clears the intestine, and softens stools. It also reduces symptoms of gas and bloating.

Metabolises stored fat

It is rich in amino acids & docosahexaenoic acid (DHA). It helps to shrink the size of stored bad fats and metabolise them. Experts recommend consuming 2-3 tablespoons of ghee a day.
All-in-one Solution

Ghee and Milk
Consume ghee with warm milk to help build your strength and keep your gut healthy.

Apply on Rotis
Apply ghee on tawa fresh rotis and parathas to make them more moist and digestible.

Healthy Cooking Oil
Use ghee as a cooking oil to make your dishes richer, satiating, and delicious.

Glowing Skin
Make a paste of besan and ghee. Apply it and wash after 15 min with lukewarm water.

Relieves Constipation
Have 1 tablespoon of warm/melted ghee at night before bed to prevent constipation.

Baby Massage
Ghee has naturally nourishing and moisturising properties that make it great for baby massages.
Recommended by Nutritionists Anveshan A2 Desi Cow Ghee
Frequently Asked Questions
Why is Anveshan Desi Cow Ghee costly as compared to other ghee?

Anveshan A2 Desi Cow Ghee is made entirely from the milk extracted from desi cows. The indigenous cow gives around 2-3 litres of milk per day which is more nutritious than foreign breeds that produce more milk. The cows are neither forced nor injected with hormones to enhance milk production.
Our ghee is bi-directionally bilona churned with a wooden churner. This is why our A2 cow ghee has a grainy texture, thicker consistency, tempting aroma, superior flavour, and is much healthier. Hence, A2 Desi Cow Ghee is costlier and better than regular ghee.

What should the consistency of my ghee be?

Generally, the consistency of ghee depends on the temperature at which you store it. At room temperature, it usually remains soft, and during winters, it solidifies. Depending on the temperature outside the jar, this process may happen quickly or slowly. It is perfectly normal for ghee to be liquid, solid, or a combination of consistencies.

How can we identify pure cow ghee?

The easiest method to check the purity is to do a pan test. Add a teaspoon of ghee to a pan and heat it. If the ghee starts melting immediately and turns dark brown, it is pure. However, if it takes time to melt and is yellow in colour, then it is adulterated.

What are cows being fed?

Our cows graze freely and are given natural fodder. The buttermilk obtained in ghee making is also given to our cows. We believe in a cruelty-free environment, and therefore we do not inject hormones in cows.

How is the taste of your ghee different from any other ghee in the market?

Our ghee is obtained by churning curd and not cream (malai). So the nutritional content is more as compared to others. Therefore our ghee tastes a lot tastier and aromatic because it preserves the all-natural nourishment of ghee.

Does Anveshan ghee come in a plastic jar?

No, we at Anveshan believe in sustainable packaging. Therefore, our ghee is available in eco-friendly glass jars and reusable tin cans.
You may also like
Regular price

₹1,799

Sale price

₹729

Unit price

per

Regular price

₹1,425

Sale price

₹1,399

Unit price

per

Regular price

₹1,660

Sale price

₹1,399

Unit price

per

Regular price

₹370

Sale price

₹329

Unit price

per
Excellent Product
The product was very good and healthy
Amazing
These ghee just WOW. Love the test, I am with love this ghee🙂