Wood Cold Pressed Groundnut Oil
As nutty as it can be...
100% natural

Unrefined

No additives

Sieve filtered
DESCRIPTION
Bring home the goodness of our cold-pressed groundnut oil made from handpicked groundnuts of Tamil Nadu. Packed in eco-friendly glass bottles and tin cans, it preserves natural aroma, taste, and nutrients. Our premium quality oil will leave you speechless!
View full details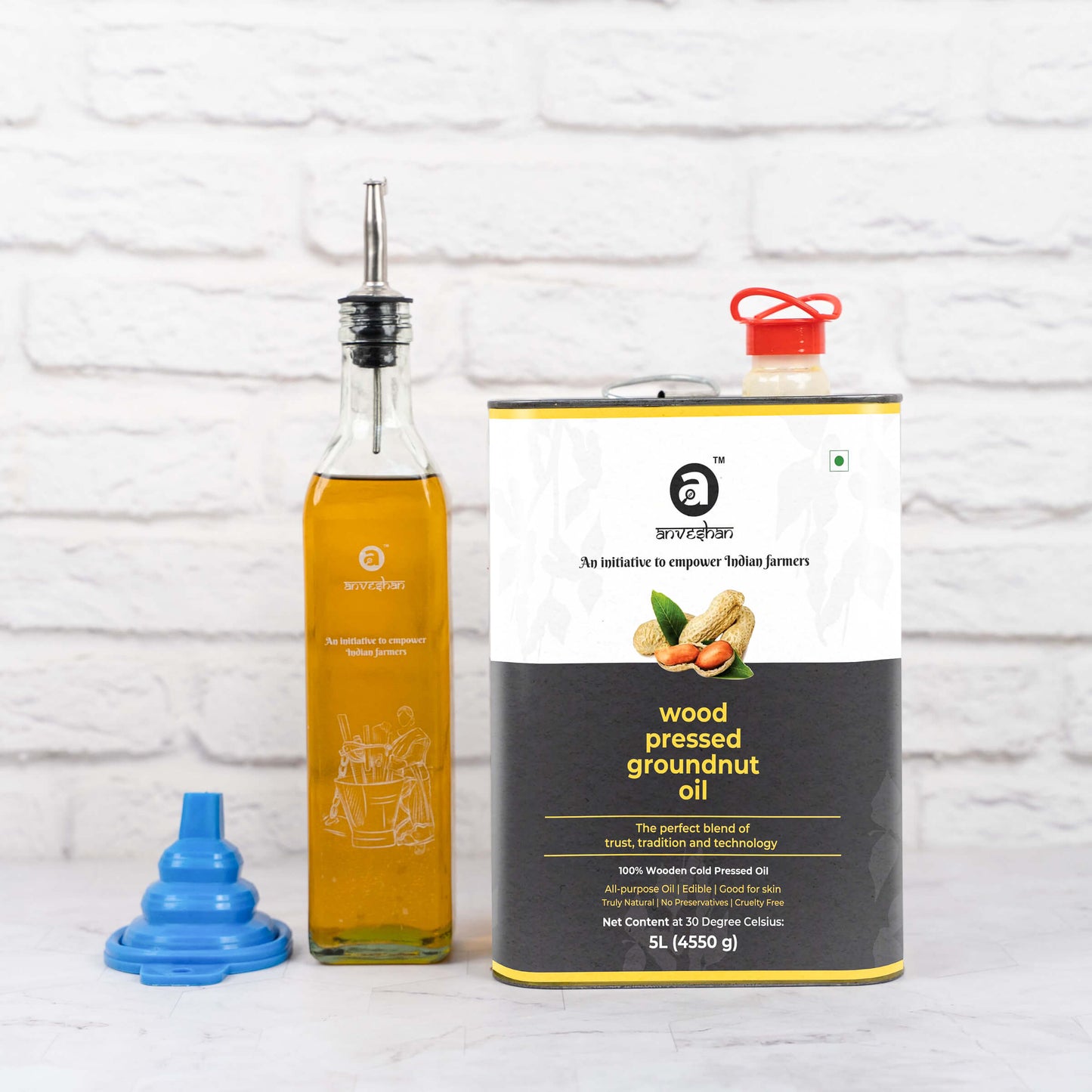 1500+ Farmers Empowered

Procured from Tamil Nadu

16 Lab Tests Done
Why it's Awesome

Journey of our Oil
We work with farmers directly and aim to produce the best quality products that are entirely natural. The oil may contain some sediments, not to worry! These sediments in your oil are a mark of cold pressed oil.
1

Ethically Sourced

We source our oils directly from farmers and offer them better prices. We also ensure fair treatment, community support, sustainable production and food quality.

2

Unshelled and Sun-dried

The groundnuts are thoroughly cleaned, their shells are removed, and then they are sun-dried.

3

Kolhu Pressed

The groundnuts are cold pressed (in wooden Kolhu) at a low temperature to maintain their high nutrient value.

4

Sieve Filtered

Then the oil is then left for sedimentation for 2-3 days. Following this, the oil is sieve filtered.

5

Quality Checks

Groundnut oil undergoes strict quality checks at our facility and conforms to FSSAI standards.

6

Packaging

It is then packed in a bottle/tin can when it clears all the mandatory tests.
Nutrient-rich

High in monounsaturated fat, omega-6 fatty acids, vitamin E, and a good source of antioxidants.

Healthy Oil

It contains monounsaturated fatty acids and is rich in omega-9 and phytosterols that help maintain your health.

Boosts Immunity

It has resveratrol, an antioxidant that helps in boosting immunity and fighting viral and bacterial infections

Strengthens the Body

Consuming it in a moderate amount daily helps in muscle building and strengthening our body.

High Smoke Point

You can use it to saute or deep fry, due to its high smoke point.

Good for the Skin

It is rich in vitamin E, which is essential for healthy skin. It prevents the effects of free radicals that cause wrinkles and blemishes.
Frequently Asked Questions
What is the difference between refined and cold-pressed oils?

Refined oils are colourless, odourless and flavourless fluids. The regular refined oils are extracted using solvents and grinding them at high speed, which can generate heat up to 100°C, which degrades the oil's taste and nutritional composition. Trans fats are produced in this process, making them unfit for your heart.
While our cold-pressed oils are extracted through pressing and grinding of seeds below a temperature of 50°C. Though it is a slow and time-consuming process, they retain their natural flavour, aroma, and nutritional value. They are high in antioxidants and vitamins and contain good fats for a healthy heart.

Why are Anveshan cooking oils expensive?

Anveshan offers premium quality oils that are cold-pressed in wooden Kolhu by crushing raw seeds/nuts and forcing the oil through pressure. Our oils are also "First pressed, " meaning that the seeds/nuts were crushed and pressed only once. The oils are unrefined, unbleached, and, most importantly, natural.
When oils are extracted in this way, it retains their genuine flavour, aroma, and antioxidants and nutrients. It does not alter the properties of the oil and make them great for cooking and skin care requirements. Thus, cold-pressed oils cost more but are worth spending.

Is it suitable for deep frying?

Groundnut oil has a high smoke point and pleasant taste, making it perfect for deep frying. The light texture makes it an ideal cooking oil that pairs with other flavours without overpowering them.

Is it safe to use groundnut oil on your skin?

Groundnut oil massage can energize your body and gives great relief to aching joints and muscles if used daily. It contains vitamin E, which is excellent for skin protection.
Our groundnut oil is pure, chemical-free and safe to use. However, as a precautionary measure, we recommend that you try a patch test.

Is there a noticeable smell?

Yes, our Wood Pressed Groundnut Oil has a natural, mild, and nutty smell of groundnuts.
You may also like
Regular price

₹1,660

Sale price

₹1,399

Unit price

per

Regular price

₹1,425

Sale price

₹1,399

Unit price

per

Regular price

₹370

Sale price

₹329

Unit price

per

Regular price

₹529

Sale price

₹449

Unit price

per
Very Good quality
We have been using their Coconut, Groundnut and. Mustard oils both yellow and black mustard … found them really aromatic and good in taste and flavours. I also referred it to my mother and order for her as well.
Oil is good
Your price is fluctuating drastically. Need to improve delivered time.
Wood Cold Pressed Groundnut Oil
Wood Cold Pressed Groundnut Oil