Wood Cold Pressed Black Sesame Oil
Purity and taste that calms your soul
Cold pressed

No preservatives

Unrefined

Gluten-free
DESCRIPTION
Our Black Sesame Oil is sourced from Tamil Nadu and is ideal for those looking for a natural and healthy alternative to refined oils. The no-heat cold pressing method ensures that it is rich in vitamins, minerals, antioxidants, and other essential elements that make it a healthy choice.
View full details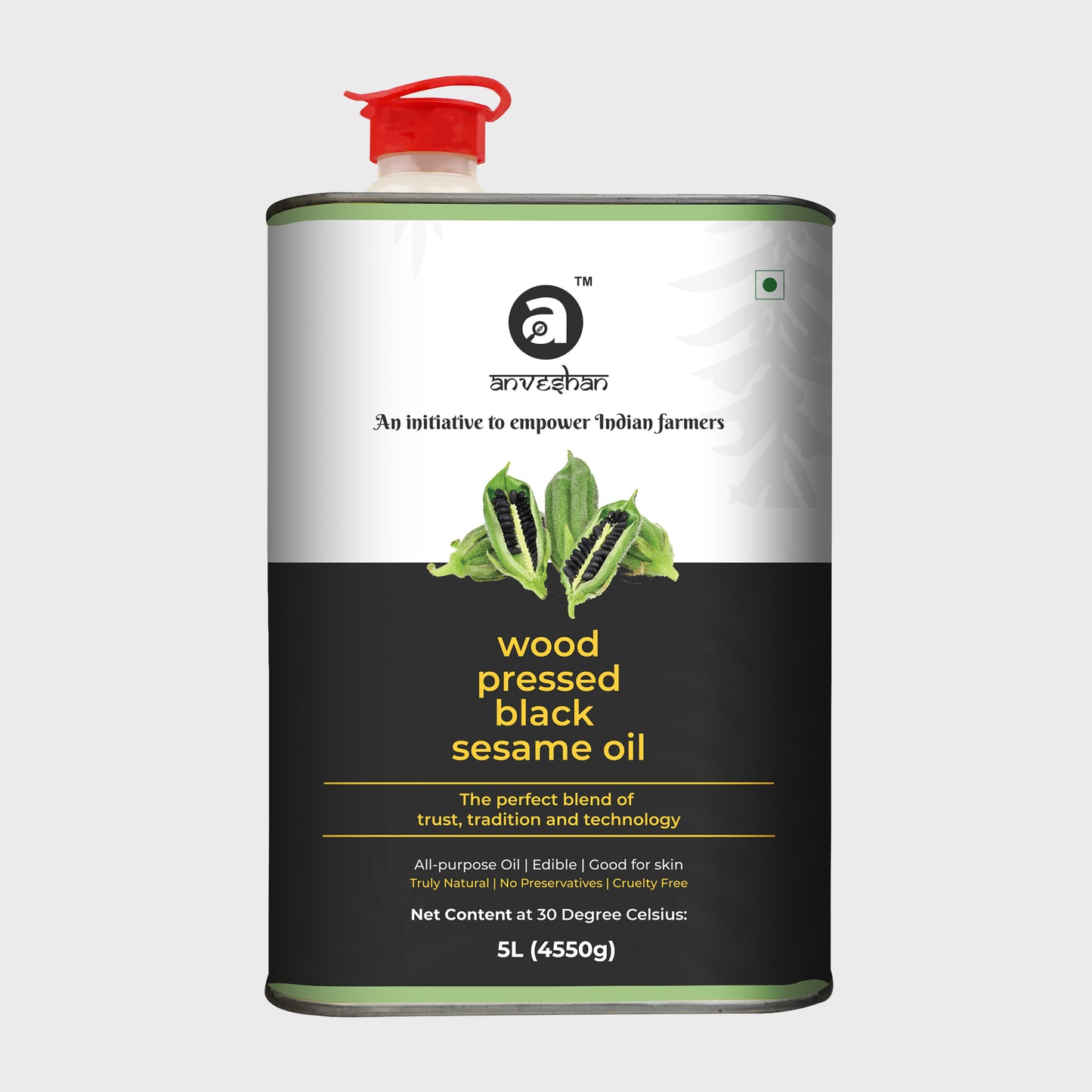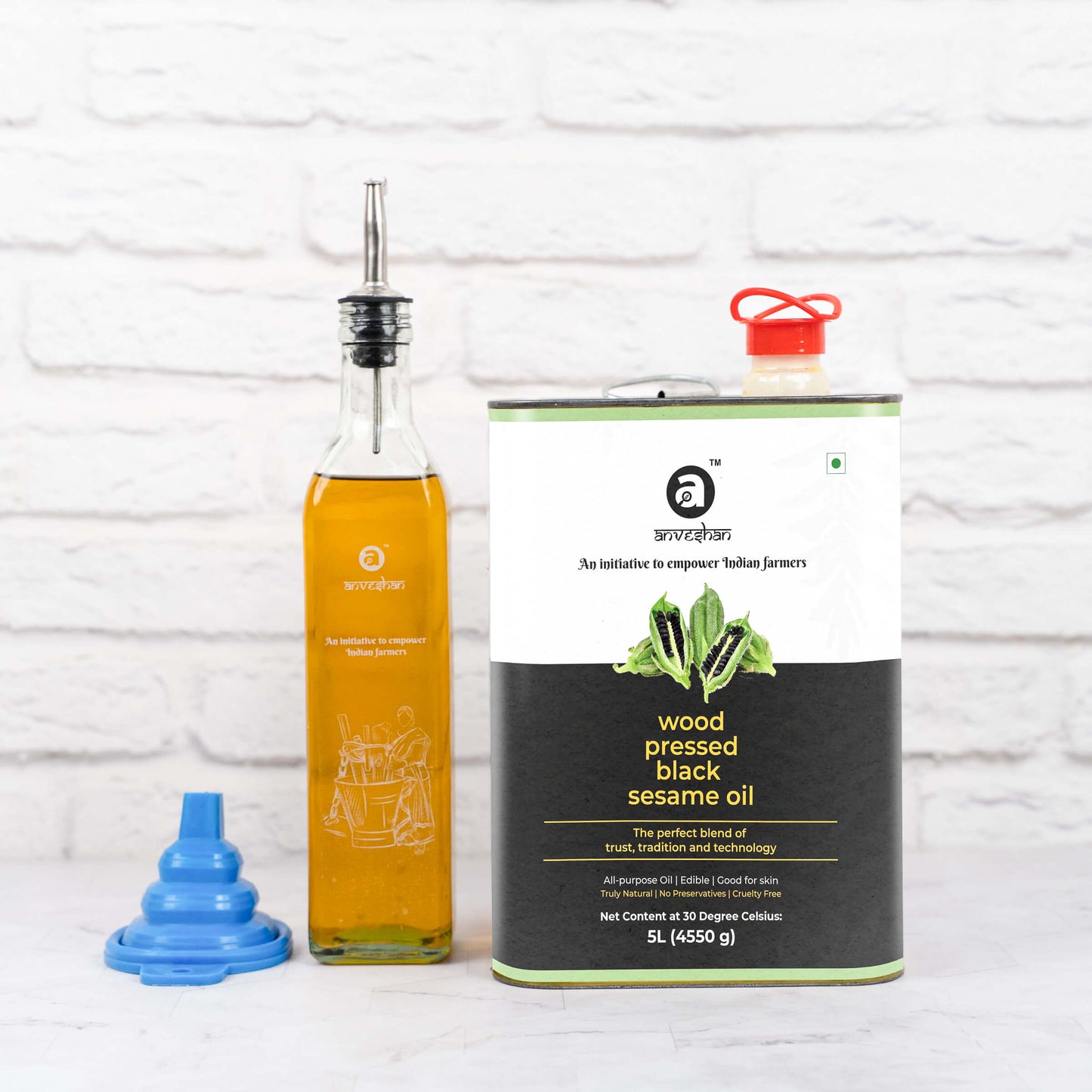 1500+ Farmers Empowered

Procured from Tamil Nadu

16 Lab Tests Done
Why it's Awesome

Journey of our Oil
We work with farmers directly and aim to produce the best quality products that are entirely natural. The oil may contain some sediments, not to worry! These sediments in your oil are a mark of cold pressed oil.
1

Ethically Sourced

We source our oils directly from farmers and offer them better prices. We also ensure fair treatment, community support, sustainable production and food quality.

2

Sun-dried

To ensure better taste and aroma, the seeds are sun-dried for a few days.

3

Kolhu Pressed

The seeds are cold pressed (in wooden Kolhu) at a low temperature to maintain their high nutrient value.

4

Sieve Filtered

Then the oil is then left for sedimentation for 2-3 days. Following this, the oil is sieve filtered.

5

Quality Checks

Sesame oil undergoes strict quality checks at our facility and conforms to FSSAI standards.

6

Packaging

It is then packed in a bottle/tin can when it clears all the mandatory tests.
Therapeutic Oil

It is loaded with anti-fungal, anti-bacterial, and anti-viral properties. For years it has been used as an Ayurvedic remedy.

Potent Antioxidants

It contains antioxidants sesamol and sesamin, which aid in the oil's oxidative stability and blood pressure.

Fights Free Radicals

It contains vitamin E, phytosterols, lignans that help fight free radicals.

Anti-inflammatory Properties

It is used as a traditional anti-inflammatory medicine to treat cuts, scrapes, cramps, etc.

Heart Healthy

Studies show that consumption of sesame oil may help reduce bad cholesterol and triglycerides and keep your heart healthy.

Fights Feeling of Stress

It has an amino acid called tyrosine, which boosts serotonin and helps fights stress and depression.
All-in-one Solution
Oil Pulling
Swish sesame oil in the mouth for about 20 minutes to detoxify and improve your oral health.

Abhyanga
Sesame oil is a warming massage oil that provides nourishment and makes your skin healthy.

Natural Preservative
Traditionally in South India, sesame oil is used as a natural preservative in pickles.

Haircare
Massage your scalp once a week with sesame oil to nourish your hair and restore its lustre.

Relieves Constipation
Mix 1-2 tablespoons of sesame oil with water and drink twice a day to prevent constipation.

Cooking
It is most suited for sautéing your dishes and can also be used for garnishing and salad dressings.
Frequently Asked Questions
What is the difference between refined and cold-pressed oils?

Refined oils are colourless, odourless and flavourless fluids. The regular refined oils are extracted using solvents and grinding them at high speed, which can generate heat up to 100°C, which degrades the oil's taste and nutritional composition. Trans fats are produced in this process, making them unfit for your heart.
While our cold-pressed oils are extracted through pressing and grinding of seeds below a temperature of 50°C. Though it is a slow and time-consuming process, they retain their natural flavour, aroma, and nutritional value. They are high in antioxidants and vitamins and contain good fats for a healthy heart.

Why are Anveshan cooking oils expensive?

Anveshan offers premium quality oils that are cold-pressed in wooden Kolhu by crushing raw seeds/nuts and forcing the oil through pressure. Our oils are also "First pressed, " meaning that the seeds/nuts were crushed and pressed only once. The oils are unrefined, unbleached, and, most importantly, natural.
When oils are extracted in this way, it retains their genuine flavour, aroma, and antioxidants and nutrients. It does not alter the properties of the oil and make them great for cooking and skin care requirements. Thus, cold-pressed oils cost more but are worth spending.

Is sesame oil a good choice for my hair?

Sesame oil has antifungal and antibacterial properties that help keep the scalp clean and healthy. It moisturises the hair and nourishes the scalp in the best way possible. Massaging your hair with sesame oil improves blood circulation, which means your hair grows again in no time. In addition, it relieves anxiety and hair fall caused by stress.
A combination of sesame oil with neem, coconut oil, eucalyptus, hibiscus or other essential oils is used to enhance its absorption into the hair.

Can I cook with Anveshan Black Sesame Oil?

Sesame oil has a low smoke point and is not suitable for deep-frying. Instead, you can use it for garnishing, stir-frying, salad dressing, baking, and adding to all your favourite dishes. It is used in South Indian, Middle Eastern, Chinese, Japanese, and Korean cuisine for adding flavour to sautéeing, stir-frying, and seasoning.

How to use sesame oil for massage? Is it safe to use on the skin?

Sesame oil is an excellent oil for massaging the body. It is very soothing and effective if you are tired and have aches and pains. First, heat the sesame oil to a bearable temperature. Then, massage the oil and let your body relax. Keep it for 15 minutes, and then take a hot water bath.
Anveshan Black Sesame Oil is 100% pure and safe to use for all your skincare routines. But as a precautionary measure, you should always try a patch test on your arm.

Can I use it for oil pulling?

Yes, you can use sesame oil for oil pulling. It has antibacterial, anti-inflammatory and antioxidant properties that help control oral problems.
You may also like
Regular price

₹1,830

Sale price

₹1,499

Unit price

per

Regular price

₹1,425

Sale price

₹1,399

Unit price

per

Regular price

₹370

Sale price

₹329

Unit price

per
Wood Cold Pressed Black Sesame Oil
Wood Cold Pressed Black Sesame Oil
Great value for money product with highest quality
The texture of the oil, aroma and freshness is unparalleled. The one star less is given for the bottling which can be done better especially there could be a flow manager at the neck which helps in easy pouring of the oil.
Wood Cold Pressed Black Sesame Oil