Wood Cold Pressed Black Mustard Oil
Pour purity and health
No artifical flavours

No preservatives

Cold pressed

Gluten-free
DESCRIPTION
Our Mustard oil is extracted by wood pressing mustard from the farms in Uttar Pradesh. Packed with essential nutrients, our cold-pressed oil is a great addition to your kitchen and for your health. Our highly versatile mustard oil packs a tasty punch!
View full details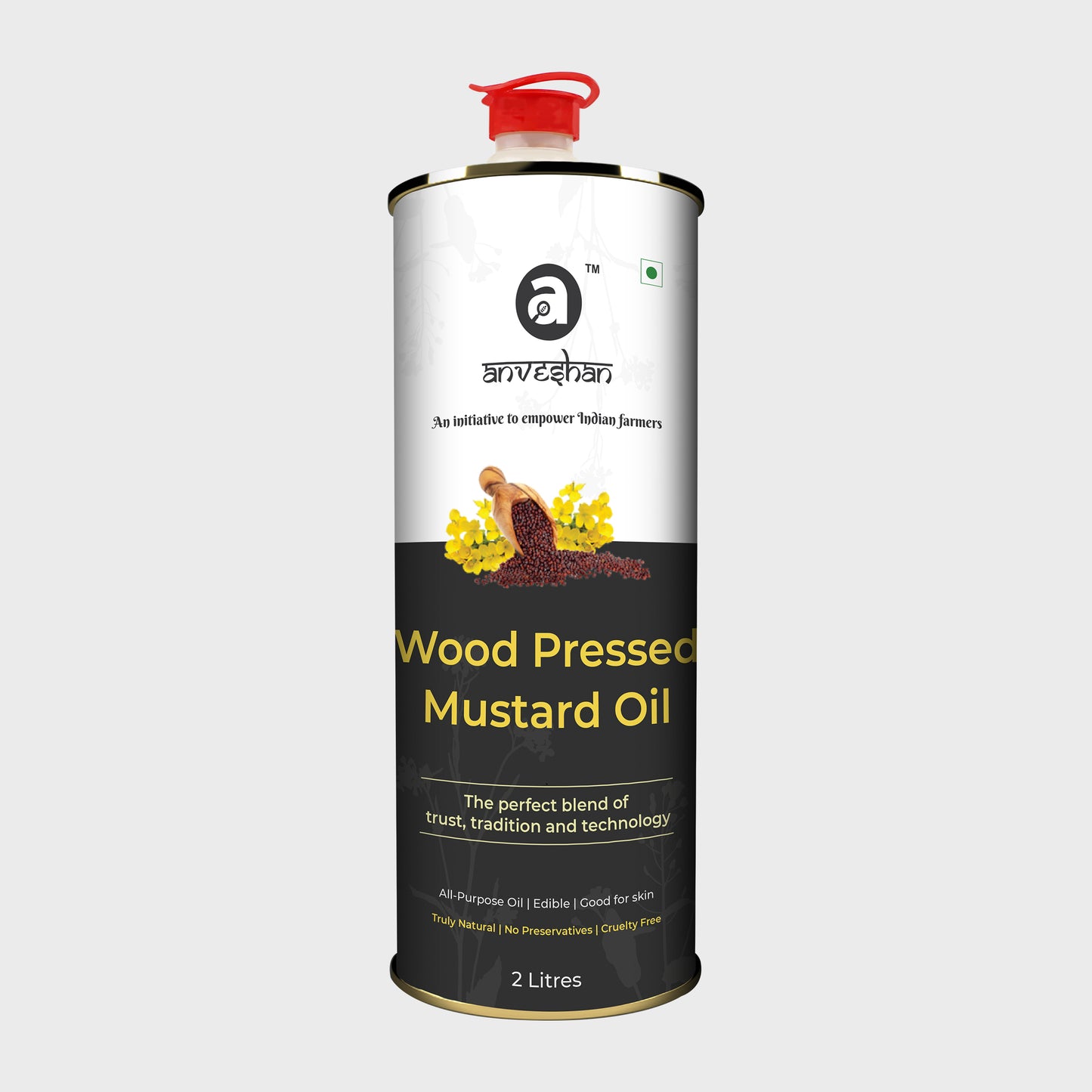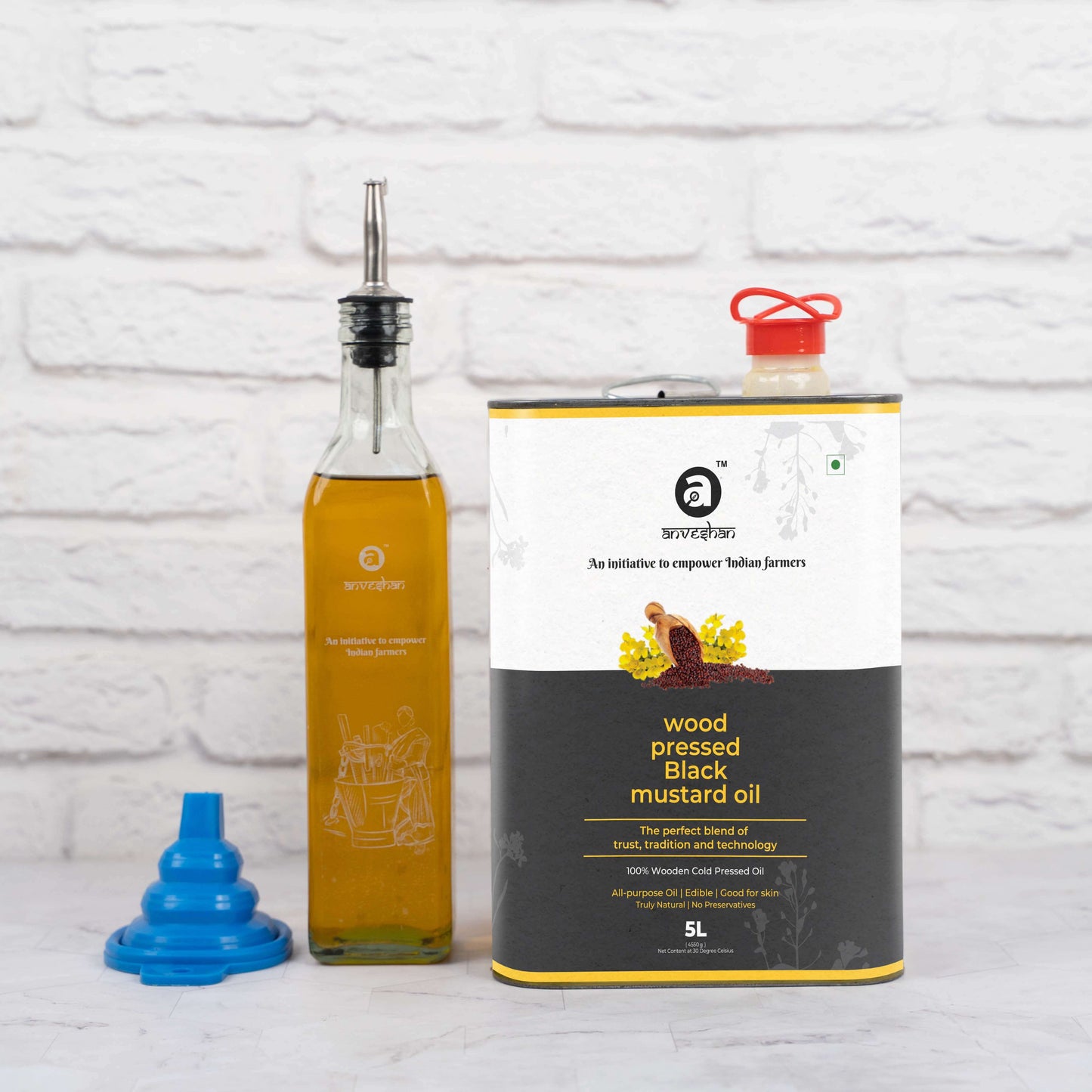 1500+ Farmers Empowered

Procured from Uttar Pradesh

16 Lab Tests Done
Why it's Awesome

Journey of our Oil
We work with farmers directly and aim to produce the best quality products that are entirely natural. The oil may contain some sediments, not to worry! These sediments in your oil are a mark of cold pressed oil.
1

Ethically Sourced

We source our oils directly from farmers and offer them better prices. We also ensure fair treatment, community support, sustainable production and food quality.

2

Sun-dried

To ensure better taste and aroma, the seeds are sun-dried for a few days.

3

Kolhu Pressed

The seeds are cold pressed (in wooden Kolhu) at a low temperature to maintain their high nutrient value.

4

Sieve Filtered

Then the oil is then left for sedimentation for 2-3 days. Following this, the oil is sieve filtered.

5

Quality Checks

Mustard oil undergoes strict quality checks at our facility and conforms to FSSAI standards.

6

Packaging

It is then packed in a bottle/tin can when it clears all the mandatory tests.
Helps Cure Cold

It is known as an age-old treatment for cough and cold. Because of its warming properties, it helps in clearing congestion.

Boosts Immunity

An optimum ratio of omega-3 and omega-6 fatty acids provides nutrition and boosts immunity.

Heart-friendly

It is rich in monounsaturated fatty acids making it heart-friendly, and for a healthy balanced diet.

Soothes Pain

It contains a high amount of selenium, magnesium, and antioxidants which help in reducing joint pain, arthritis, and other muscle pain.

Protects from Infection

Mustard oil has anti-bacterial, anti-fungal, and anti-inflammatory properties, which help prevent bacterial and fungal infections.

High Smoke Point

It is a safe choice for frying, roasting, baking, and grilling dishes.
All-in-one Solution

Skincare
Apply a few drops of mustard oil and rub it on your skin to make it smooth and radiant.

Strengthens Hair
Apply mustard oil to your scalp and dry hair to condition them well.

Helps Clear Congestion
Add a few drops of mustard oil to water and inhale the steam to clear congestion.
Oil Pulling
Swish mustard oil for about 20 minutes to kill bacteria and prevent bleeding of gums.

Massage
Gently massage your body with mustard oil to relieve pain and make you feel relaxed.

Cooking Oil
It adds a fantastic flavour to your dal and curries. Also used as a natural preservative for pickles.
Frequently Asked Questions
What is the difference between refined and cold-pressed oils?

Refined oils are colourless, odourless and flavourless fluids. The regular refined oils are extracted using solvents and grinding them at high speed, which can generate heat up to 100°C, which degrades the oil's taste and nutritional composition. Trans fats are produced in this process, making them unfit for your heart.
While our cold-pressed oils are extracted through pressing and grinding of seeds below a temperature of 50°C. Though it is a slow and time-consuming process, they retain their natural flavour, aroma, and nutritional value. They are high in antioxidants and vitamins and contain good fats for a healthy heart.

Why are Anveshan cooking oils expensive?

Anveshan offers premium quality oils that are cold-pressed in wooden Kolhu by crushing raw seeds/nuts and forcing the oil through pressure. Our oils are also "First pressed, " meaning that the seeds/nuts were crushed and pressed only once. The oils are unrefined, unbleached, and, most importantly, natural.
When oils are extracted in this way, it retains their genuine flavour, aroma, and antioxidants and nutrients. It does not alter the properties of the oil and make them great for cooking and skin care requirements. Thus, cold-pressed oils cost more but are worth spending.

How can I use mustard oil for cooking?

Just like most cooking oils, mustard oil has a diverse set of applications. It has a high smoke point and can be used to sauté or stir-fry vegetables, for marination, in salads, and aachar, and its aromatic qualities make it perfect for tadka.

Can I use it for body massage?

A regular massage with mustard oil helps in relieving aching joints and muscles. You also experience relief and comfort after a massage with mustard oil.
Anveshan Mustard Oil is 100% pure and chemical-free, thus making it safe to use unless you are allergic to it. However, we recommend first trying a patch test as a precautionary measure.

Is mustard oil good for hair?

Mustard oil helps hydrate your hair and keeps your hair healthy and fresh. It contains vitamin E and omega-3 fatty acids that can protect your scalp and hair from almost every possible hair concern.
You may also like
Regular price

₹580

Sale price

₹549

Unit price

per

Regular price

₹1,799

Sale price

₹729

Unit price

per

Regular price

₹475

Sale price

₹419

Unit price

per

Regular price

₹1,830

Sale price

₹1,499

Unit price

per
Oil is good but container was faulty
Oil is excellent but tin container was faulty. Ofcourse getting an extra 500 ml from Anveshan as a token of apology. Overall great. Deducting stars for the faulty container.
Amazing product
Even though it was a tin can it was easy to pour. Product quality is really good. The price is fluctuating across diff platforms and could be a little on the lower side, even maybe 100-200 bucks less. But overall happy with the product.
Awesome 👌 product
I am using this product from long time, totally healthy and safe product, it's rpm less than 45
Authentic product
It stays true to the claimed purity!