Wood Cold Pressed Coconut Oil
We bottled up an all-rounder
100% Natural

No preservatives

Unrefined

Authentic flavour
DESCRIPTION
Made from fresh coconuts of Tamil Nadu, our coconut oil will add an exotic touch to all your dishes. Undergoing the no-heat process ensures that its contents remain pure and untouched. This multitasker oil is packed with essential nutrients and is ideal for your cooking, baking, oil pulling, skin, and hair care!
View full details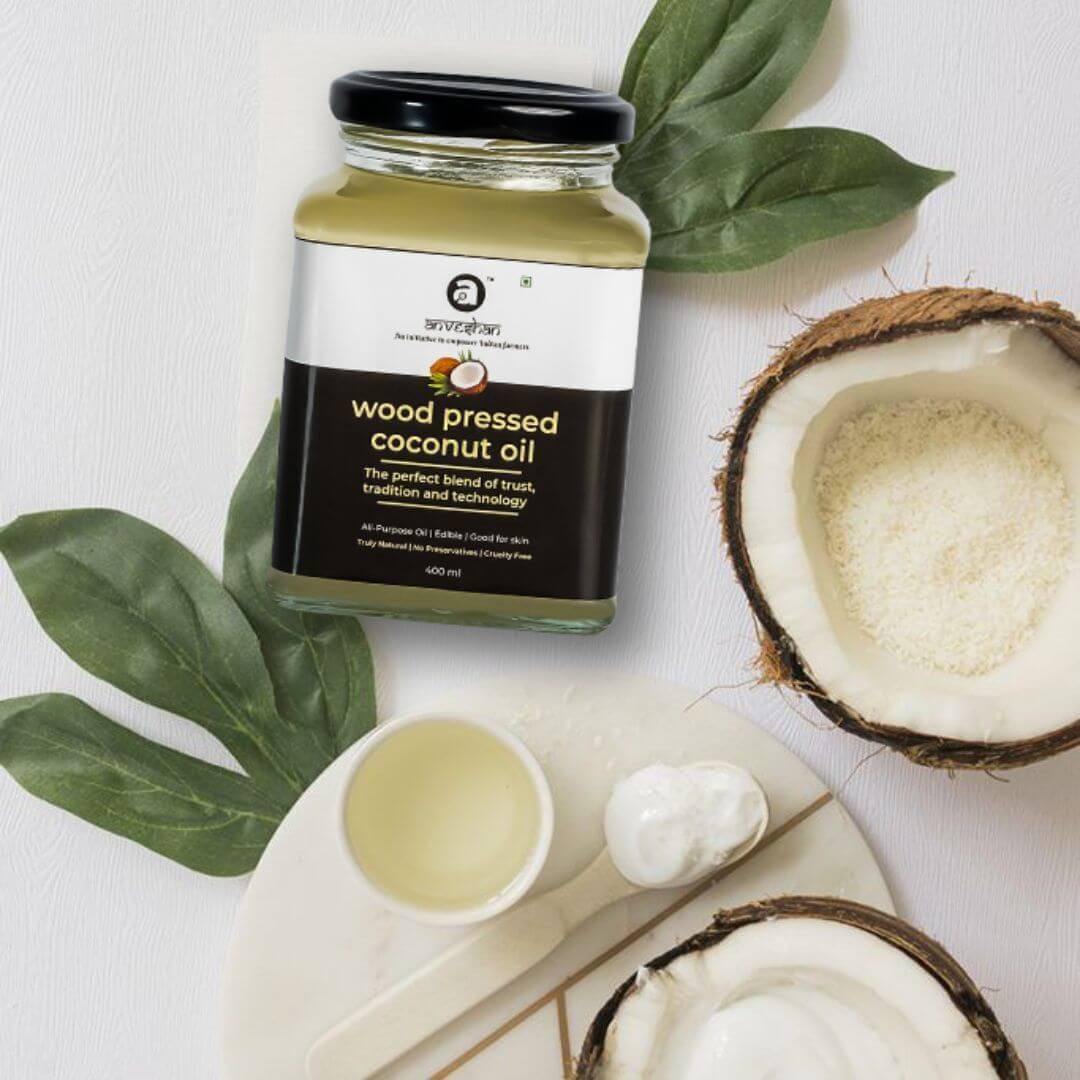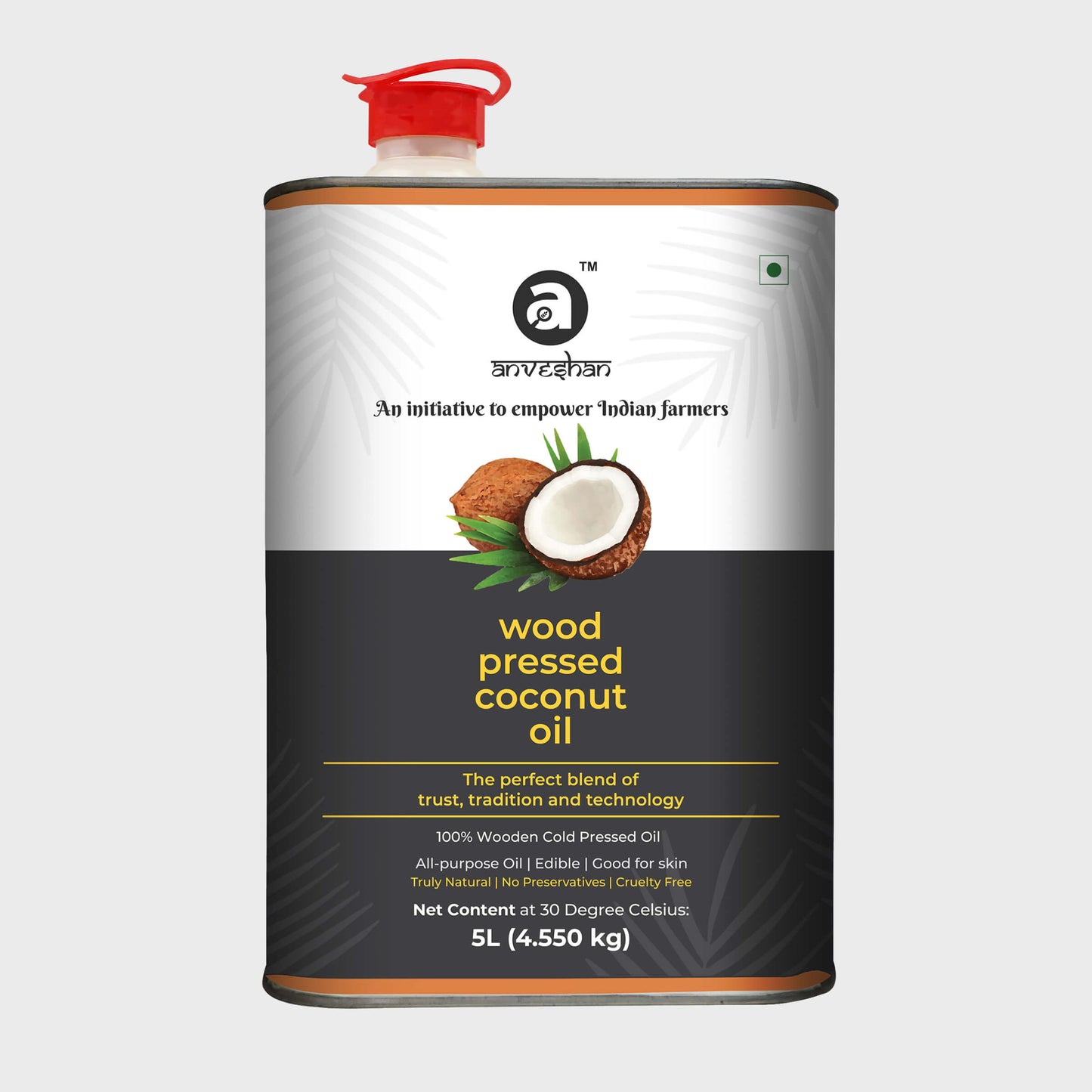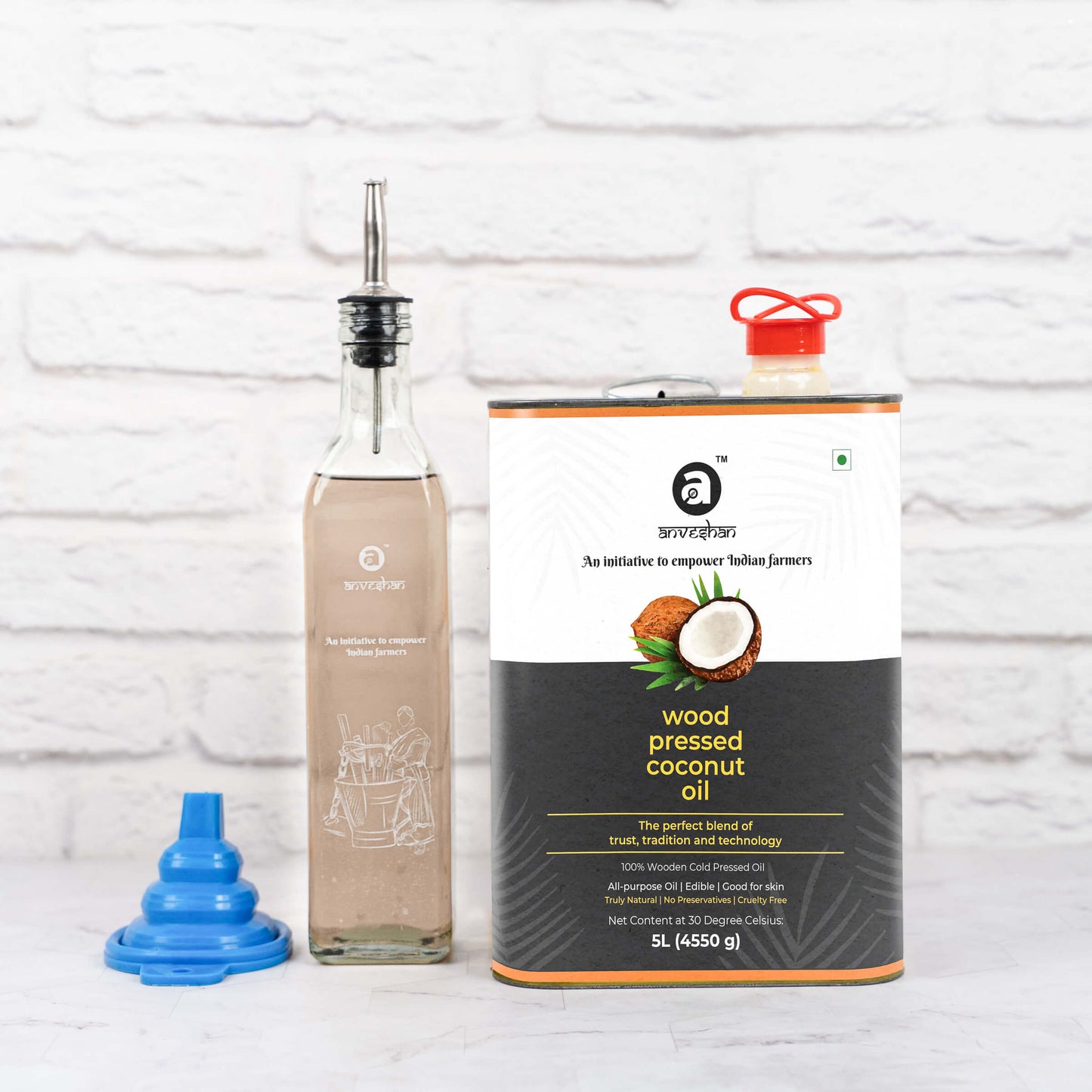 1500+ Farmers Empowered

Procured from Tamil Nadu

16 Lab Tests Done
Why it's Awesome

Journey of our Oil
We work with farmers directly and aim to produce the best quality products that are entirely natural. The oil may contain some sediments, not to worry! These sediments in your oil are a mark of cold pressed oil.
1

Ethically Sourced

We source our oils directly from farmers and offer them better prices. We also ensure fair treatment, community support, sustainable production and food quality.

2

Sun-dried

To ensure better taste and aroma, the coconuts are sun-dried for a few days.

3

Kolhu Pressed

The coconuts are cold pressed (in wooden Kolhu) at a low temperature to maintain their high nutrient value.

4

Sieve Filtered

Then the oil is then left for sedimentation for 2-3 days. Following this, the oil is sieve filtered.

5

Quality Checks

Coconut oil undergoes strict quality checks at our facility and conforms FSSAI standards.

6

Packaging

It is then packed in a bottle/tin can when it clears all the mandatory tests.
Good Source of Antioxidants

Being a good source of antioxidants, it helps neutralize damaged molecules called free radicals.

Healthy Diet

It includes capric, caprylic, and lauric acids which enhance the feeling of fullness and decrease overall food intake.

Heart-healthy

It increases the healthy cholesterol in your body. The saturated fat in coconut oil helps promote heart health.

Best for Frying

Over 90% of the fatty acids in coconut oil are saturated, which makes it highly heat resistant and great for frying.

Boost Your Energy

Contains energy-driving Medium Chain Triglycerides (MCTs). These MCTs help to naturally boost your energy.

Helps Fight Infections:

Lauric acid is particularly good at fighting bacteria, and viruses, therefore it's great in helping you stave off infections.
All-in-one Solution

Oil Pulling
Swirl it around your mouth for 10 to 20 mins, then spit it out and rinse with water.

Skincare
Mix coconut oil, honey, turmeric, and lemon juice. Apply this, leave it for a while and wash.

Strengthens Hair
Stir coconut oil with aloe vera gel, apply on scalp, leave it for 15 min and wash.

Makeup Remover
Apply with a cotton pad and wipe gently until all traces of makeup are gone.
Baby Care
Take some coconut oil and rub it between your palms. Gently massage the coconut oil on your baby.

Cooking Oil
It is well-suited for frying, sauteing, baking, and salad dressing.
Frequently Asked Questions
What is the difference between refined and cold-pressed oils?

Refined oils are colourless, odourless and flavourless fluids. The regular refined oils are extracted using solvents and grinding them at high speed, which can generate heat up to 100°C, which degrades the oil's taste and nutritional composition. Trans fats are produced in this process, making them unfit for your heart.
While our cold-pressed oils are extracted through pressing and grinding of seeds below a temperature of 50°C. Though it is a slow and time-consuming process, they retain their natural flavour, aroma, and nutritional value. They are high in antioxidants and vitamins and contain good fats for a healthy heart.

Why are Anveshan cooking oils expensive?

Anveshan offers premium quality oils that are cold-pressed in wooden Kolhu by crushing raw seeds/nuts and forcing the oil through pressure. Our oils are also "First pressed, "meaning that the seeds/nuts were crushed and pressed only once. The oils are unrefined, unbleached, and, most importantly, natural.
When oils are extracted in this way, it retains their genuine flavour, aroma, and antioxidants and nutrients. It does not alter the properties of the oil and make them great for cooking and skin care requirements. Thus, cold-pressed oils cost more but are worth spending.

What is the difference between virgin and wood pressed coconut oil?

Both cold-pressed and virgin coconut oil are almost the same from the nutritional point. Moreover, both are superior to refined coconut oils, produced without adding any chemicals or bleaching.
The difference lies in their production procedures. Cold-pressed coconut oil is obtained from dried and flaked coconut flesh, while virgin oil is obtained from coconut milk.

Does it solidify and melt on its own?

The coconut oil remains liquid at room temperature while solidifies at lower temperatures, especially during winters.

Can coconut oil be used for oil pulling?

Oil pulling is an ancient Ayurvedic remedy for oral health and detoxification. Anveshan coconut oil is natural, preservative-free and safe to use for oil pulling. It is easily absorbable and has natural fats with anti-microbial properties, perfect for oil pulling.

Can I use it for my hair and skin?

Yes, you can apply Anveshan coconut oil to your hair and skin.
Coconut oil is rich in fatty acids and antioxidants that help prevent damage to our skin and hair. It also has antibacterial and antifungal properties that help keep skin and hair healthy.
Our coconut oil is 100% pure and chemical-free. Thus, it is safe to use unless you are allergic to it. However, we recommend first trying a patch test as a precautionary measure.
You may also like
Regular price

₹1,860

Sale price

₹1,499

Unit price

per

Regular price

₹580

Sale price

₹549

Unit price

per

Regular price

₹1,799

Sale price

₹729

Unit price

per
Great quality
Quality is really osm of coconut oil,
Fragrant Coconut Oil
High quality and nice taste.
Wood Cold Pressed Coconut Oil
Discounts
Please provide personalized offers