Jamun Honey
We feel your cravings!
100% natural

Unprocessed

NMR tested

Cruelty-free
DESCRIPTION
This natural amber honey collected from jamun blooms is sourced from local beekeepers. It has an aroma of fresh jamuns that refreshes your soul. Our finger-licking honey is known to calm the mind and relax the body with its mild and sweet flavour. So enjoy our Jamun Honey and surprise your taste buds.
View full details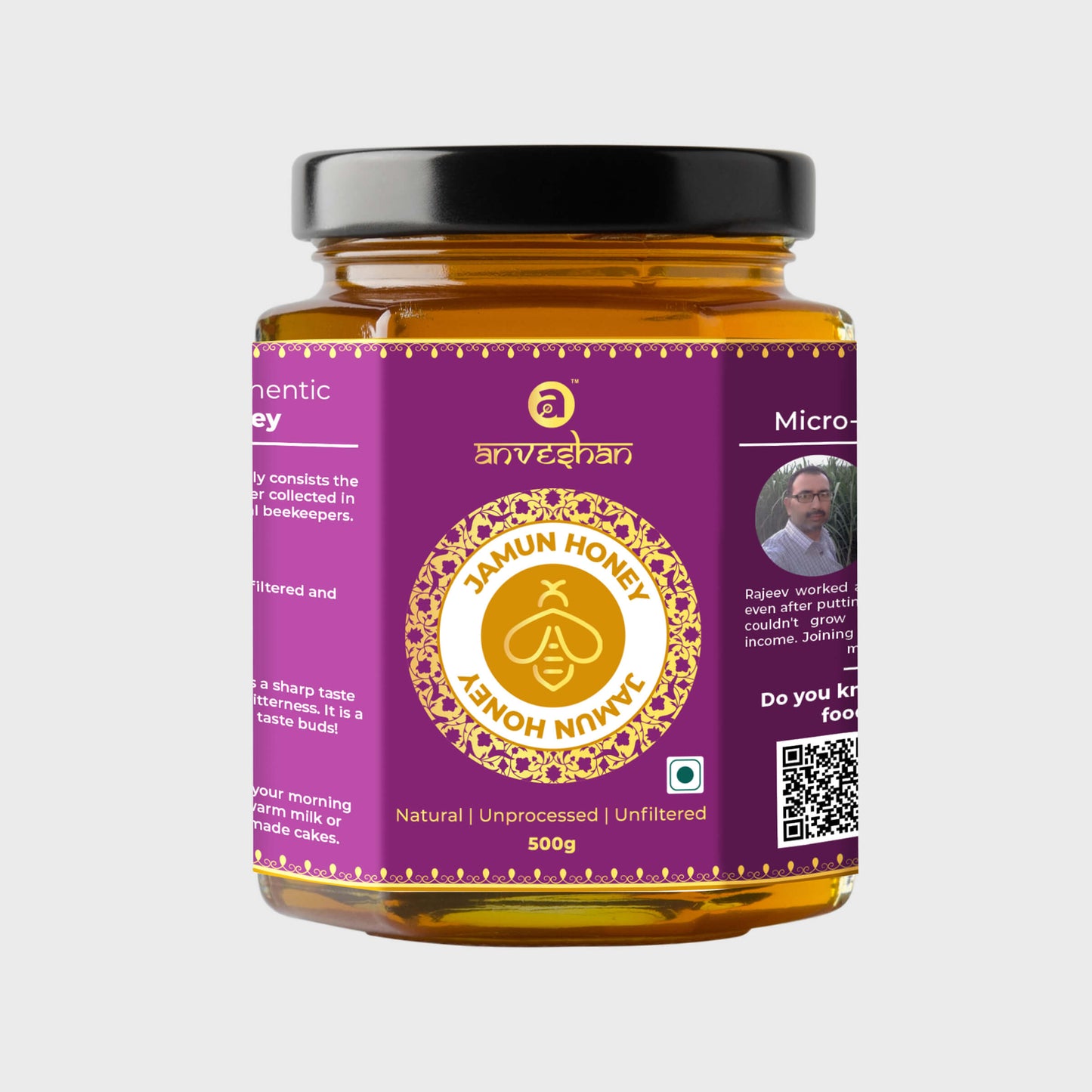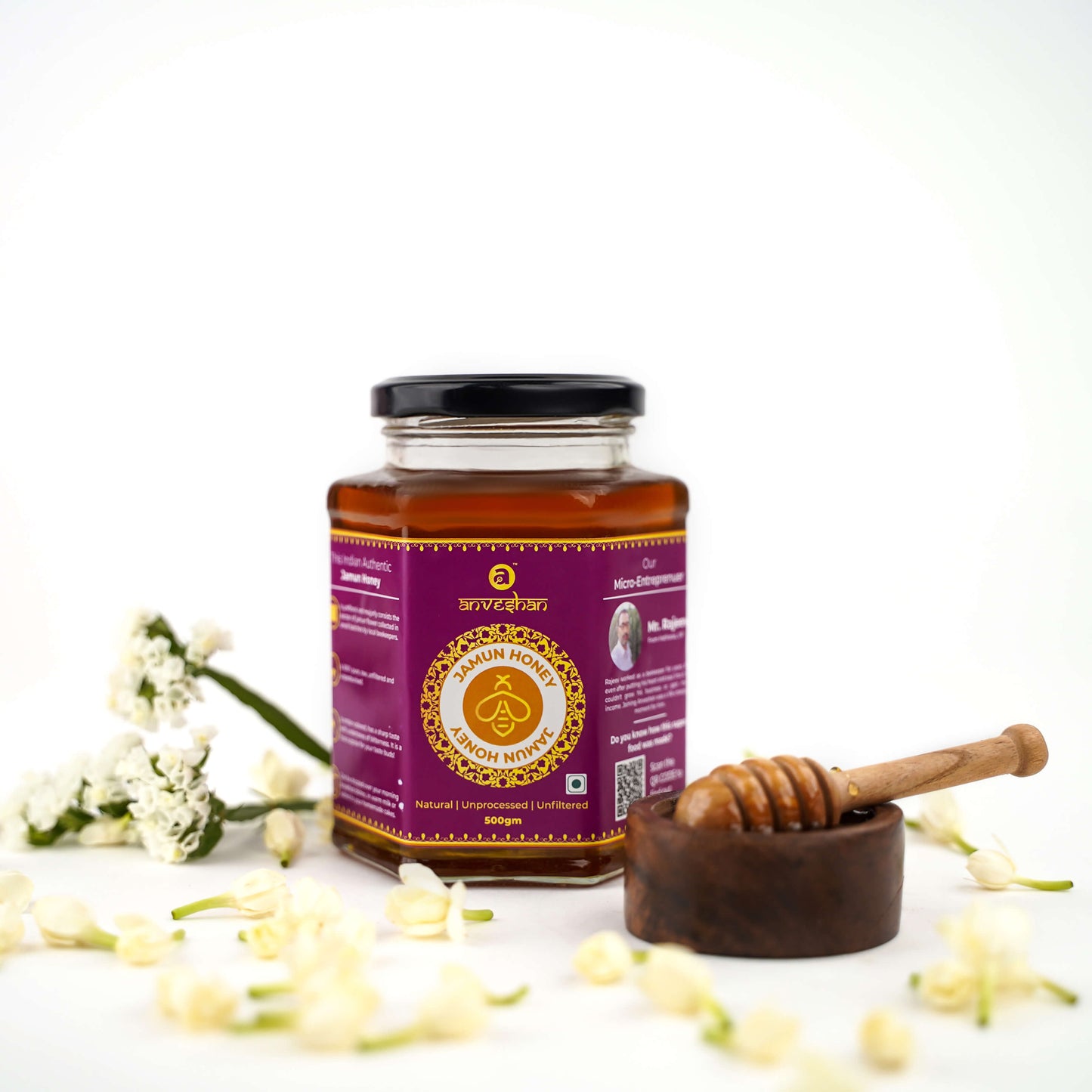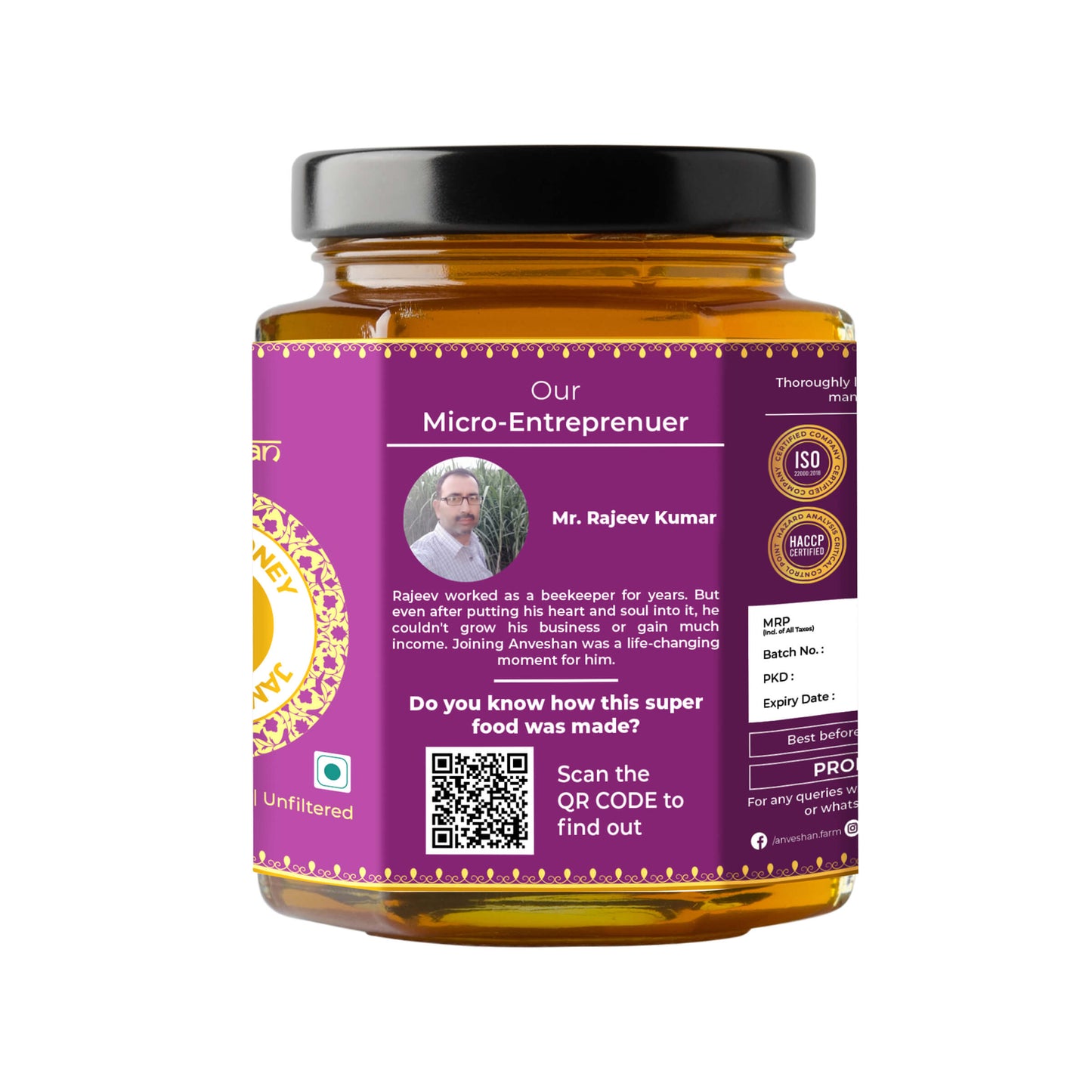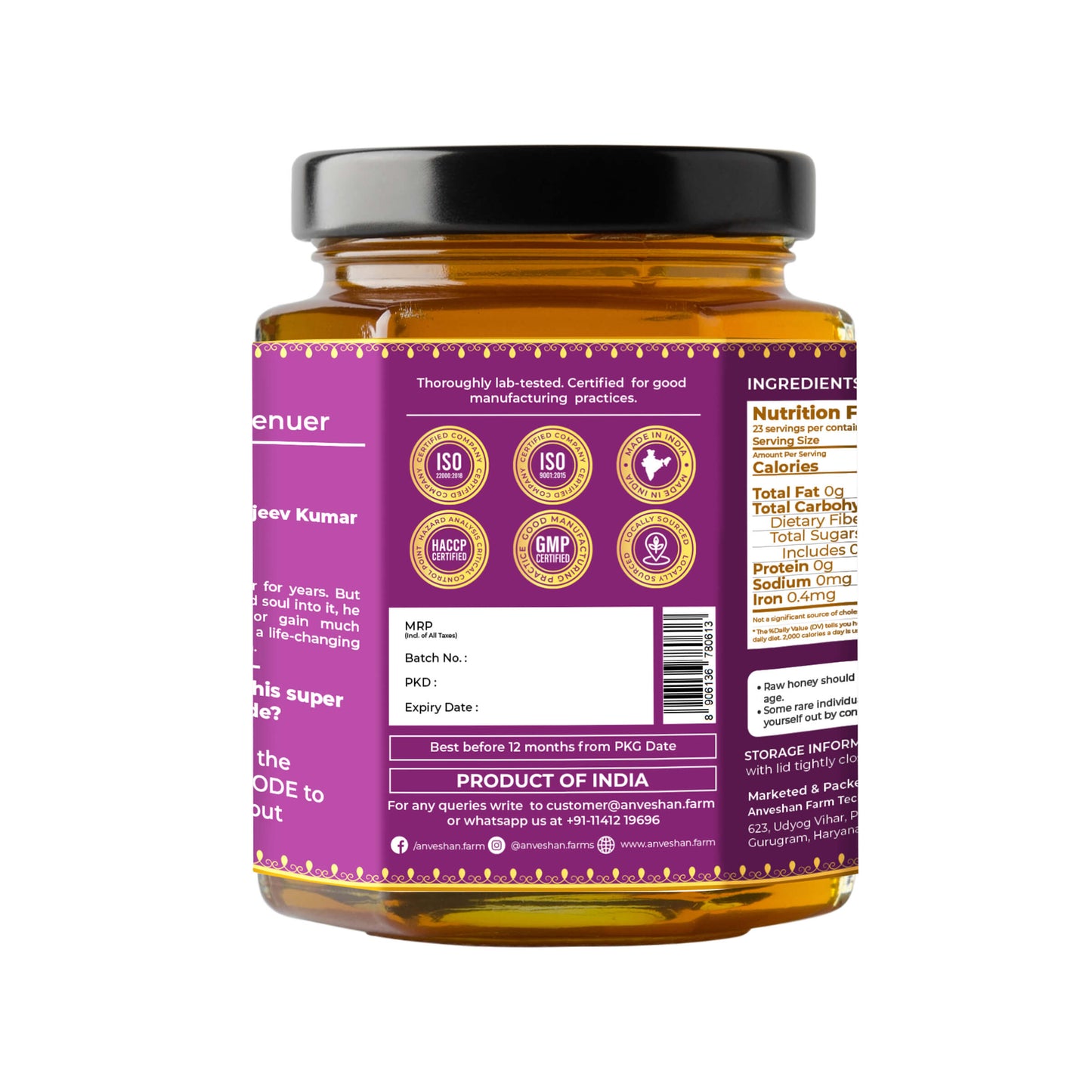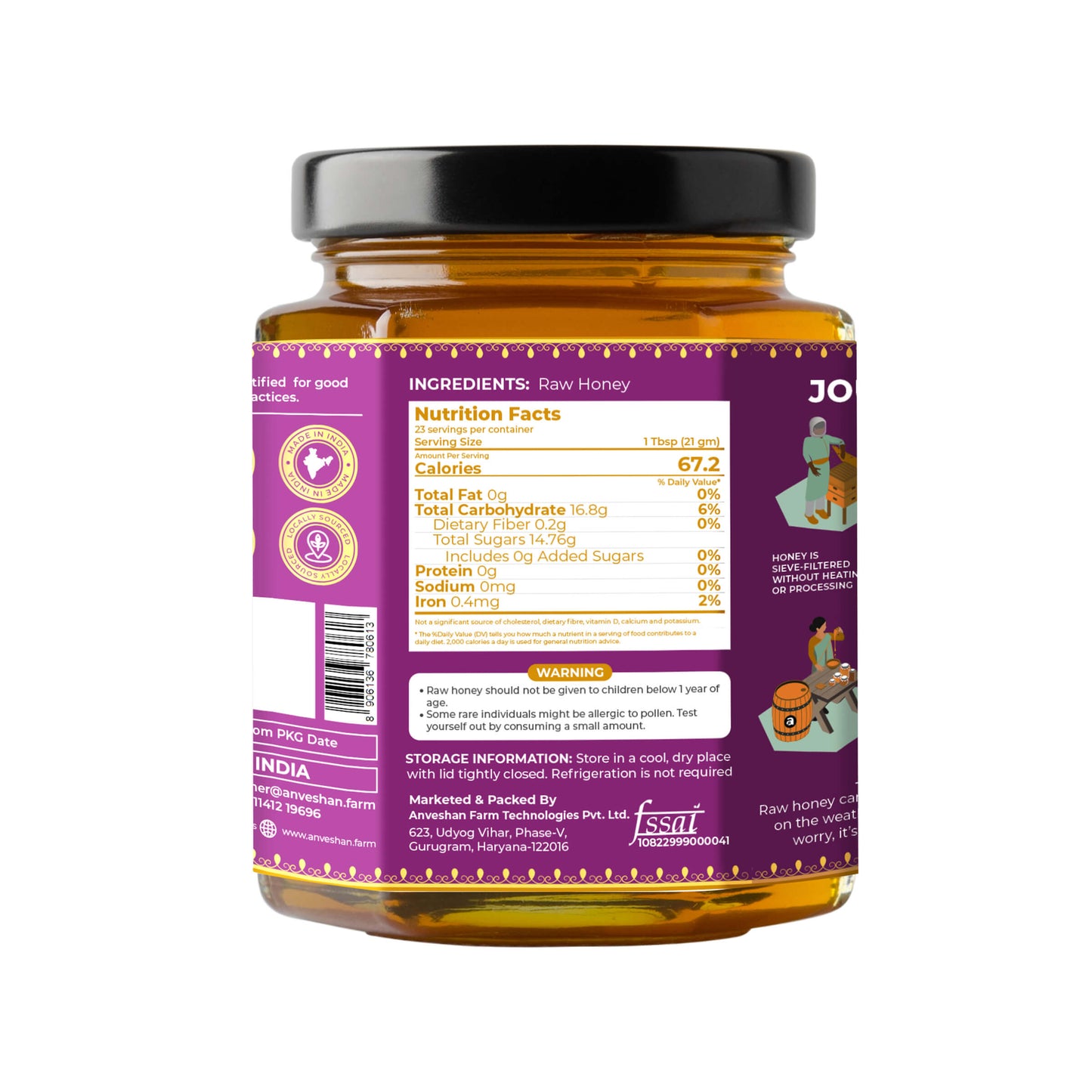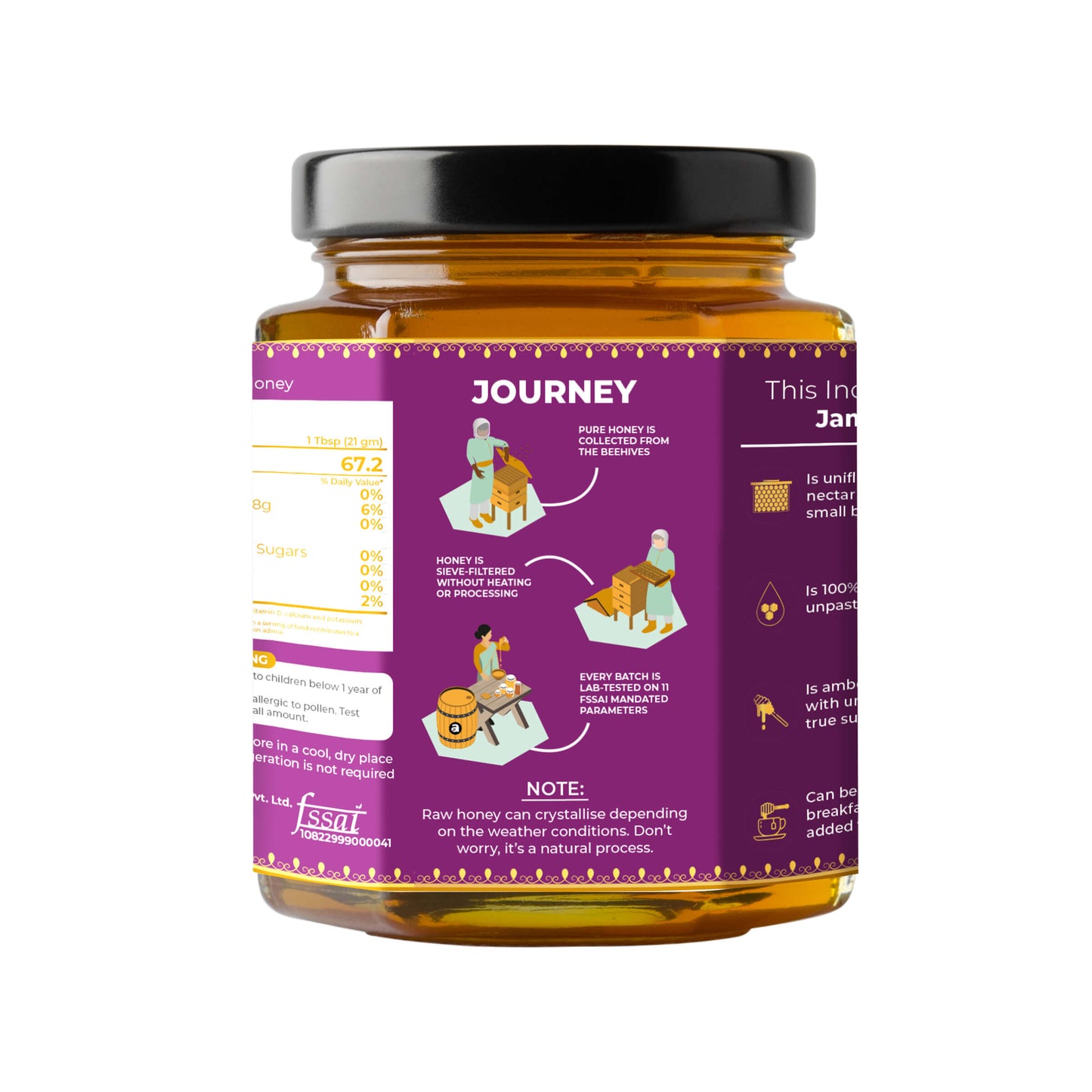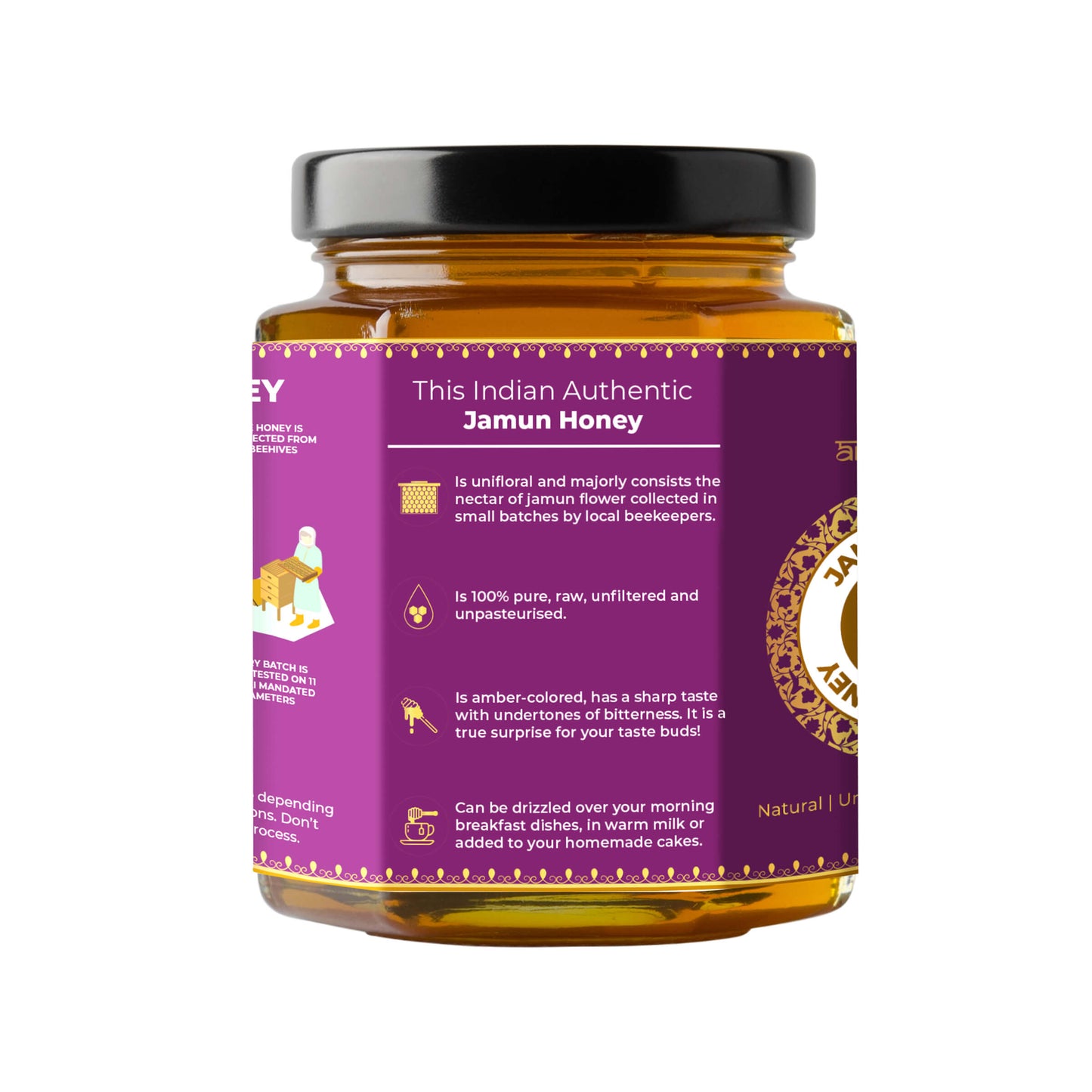 100+ Beekeepers Empowered

Procured from Dehradun

12 Lab Tests Done
Why it's Awesome

Journey of our Honey
We obtain honey with traditional knowledge and sustainable methods without destroying the hives. We don't add or remove anything from the honey produced by bees.
1

Certified Beekeepers

We source the honey from certified beekeepers working in orchards dedicated specifically to jamun trees.

2

Site Selection

Our experienced beekeepers select areas good for flowering and choose the location to keep bee boxes.

3

Nectar Collection

It is made using plenty of jamun flower nectar and is not flavoured. It is harvested during March-April, the flowering season of jamun trees.

4

Bee-friendly Extraction

Once bees fill the boxes, we start extracting the honey. We set up a net tent so that the bees won't fight or run away.

5

In-house Testing

The collected honey is tested in our ME unit. The honey is indirectly heated in boiled water and sieve filtered.

6

Packed Securely

The honey is kept for 48 hours so that the air bubbles get settled. It is then packed and delivered to you.
High nutritional value

It is filled with all naturally occurring antioxidants, pollen, enzymes, vitamins, and natural minerals and is good for your health.

Low glycemic index

Its low glycemic index makes it suitable even for people with diabetes. This nutrient-rich superfood is truly unique and healing.

Calming effects

It has a sweet, soothing flavour with great calming and mind relaxing properties. It enhances not only your food but your mood!

Purifies blood

Its detoxifying properties clean the blood and remove toxins. It also has abundant iron that improves haemoglobin levels.

Good for teeth and gums

Ironically, this sweet honey helps prevent cavities as it is acidic and has antibacterial properties.

Improves digestive system

The enzymes in honey act as a catalyst in the digestion process and help absorb nutrients from the food.
We love to add it to everything!

Add to breakfast cereals
Mix honey to morning yoghurt, cereal, or oatmeal for a sweet and delightful start.

Flavour your fruits
Add some honey to your fruits, berries, and nuts to give a finger-licking flavour.

Drizzle on dishes
Pour your honey on pancakes, smoothies, cereals, bread and more to perfect their flavour.
Know how our honey is made by our founder
Frequently Asked Questions
Is jamun honey good for your health?

Our jamun honey is free from chemicals or additives so that you can reap the nutrients of both jamun and honey in their pure form. Regular consumption of this honey can boost your energy levels and even boost your immunity.

How is jamun honey prepared?

Jamun flowers are pretty rich in nectar and pollen. Due to this richness in nectar, jamun flowers act as a treat for honey bees. During the flowering season, honey is extracted automatically from our state-of-the-art pods. Then, it is procured directly from the source to deliver it fresh to you.

Can people with diabetes eat jamun honey?

Jamun honey is a perfect alternative for people who have diabetes. It has a low glycemic index which keeps blood sugar levels under check and helps alleviate common diabetes symptoms and complications like excess thirst, urination etc. Moreover, our honey has no added sugar, so you can enjoy it without worrying!

Is it true that the thicker the consistency, the better the honey?

No, it is not. The thickness of honey does not define the purity of honey. It varies depending on multiple factors like the nectar source, place, climate, flower type, harvesting, etc.

Do you heat your honey?

No. Heating raw honey weakens or destroys beneficial enzymes, vitamins, and minerals. So, we do not heat our honey. Instead, it is delivered to you fresh and with its naturally occurring goodness.

Do you enhance the flavour of your honey?

No. We offer you raw honey without adding sweeteners, chemicals, or preservatives.