Wild Forest Honey
Sehat with shehad
Unprocessed

NMR tested

Cruelty-free

Antibiotic-free
DESCRIPTION
Our raw, unpasteurised honey is collected by tribal honey hunters from the deep forests of the Himalayas. A by-product of the nectar of the natural flora, our wild forest honey has a strong and bold fragrance & taste. So add a spoonful of health to your meals and enjoy the long-lasting flavour with our Wild Forest Honey.
View full details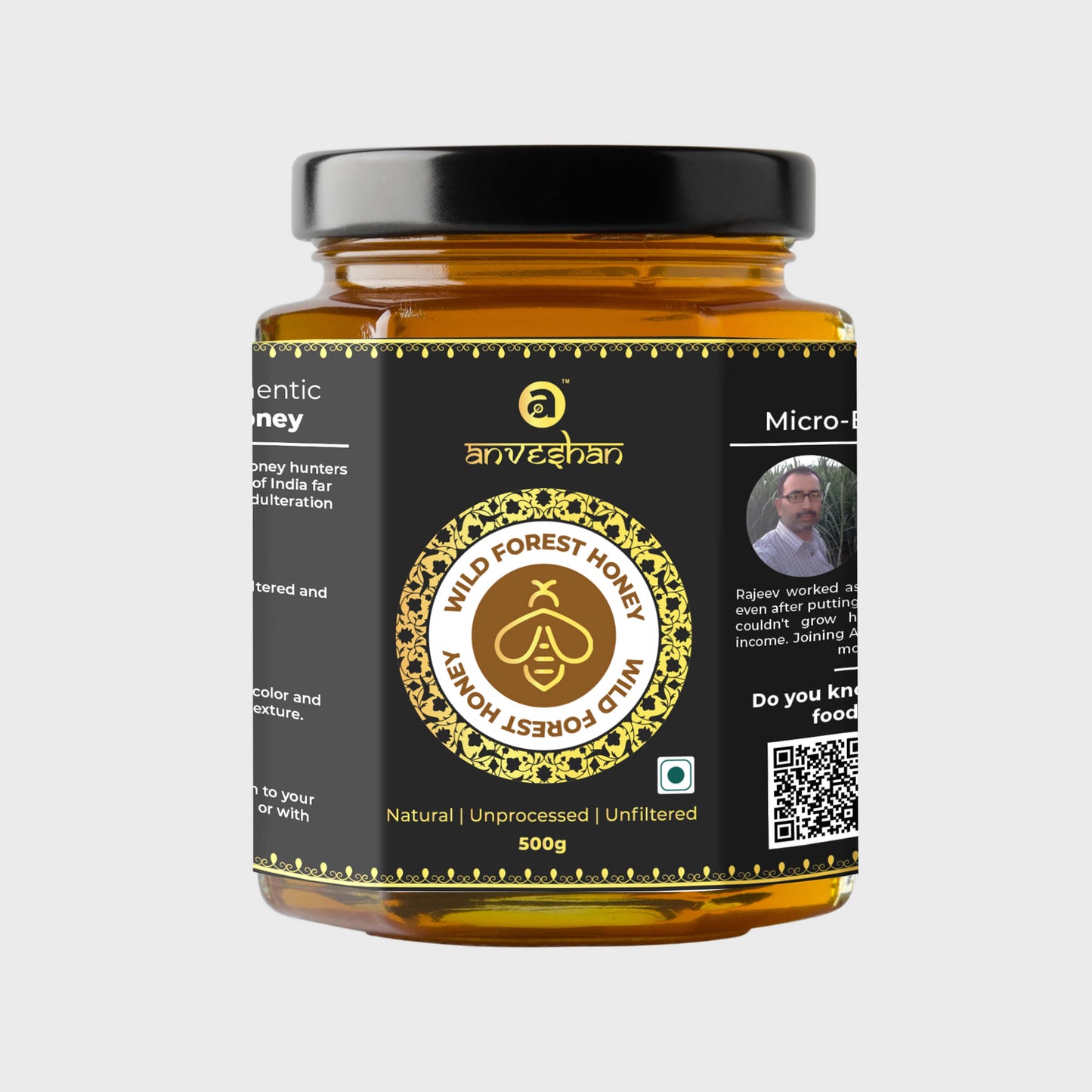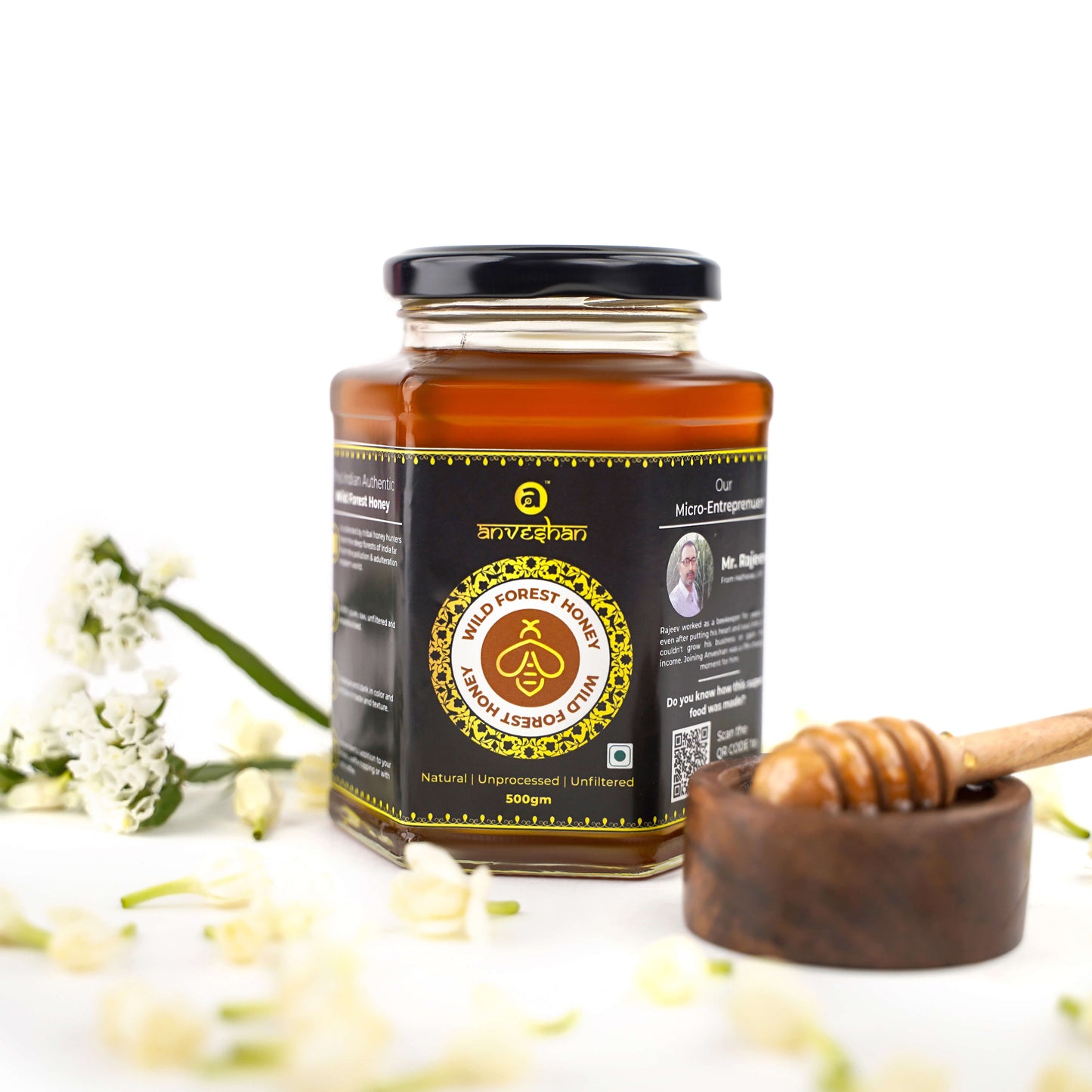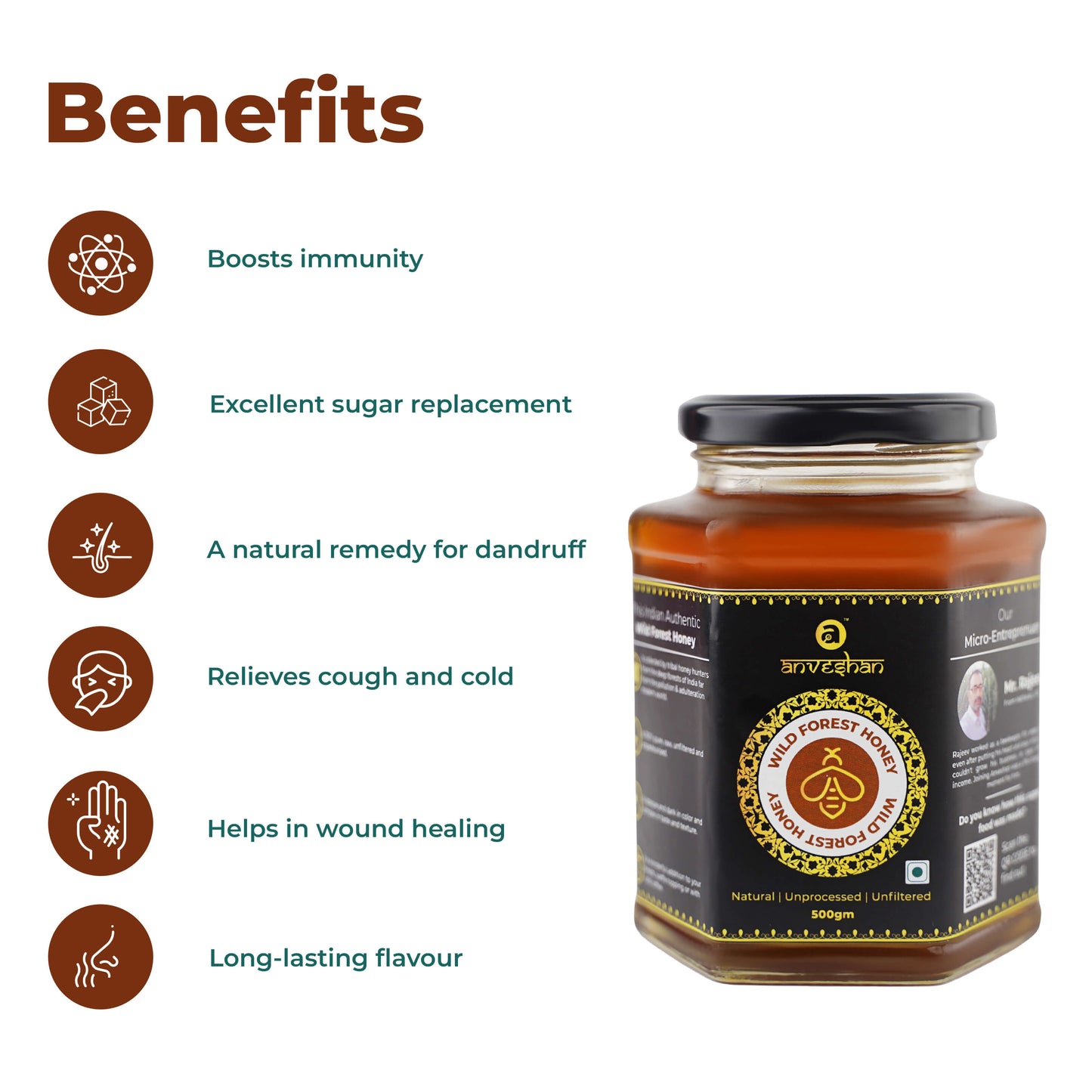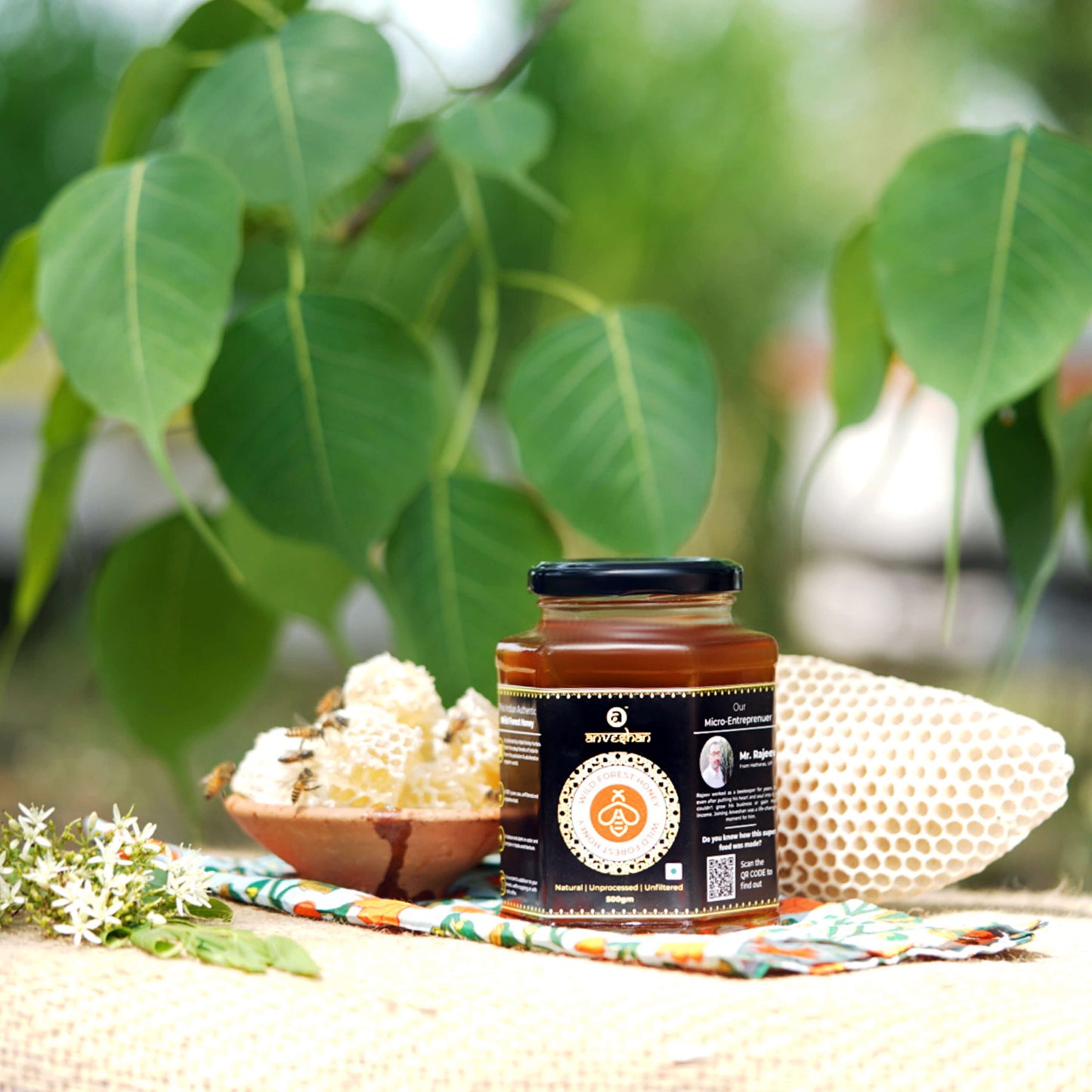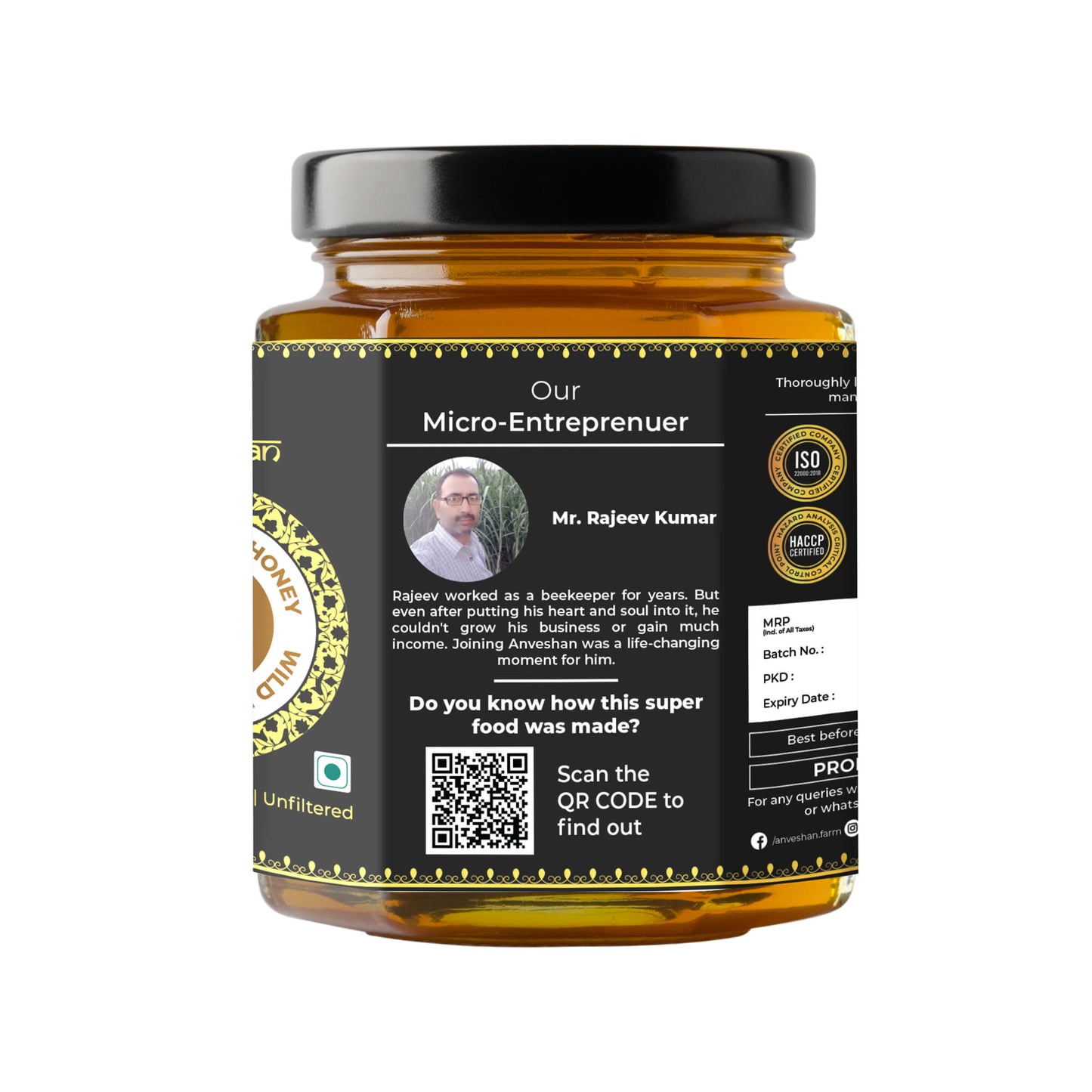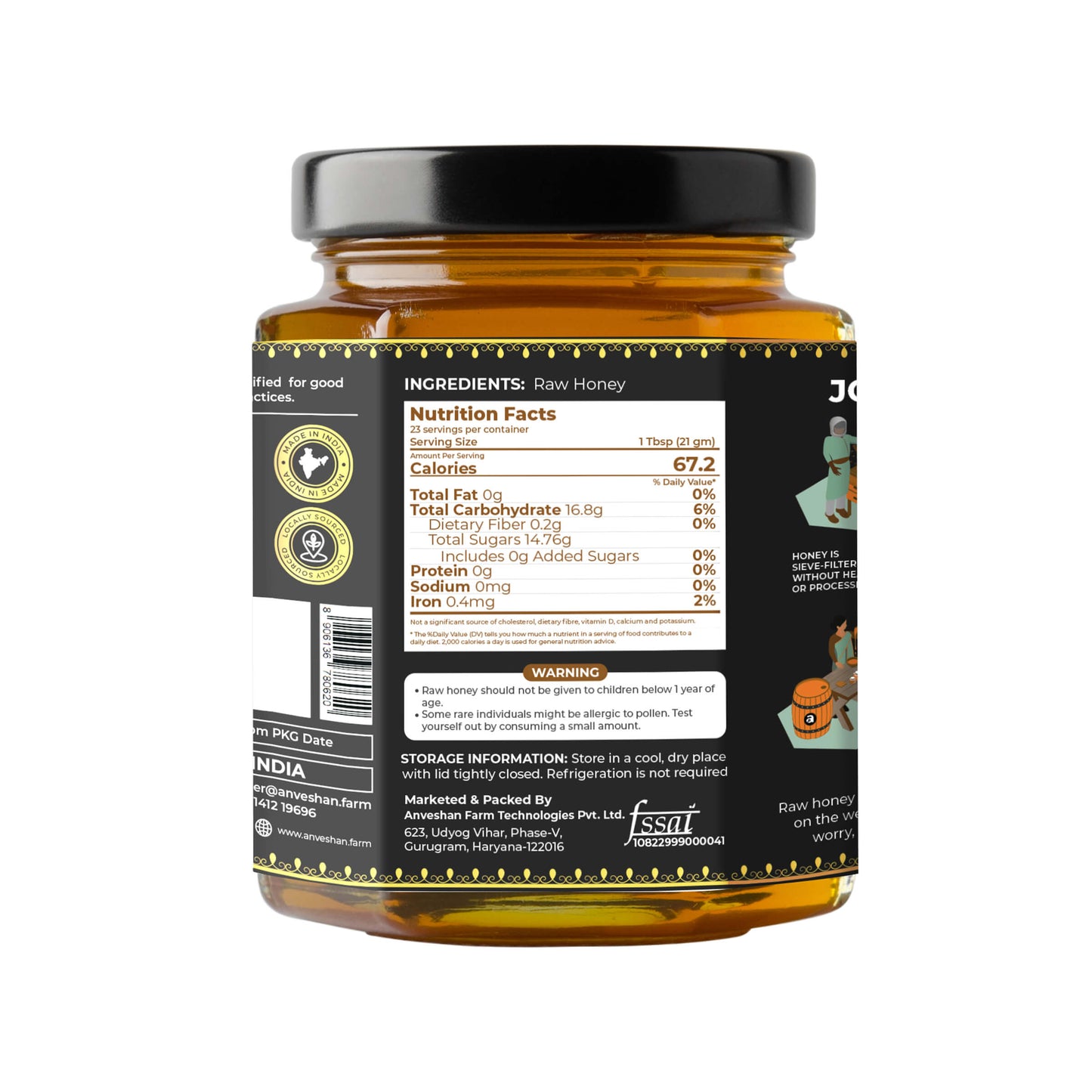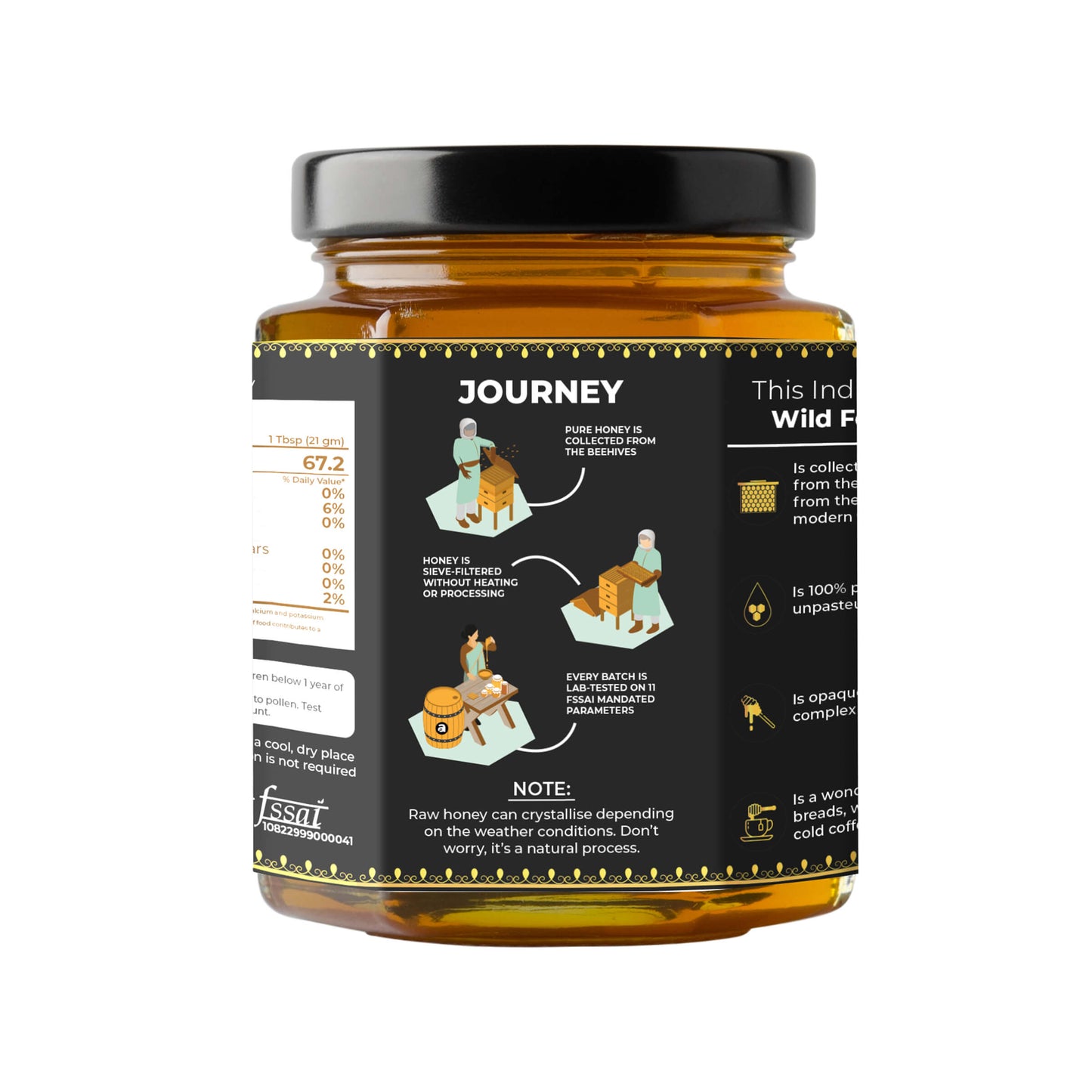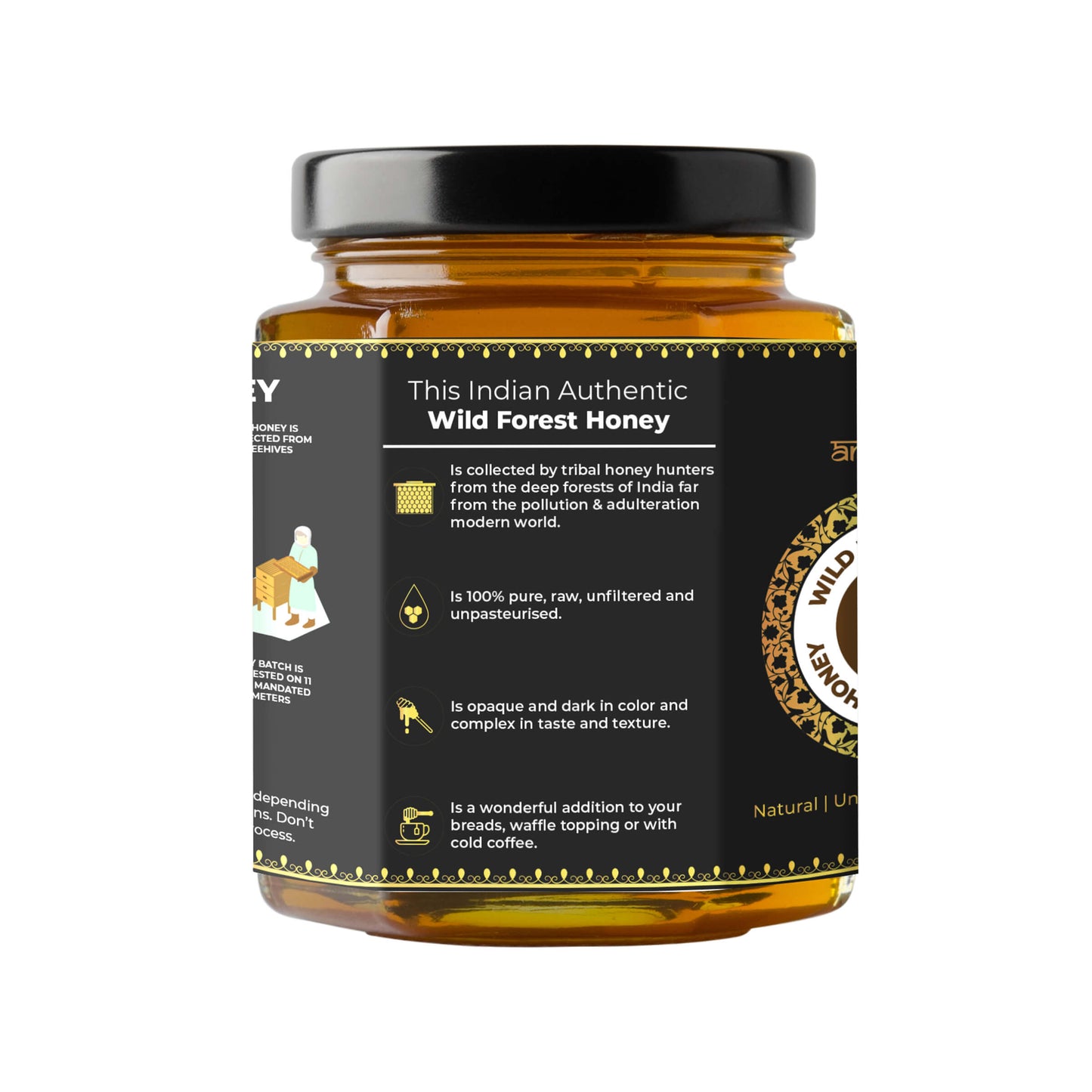 100+ Beekeepers Empowered

Procured from the Himalayas

12 Lab Tests Done
Why it's Awesome

Journey of our Honey
We obtain honey with traditional knowledge and sustainable methods without destroying the hives. We don't add or remove anything from the honey produced by bees.
1

Certified Beekeepers

The entire processing of our honey is done by certified beekeepers in the dense forests of Himalayas.

2

Site Selection

Our experienced beekeepers select areas good for flowering and choose the location to keep bee boxes.

3

Nectar Collection

In April the flora is good and bees collect nectar. The team keeps a check on the quality of honey which is being collected.

4

Bee-friendly Extraction

Once bees fill the boxes, we start extracting the honey. We set up a net tent so that the bees won't fight or run away.

5

In-house Testing

The collected honey is tested in our ME unit. It is indirectly heated in boiled water and sieve filtered.

6

Packed Securely

The honey is kept for 48 hours so that the air bubbles get settled. It is then packed and delivered to you.
High nutritional value

It is full of various beneficial nutrients like sodium, potassium, carbohydrates, proteins, iron, etc., that are good for your health.

Heals cuts and wounds

It is an effective healing medication because of its outstanding antibacterial qualities.

Protects against infections

Loaded with essential nutrients, it helps improve the immune system, fights infections and keeps illness at bay.

Good for healthy skin

Honey helps in the prevention of acne. It also helps with locking in moisture to give you glowing and plump-looking skin.

Remedy for cough

It has anti-inflammatory effects. It is an effective remedy to relieve a cough, cold or sore throat pain.

Excellent sugar replacement

The glycemic index (GI) of this honey is well below sugar, ranging from 54 to 59, while the GI of other sugar forms is as high as 65.
We love to add it to everything!

Add to drinks
Mix honey into water, milk, herbal teas or smoothies to add a pleasant and sweet taste.

Flavour your fruits
Add some honey to your fruits, berries, and nuts to give a finger-licking flavour.

Desserts
Using honey in desserts is the easiest way to indulge in your favourite dishes without guilt.
Know how our honey is made by our founder
Frequently Asked Questions
What is the difference between wild forest honey and raw honey?

Our raw manuka honey is made by bees that feed on the manuka bush. Forest honey, on the other hand, is made by bees that take honeydew from trees instead of nectar from flowers.

Is wild forest honey good for your face?

Honey has antibacterial and antifungal effects, so it can help reduce pimples, black patches, and dead skin cells. In addition, it functions as an immunisation agent and helps diminish skin infections.

How much honey can I eat every day?

Ideally, three to five tablespoons of honey a day is good enough. However, you can consume it according to your diet and preferences. But always remember to consume it in moderation.

Is it true that the thicker the consistency, the better the honey?

No, it is not. The thickness of honey does not define the purity of honey. It varies depending on multiple factors like the nectar source, place, climate, flower type, harvesting, etc.

Do you heat your honey?

No. Heating raw honey weakens or destroys beneficial enzymes, vitamins, and minerals. So, we do not heat our honey. Instead, it is delivered to you fresh and with its naturally occurring goodness.

Do you enhance the flavour of your honey?

No. We offer you raw honey without adding sweeteners, chemicals, or preservatives.
Taste good
Like it and will buy again
Okayishly good
Couldn't find any difference between this real wild honey and the normal outside honey.
But the trust on you makes a slight change
Worst
Not a good quality very bad