Moringa Sattu Drink Mix
Spark the energy within you!
Easy to make

ISO certified

Vegan

Diabetic-friendly
DESCRIPTION
Looking for a pick-me-up energy boost? Here's a lip-smacking healthy drink mix powder! The instant homemade energy drink that you cannot stop sipping. Our Grandma-inspired Moringa Sattu has no added sugar or chemicals, just 100% pure ingredients. Enjoy the flavour and fulfilment in just a glass!
View full details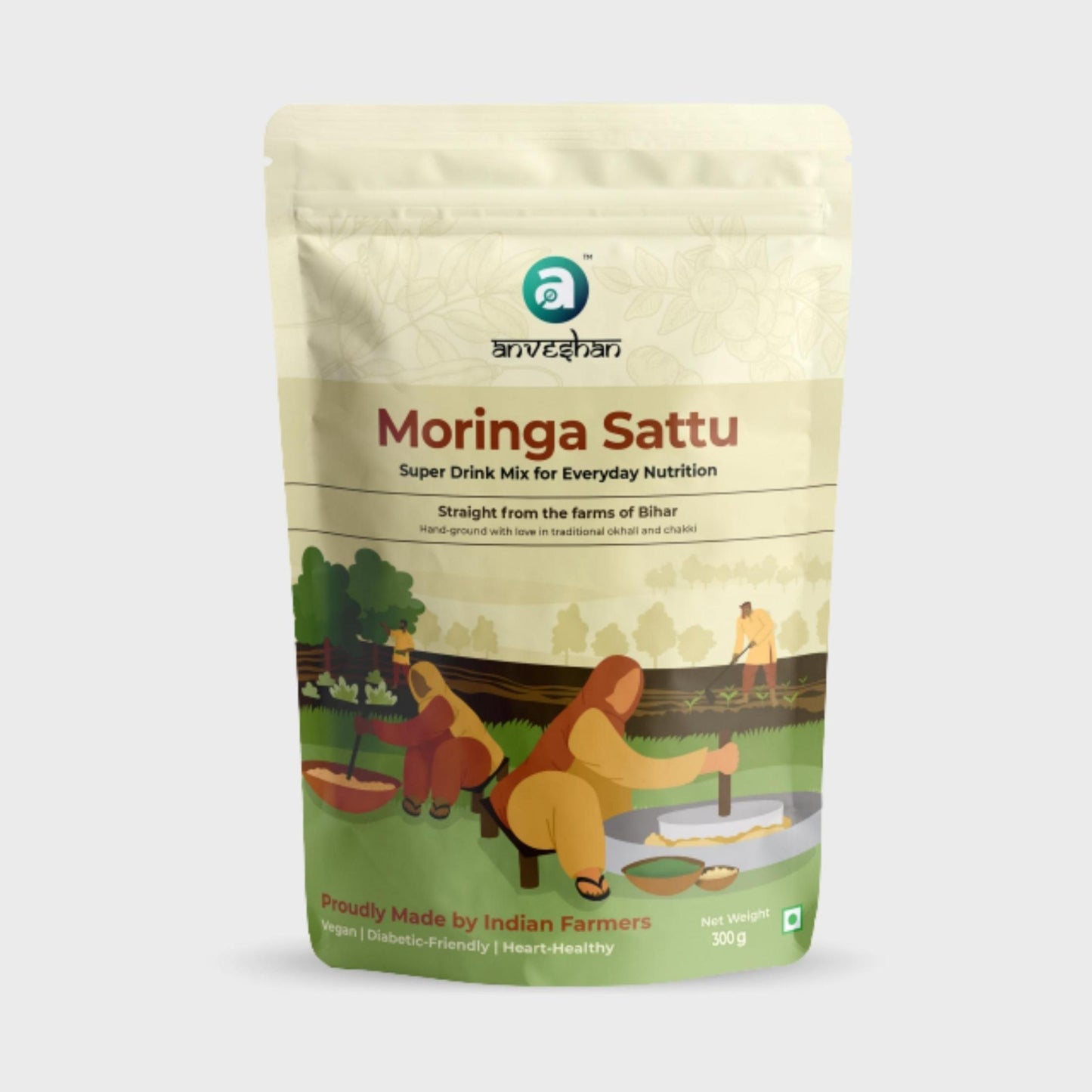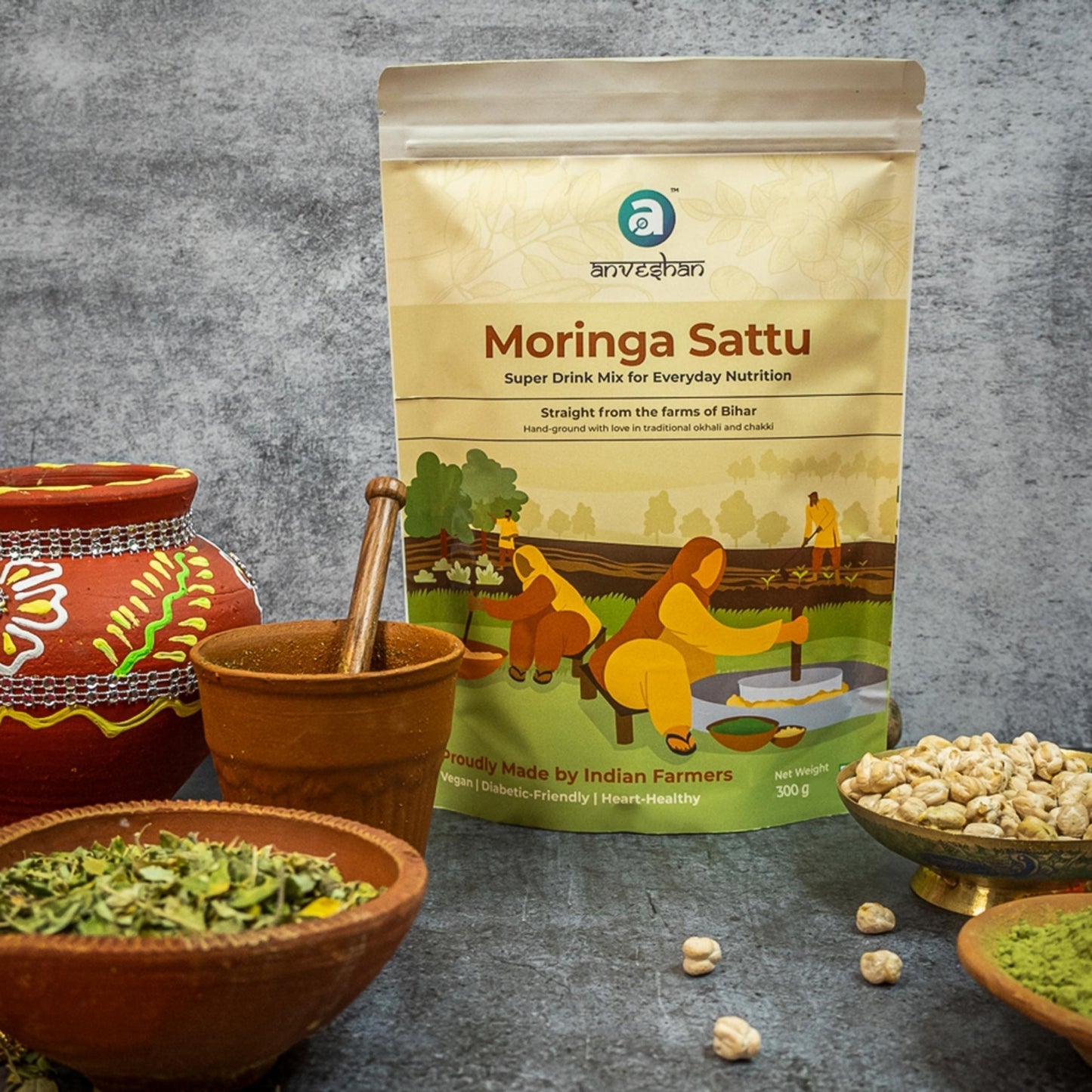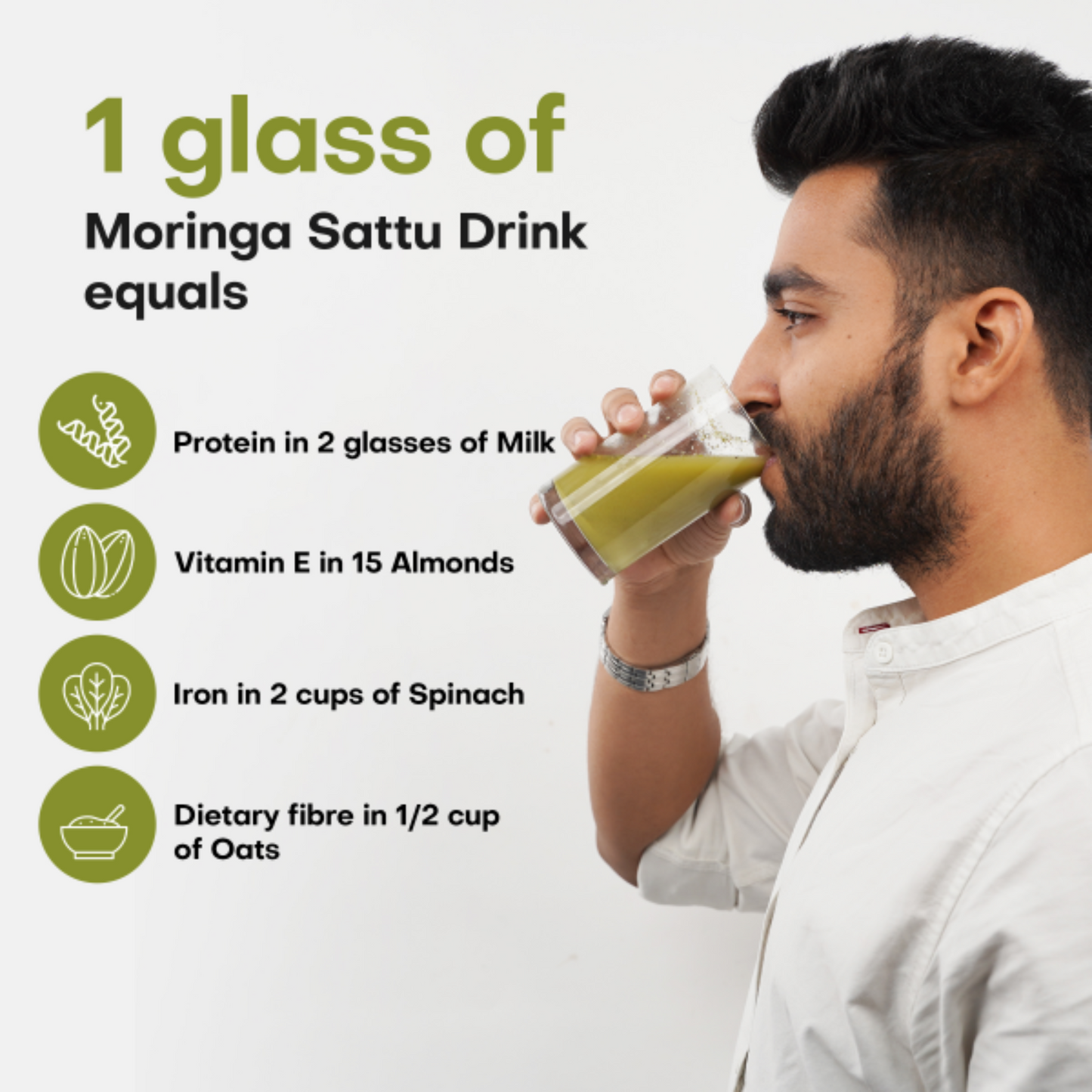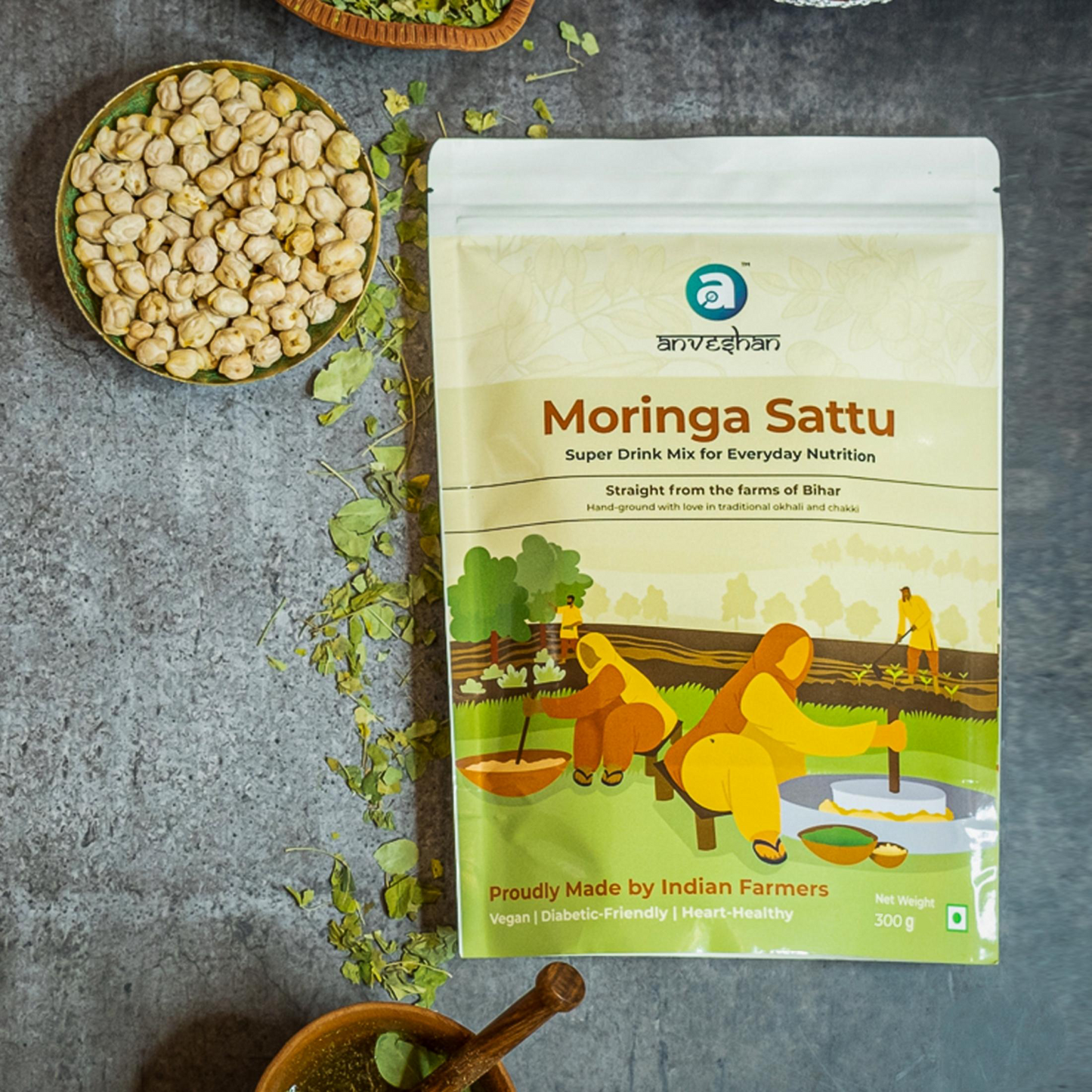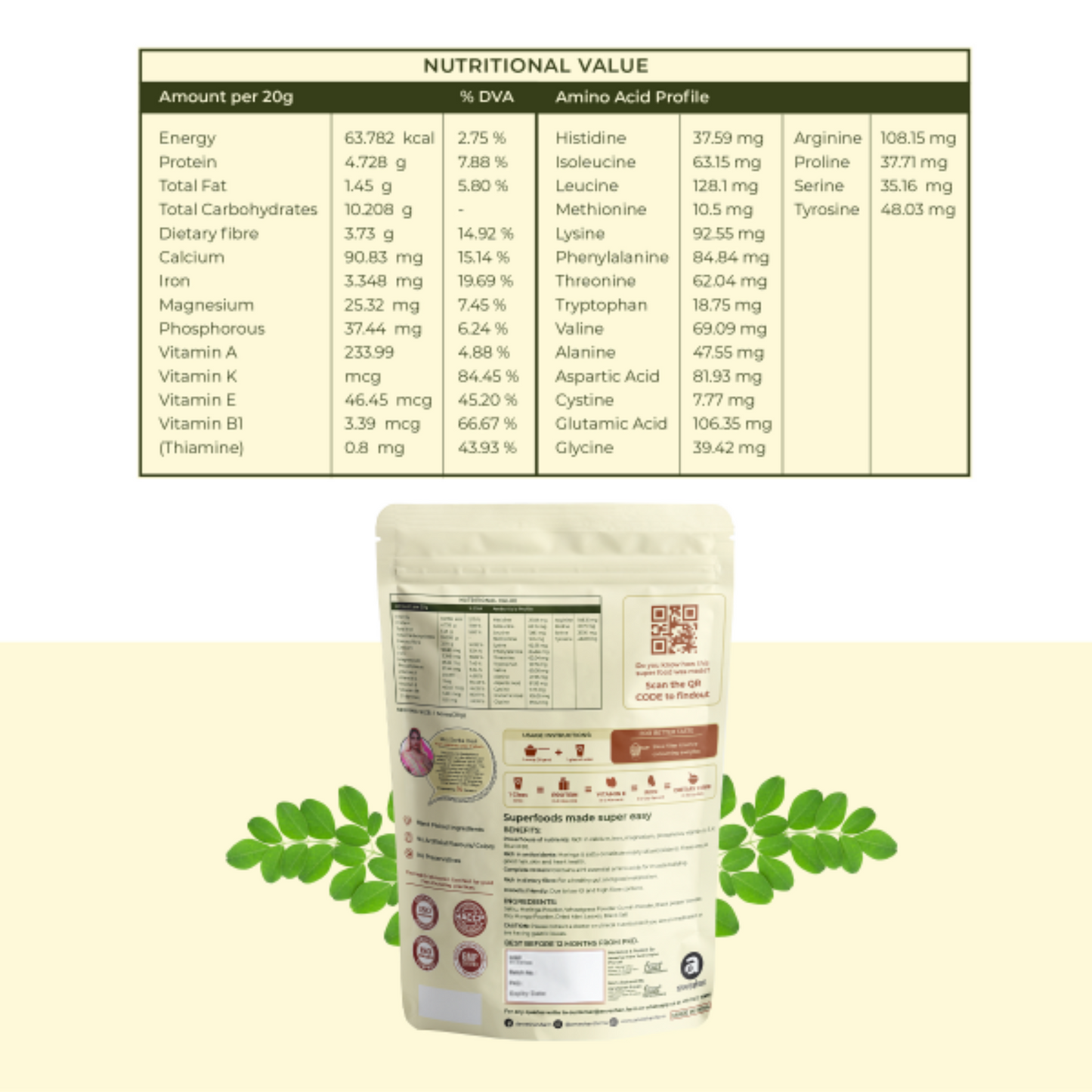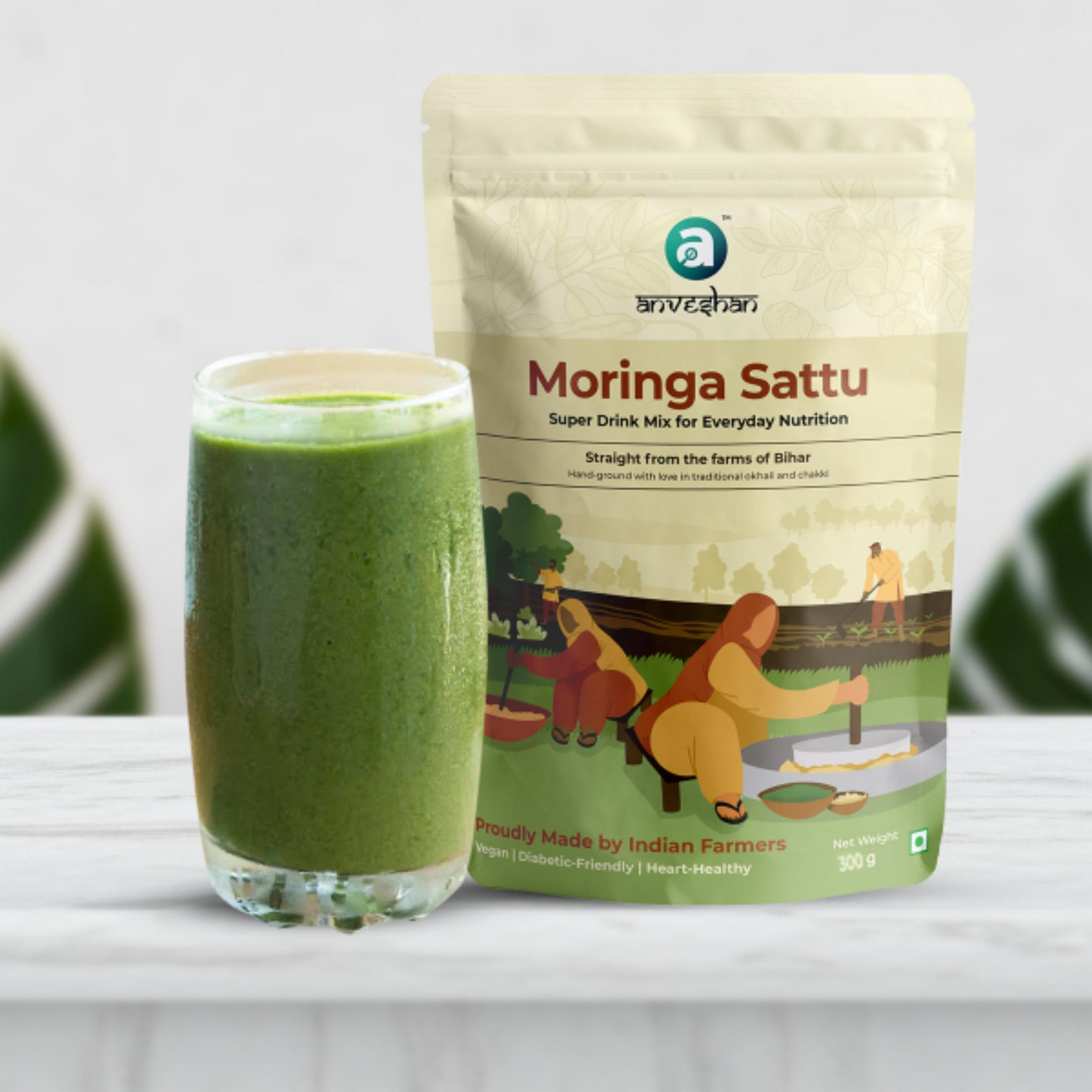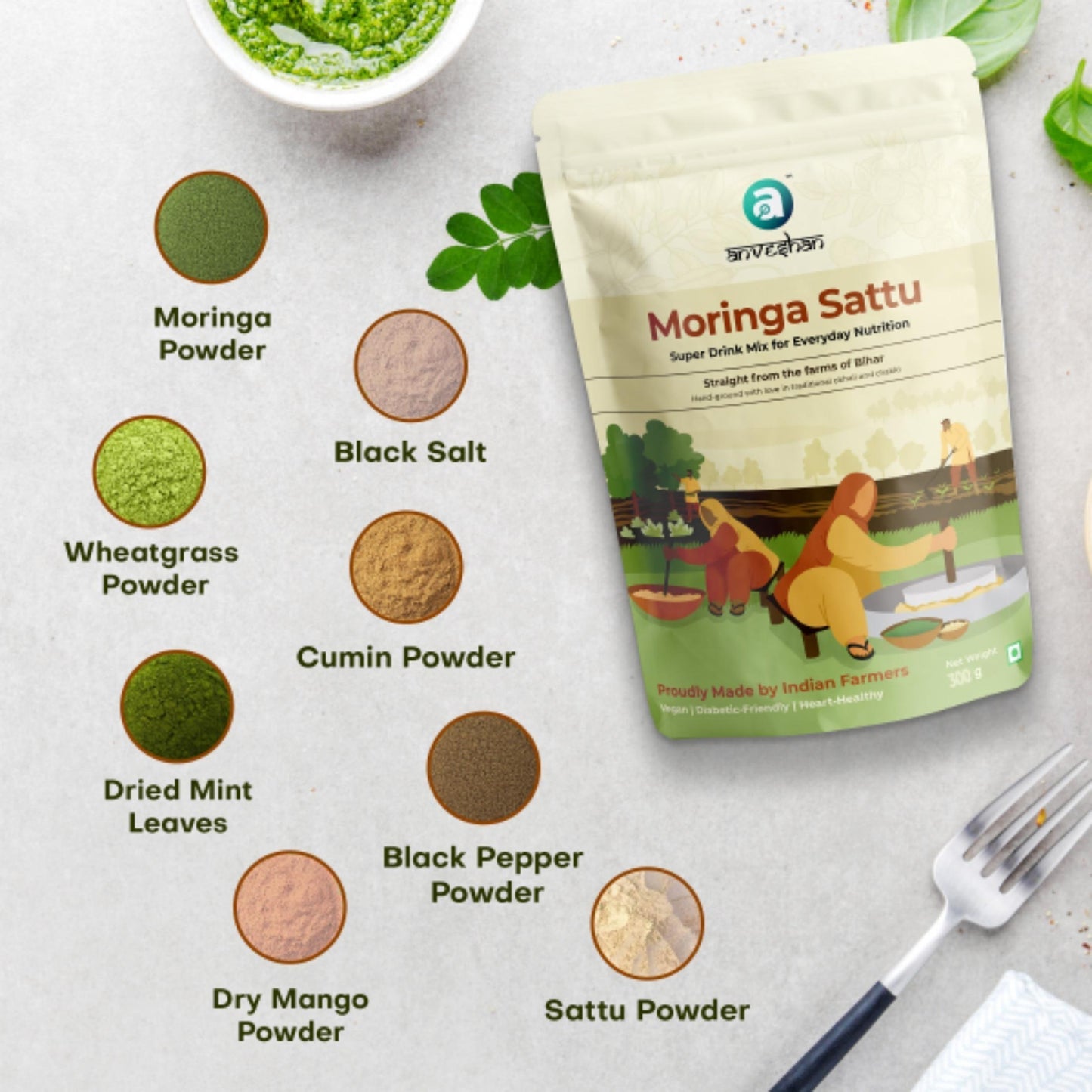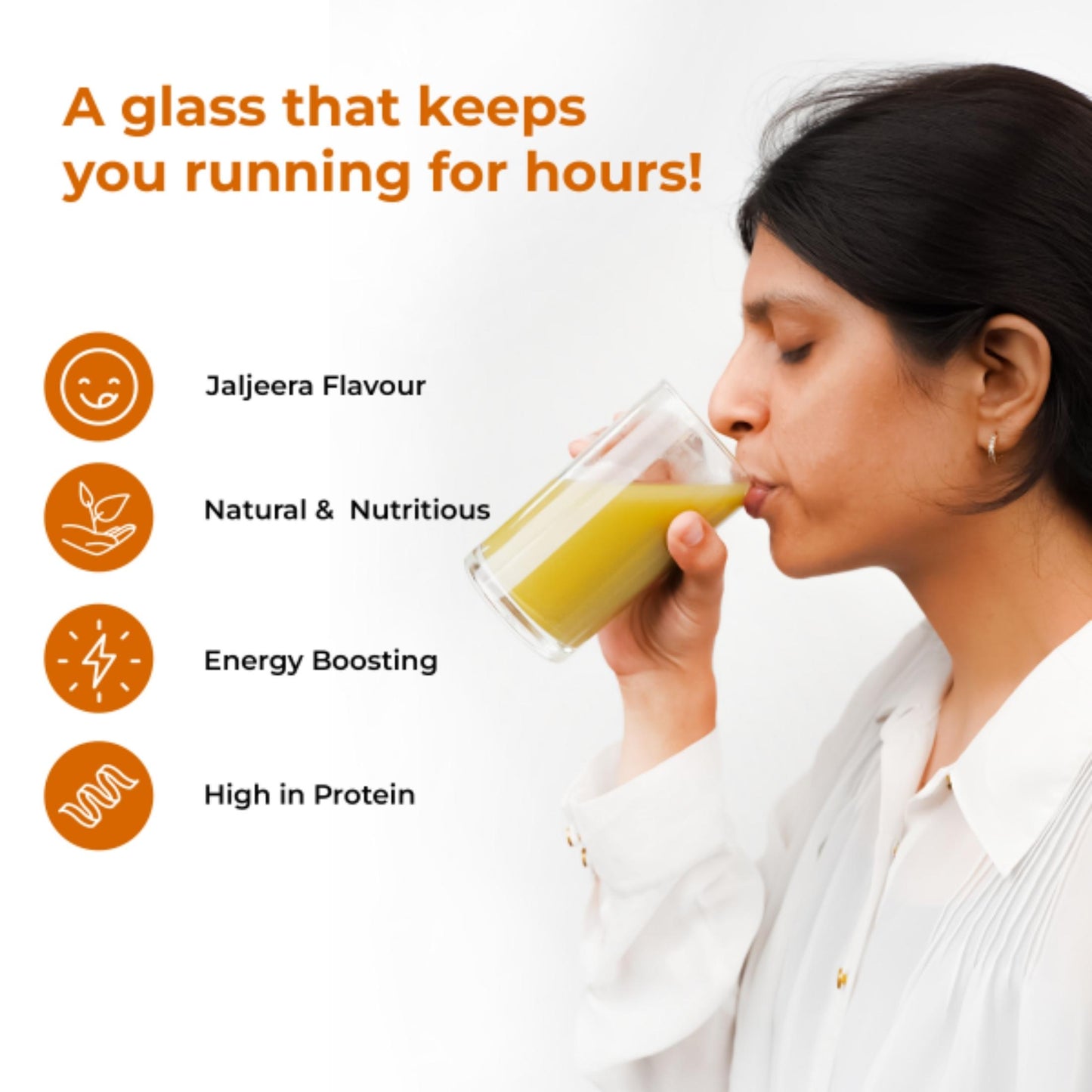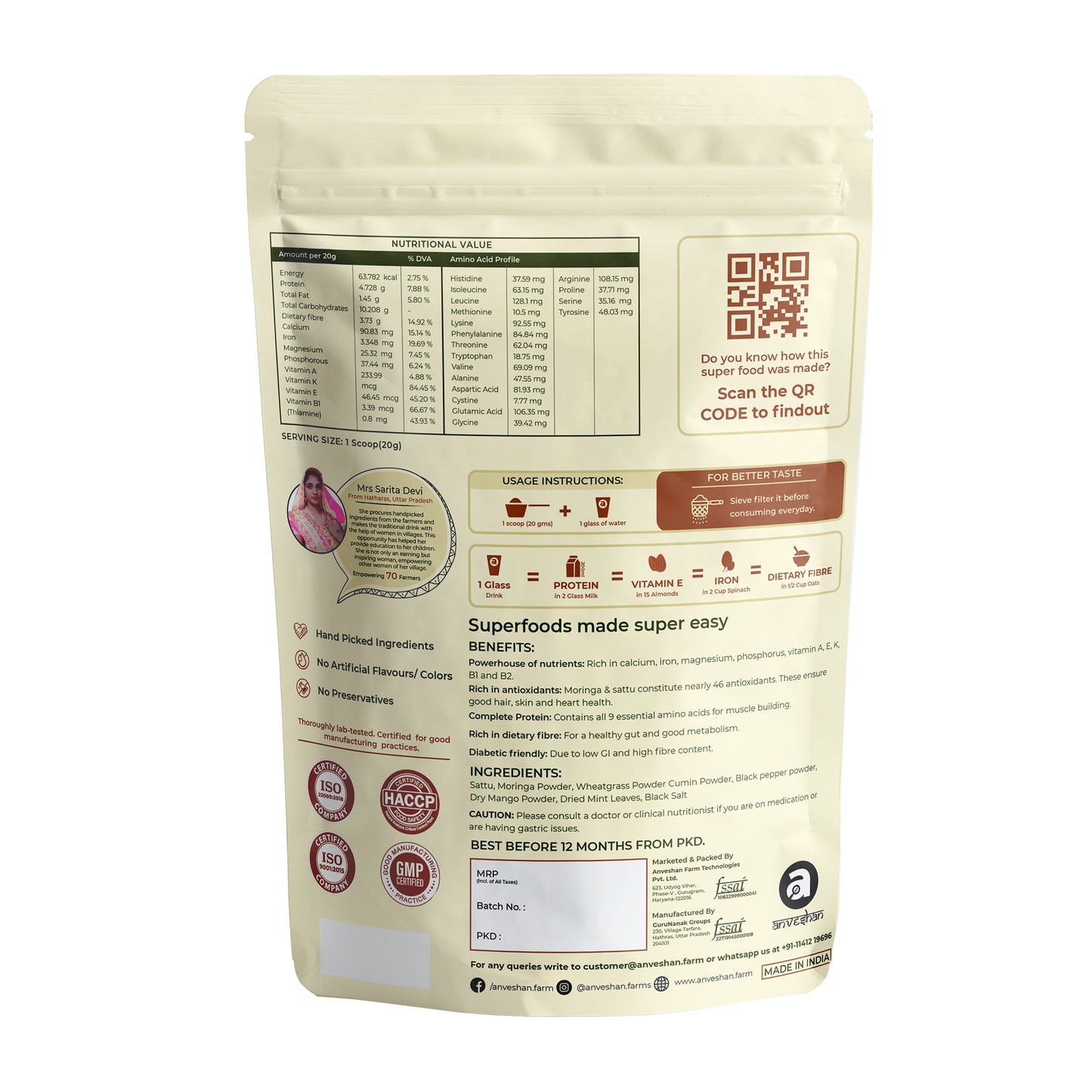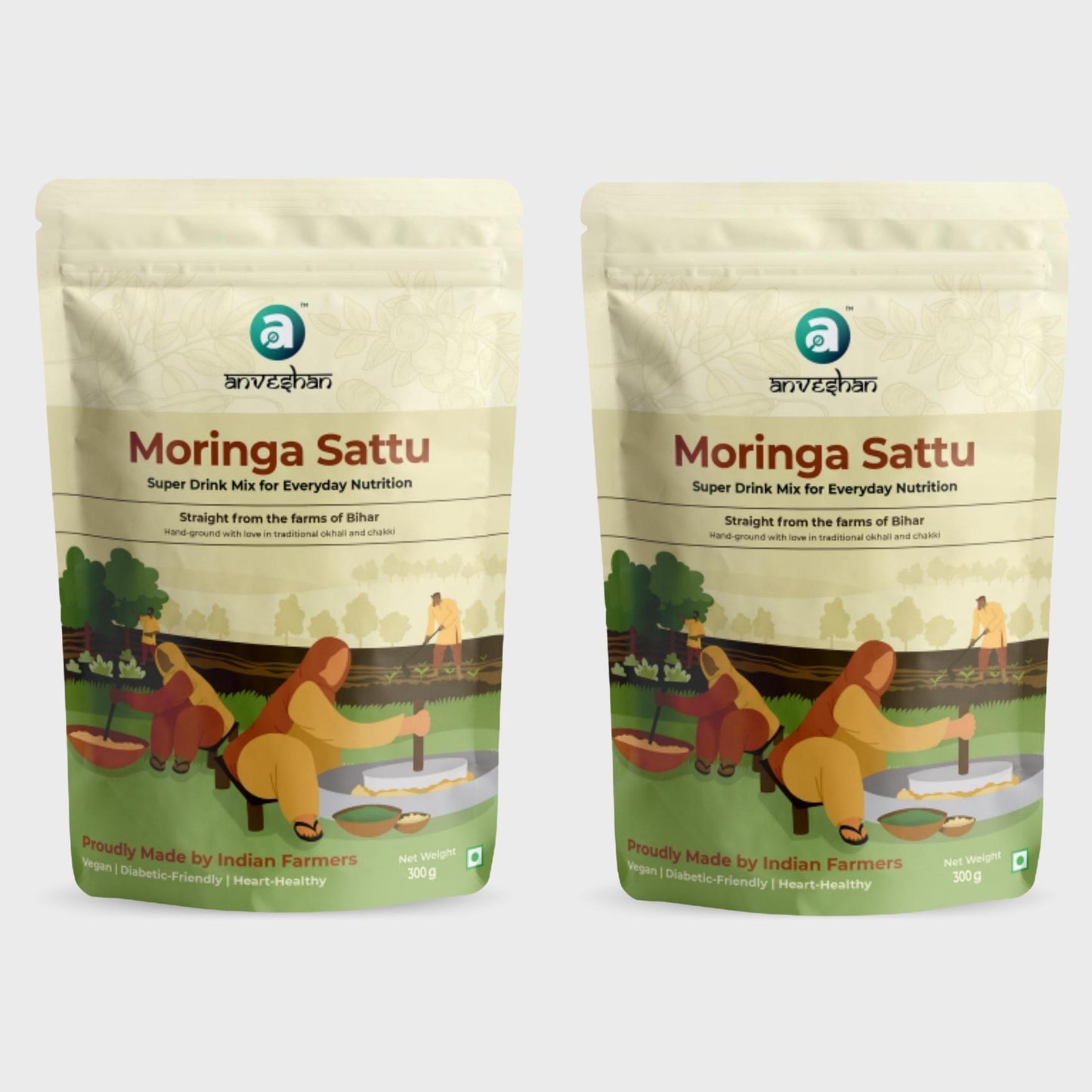 70+ Farmers Empowered

Prepared in Bihar

15 Lab Tests Done
Why it's Awesome

Journey of our superdrink
1

Stone-ground Ingredients

Sattu, moringa leaves and wheatgrass are stone-ground in okhali/chakki by strong and independent women of the Self Help Group.

2

Sieve Filtered

The powder obtained from the ingredients is sieve filtered. Then they mix the three finely ground powders in a clean container.

3

Quality Checked

The moringa sattu powder is securely packed, following standards and quality checks.
What's in it!
Sattu

A nutritional powerhouse with a low-glycemic index, an excellent option for diabetics.

Moringa Powder

A superfood good for your health, hair, skin and helps prevent and fight diseases.

Wheatgrass Powder

Packed with a powerful combination of nutrients that make it a perfect everyday health tonic for you.

Cumin Powder

Its strong oil content gives a warming flavour and adds a rich, earthier tone to the mix.

Black Pepper Powder

It is antibacterial in nature, and helps soothe your cough and cold.

Dry Mango Powder

Adds a tangy taste that awakens your taste buds and lightens your mood.

Dried Mint Leaves

A medicinal herb with a refreshing taste that improves your digestion.

Black Salt

It helps the body absorb essential minerals and improves digestion.
Natural summer drink

It is a calming and satisfying drink to quench your thirst in summer. It helps you beat scorching heat with energy.

Boosts your energy

A great homemade energy drink for weakness. It is a good source of iron, magnesium, protein and fibre. So it acts as an energy booster and helps you stay hydrated.

Great for digestion

It has high amounts of insoluble fibre, is great for the intestines and is the best juice for digestion. It is a delightful beverage that is an excellent choice to stay healthy.
How To Consume Our Drink Mix

Scoop
Take 1 scoop (20g) of Moringa Sattu Drink Mix and 200 ml water.

Stir
Add the mix to water and stir well. You can choose to filter the mixture.

Savour
Enjoy every sip of your delicious sharbat to re-energize yourself everyday.
Frequently Asked Questions
Is it bitter in taste?

Not at all! Our sattu sharbat is namkeen and pleasant-tasting. We add black salt and dry mango powder that cuts off the bitterness from sattu moringa powder.

Can we drink sattu daily?

Why not! Consuming this drink will resolve your stomach problems and improve your bowel movements. So, enjoy your wholesome drink every day.

What is the best time to have this drink?

You can have this anytime as a healthy drink in the morning, evening, when you feel low or even when you are in a hurry.

Is it gluten-free?

Yes! It is gluten-free and free of artificial colours or preservatives.

What is the shelf life of this drink mix?

It can last up to 6 months.
Moringa Sattu
I am a diabetic and I found Moringa Sattu an ideal, tasty, light and satisfying addition to my diet. It is indeed a great innovation, a valuable item with the goodness of moringa and the usefulness of dietary fibre. Thank you Anveshan.
Nice product but lil bit costly
I cant make it regular drink because sattu easily availble in my home and i can make my own moriga sattu powder with low cost
Not good taste.
The taste was very bad and horrible