Stone-Ground Turmeric Powder
Your partner in cooking
Soaked in buttermilk

No added colour

No chemicals

Stone-ground
DESCRIPTION
This ancient treasure is procured from Uttarakhand and is one of the most healthful spices on the planet. Our naturally-grown haldi is soaked in buttermilk before grinding to improve flavour, colour, aroma, and nutrient absorption.
View full details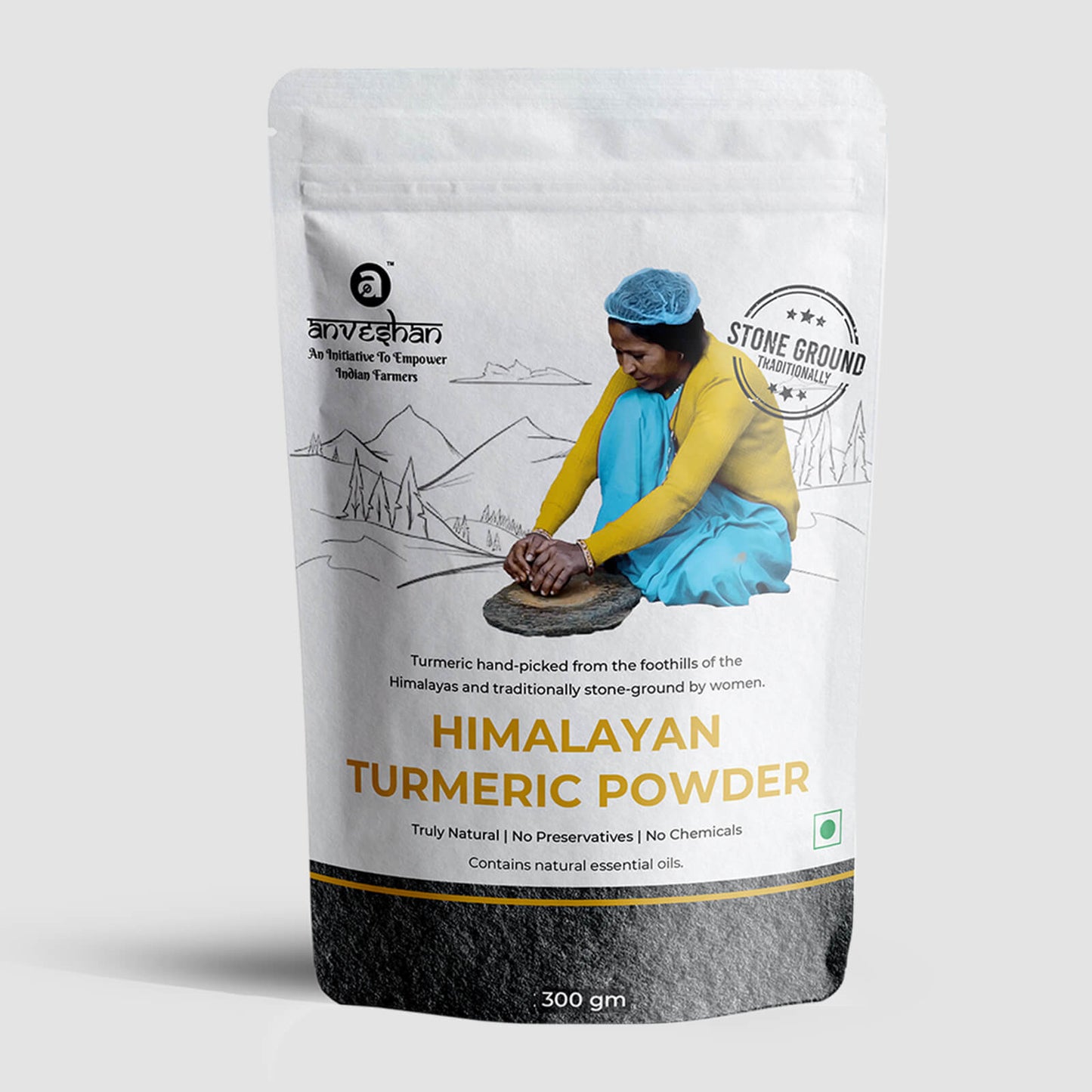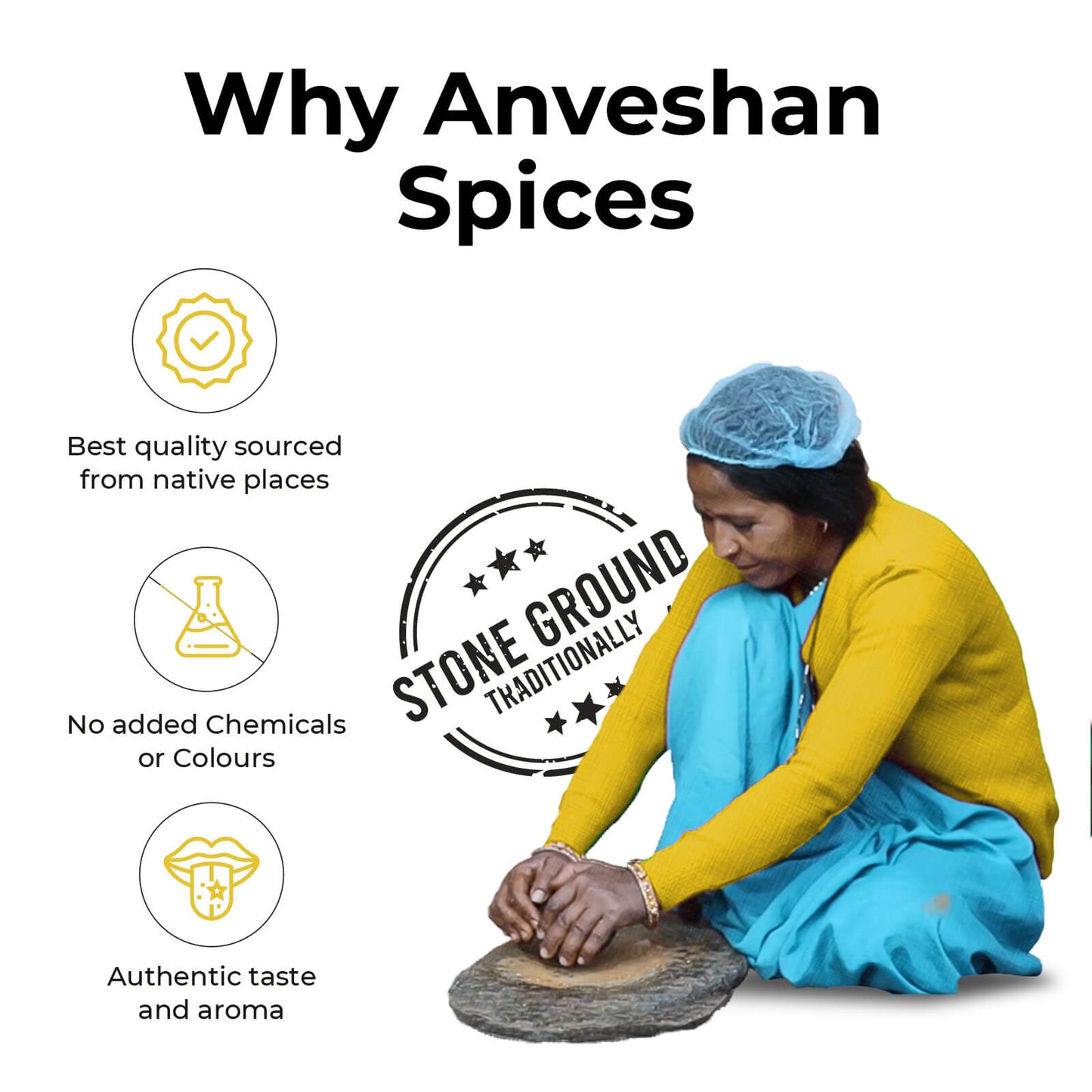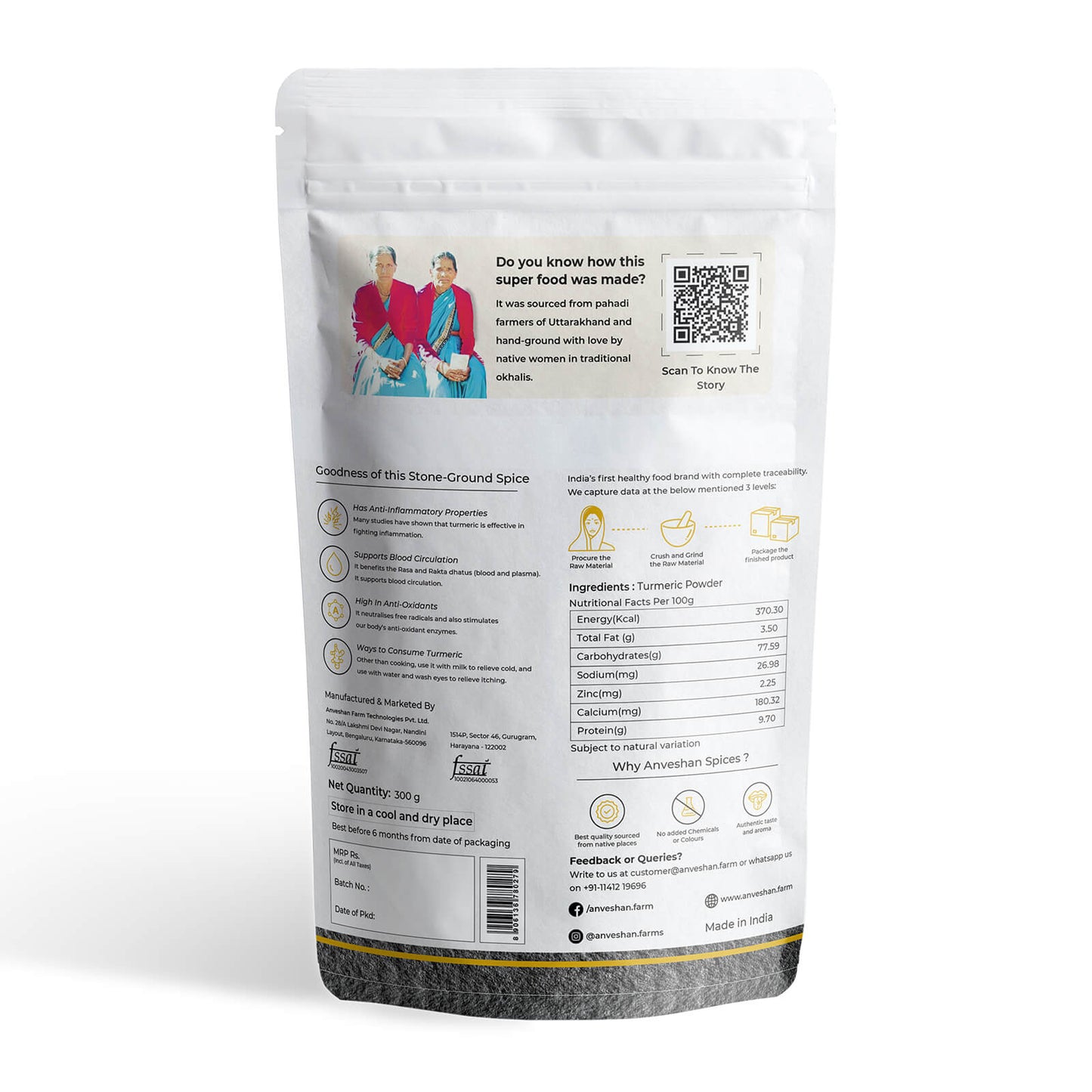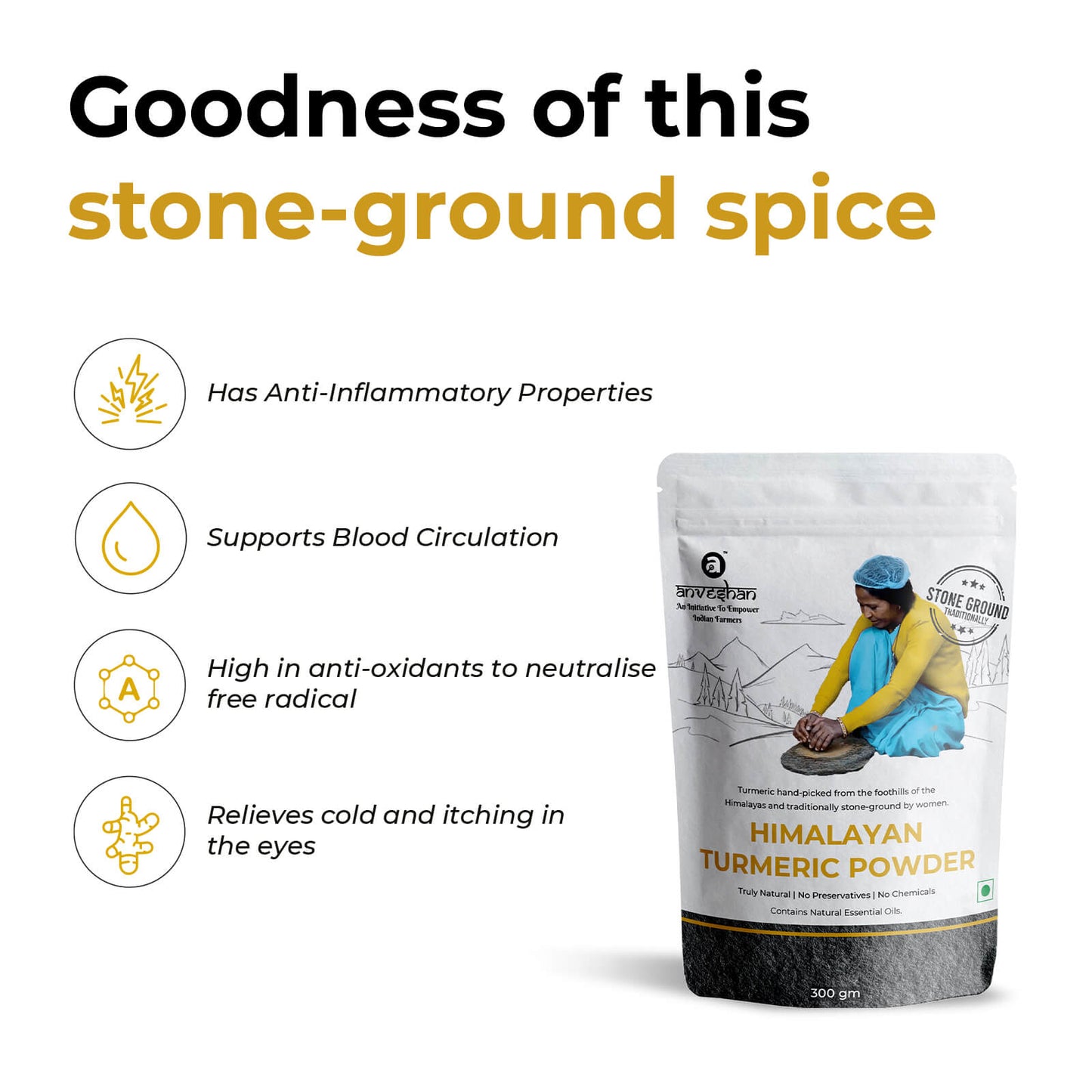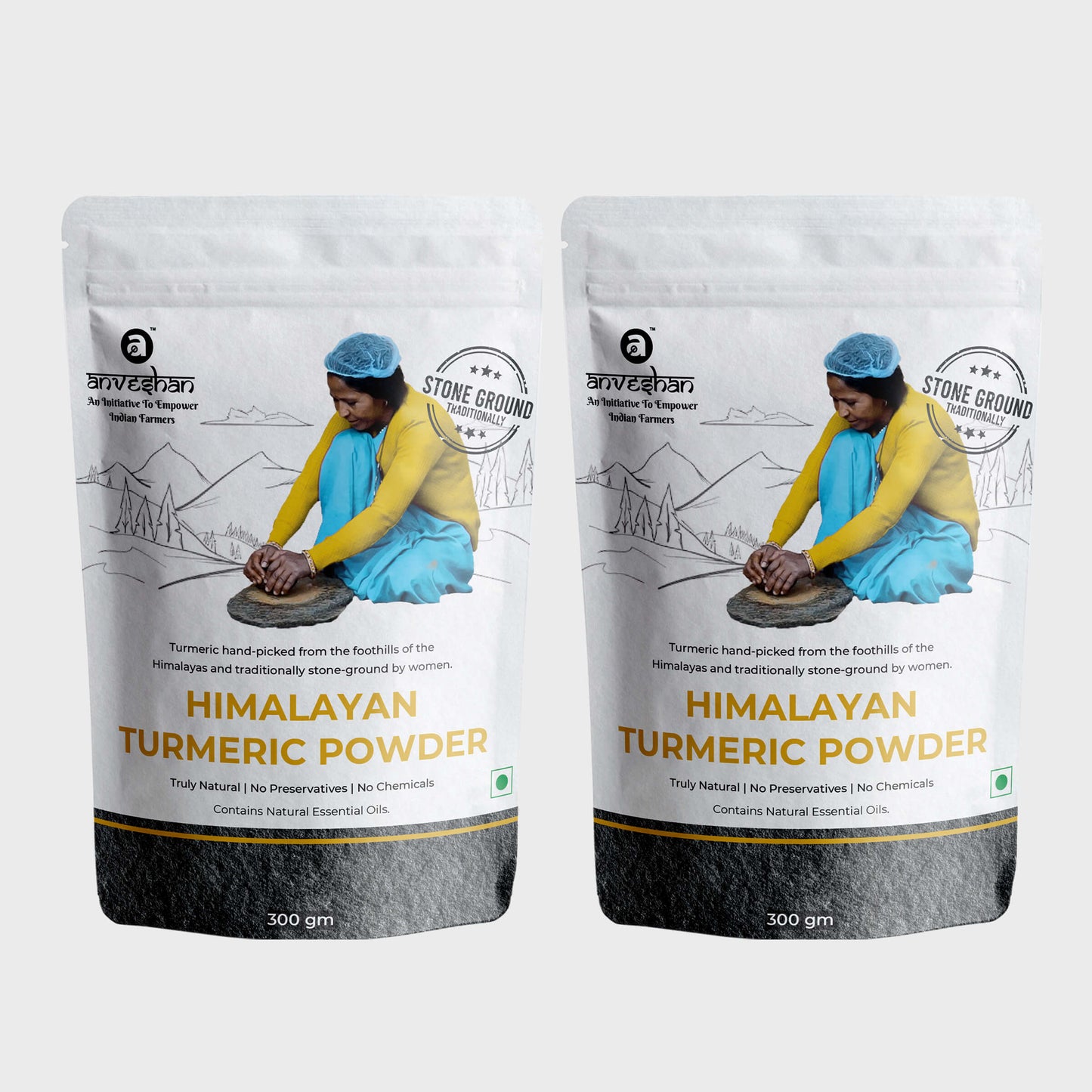 530+ Farmers Empowered

Procured from Uttarakhand

23 Lab Tests Done
Why it's Awesome

Journey of our Spices
Our spices come from farms, not factories. We work with farmers directly and aim to produce the best quality natural products.
1

Ethically Sourced

We source our spices directly from farmers and offer them better prices. We also ensure fair treatment, community support, sustainable production and food quality.

2

Stone-grinding

The roots are ground traditionally by women in okhalis & chakkis at a low temperature to maintain their high nutrient value.

3

23 Quality Checks

Turmeric undergoes strict quality checks to make sure it is free from unwanted contaminants and follows FSSAI standards.

4

Packaging

Our turmeric is packed in a glass jar/ paper pouch only when it clears all the mandatory tests.
Wholesome Nutrients

Loaded with dietary fibre, vitamin B6, vitamin E, vitamin K, potassium, copper, magnesium, and zinc.

Aids in Digestion

It helps reduce the symptoms of bloating and gas. It can aid in managing digestive problems as well.

Healing Properties

Its antiseptic and anti-bacterial properties make it an effective disinfectant. Apply on the affected area to help it heal faster.

Helps Boost Immunity

Lipopolysaccharide, a substance in turmeric with anti-bacterial, anti-viral, and anti-fungal properties, helps prevent infections.

Helps Reduce Allergies

Curcumin in turmeric acts as a natural decongestant and prevents your allergy from turning into an infection.

Helps Maintain Cholesterol

Curcumin helps lower blood cholesterol levels and may protect your body from diabetes.
Multiple Uses

Colouring & Flavouring Agent
Adds an amazing yellow colour and a warm spicy flavour to your dishes. Used in curries, soups, snacks, pickles, etc.
Brew a Cup of Golden Milk
Add a teaspoon of haldi and a pinch of black pepper to boiling milk. Drink this for sound sleep & a healthy gut.

Brew Iced
Add a pinch of turmeric to your morning smoothies and oatmeals for enhanced flavour and nutrition.

Healing Wounds
Apply turmeric paste onto the affected area to reduce pain, inflammation and accelerate the healing process.

Natural Cough Remedy
Mix haldi with jaggery and make balls. Consume the balls before sleeping to cure cold, cough, and sore throat.

Try Turmeric Face Mask
Mix haldi, curd, raw honey and apply it to your face to revive the natural glow of skin and clear scars.
Frequently Asked Questions
What is special about stone-ground spices?

Stone-grinding is well recognized as the method best able to bring out the best flavours while retaining essential nutrients of our spices. Pounding the spices releases the natural oils and distributes them uniformly throughout, creating a wonderfully aromatic and flavourful spice. Therefore, our stone-ground spices are a better alternative for your dishes.

What makes Anveshan turmeric so special?

Anveshan offers premium quality turmeric powder that has to do with the quality of the soil, sufficient rain, the ancient variety of turmeric, and traditional farming methods. Our turmeric is known for its high curcumin content and medicinal qualities. Moreover, ground by women in okhali/chakki, the turmeric is not exposed to high heat, thus preserving its all-natural nutrients.

What does turmeric taste like?

Turmeric is mildly aromatic, has scents of orange or ginger and a pungent, bitter flavour.

What kind of allergies/side effects can happen because of turmeric?

Since ancient times turmeric has been consumed for medicinal purposes. Turmeric rarely causes any allergies or side effects. Only when excessively consumed or used can it cause headache, rash, or nausea.

What is the shelf life of the turmeric powder?

If appropriately stored in glass containers, our turmeric powder can easily last up to 2 years.

Is the pouch/jar glass or plastic?

No, we at Anveshan believe in sustainable packaging. Therefore, our spices are available in glass jars and paper pouches that are eco-friendly. The jars are reusable and lock in the freshness of the spices.
For pouches, we recommend emptying them in jars as they contain essential oils. Storing it in pouches for a long time may lead to oil secretion, and pouches may become oily.
Worst
Your product is good but customer care deptt is just pathetic
Stone-Ground Turmeric Powder
Stone-Ground Turmeric Powder
Sneak peak into the healthy world