Raw Pumpkin Seeds
Your good seed for the day
100% Natural

Nutrient rich

Vegan

No shell
DESCRIPTION
We offer you AAA graded premium quality pumpkin seeds sourced from the farms of Rajasthan. These healthy seeds are a good source of essential nutrients that are perfect for adding flavour, protein, and crunch to your food.
View full details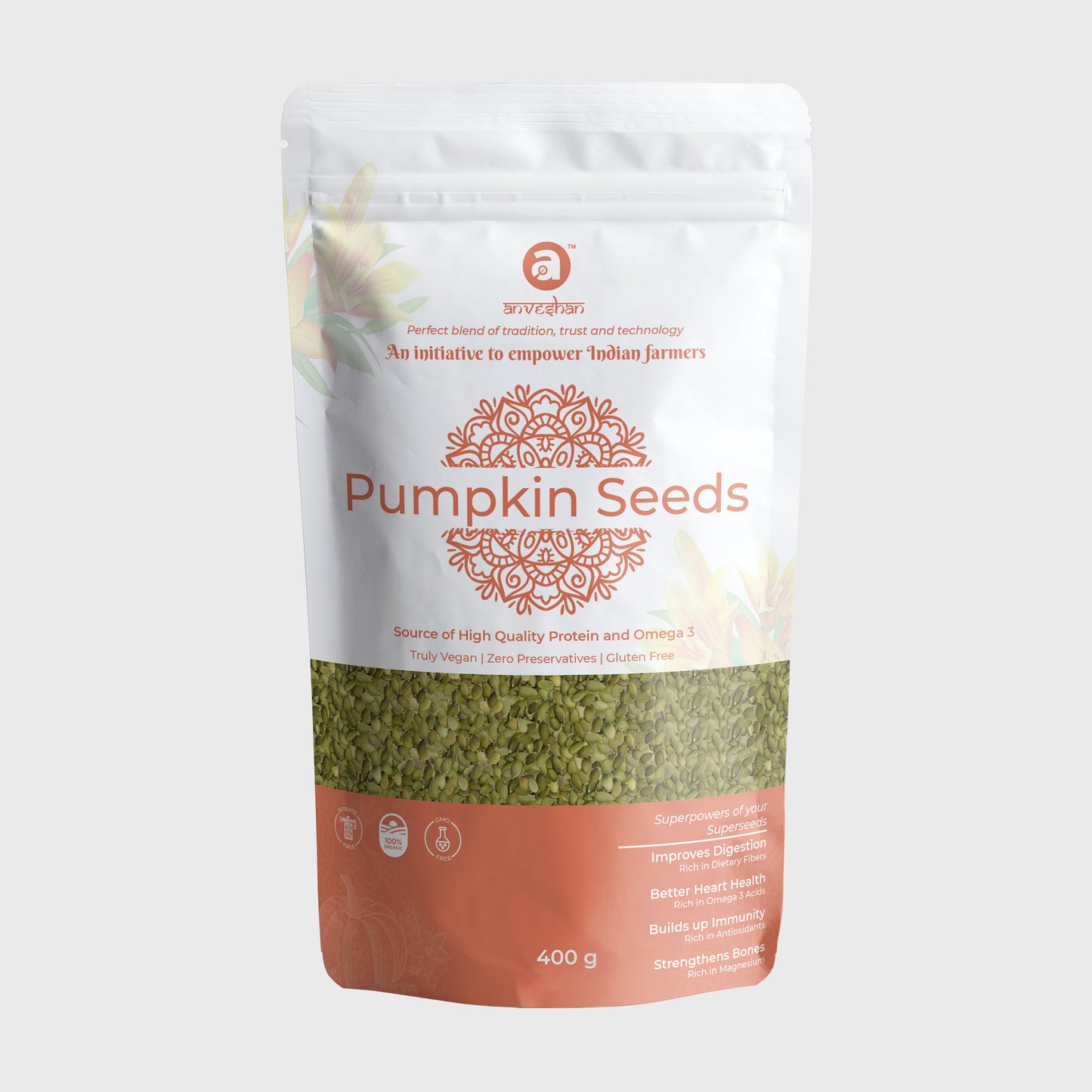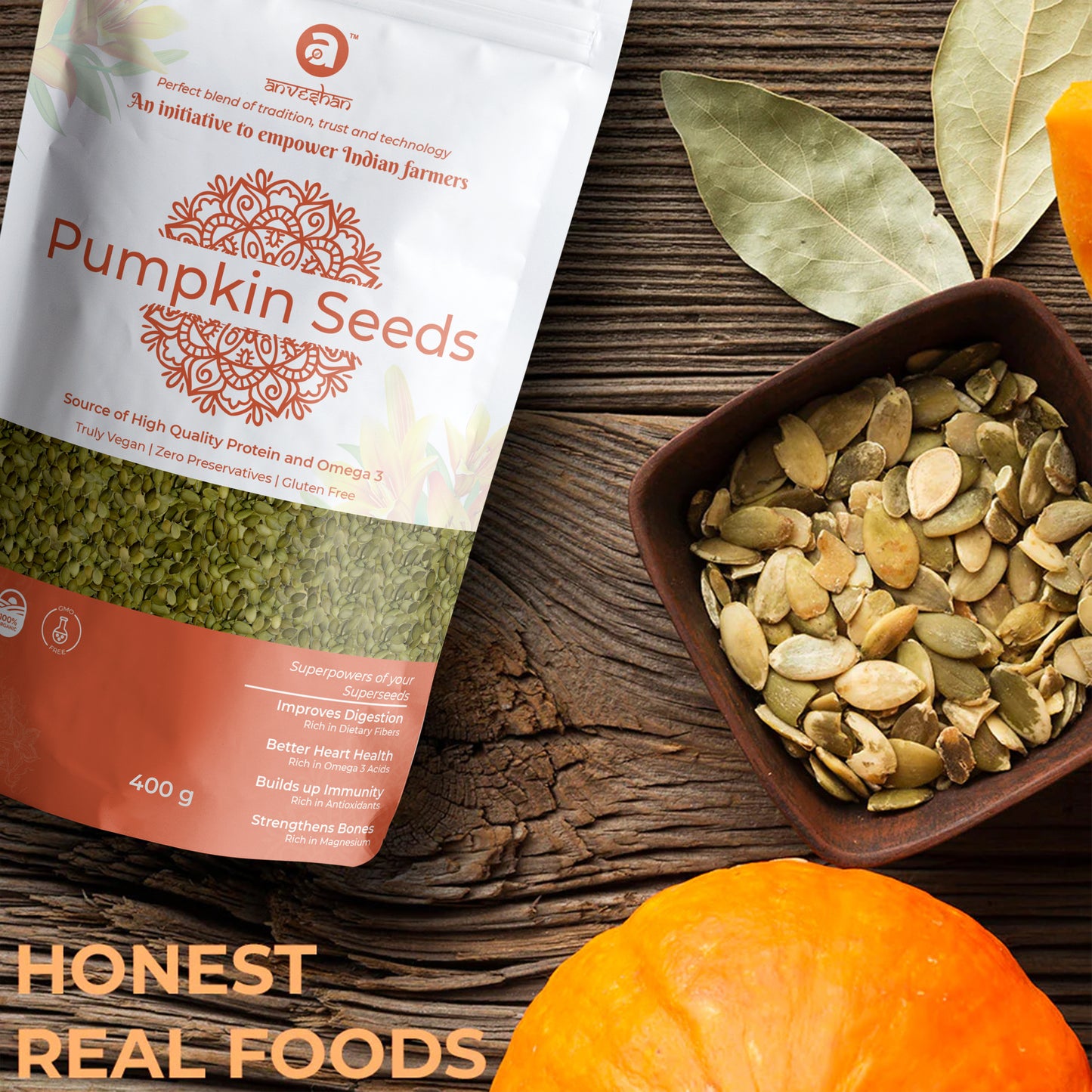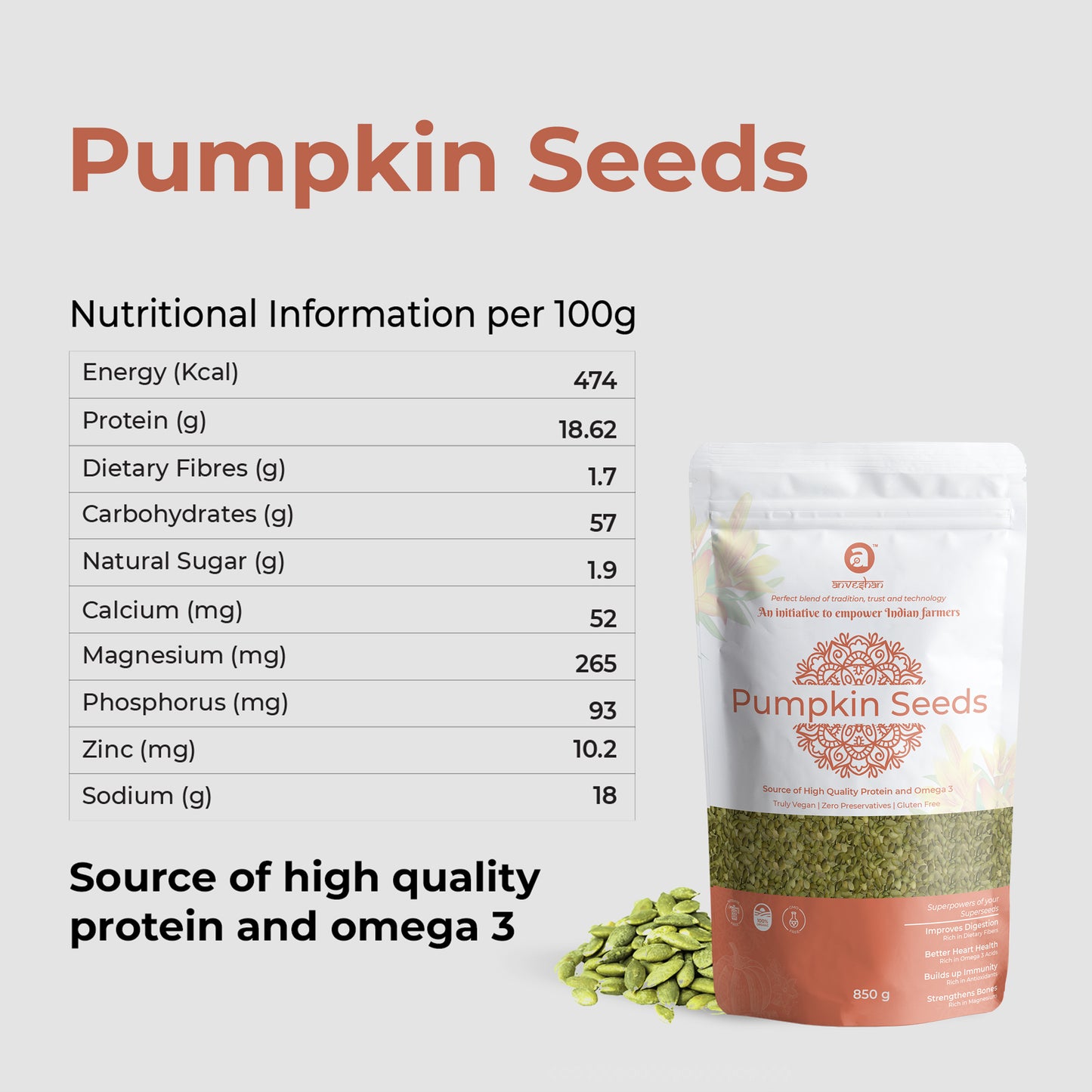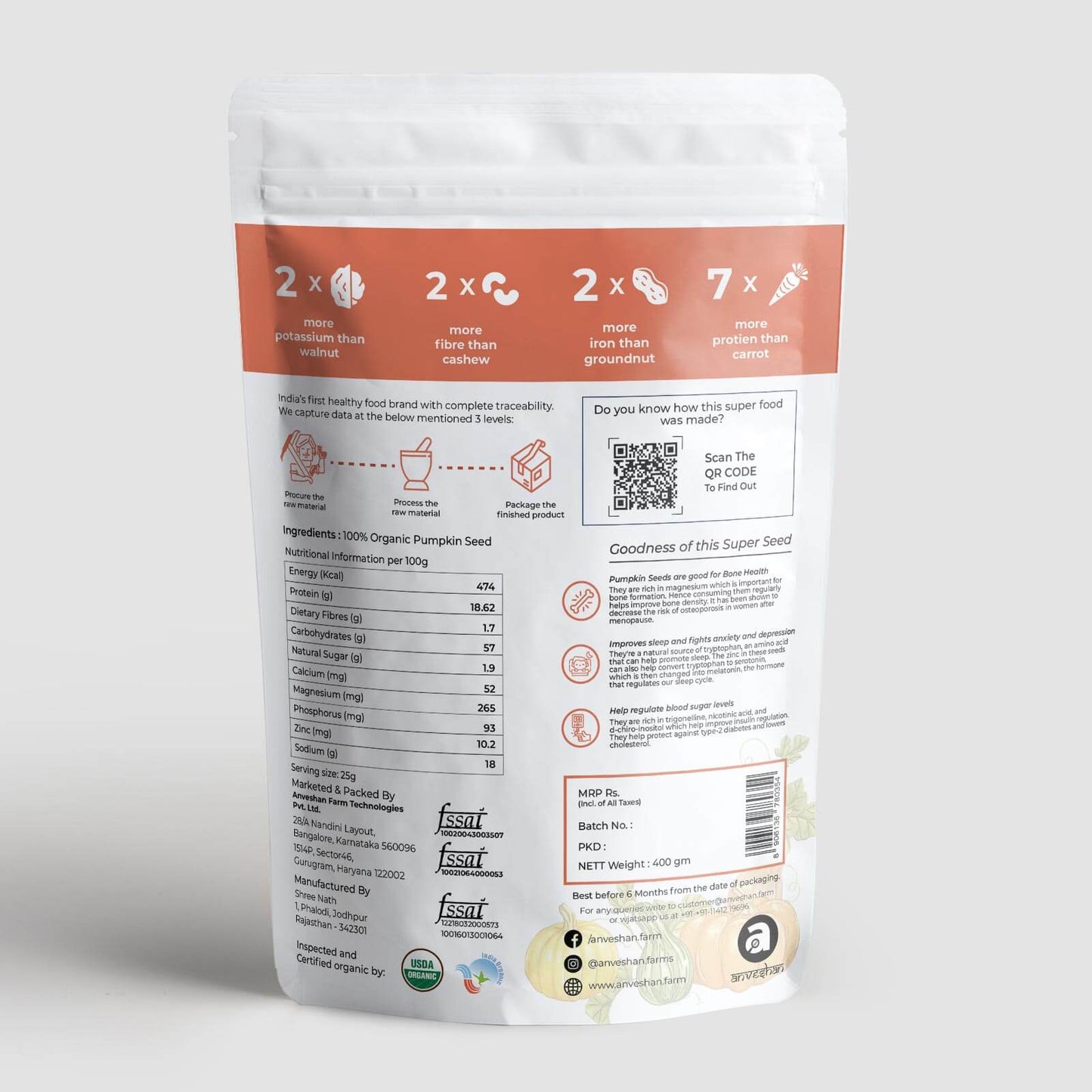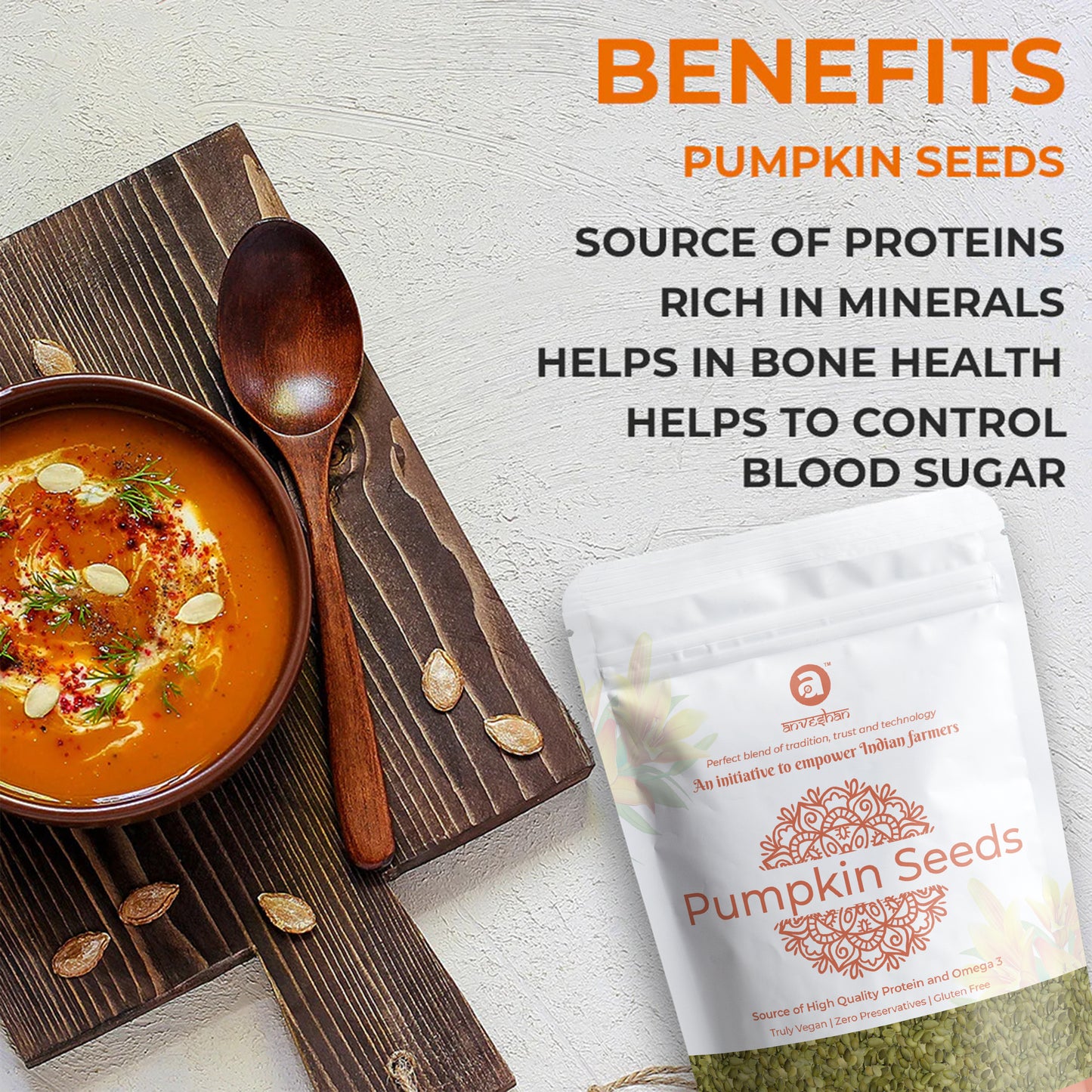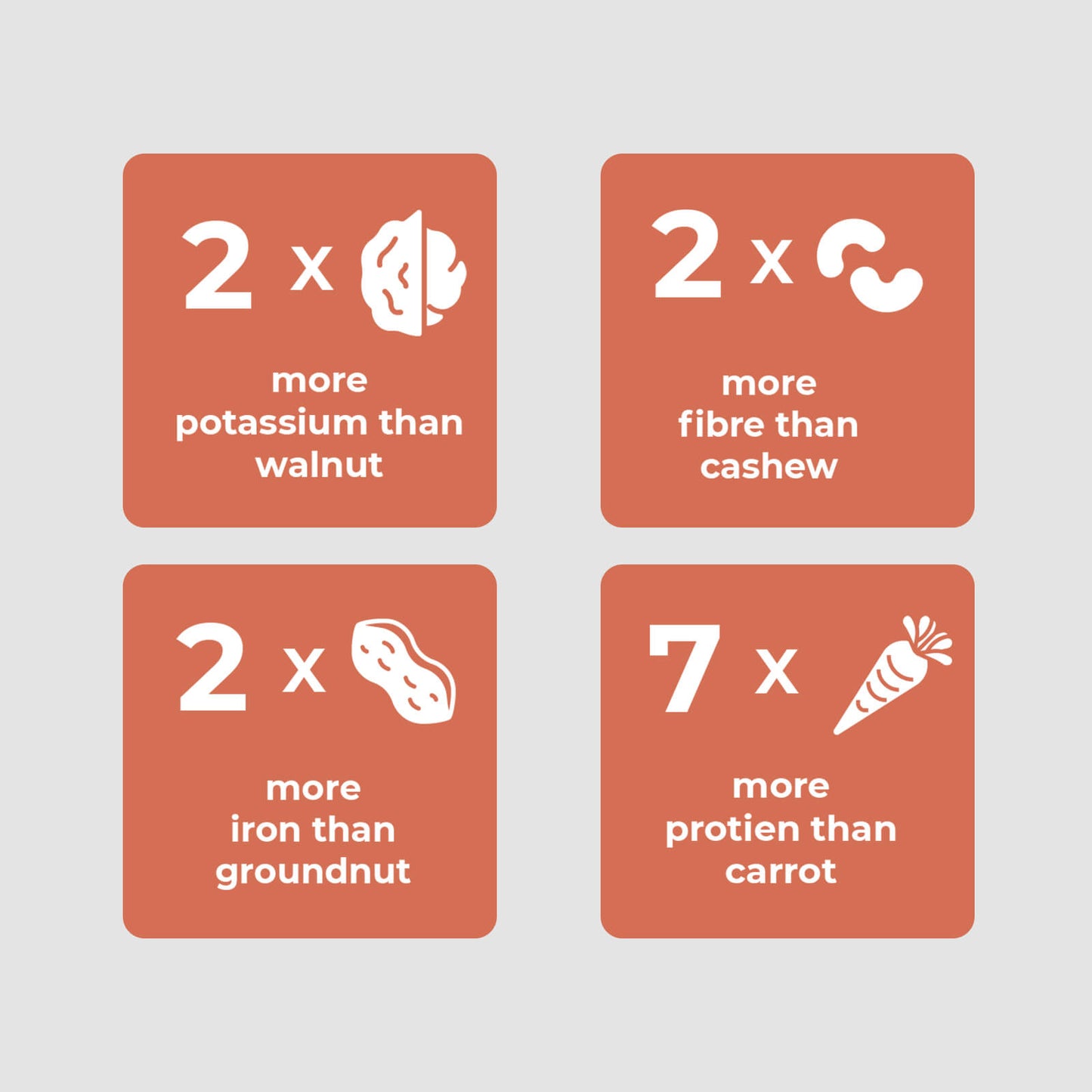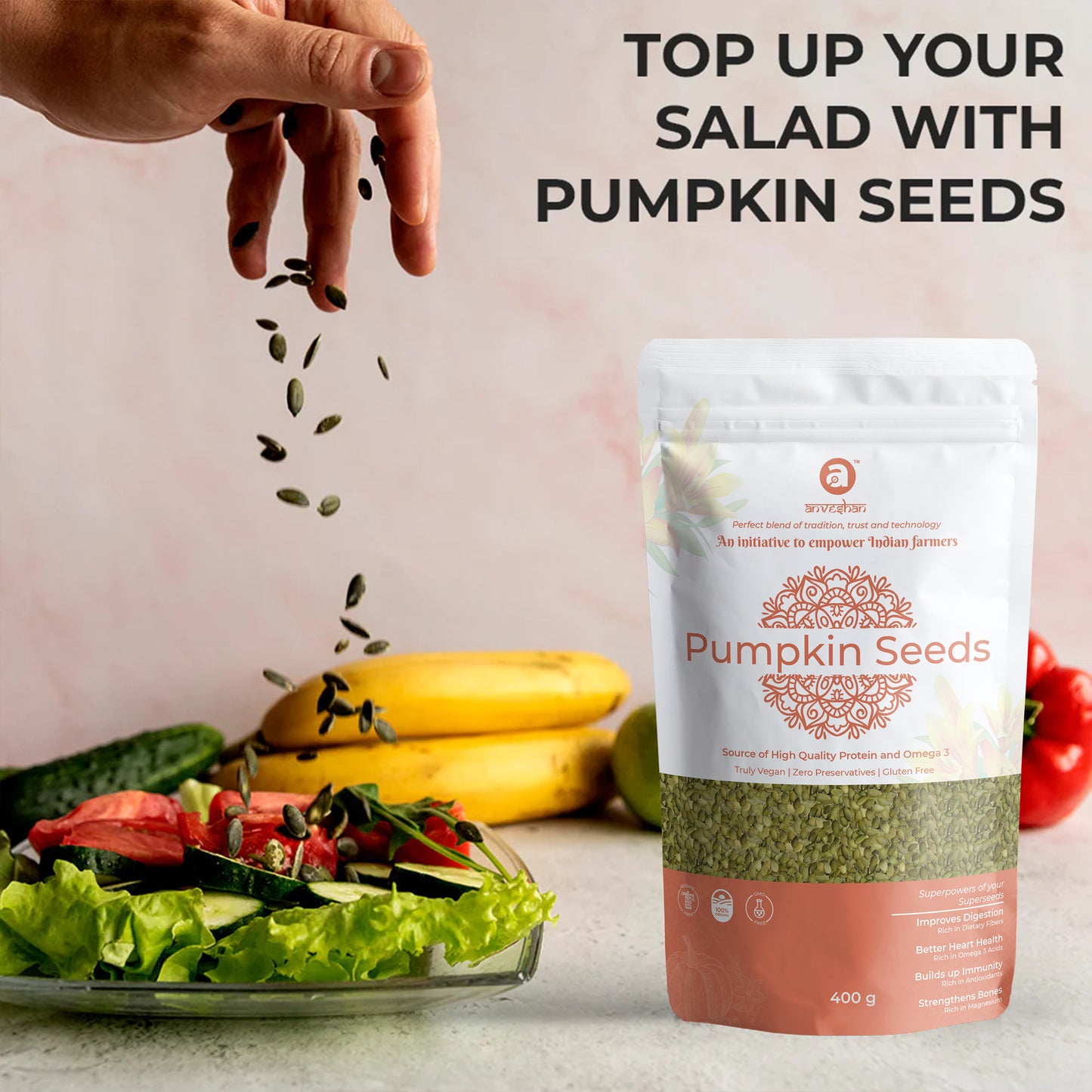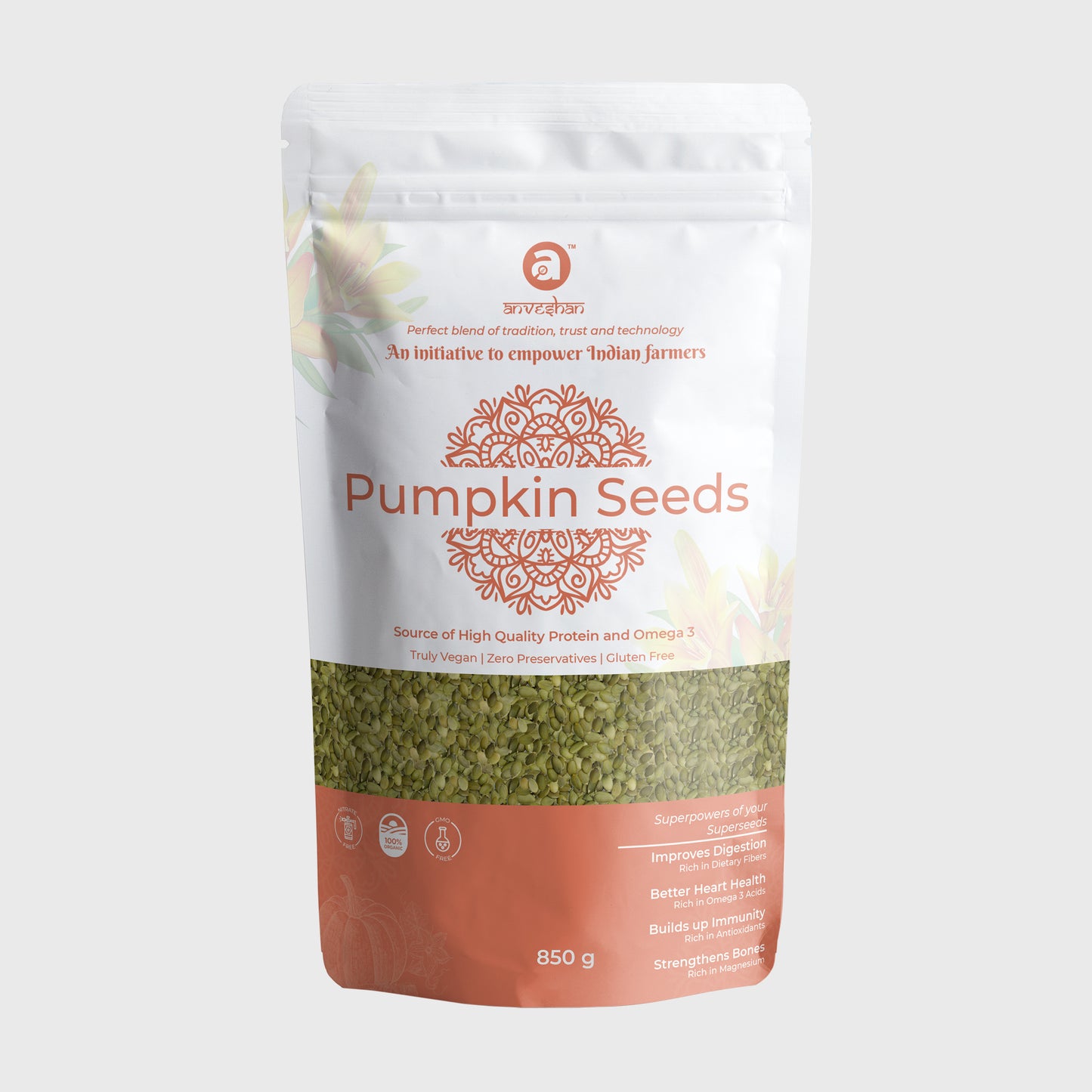 350+ Farmers Empowered

Procured from Rajasthan

12 Lab Tests Done
Why it's Awesome

Journey of our Seeds
We work with farmers directly and aim to produce the best quality products that are entirely natural. All our raw ingredients are processed, packaged, stored, and shipped by our trained staff.
Nutrient Powerhouse

They are plentiful in vitamins, minerals, protein, essential fatty acids, and fibre that nourish your body.

Better Digestion

They make for a diet full of fibre which improves the digestive system.

Keeps You Physically Fit

Loaded with protein, they help your body maintain peak physical condition by building and repairing tissues.

Improves Sleep

Pumpkin seeds are a natural source of tryptophan, an amino acid that promotes sleep will do the deed.

Suits Workout Meals

Great addition to pre and post-workout meals and snacks. Ideal plant-based alternative for energy and sports nutrition.

Easy to Incorporate

They can be easily added to any diet because they have healthy fats, magnesium, antioxidants, and zinc that help satiate your appetite.
We love to add it to everything!

Trail Mix
Make trail mix by combining your favourite nuts, dry fruits, and some pumpkin seeds.

Energy Balls
Mix pumpkin seeds, peanut butter, dry fruits, and honey and make small balls.
Soup
Add pumpkin seeds to your usual bowl of soup. You can also use pumpkin seeds powder.

Cookies
You can either add pumpkin seeds directly to your cookie dough or use powdered seeds as well.

Pesto
Add some crushed pumpkin seeds along with your regular pesto ingredients.

Garnish
Sprinkle some pumpkin seeds into your usual salads or pasta.
Frequently Asked Questions
How much pumpkin seeds should we eat daily?

You can consume two tablespoons of pumpkin seeds for your daily diet.

Is it ok to eat pumpkin seeds every day?

Pumpkin seeds have abundant nutrients; some are not stored in our bodies. Therefore, it would be best to have a regular intake of pumpkin seeds to have such nutrients.

Should I soak pumpkin seeds before eating?

It is not necessary to soak pumpkin seeds before eating. However, soaking them helps eliminate harmful enzymes and make them easier to digest. If you prefer eating them soaked, keep them in the water for at least a half-hour before consumption.

What is the best time to eat pumpkin seeds?

Pumpkin seeds are not a time-bound snack to have. However, if you face difficulty sleeping, you may have them before heading to bed.

Is the container resealable?

Yes, our seeds are packed in resealable sustainable paper pouches.
Best pumpkin seeds
This is premium quality seeds...Go for it
Good Quality and Good packaging
Fastest Delivery in 5 hours by anveshan.
Sneak peak into the healthy world