Kashmiri Kagzi Badam Giri
Quality that exceeds your expectations!
High oil content

Ethically sourced

Rich in vitamin E

Sweet & crunchy
Need a healthy snack that will keep your cravings at bay, no matter where you are? Clear your snacking schedule with the perfect snack at home, school, work, or even on the go! Our native variety of Kashmiri badam is handpicked, nutritious, and delicious. Procured directly from the source, our 100% natural Kagzi almonds are guaranteed to make you go nuts.
View full details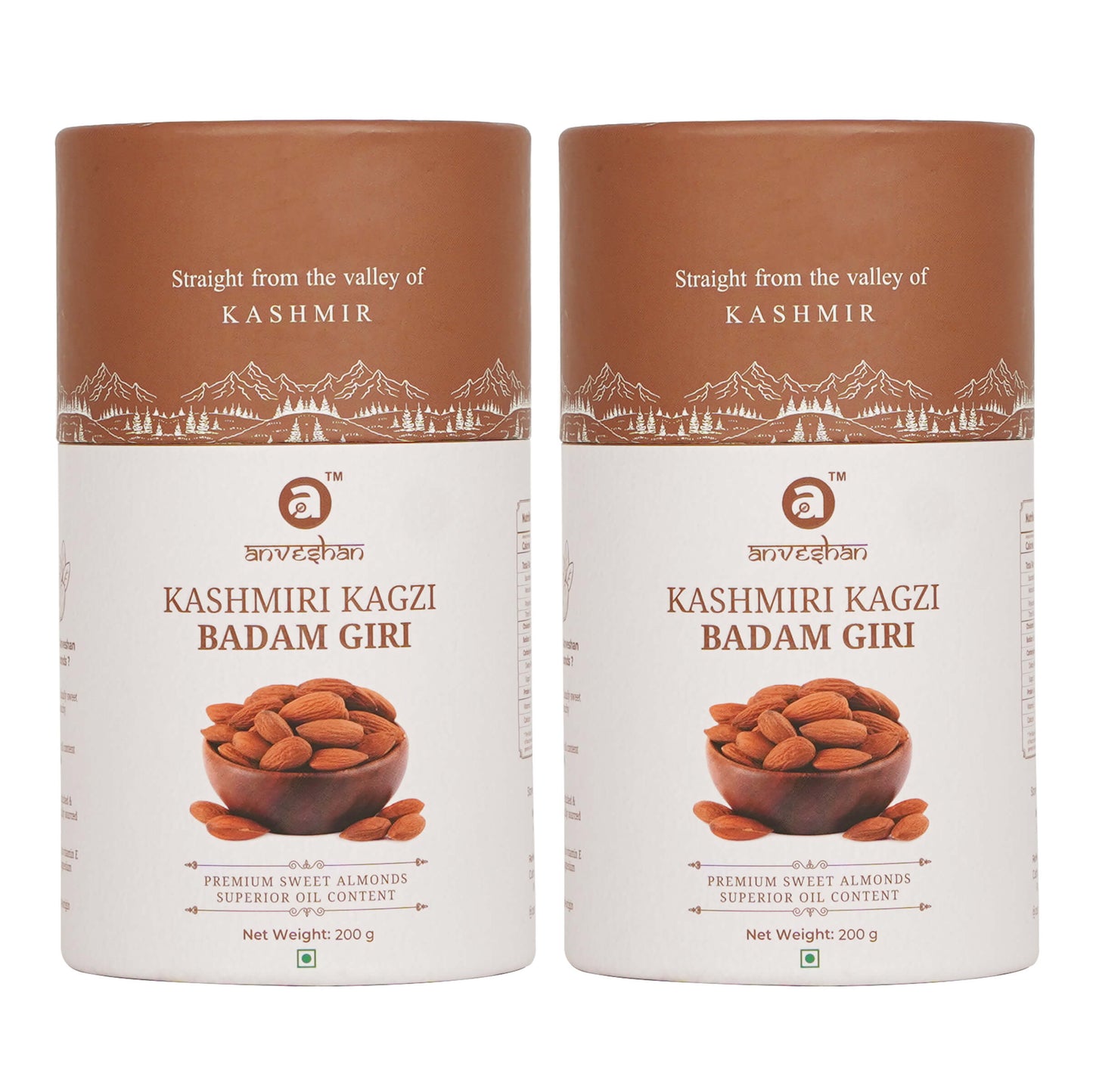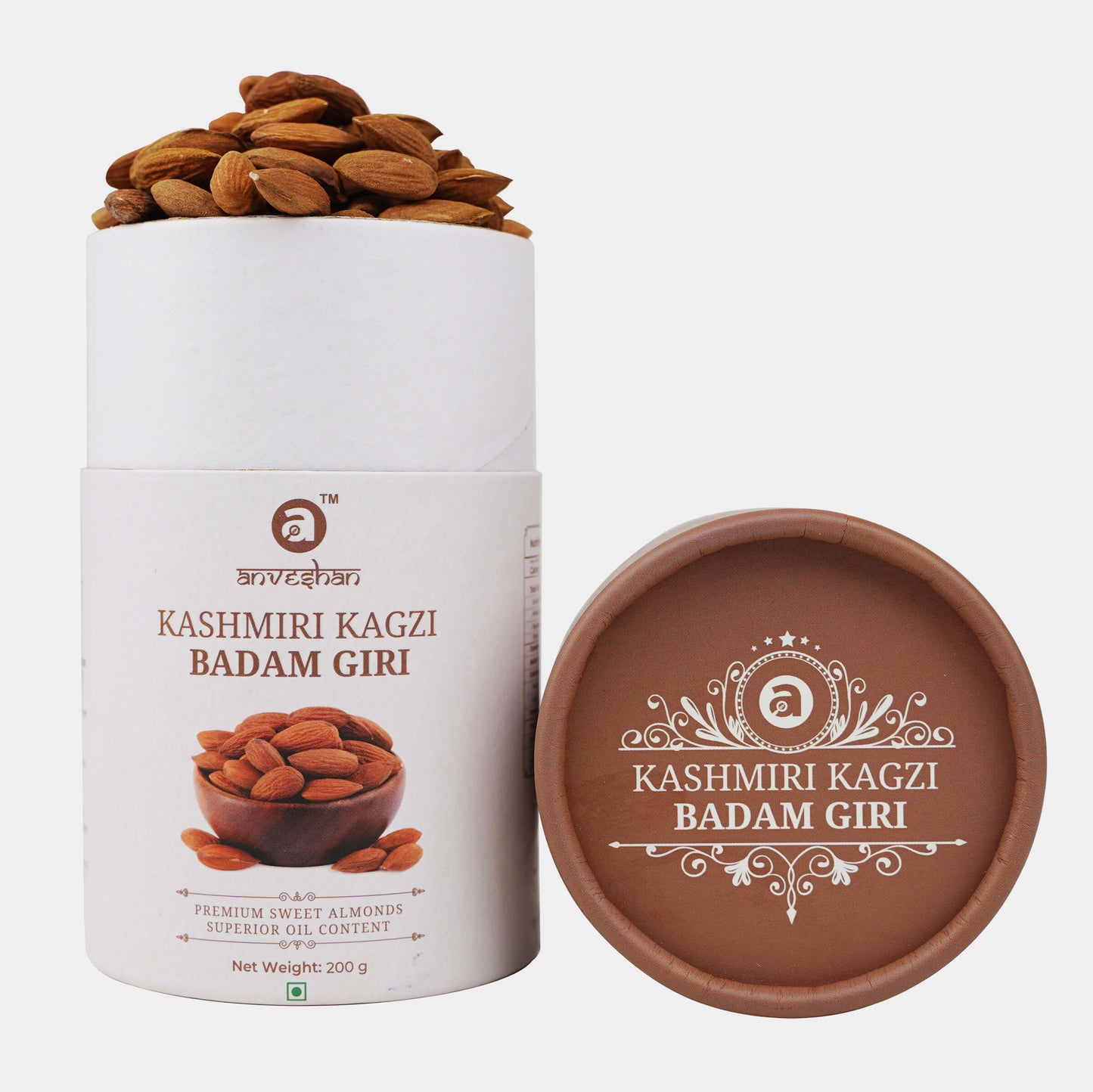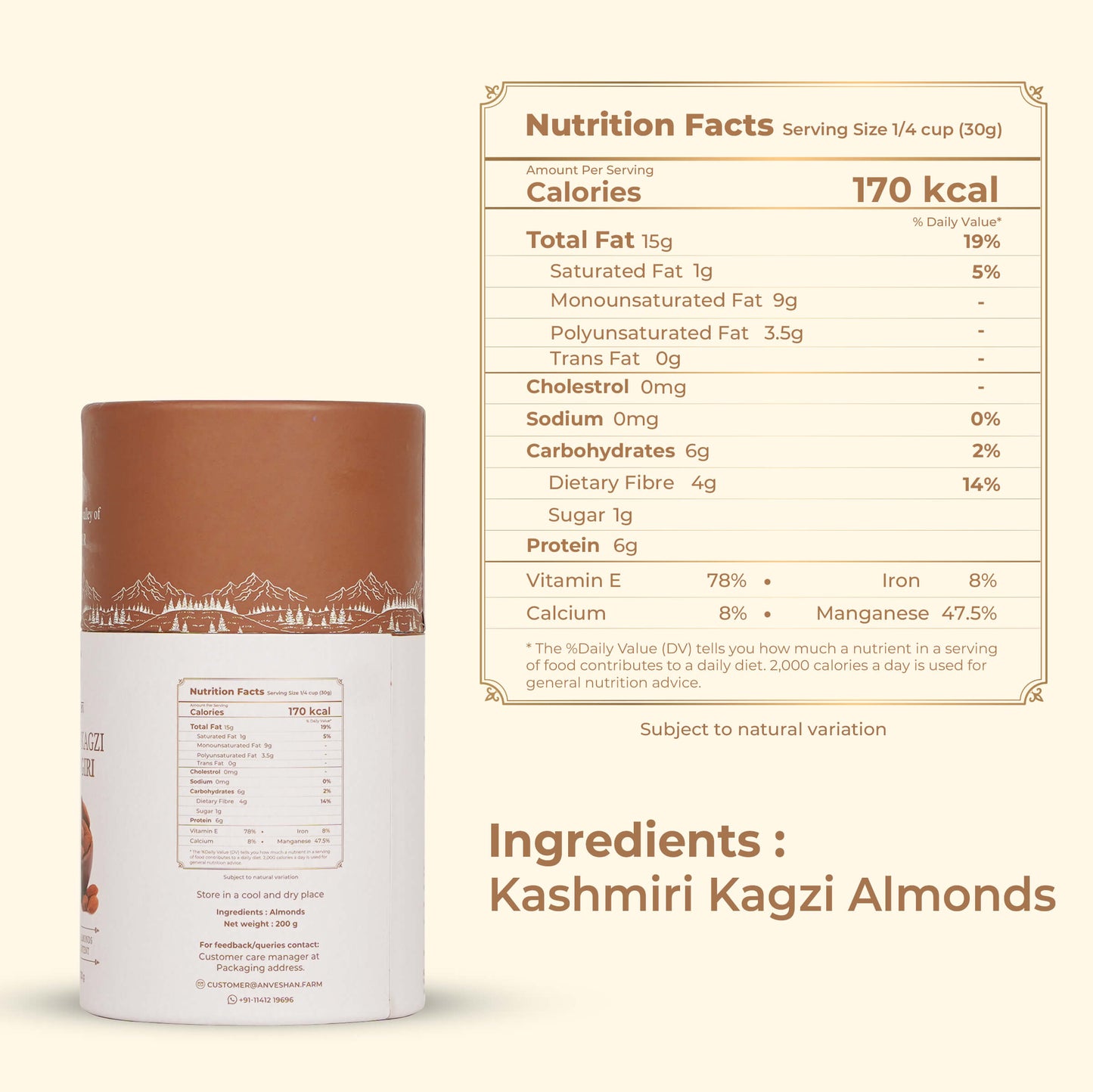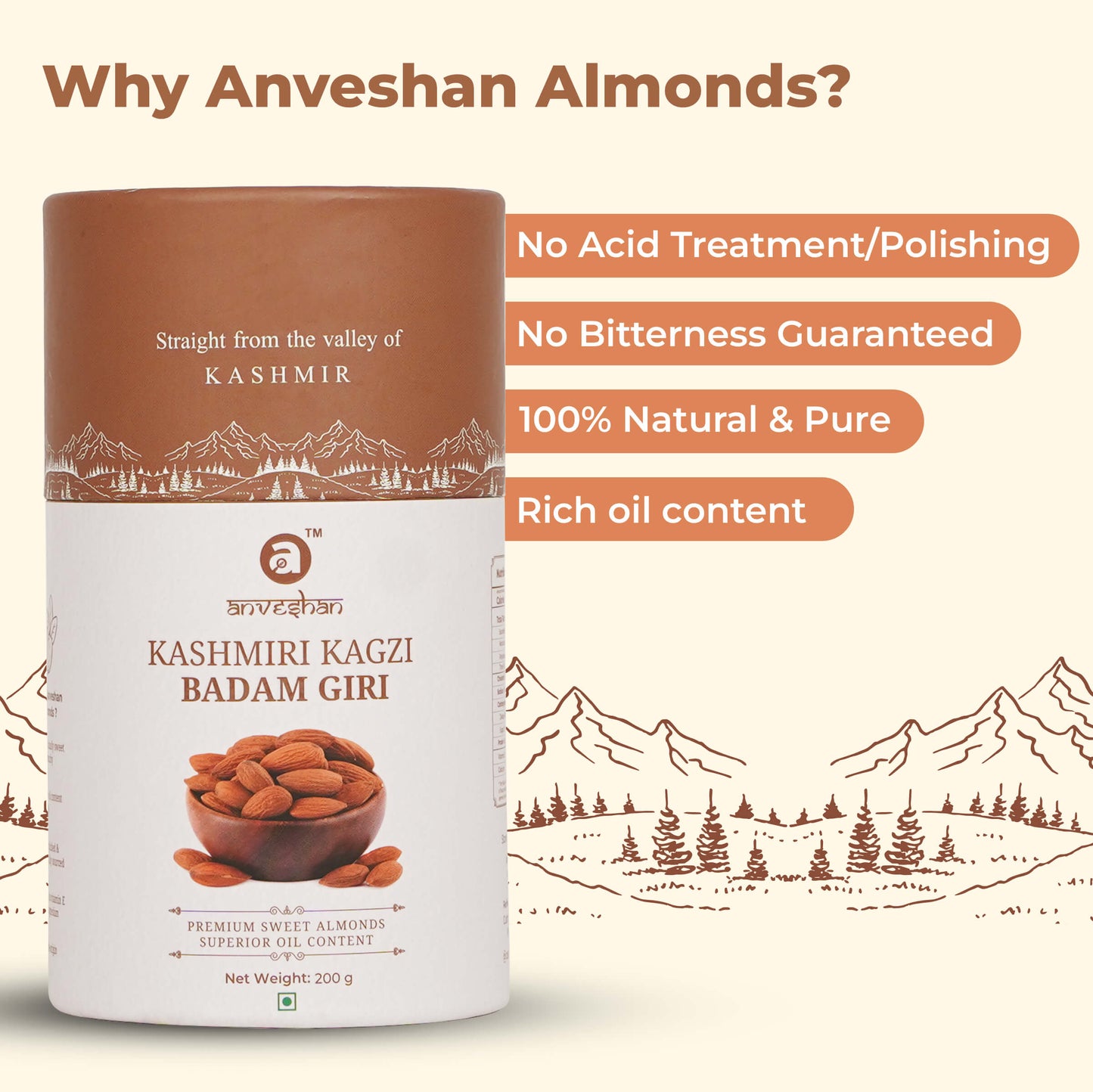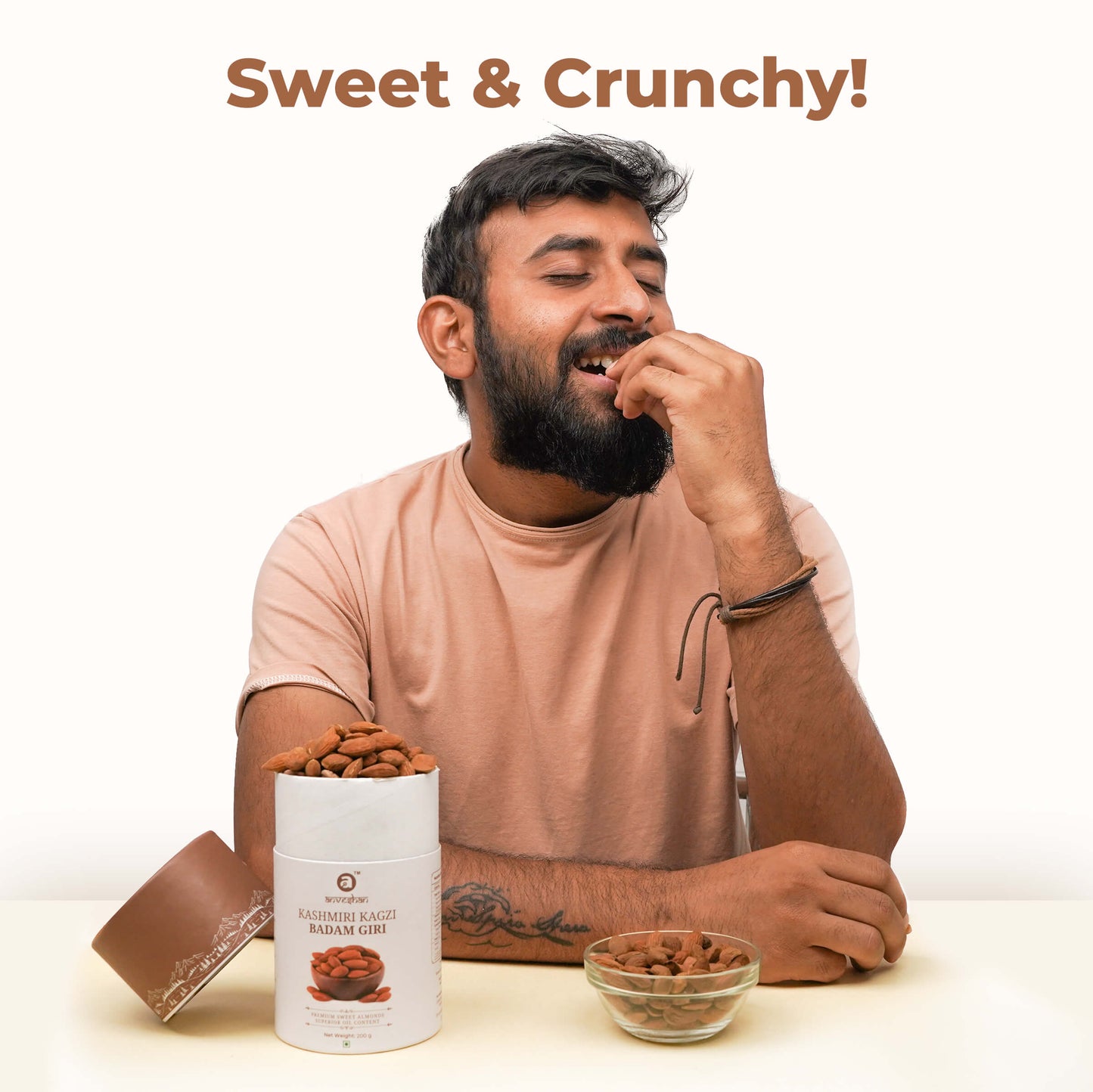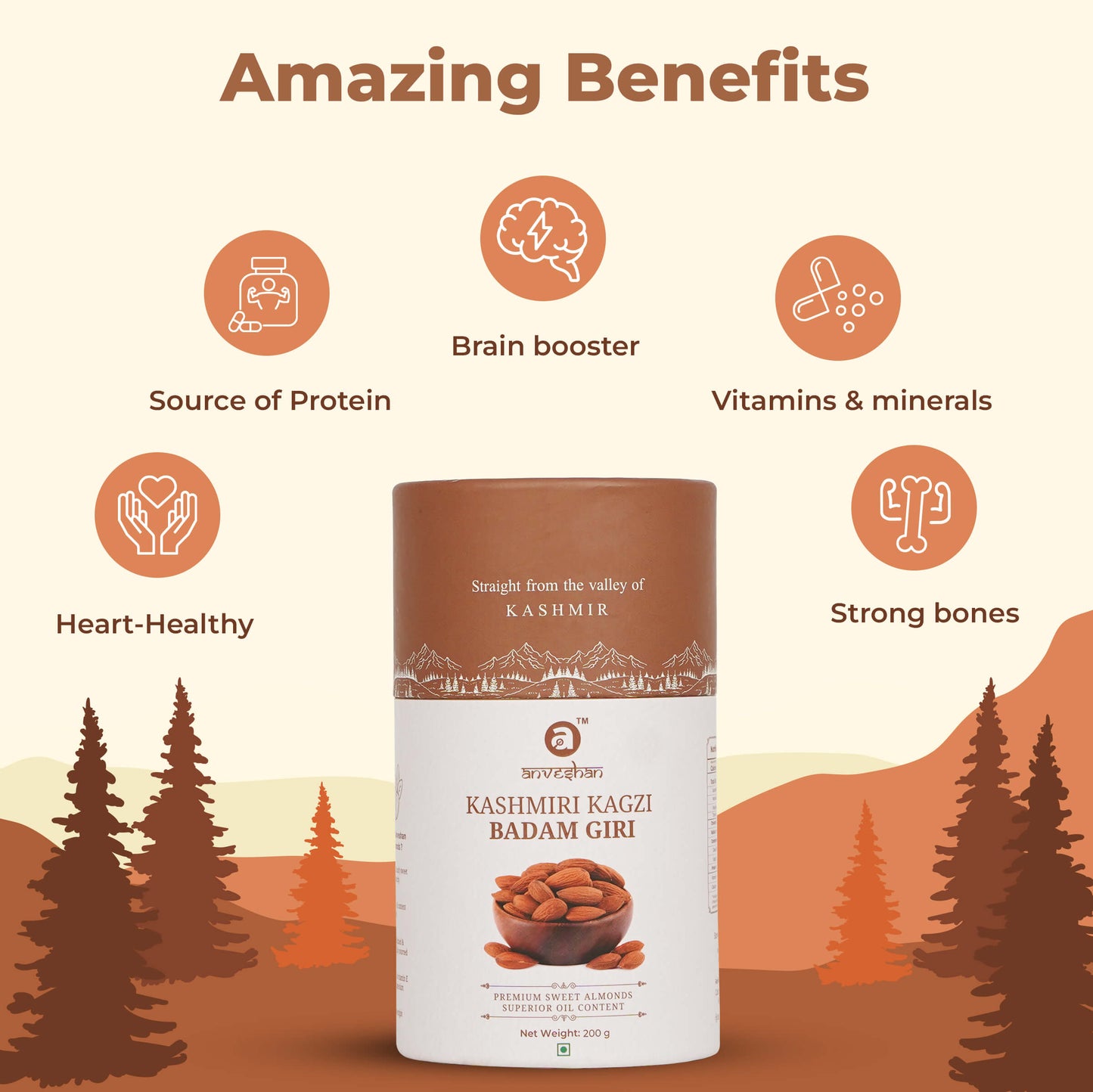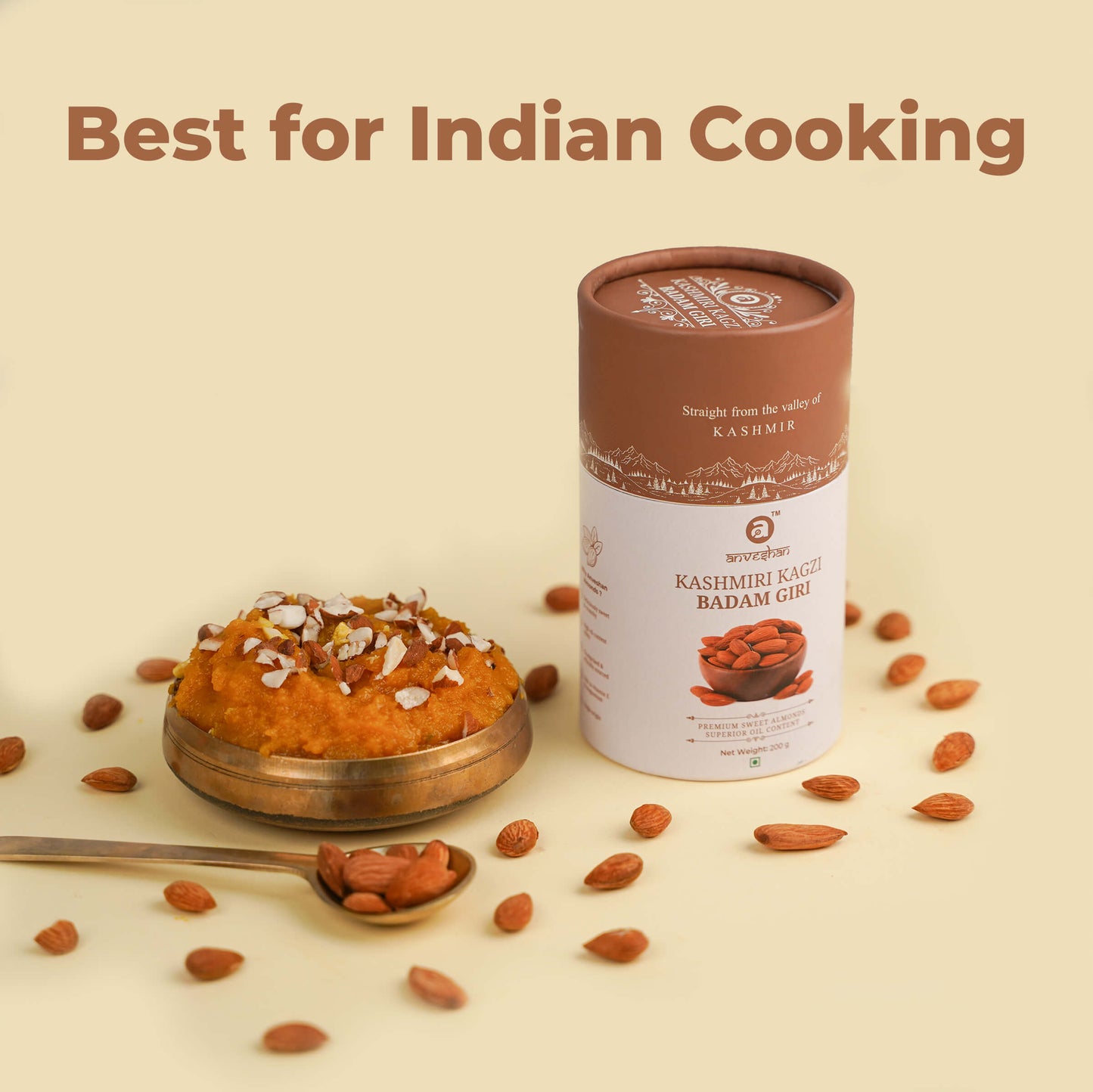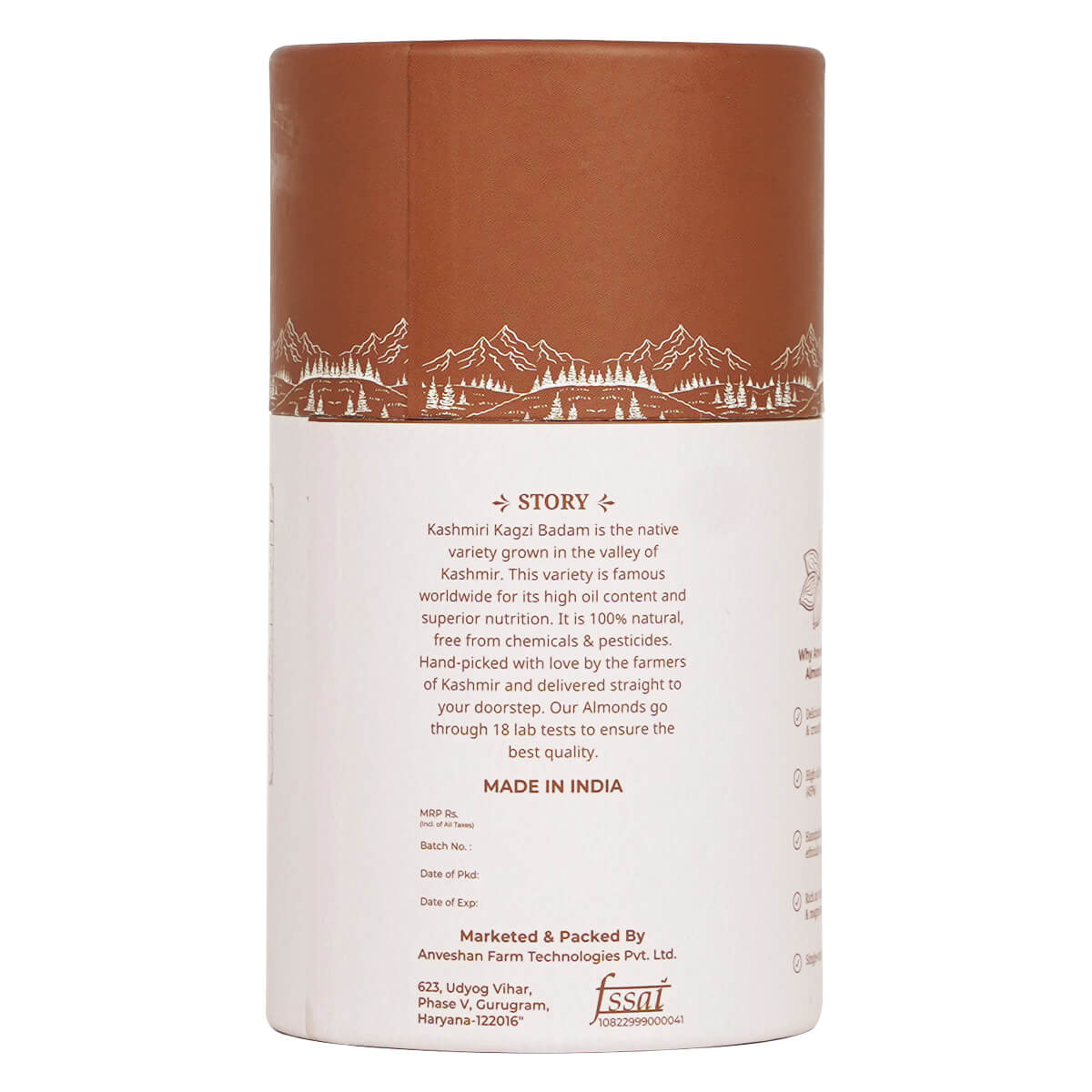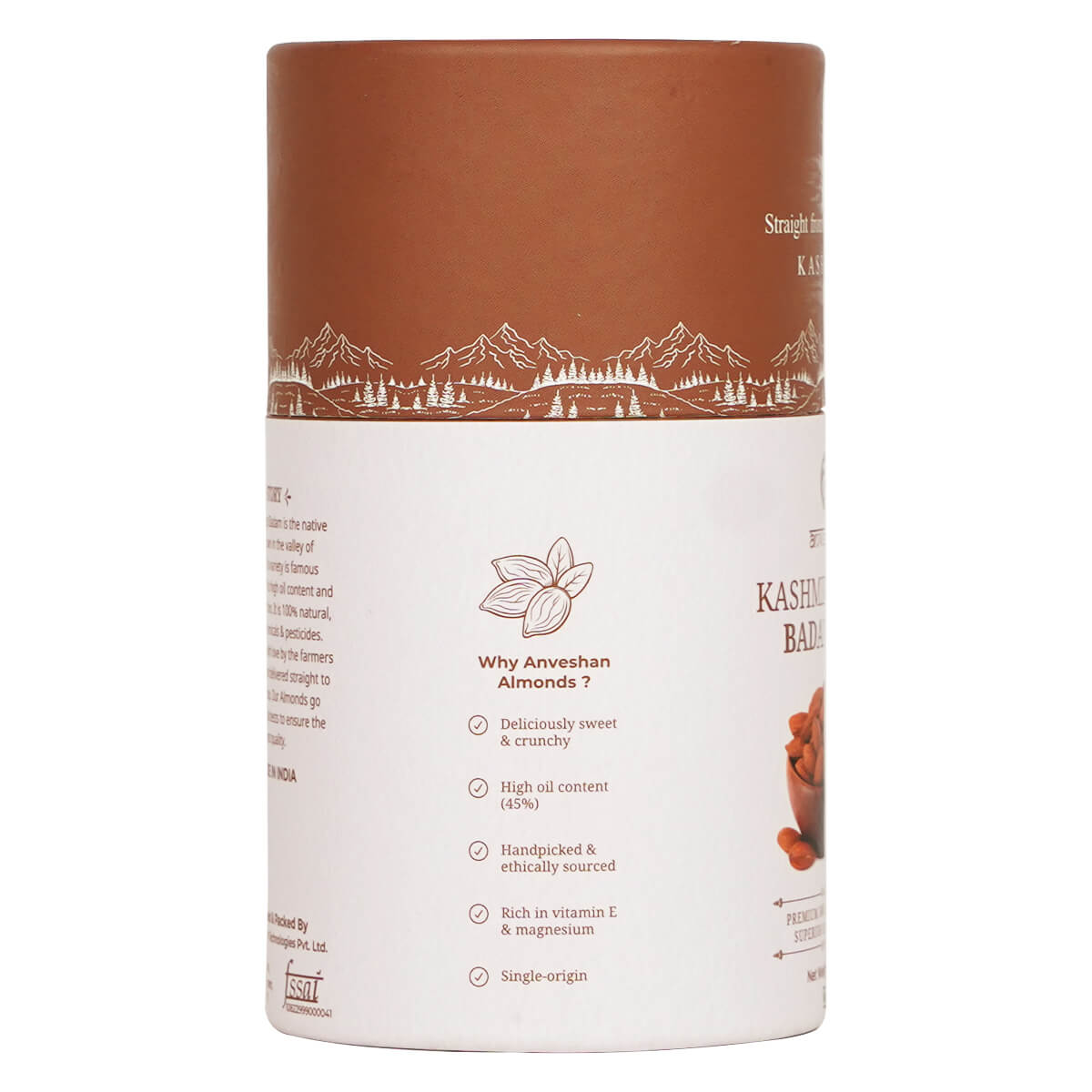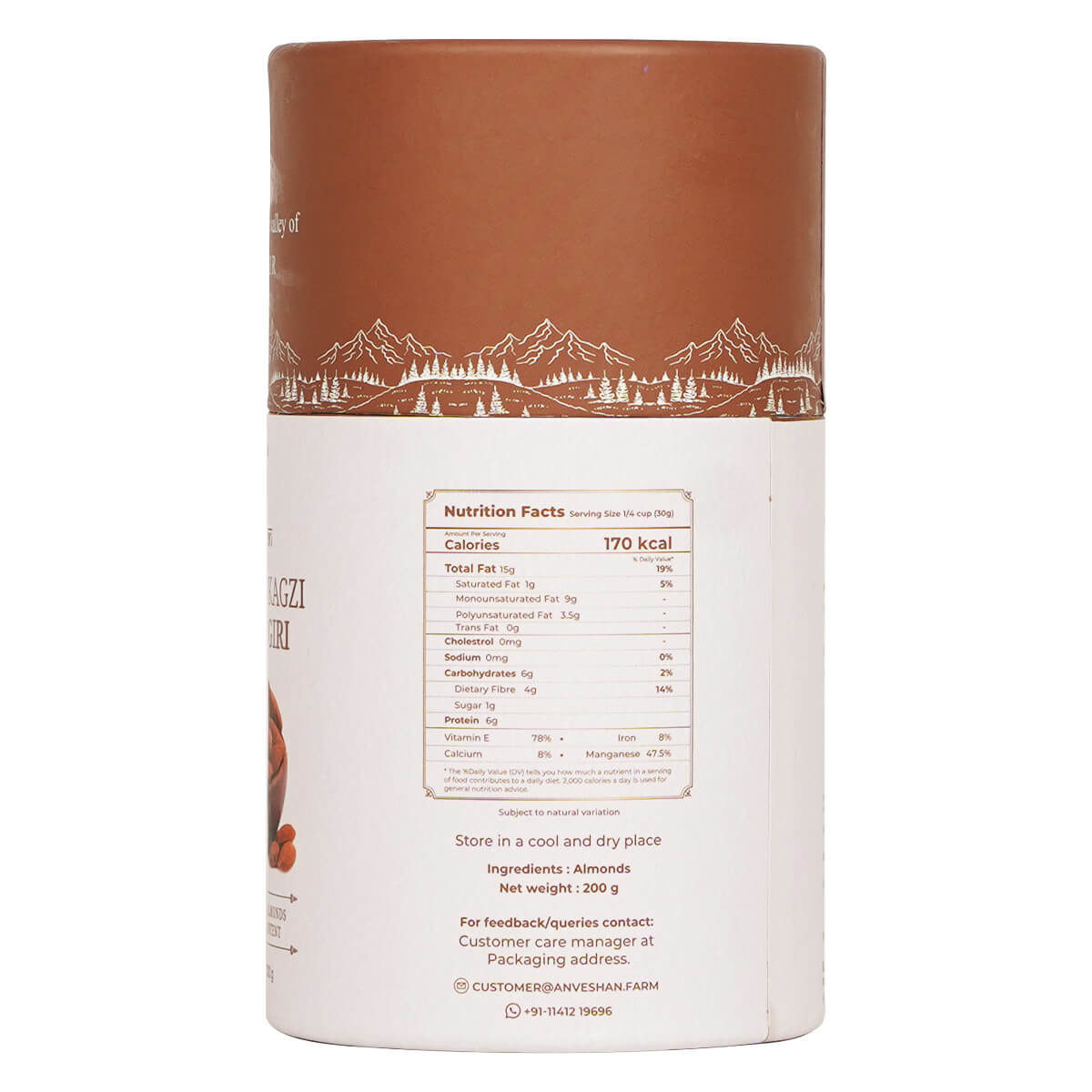 100+ Farmers Empowered

Sourced from Kashmir

18 Lab Tests Done
Why it's Awesome
A wealth of nutrients

Kagzi almonds keep your body fuelled with the purest, health-boosting nutrients like magnesium, proteins and vitamins, dietary fibre etc.

Weight management

Regularly consuming almonds helps lose weight and reduces belly fat and waist circumference, according to the study.

Regulates blood pressure

Kashmiri almonds help regulate blood pressure because they are high in potassium and low in sodium.

Stronger bones

The smart, easy, and valuable way to build strong bones and teeth because of the presence of calcium and phosphorous in them.

Powerup protein

A healthful source of protein, almonds are a great way to complement your diet, fitness, and workouts.

Healthy snacking

Wholesome, free of sugar, salt, and chemicals, these almonds are the perfect guilt-free snack to munch on between meals.
We love to add it to everything!

Used in desserts
Almonds are a common addition to a variety of desserts - as a crunchy garnish atop cakes, pastries, in halwa and mithai.

All-purpose snack
Almonds are one of the most popular nuts to eat plain or enjoy raw, roasted, salted, or mixed into trail mix.

Almond Milk
Enjoy fresh, delicious and easy-to-make almond milk at home.
Frequently Asked Questions
Why are Anveshan Kagzi almonds expensive?

Anveshan Kagzi almonds are single origin, sourced straight from the farmers of Kashmir. This native variety of almonds is sweet in taste and has rich oil content (45%). Thus, their premium quality and high nutritional value make them costlier than other almonds.

What is the best way to eat Kashmiri almonds?

The best way to eat almonds is by soaking them overnight in water and eating them on an empty stomach in the morning.

How many almonds should you eat in a day?

Eating about 6-8 almonds a day is recommended to gain maximum nutritional benefits.
Generally good but last order had broken kernels
Generally they are pretty good but last time I received two cartons and one was ok and when the second carton was opened the packet inside had peeled and broken almonds which didn't look good and I couldn't feed my son. I complained and they have couriered me new replacement which is very nice of them.
Dear Shamit,
We regret the inconvenience caused to you. Kindly accept our sincere apologies. Your feedback and your trust are the factors that keep us motivated. Any improvement required from our end is taken very seriously. Thanks for the feedback.