Dry Fruit Paak Sweet
We don't make sweets, we make memories!
No added sweetener

No preservatives

Handmade sweet

Made in small batches
DESCRIPTION
Made from premium quality ingredients, our mithai is perfect for all your sweet cravings. It has no added sweeteners, so you don't have to worry it's a healthy sweet. The use of bilona churned Gir Cow Ghee is icing on the sweet that makes it more delicious and healthy too! Anveshan guilt-free mithai is right here for you!
View full details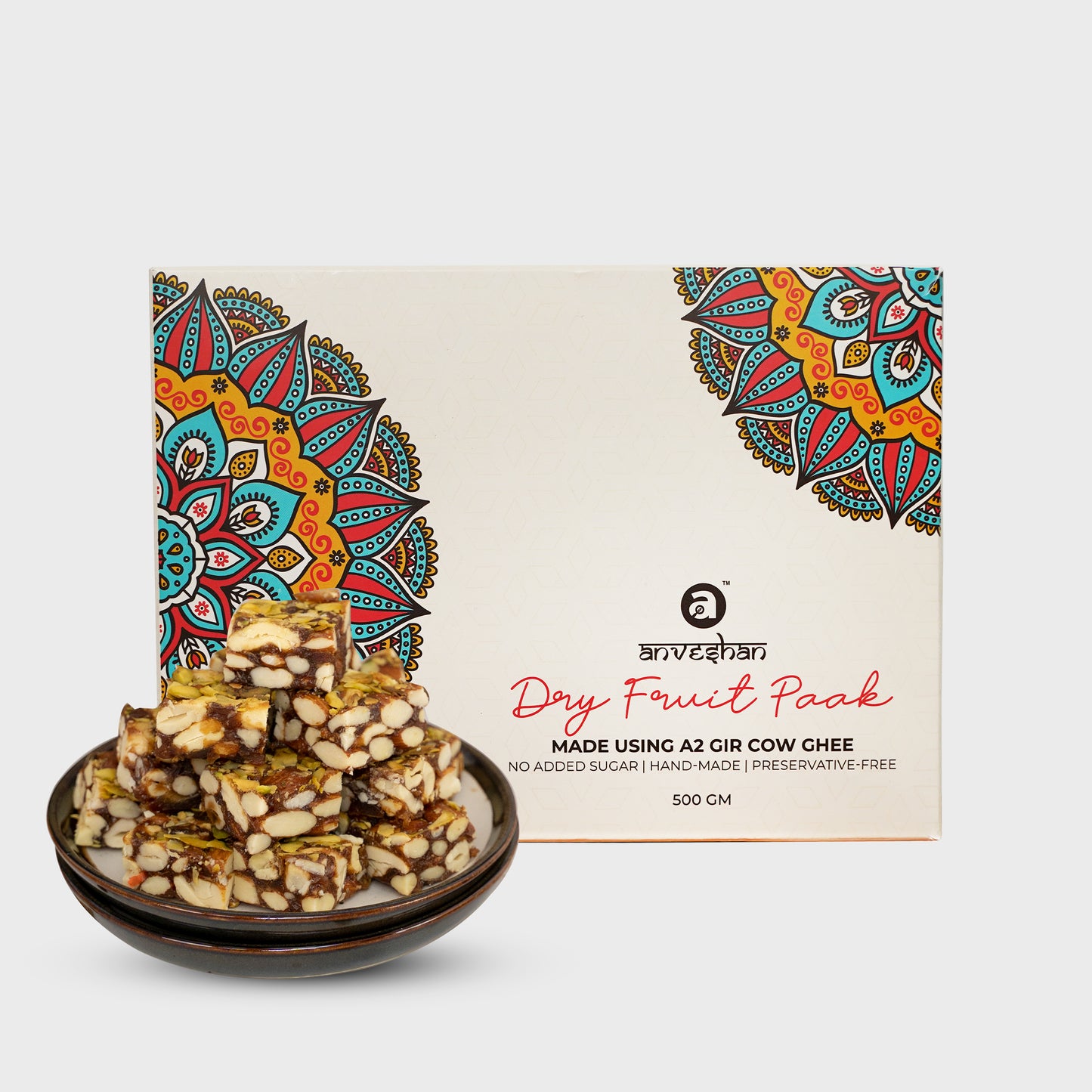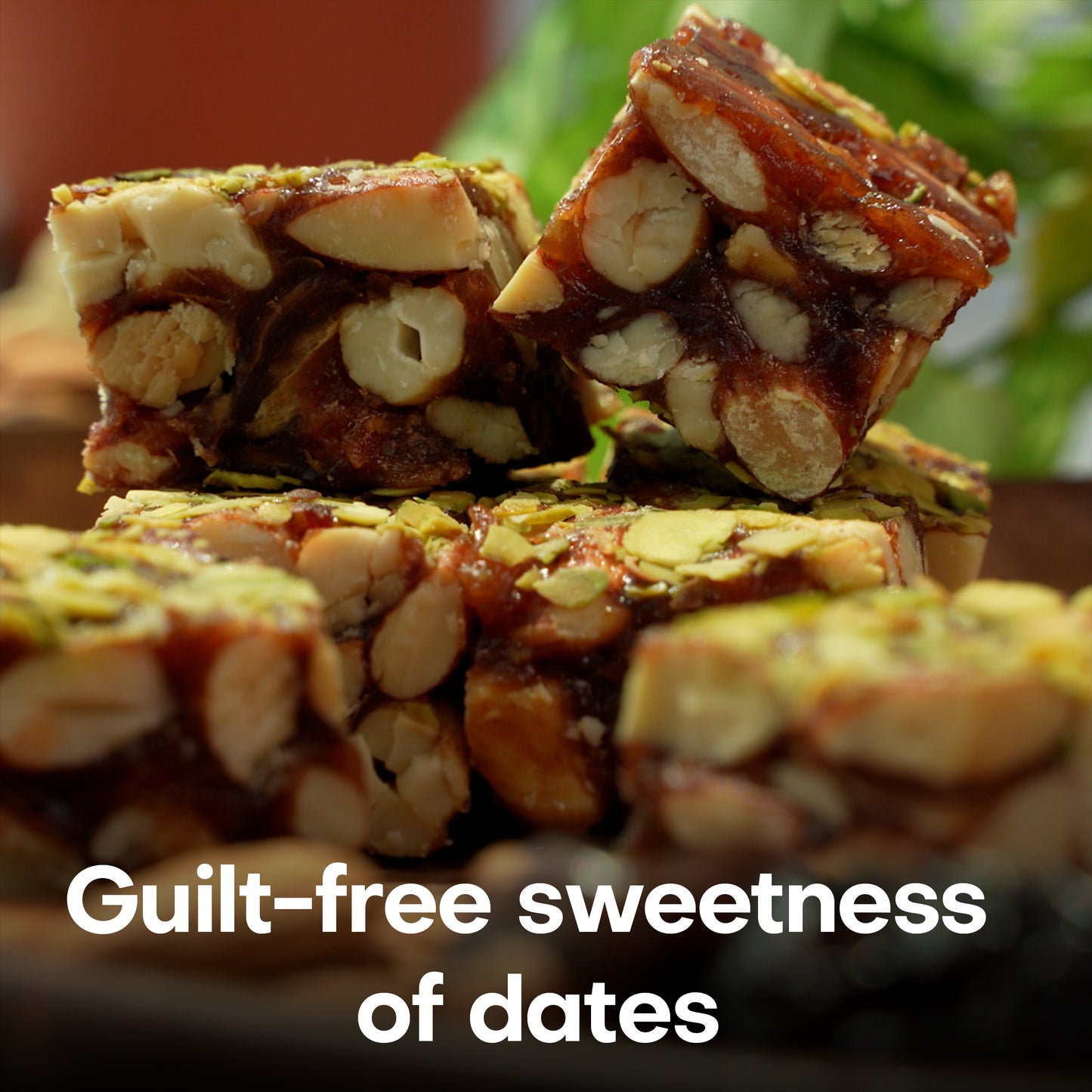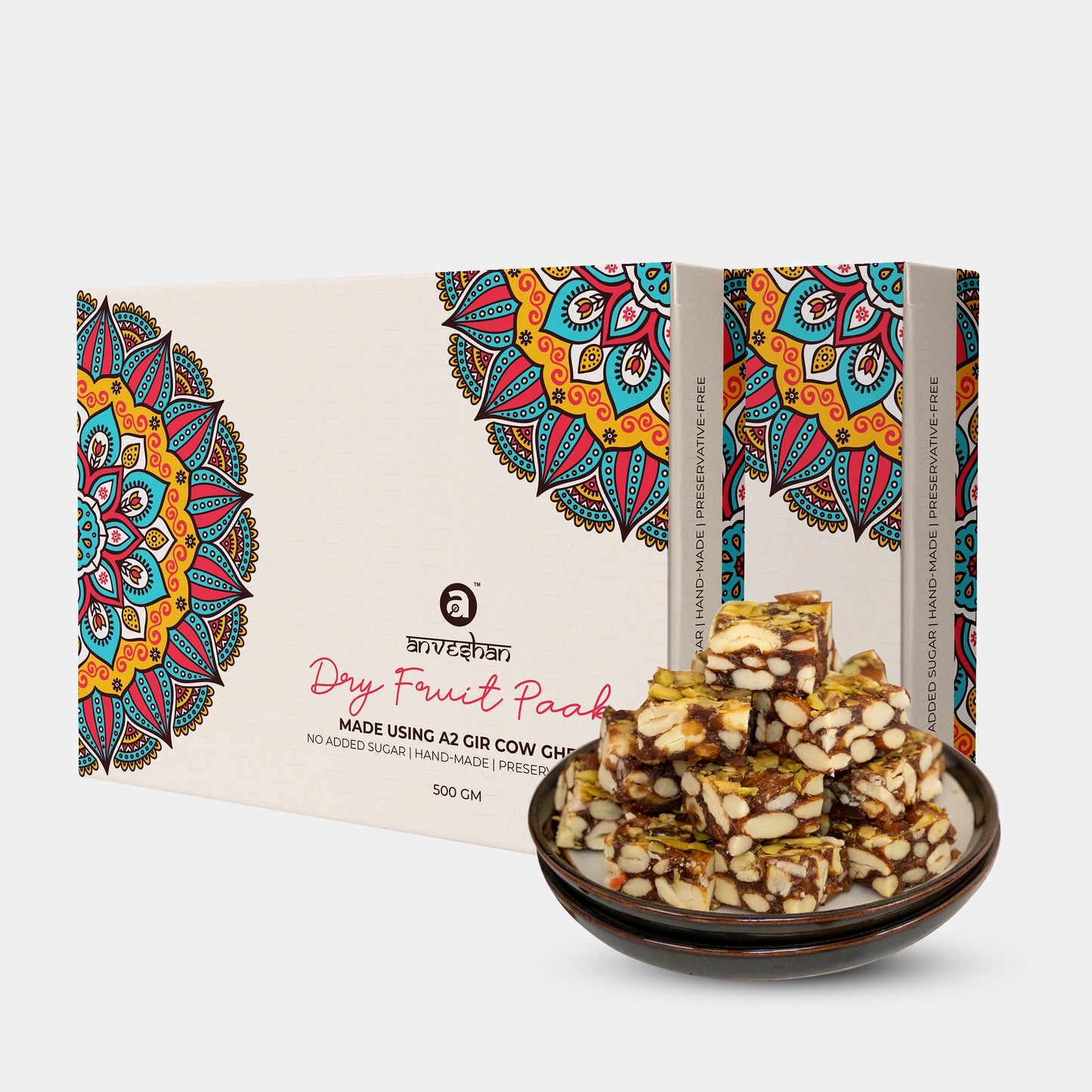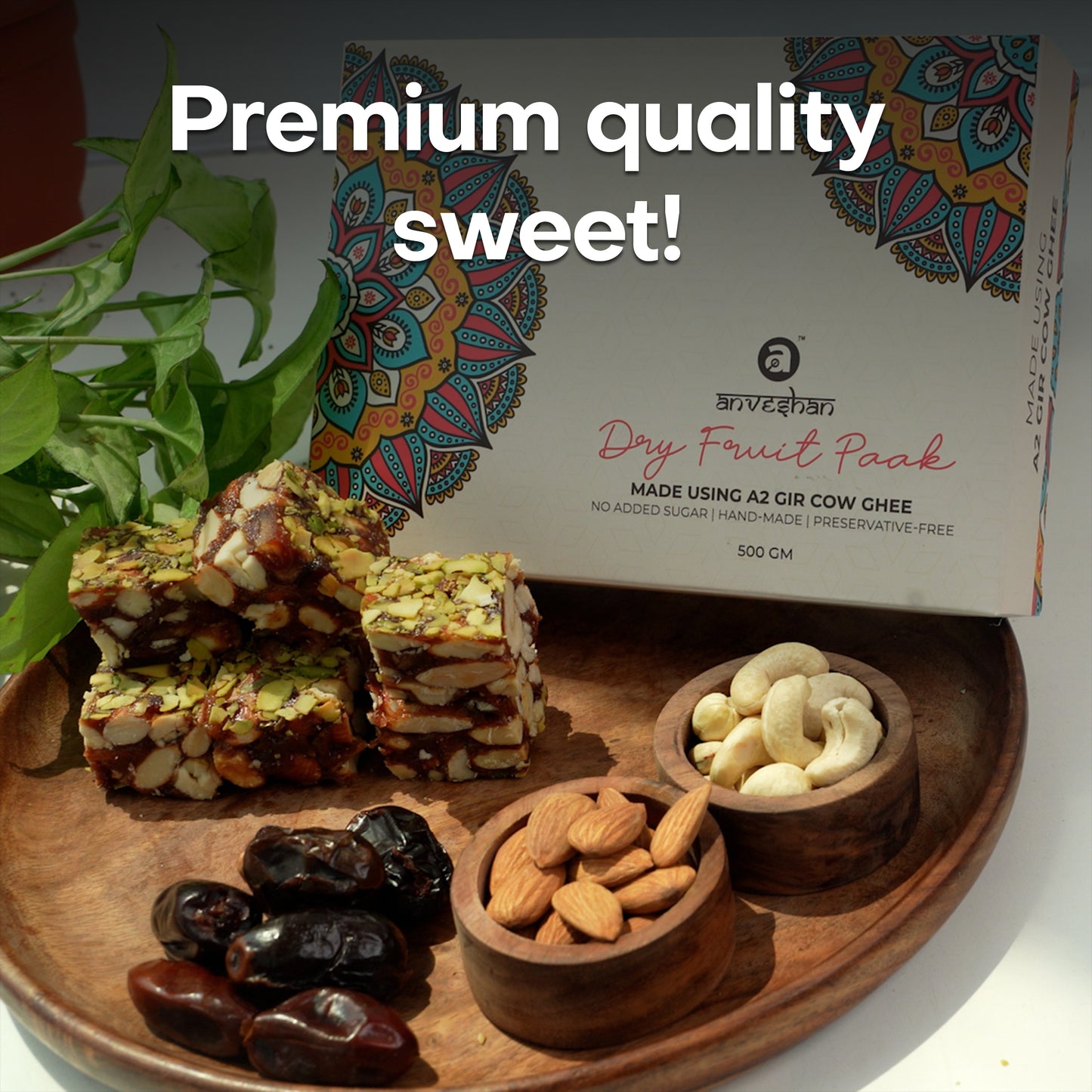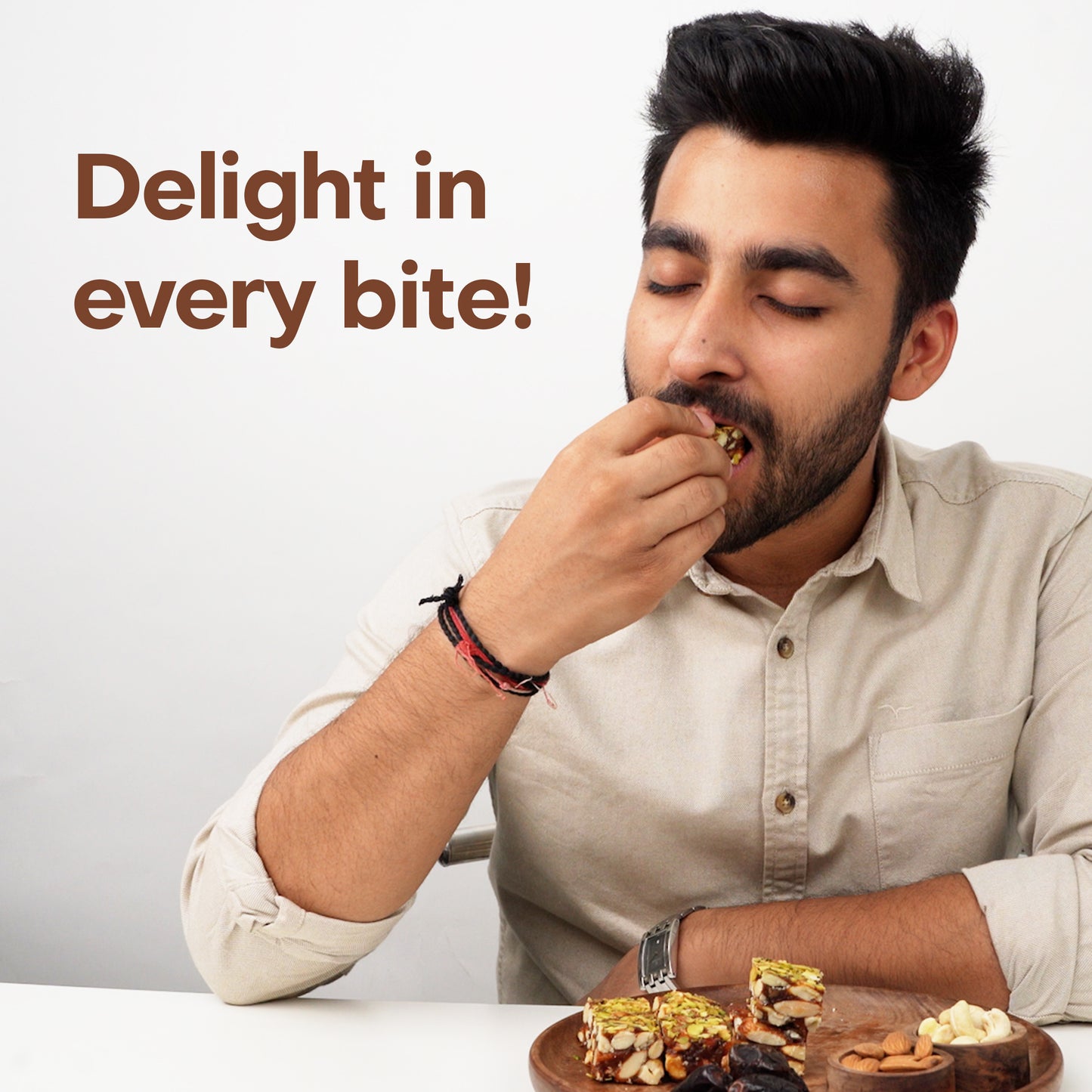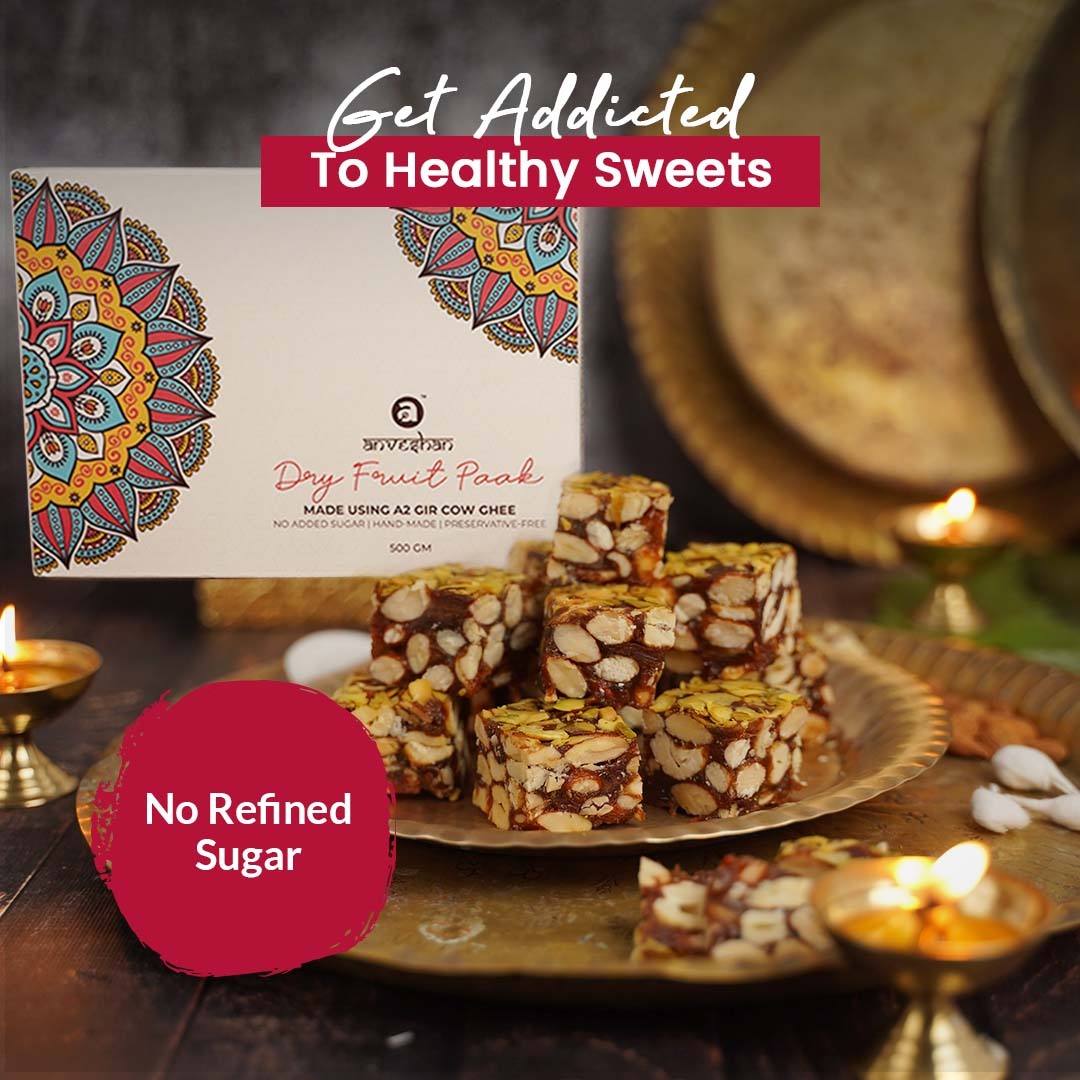 Why it's Awesome

What's in it
Dates

They have an excellent nutritional profile. Dates contain a variety of vitamins and minerals and are also full of fibre and antioxidants.

Cashews

They are rich in healthy fats, protein, calcium and antioxidants. They help fight inflammation and are beneficial to brain and bone health.

Almonds

They are full of fibre, protein, and good fats, thus they are included in a weight-loss diet. It's high in vitamin E, which helps to prevent chronic diseases.

Pistachios

They are high in protein, fibre, and potassium. They are one of the highest sources of vitamin B6 and encourage mindful eating.

Gir Cow Ghee

It is full of antioxidants. It helps you recover from sickness, nourishes the skin, and strengthens the sense organs.
Healthy sweet

The sweet is a healthy alternative to your regular sweets. Made with dates, nuts, ghee, and no sugar, it is super nutritious and is good for your overall health.

Warming ingredients

Since made of dry fruits and dates, this sweet is warming in nature and hence good for cold seasons.

Power-packed snack

Instead of chips or chocolates, you can have these delicious squares as your healthy snacking alternative and also for all your sweet cravings.
Frequently Asked Questions
Does it have cow ghee?

Yes, we use desi bilona churned Gir Cow Ghee in our sweets.

Does it contain a sweetener?

No, our sweet has no added sugar or sweeteners. Instead, it contains dates that act as natural sweetness to the mithai and can be consumed by people with diabetes in smaller quantities.

How many pieces of sweet are there in the box?

Our 500g sweet box contains approximately 20-22 pieces.

What is the shelf life of Dry Fruit Paak?

The sweet can last up to 30 days.
The product is really excellent. You need to try it once
Nice product
The product is really excellent. You need to try it once.
Drifruit paak
Excellent product now became costly by more than Rs 400.00per kg. I am not ordering it because I have many other sweets options in the same catagory to avail.
Sneak peak into the healthy world