Stone-Ground Coriander Powder
The real dhan-ia for you!
Locally sourced

No preservatives

Stone-ground

Intense aroma
DESCRIPTION
Save the trouble of grinding seeds, and bring home Anveshan Coriander Powder. Our coriander seeds are ground freshly and therefore carry freshness to your home. A truly natural and authentic herb, packed with love.
View full details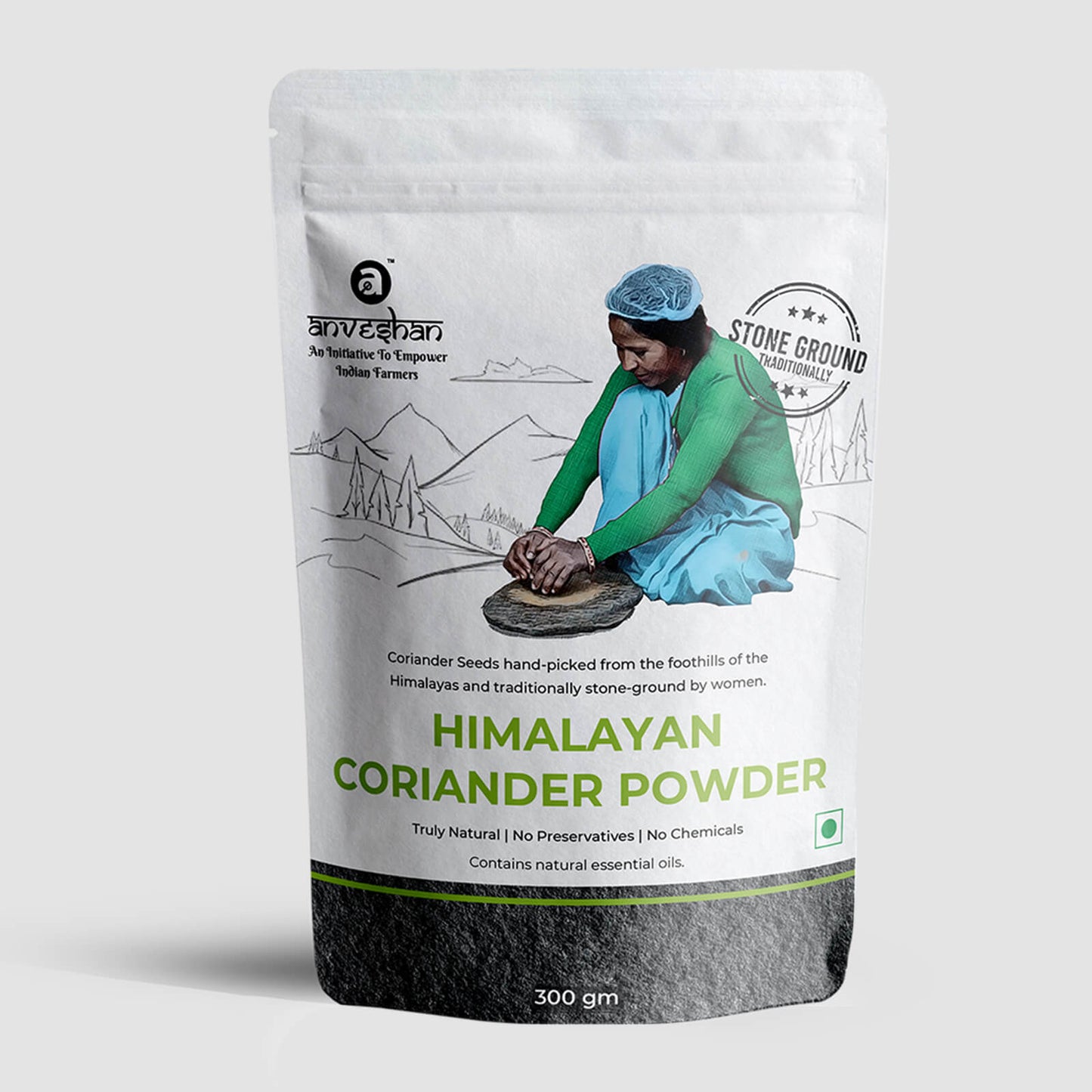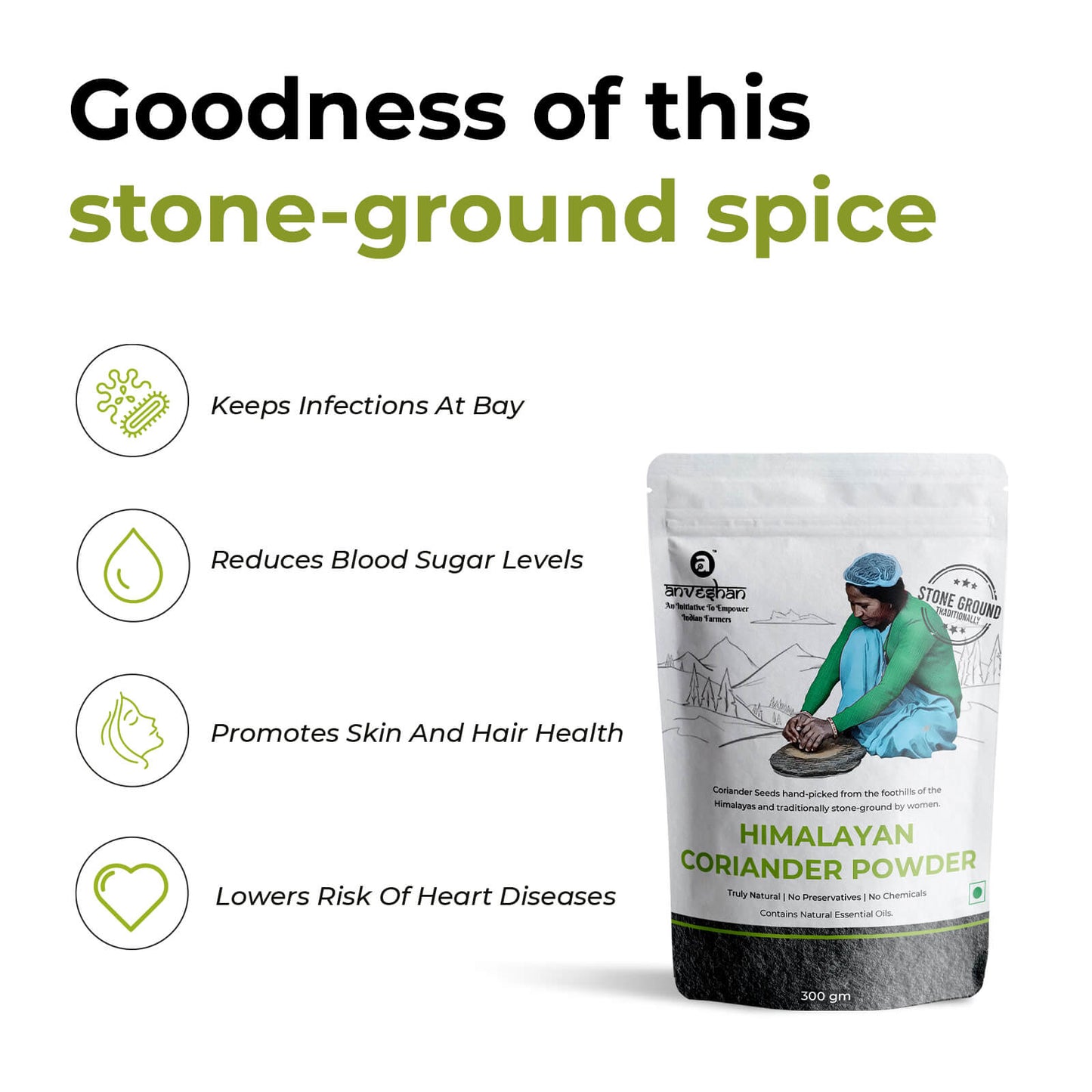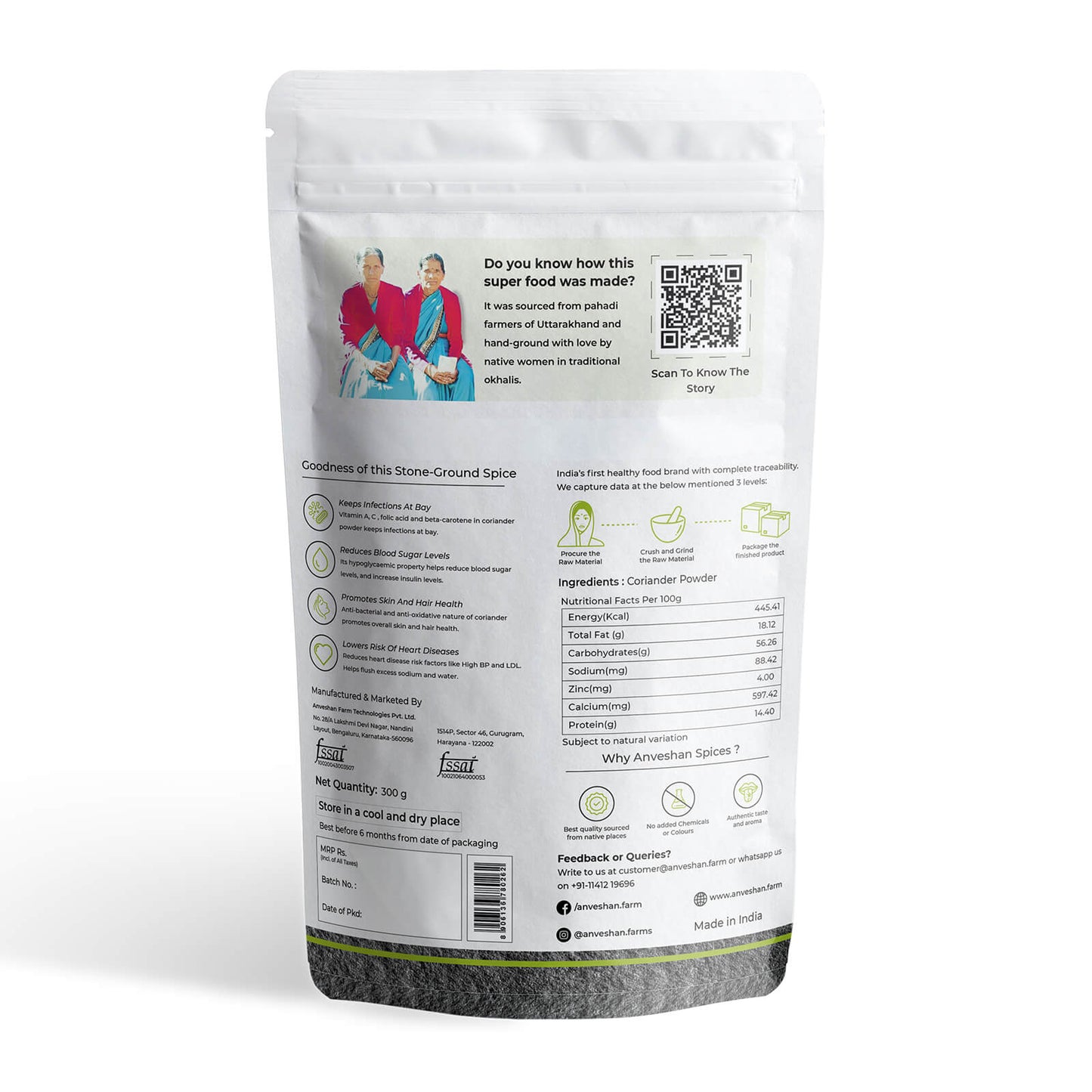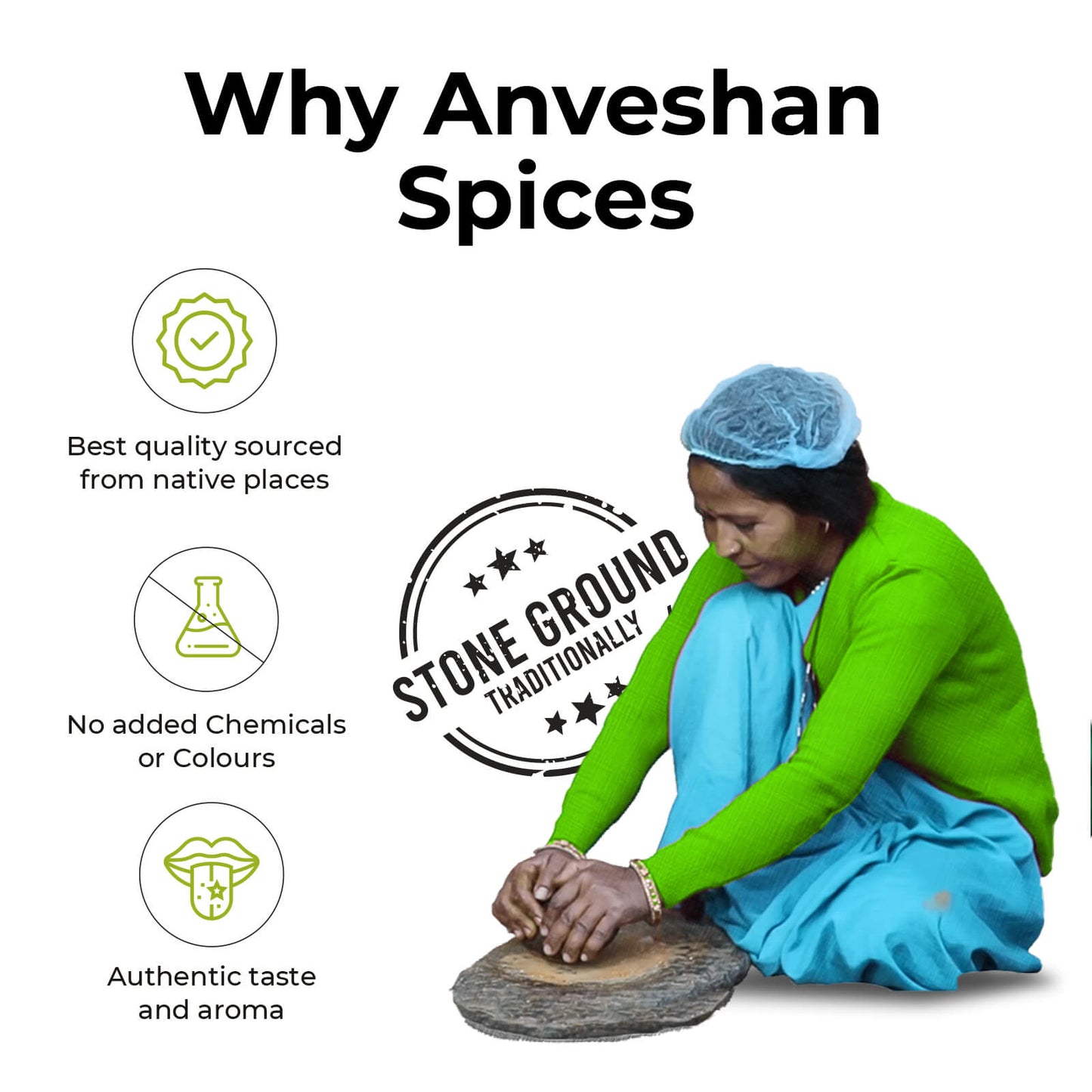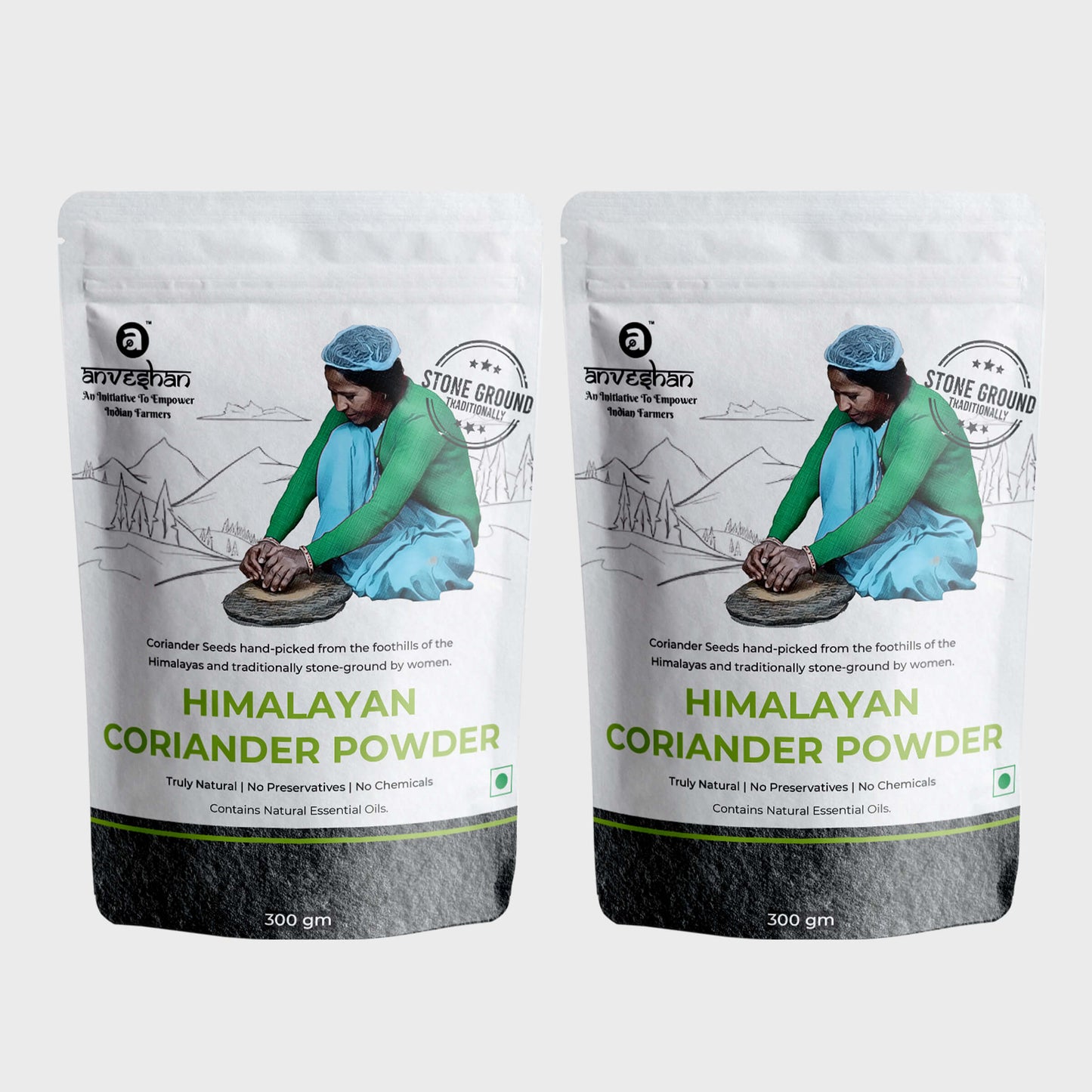 530+ Farmers Empowered

Procured from Uttarakhand

23 Lab Tests Done
Why it's Awesome

Journey of our Spices
Our spices come from farms, not factories. We work with farmers directly and aim to produce the best quality natural products.
1

Ethically Sourced

We source our spices directly from farmers and offer them better prices. We also ensure fair treatment, community support, sustainable production and food quality

2

Manually Cleaned

The coriander seeds are cleaned to remove the dirt, dust and stones. They are then sun-dried and stored in cold storage.

3

Stone-grinding

As per requirement, the seeds are ground by women in okhalis & chakkis at a low temperature to maintain their high nutrient value.

4

Quality Checks

Coriander undergoes strict quality checks to make sure it is free from unwanted contaminants and follows FSSAI standards.

5

Packaging

Our coriander is packed in a glass jar/ paper pouch only when it clears all the mandatory tests.
Nutrient-rich

Enriched with the goodness of essential vitamins, minerals, a myriad of antioxidants, iron, coriander powder is highly significant.

Prevents Infections

The antimicrobial and antiseptic compounds in coriander may help fight certain infections.

Abundant in Fibre

A natural digestive that keeps gastrointestinal anomalies at bay. Removes toxins and promotes nutrient absorption.

A Natural Diuretic

It helps flush out sodium from the body. It also has anticoagulant properties that can prevent blockage.

Promotes Skin Health

Presence of antioxidants and essential vitamins impart a natural glow and reduce signs of ageing.

Promotes Hair Health

It is useful in scalp infections like itching, dandruff, and hair fall. It also promotes new hair growth.
Frequently Asked Questions
What is special about stone-ground spices?

Stone-grinding is well recognized as the method best able to bring out the best flavours while retaining essential nutrients of our spices. Pounding the spices releases the natural oils and distributes them uniformly throughout, creating a wonderfully aromatic and flavourful spice. Therefore, our stone-ground spices are a better alternative for your dishes.

What makes Anveshan coriander powder so special?

Anveshan offers premium quality coriander powder sourced directly from Uttarakhand. The handpicked coriander seeds are stored and freshly ground as per requirement. They are ground by women in okhali/chakki and are not exposed to high heat, thus preserving their all-natural nutrients.

What does Anveshan Coriander Powder taste like? Can I substitute it for coriander seeds?

The flavour of our coriander powder is subtle, resembling a tangy, earthy flavour with a trace of flowery scent. It has a very refreshing and pleasant taste.
Yes, you can replace every teaspoon of coriander seeds with 3/4 teaspoon of ground coriander.

Do you roast the coriander seeds before grinding them?

No, we do not roast the seeds. We grind raw coriander seeds in stone okhalis & chakkis and pack them.

What is the shelf life of the coriander powder?

If appropriately stored in glass containers, our coriander powder can easily last up to 2 years.

Is the pouch/jar glass or plastic?

No, we at Anveshan believe in sustainable packaging. Therefore, our spices are available in glass jars and paper pouches that are eco-friendly. The jars are reusable and lock in the freshness of the spices.
For pouches, we recommend emptying them in jars as they contain essential oils. Storing it in pouches for a long time may lead to oil secretion, and pouches may become oily.
Stone-Ground Coriander Powder
I hav just recieved it today for your information!!
Stone-Ground Coriander Powder
Sneak peak into the healthy world