Malabar Black Pepper Powder
Seasoning your food and mood
No preservatives

Ground by women

Stone-ground

Locally sourced
DESCRIPTION
We procure the finest black peppercorns from Malabar. Our premium quality Black Pepper is a blend of pleasant aroma and great taste. They are a great source of calcium, iron, protein, etc. Cook without compromising with Anveshan Black Pepper.
View full details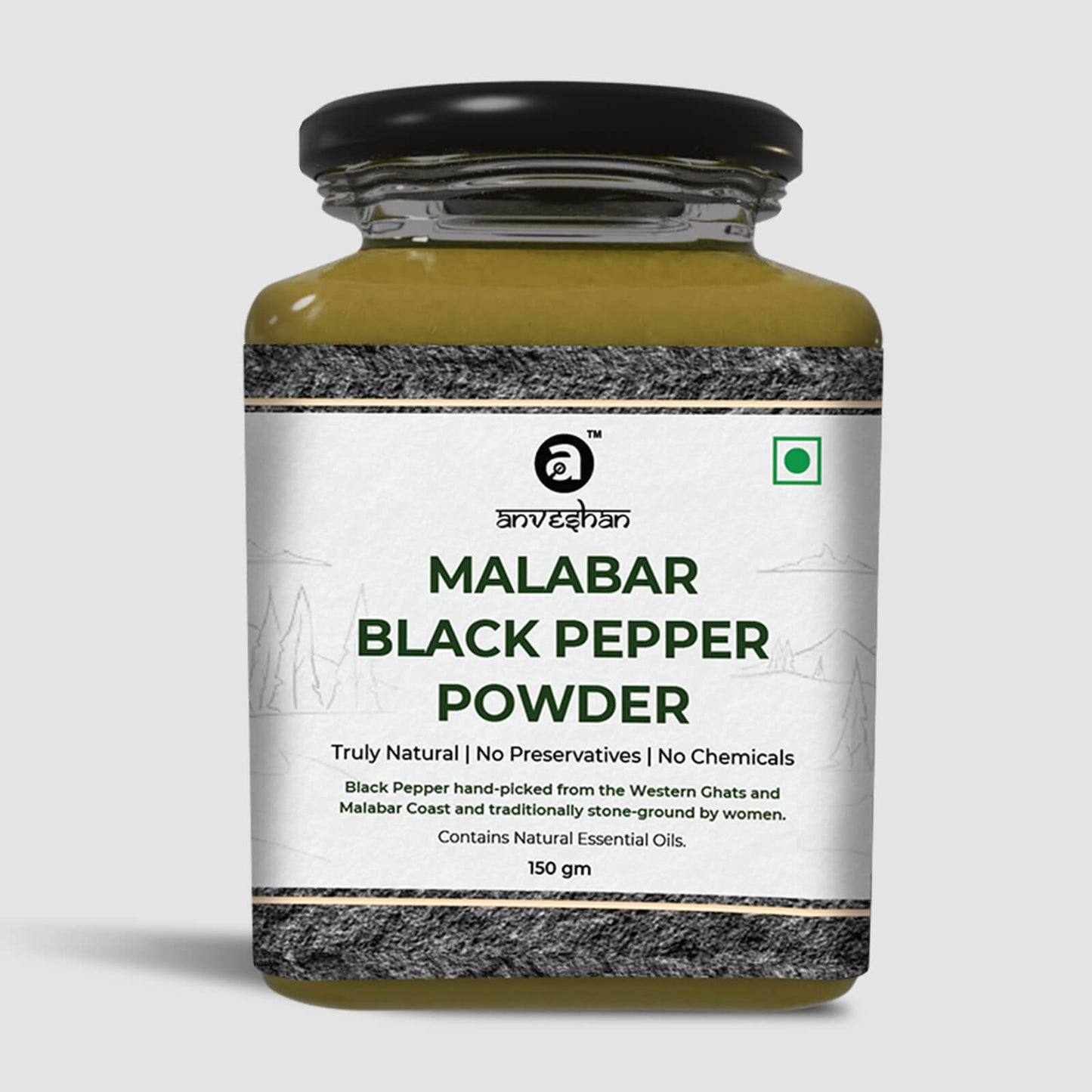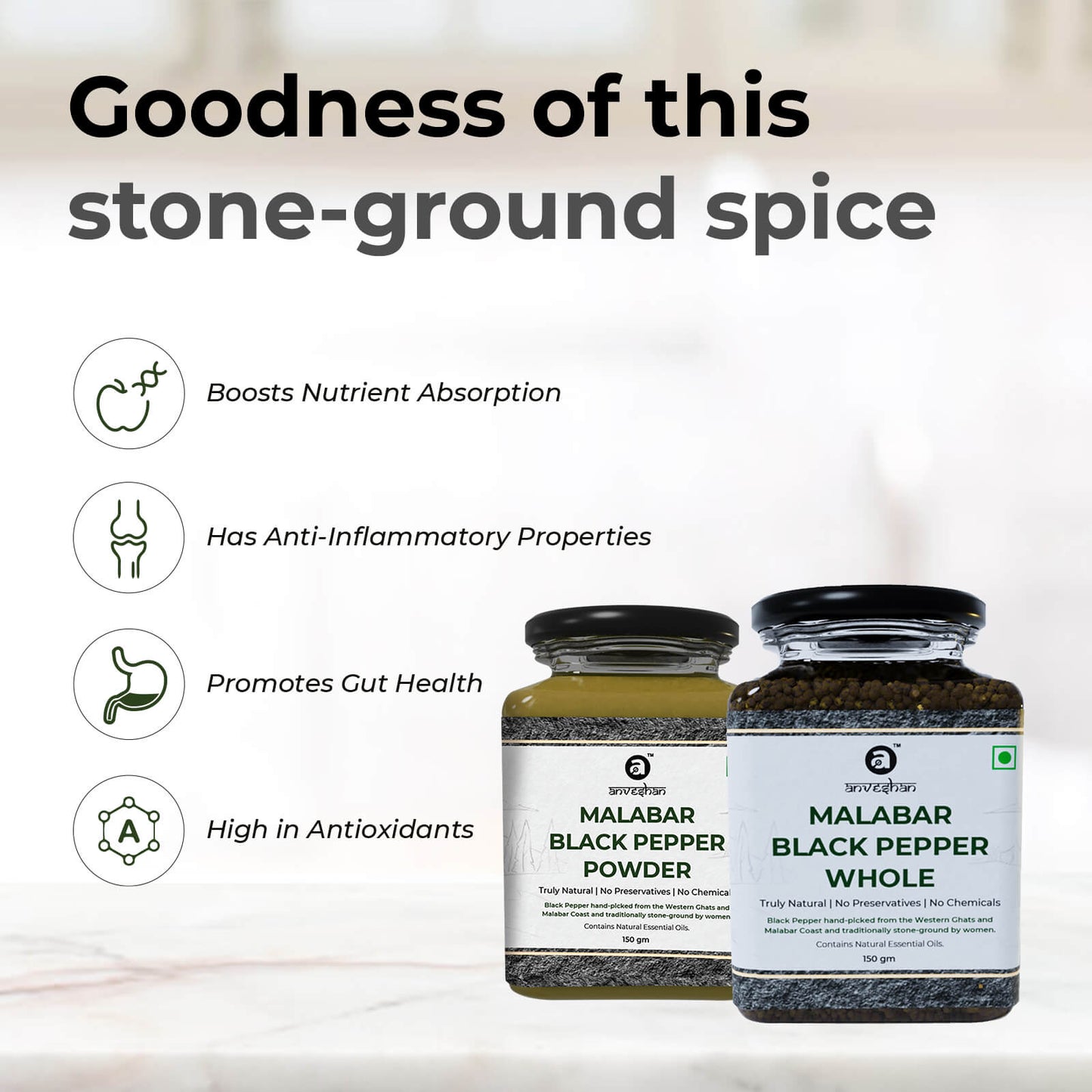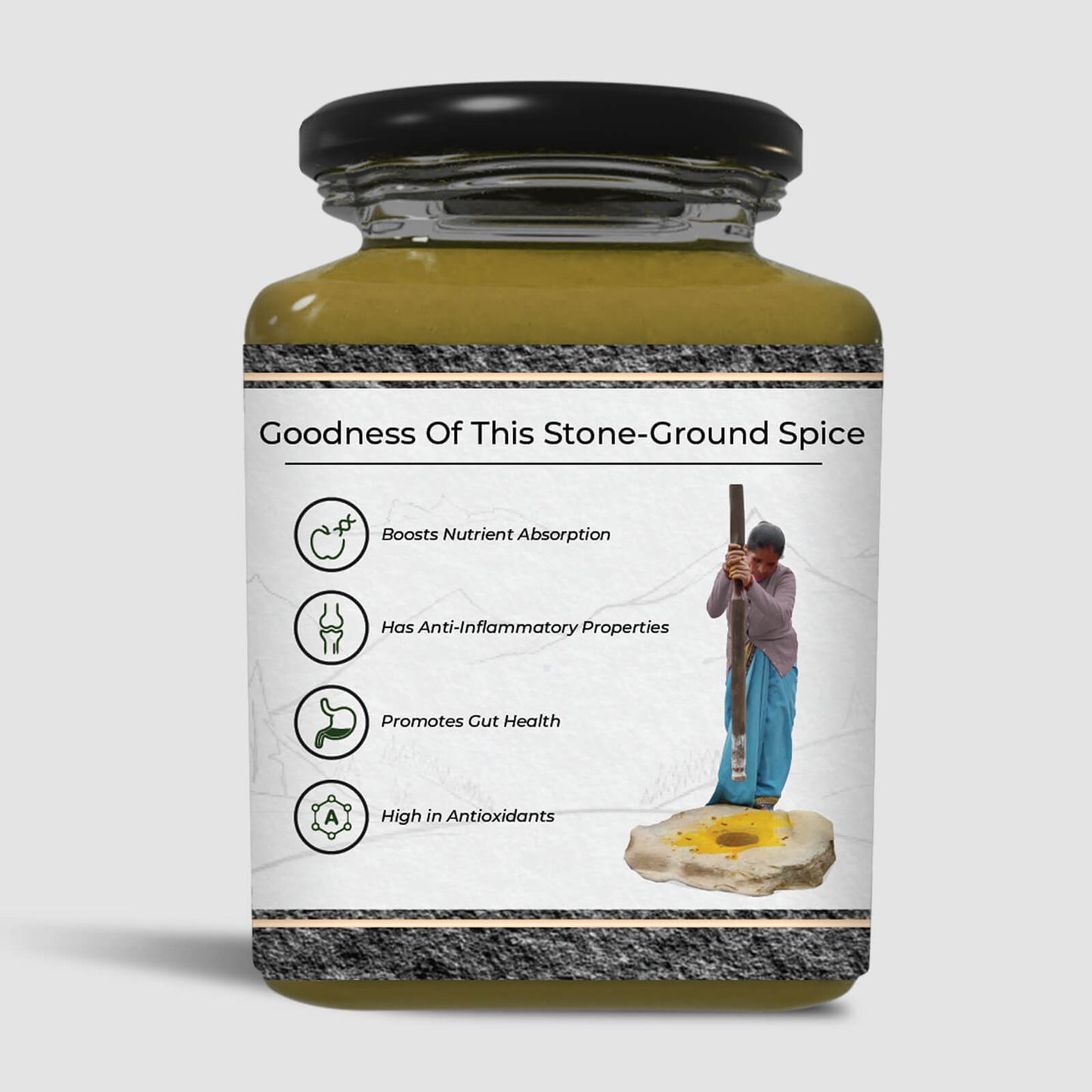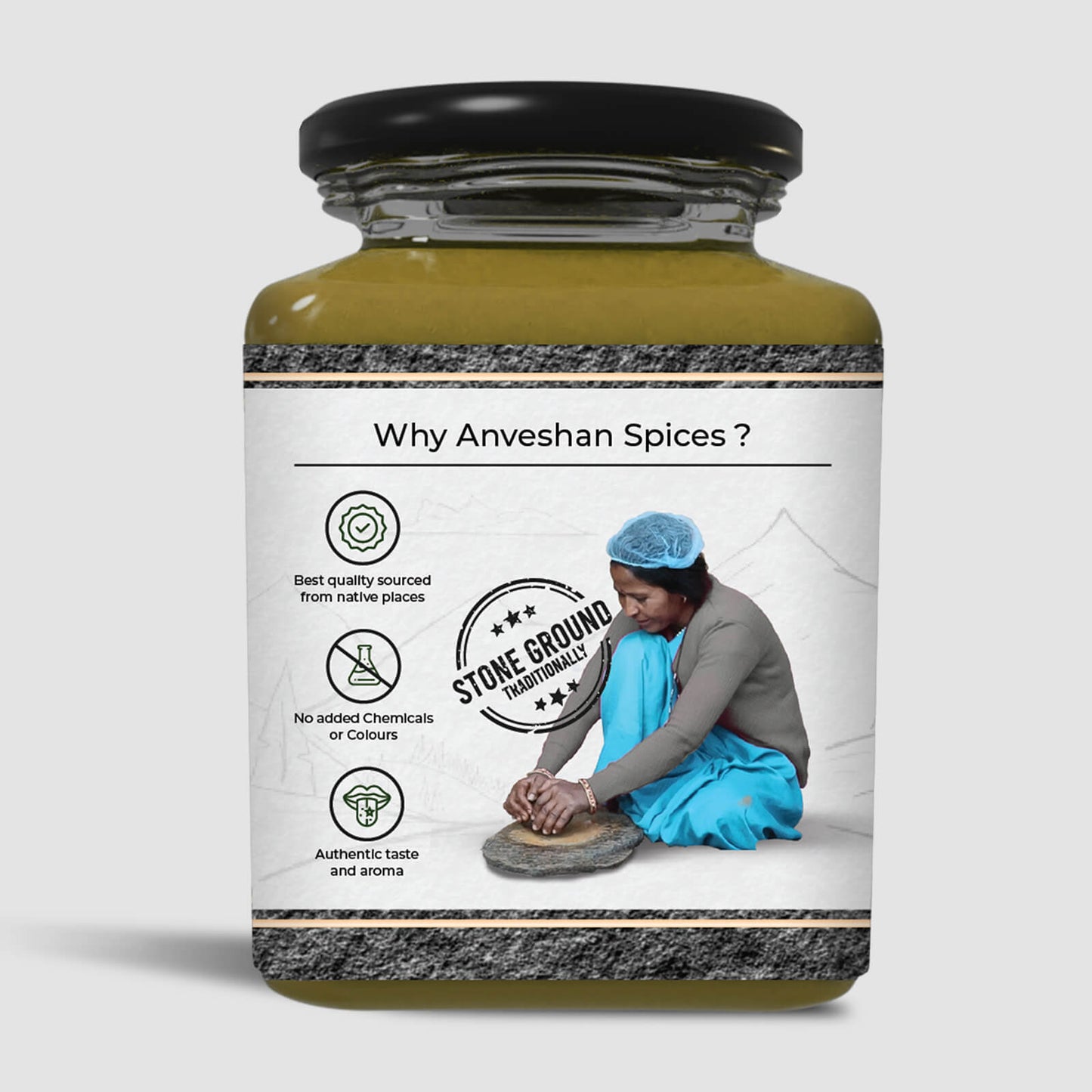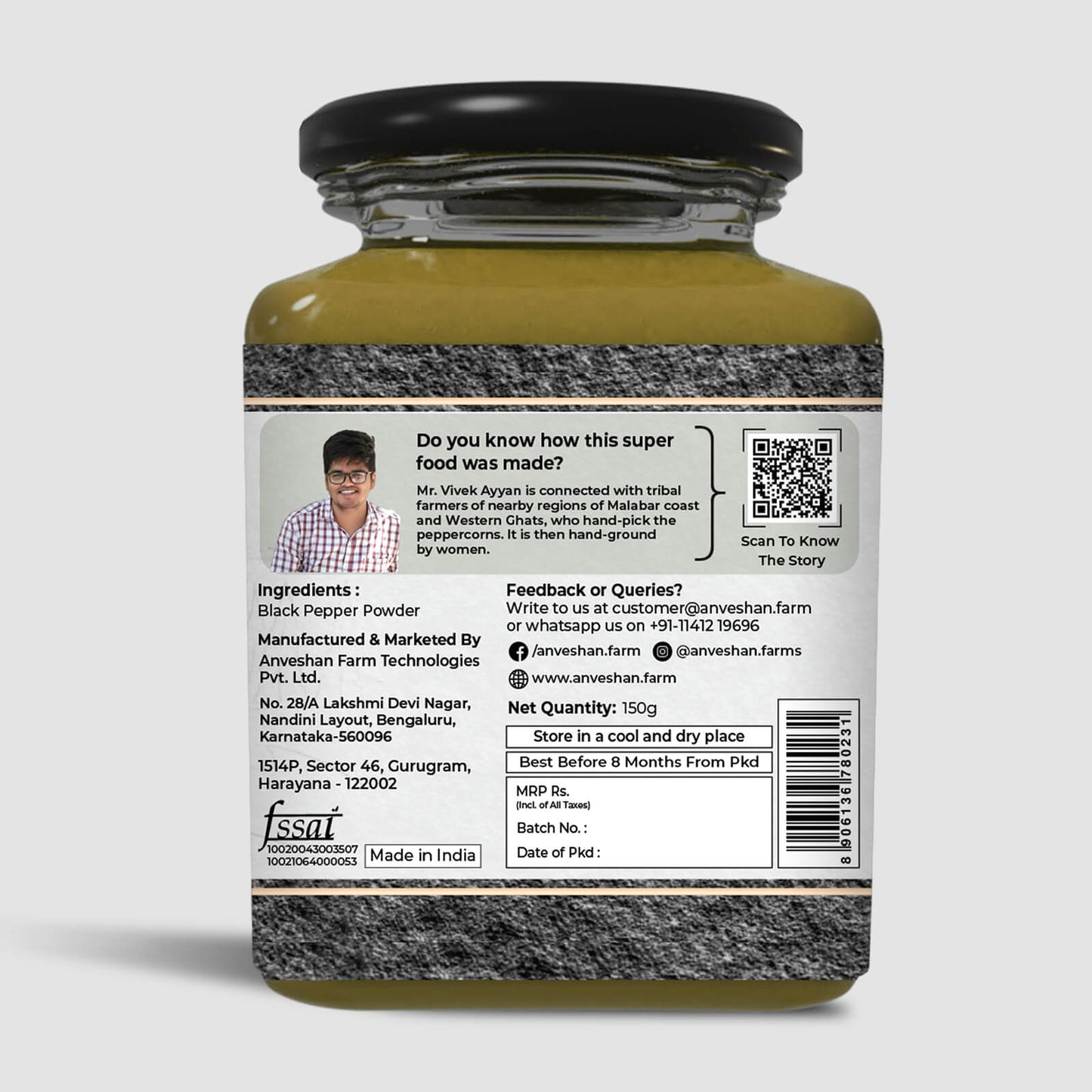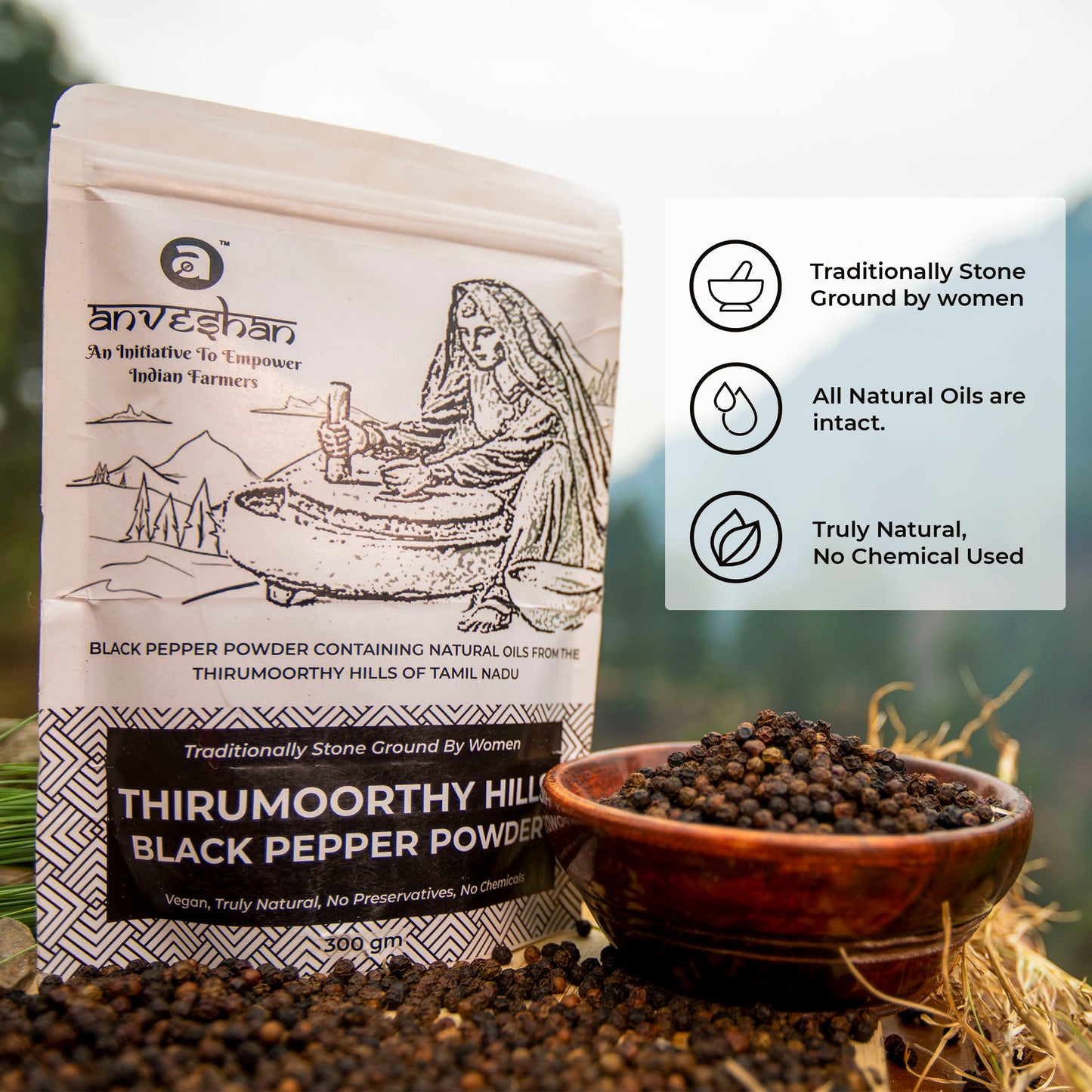 530+ Farmers Empowered

Procured from Malabar

23 Lab Tests Done
Why it's Awesome

Journey of our Spices
Our spices come from farms, not factories. We work with farmers directly and aim to produce the best quality products that are entirely natural.
1

Ethically Sourced

We source our spices directly from farmers and offer them better prices. We also ensure fair treatment, community support, sustainable production and food quality.

2

Manually Cleaned

The peppercorns are cleaned to remove the dirt, dust and stones. They are then sun-dried and stored.

3

Stone-grinding

As per requirement, they are ground by women in okhalis & chakkis at a low temperature to maintain their high nutrient value.

4

Quality Checks

Black pepper undergoes strict quality checks to make sure it is free from unwanted contaminants and follows FSSAI standards.

5

Packaging

Our red chilli is packed in a glass jar/ paper pouch only when it clears all the mandatory tests.
High in Antioxidants

It is rich in a potent antioxidant called piperine, which helps prevent free radical damage to your cells.

Anti-inflammatory Properties

Studies on rodents using piperine have shown a reduction in inflammation and swelling.

Boosts the Absorption of Nutrients

It increases the absorption of beneficial plant compounds and essential nutrients like calcium and selenium.

Stimulates Digestion

The piperine in black pepper eases digestion and stimulates the stomach, which then secretes more hydrochloric acid that, in turn, helps to digest proteins in food.

Improves Skin

It enables blood circulation and provides the skin with more oxygen. Adding it to your food can also take care of unwarranted skin wrinkles.

Relieves Cold and Cough

Antibacterial in nature, it helps cure cold and rich in Vitamin C, it also works as an antibiotic.
Frequently Asked Questions
What is special about stone-ground spices?

Stone-grinding is well recognized as the method best able to bring out the best flavours while retaining essential nutrients of our spices. Pounding the spices releases the natural oils and distributes them uniformly throughout, creating a wonderfully aromatic and flavourful spice. Therefore, our stone-ground spices are a better alternative for your dishes.

How freshly ground is the pepper that goes into the pouch/jar?

Our farm-grown peppercorns are sourced directly from farmers. We store the peppercorns in hygienic storage, and they are ground as per the requirement. It is then securely packed, which keeps the aroma and freshness of our pepper intact.

Do we use ground and whole pepper in the same way?

Whole peppercorns are used in pickling, marinades, stocks, blends, pot roasts and soups. However, some people prefer freshly ground pepper and grind the peppercorns coarsely or finely as needed.
On the other hand, ground pepper is more flavorful and enhances the taste of any dish. In addition, they are convenient for seasoning to taste and blend quickly and smoothly into food.

What is the shelf life of the black pepper powder?

If appropriately stored in glass containers, our black pepper powder can easily last up to 2 years.

Is the pouch/jar glass or plastic?

No, we at Anveshan believe in sustainable packaging. Therefore, our spices are available in glass jars and paper pouches that are eco-friendly. The jars are reusable and lock in the freshness of the spices.
For pouches, we recommend emptying them in jars as they contain essential oils. Storing it in pouches for a long time may lead to oil secretion, and pouches may become oily.
Pure
the smell is so fresh and tastes so spicy.
nice
The powder is more towards the expensive side, but it is acceptable considering the quality other brands offer.
tastes nice
It is nice. Nothing different from other A2 ghees.
good product
Have tried out almost every product of anveshan and this is one of my favorite. good quality and taste. The delivery does become a little slow at times.
very nice
Money well spent, would definitely recommend. I am giving it only 4 stars because I recieved product a little late, but product is in good condition.
Sneak peak into the healthy world