Anveshan Lakdi Ghani Traditional Oil Gift Box
100% Natural

Unprocessed

Cold Pressed

Sieve Filtered
DESCRIPTION
Don't wait for an occasion to give a gift. Instead, give a surprise gift and make any day special. The best gift is one that your loved one will remember, so share this healthy traditional oil gift box and remind them that they and their health is essential.
View full details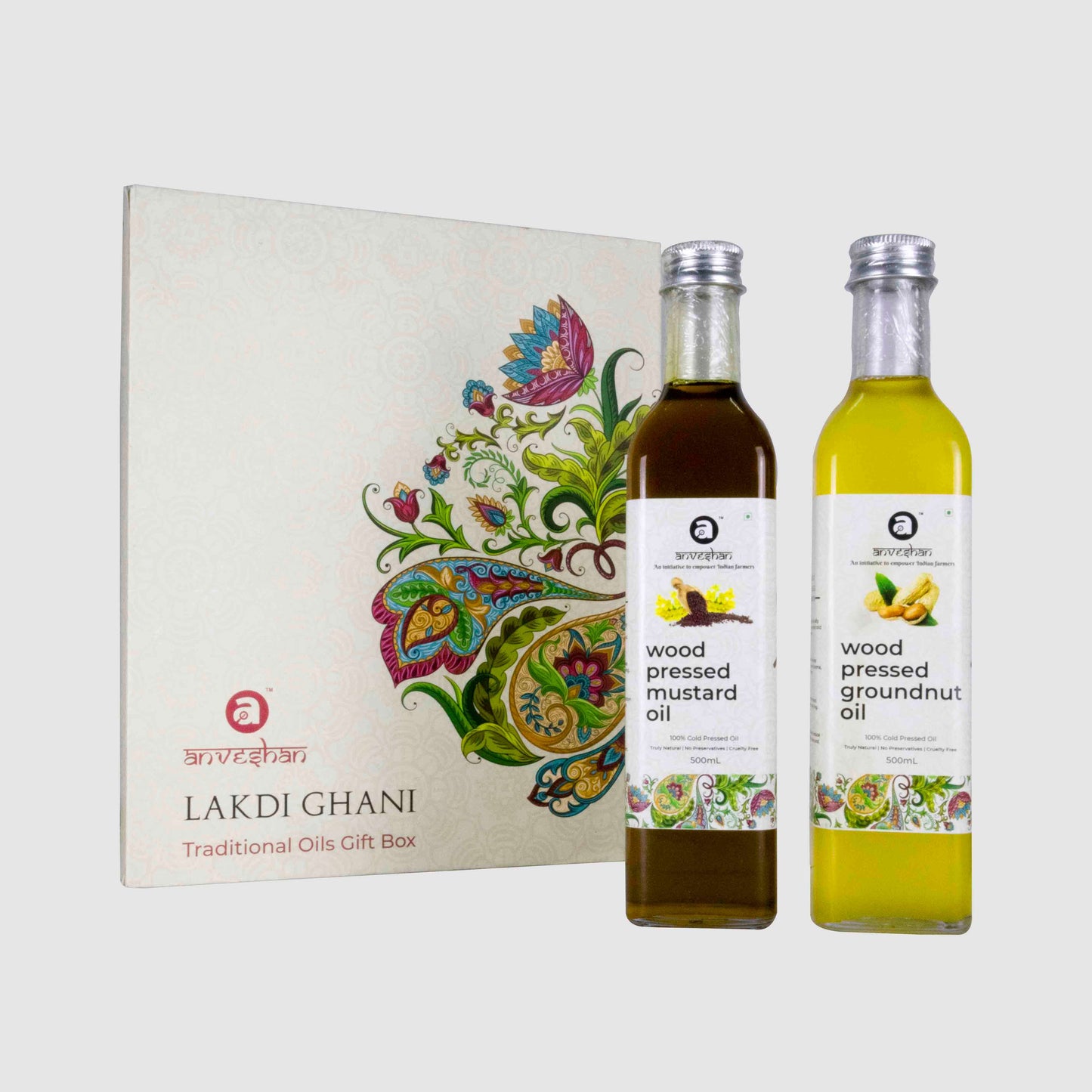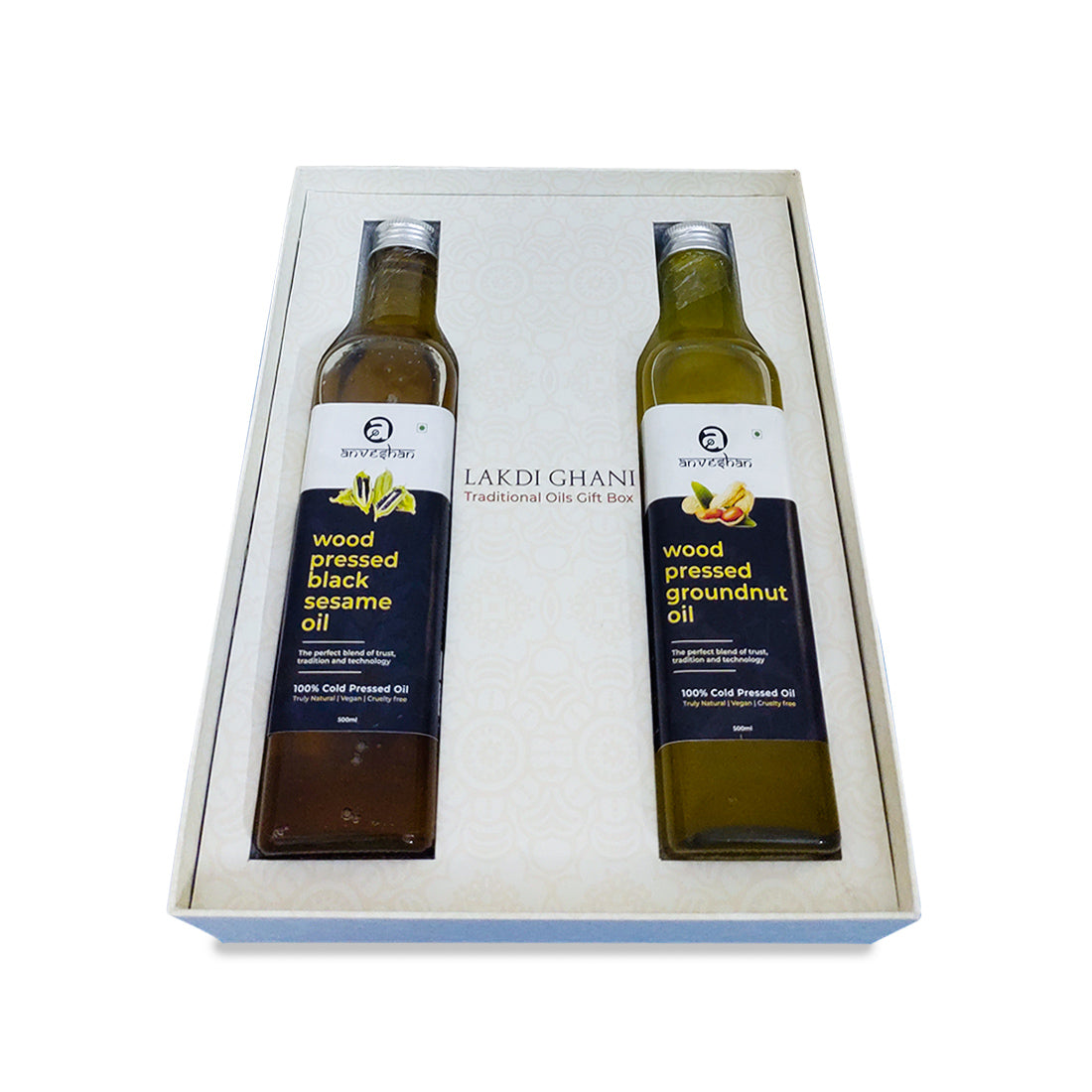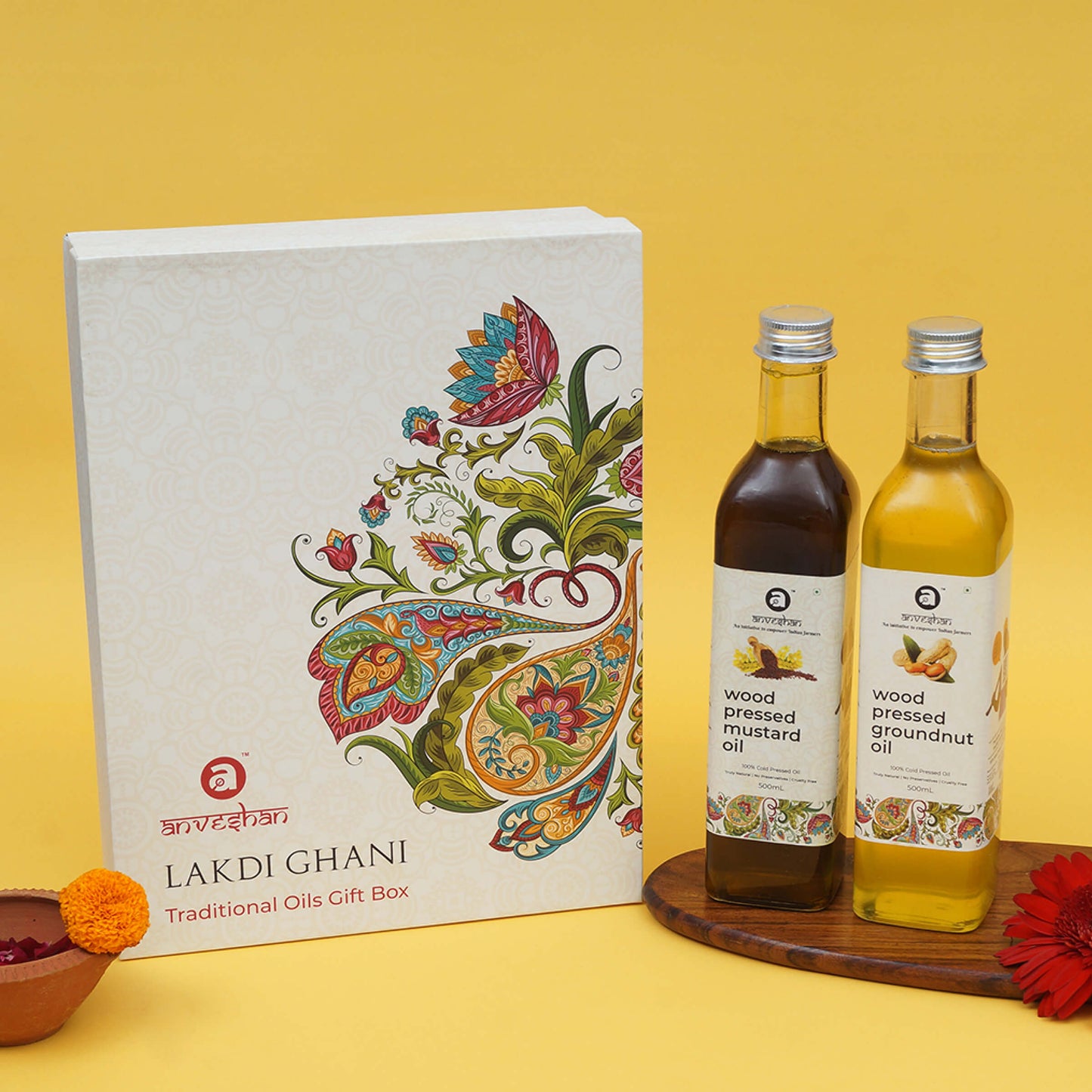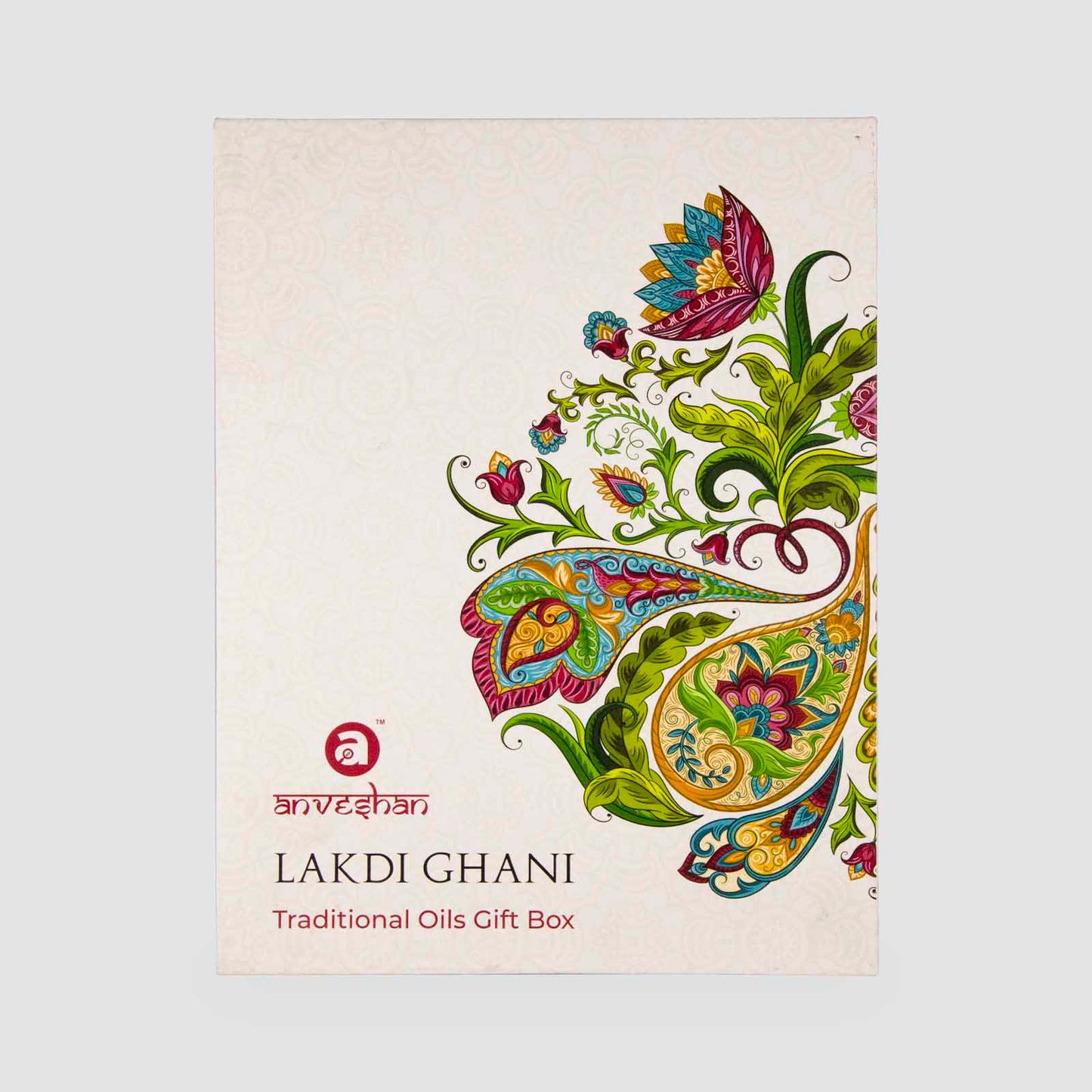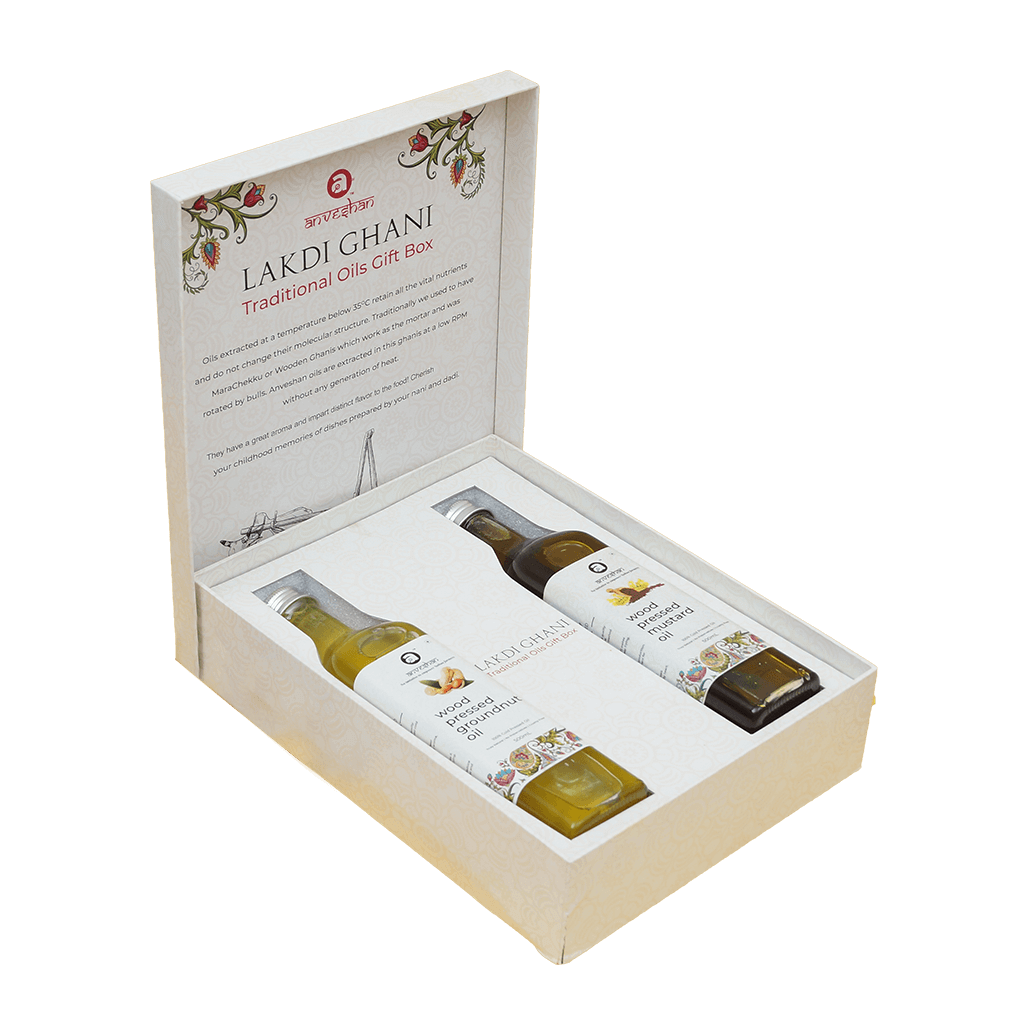 What's in it?
Wood Pressed Groundnut Oil

500ml

Wood Pressed Mustard Oil

500ml
What makes it special?
Proudly made in India by farmers!

Our farm-fresh groundnuts and mustard seeds are handpicked by farmers.

Oils are cold pressed (in wooden Kolhu) that helps retain their nutrition.

Our gift box comes in an eco-friendly cardboard box.

Free shipping across India

Perfectly nutritious, aromatic and delicious oils.
Frequently Asked Questions
What is the difference between refined and cold-pressed oils?

Refined oils are colourless, odourless and flavourless fluids. The regular refined oils are extracted using solvents and grinding them at high speed, which can generate heat up to 100°C, which degrades the oil's taste and nutritional composition. Trans fats are produced in this process, making them unfit for your heart.
While our cold-pressed oils are extracted through pressing and grinding of seeds below a temperature of 50°C. Though it is a slow and time-consuming process, they retain their natural flavour, aroma, and nutritional value. They are high in antioxidants and vitamins and contain good fats for a healthy heart.

Why are Anveshan cooking oils expensive?

Anveshan offers premium quality oils that are cold-pressed in wooden Kolhu by crushing raw seeds/nuts and forcing the oil through pressure. Our oils are also "First pressed, " meaning that the seeds/nuts were crushed and pressed only once. The oils are unrefined, unbleached, and, most importantly, natural.
When oils are extracted in this way, it retains their genuine flavour, aroma, and antioxidants and nutrients. It does not alter the properties of the oil and make them great for cooking and skin care requirements. Thus, cold-pressed oils cost more but are worth spending.
awesome gift box
Feels awesome to open this gift box no matter how many times you've opened it before
looks and smells amazing
Probably sounds like a broken record at this point but every single time I get these woodpressed oils it knocks the air out of my lungs because the smell is so amazing, a true testament of the superior quality
gave it to my relatives
I gave this to my relatives when they had a function at their new home and it was the perfect housewarming gift!
worth every buck
The entire experience was quite enjoyable. Will gift Anveshan gift boxes again
looks so expensive
Looks really expensive and made me feel really good about gifting it