A2 Desi Cow Ghee and Dry Fruit Paak Sweet Combo
100% Natural

No added chemicals

Premium quality

Lab-tested
DESCRIPTION
Anveshan combines taste, quality and the well-known health benefits of ghee and guilt-free sweet. Impress your guests with an irresistible taste of our A2 Desi Cow Ghee and Dry Fruit Paak.
View full details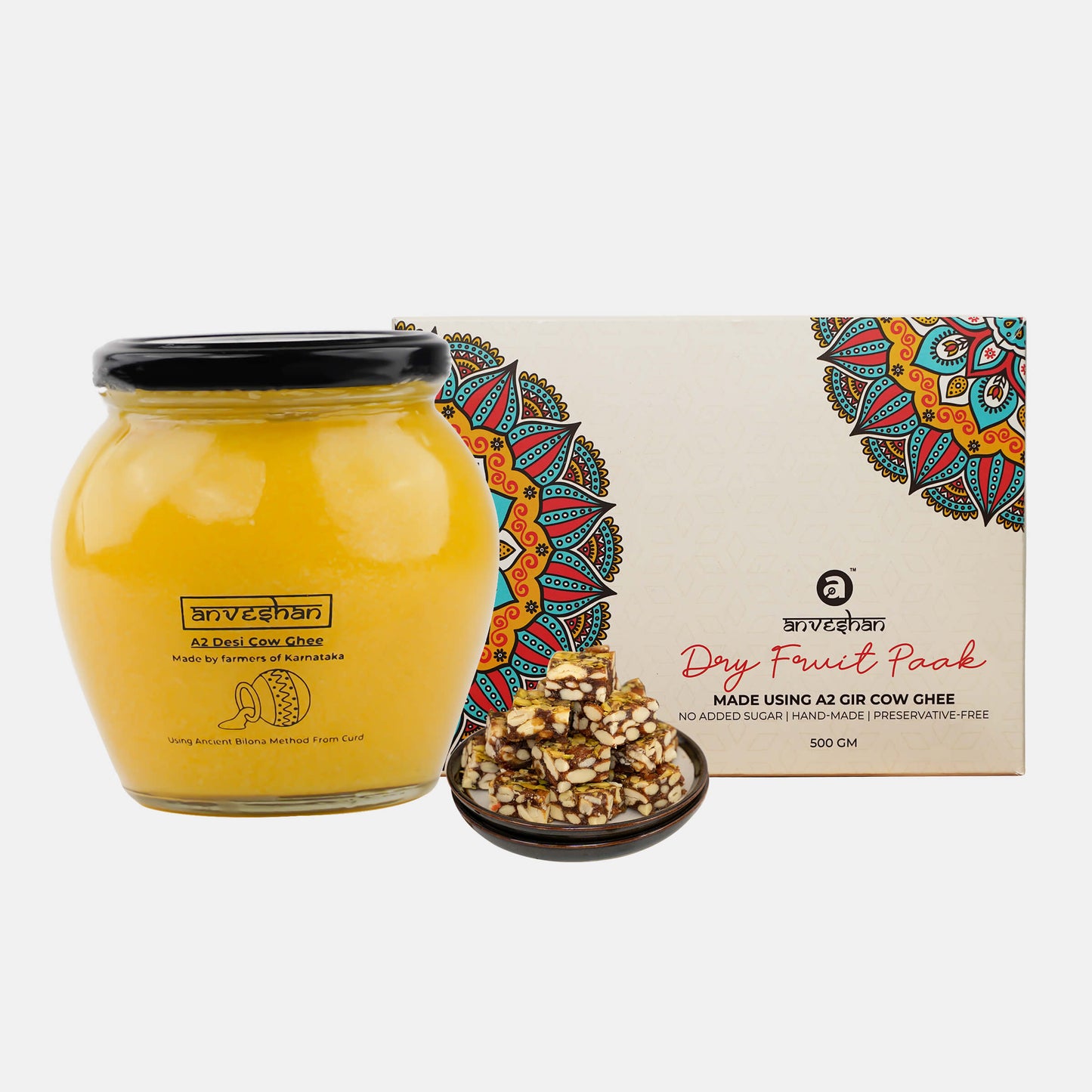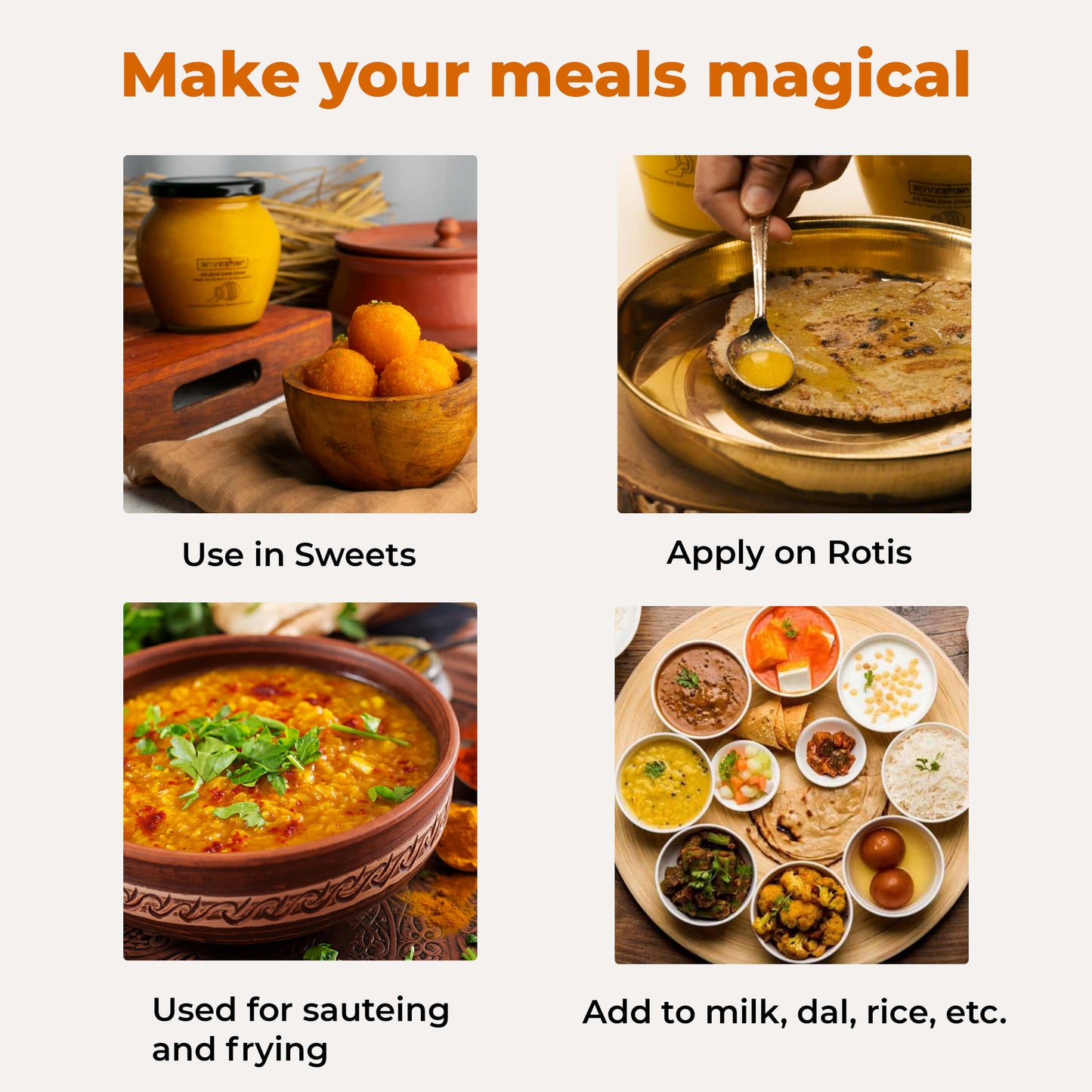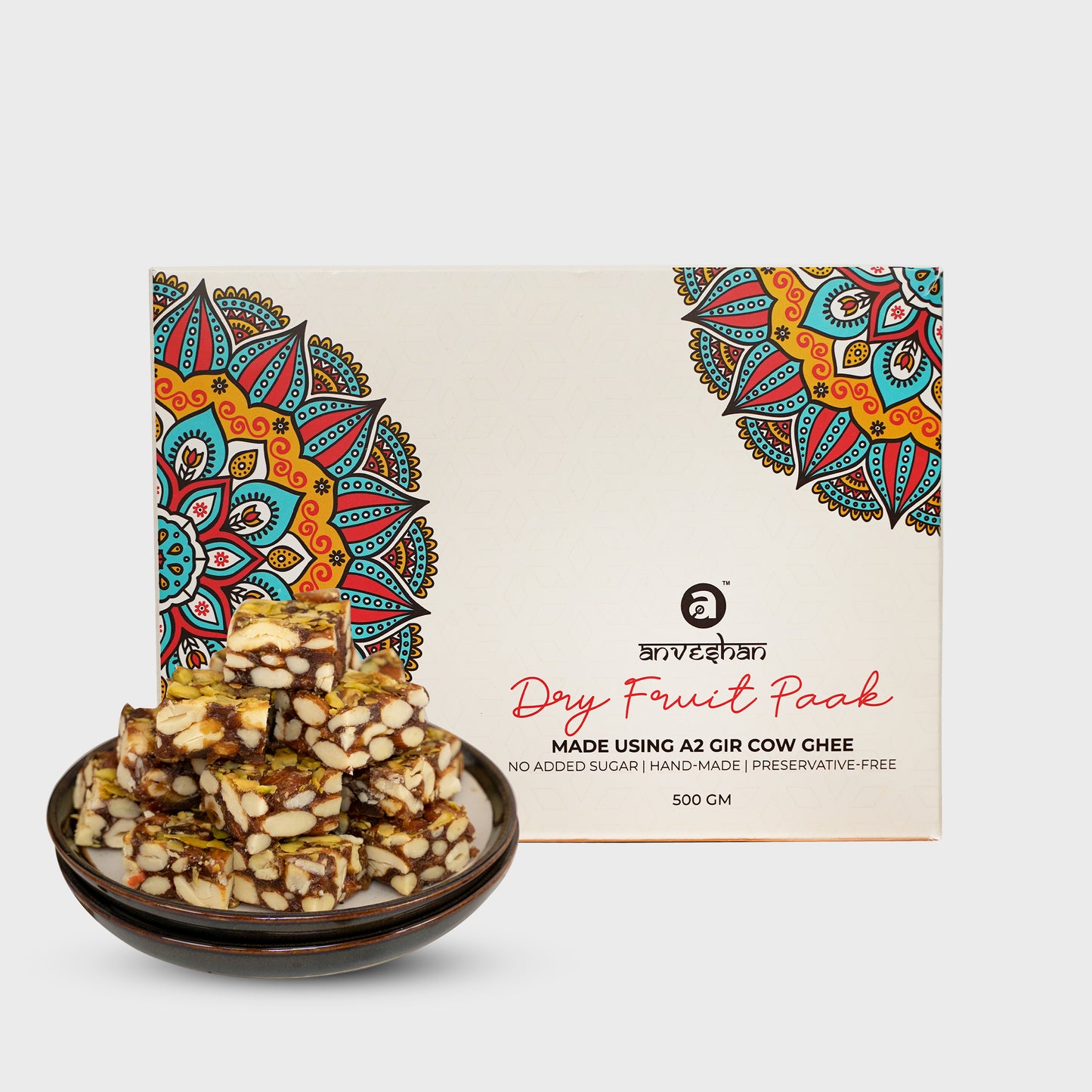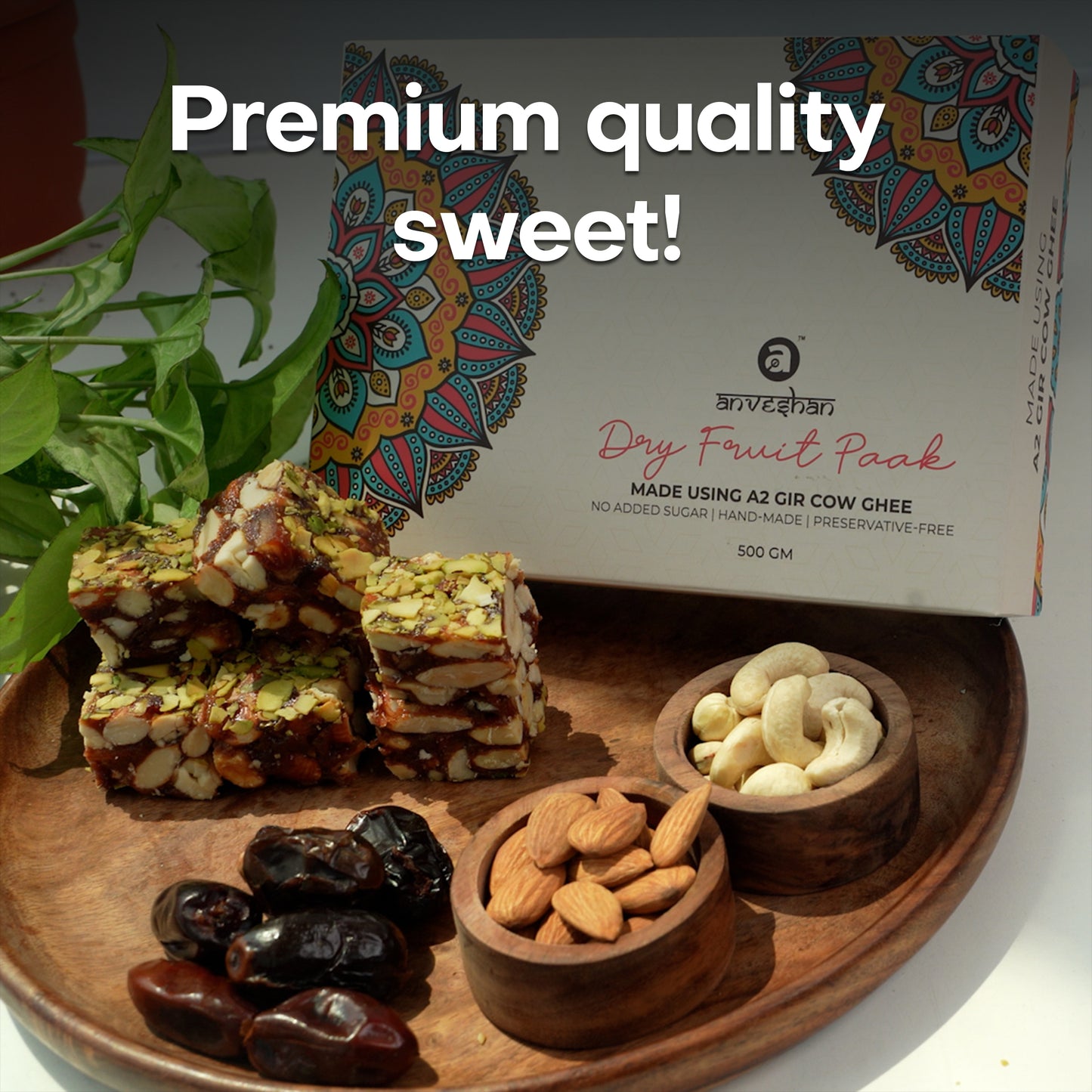 What's in it?

A2 Desi Cow Ghee
Our bilona churned ghee is made from the milk of grass-fed Hallikar cows of Karnataka. Made in small batches, the ghee has a fresh and tempting flavour. Ghee is thoroughly lab-tested using 17 parameters to ensure quality standards.

Dry Fruit Paak
Made from premium quality ingredients, our mithai has no added sweeteners, it is made using dates, cashews, almonds, pistachios and Gir ghee. The use of bilona churned Gir Cow makes it more delicious and healthy too.
How to Use it

Ghee and Milk
Consume ghee with warm milk to help build your strength and keep your gut healthy.

Apply on Rotis
Apply ghee on tawa fresh rotis and parathas to make them more moist and digestible.

Healthy Cooking Oil
Use ghee as a cooking oil to make your dishes richer, satiating, and delicious.
Healthy Sweet
The sweet is a healthy alternative to your regular sweets. Made with dates, nuts, ghee, and no sugar, it is super nutritious and is good for your overall health.

Warming Ingredients
Since made of dry fruits and dates, this sweet is warming in nature and hence good for cold seasons.

Power-packed Snack
Instead of chips or chocolates, you can have these delicious squares as your healthy snacking alternative and also for all your sweet cravings.
Frequently Asked Questions
What should the consistency of my ghee be?

Generally, the consistency of ghee depends on the temperature at which you store it. At room temperature, it usually remains soft, and during winters, it solidifies. Depending on the temperature outside the jar, this process may happen quickly or slowly. It is perfectly normal for ghee to be liquid, solid, or a combination of consistencies.

How is the taste of your ghee different from any other ghee in the market?

Our ghee is obtained by churning curd and not cream (malai). So the nutritional content is more as compared to others. Therefore our ghee tastes a lot tastier and aromatic because it preserves the all-natural nourishment of ghee.

Does it contain a sweetener?

No, our sweet has no added sugar or sweeteners. Instead, it contains dates that act as natural sweetness to the mithai and can be consumed by people with diabetes in smaller quantities.

What is the shelf life of Dry Fruit Paak?

The sweet can last up to 45 days.
I am regular customer
I have been ordering from Anveshan since 2 years, the best product and taste are also fantastic , I will keep ordering in the future, thank you Anveshan
Natural for sure
My friend recommended that I buy this for my mother because she enjoys sweets. I'm extremely happy with it because it's made entirely of natural ingredients and contains no refined sugar.
It has the health of A2 Desi Cow Ghee made from A2 hallikar cow's milk. This ghee is prepared using vedic process of bilona churning. This traditional process is known for retaining nutrients and making it super healthy.
This is one of the greatest desserts I've ever had. The naturally sourced nuts are extremely nutritious, and the sweetness comes from dates rather than sugar, which is beneficial to blood sugar levels.
Combo that is both healthy and delicious. Go for it!
Good taste and aroma
These sweets contain no refined sugar and are packed with healthy dried fruit. Furthermore, this ghee is the greatest I've ever tasted. It is pure and prepared with the bilona method of churning curd rather than the malai method. It has the right texture and aroma for danedaar. It was a huge hit with my family. It was fantastic!
Tried and tested
I tasted it at a relative's house and fell in love with it so much that I had no choice but to purchase it. Without a doubt, I would tell my friends about this.
Natural and healthy
I'm completely smitten with this combination. The aroma and flavour are so natural that it's easy to declare it's additive-free and pure. I'm a long-time consumer of this brand because everything I buy from them is of excellent quality.
Sneak peak into the healthy world