A2 Desi Cow Ghee & Coconut Oil
100 % natural

No added chemicals

Locally sourced

Lab-tested
DESCRIPTION
Your most used kitchen essentials - A2 ghee and wood pressed oil, can now be shopped together. Enjoy the desi flavours, tempting aroma and healthy nutrients of our combo. Both of the products have very versatile uses and are your best kitchen companions.
View full details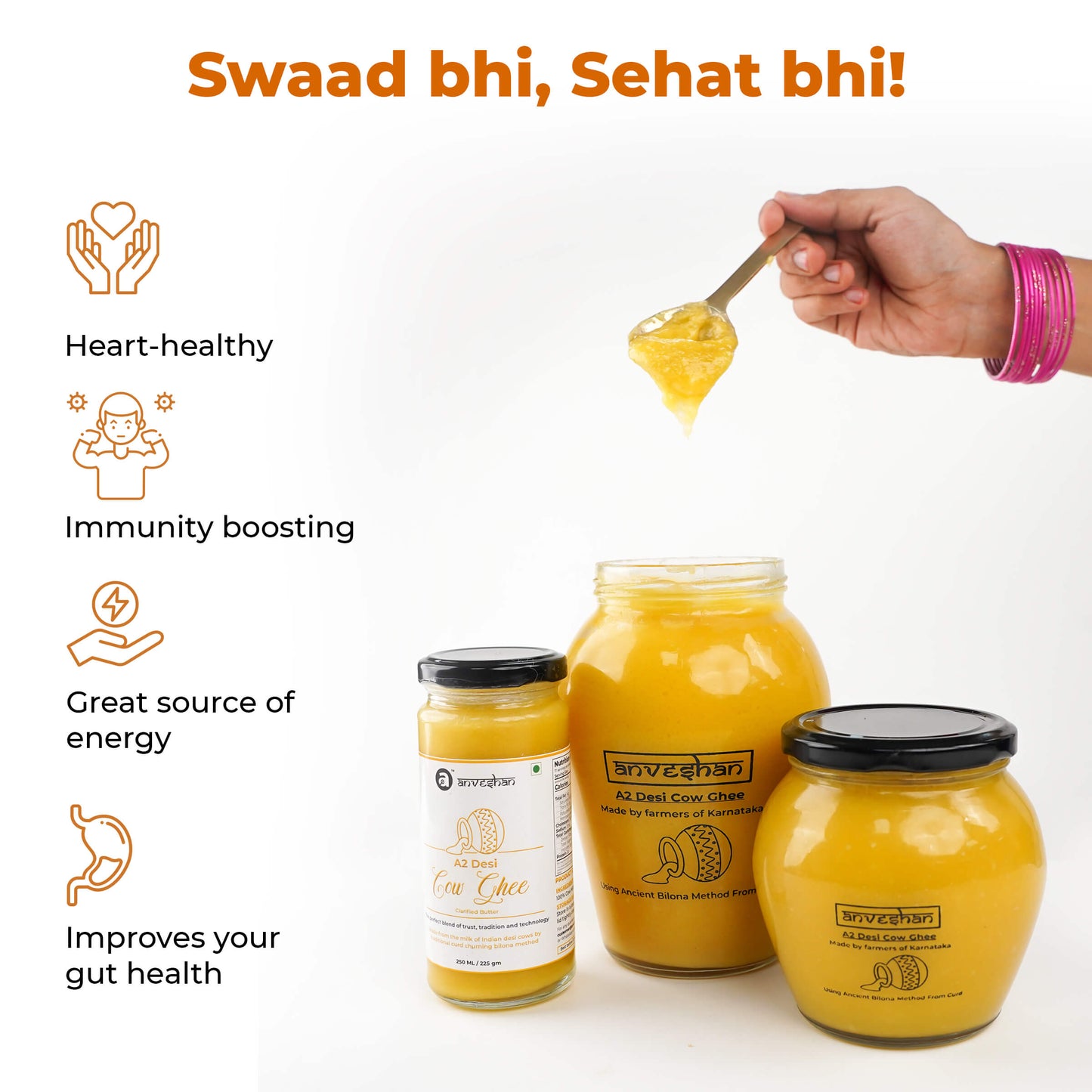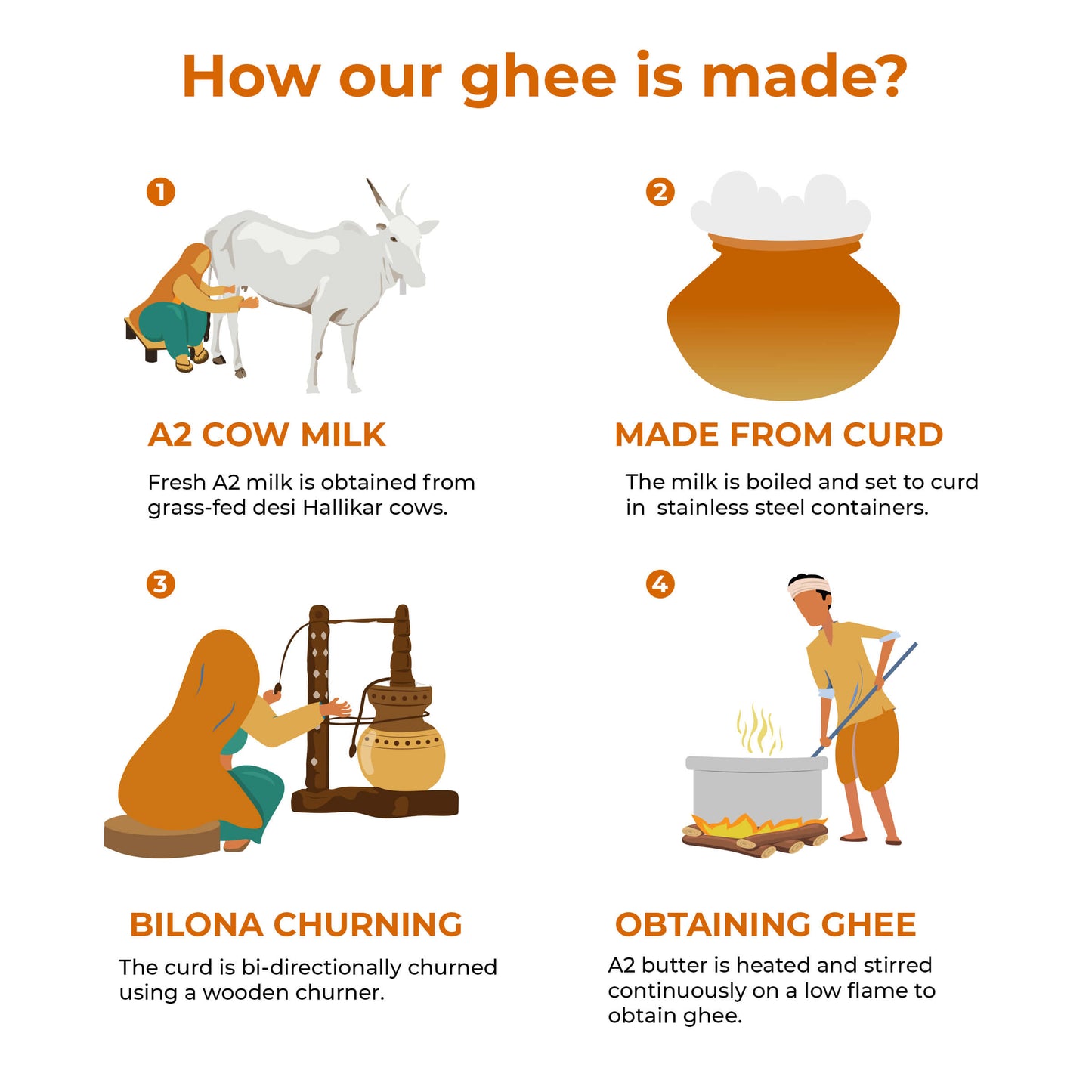 What's in it

A2 Desi Cow Ghee
Our bilona churned ghee is made from the milk of grass-fed Hallikar cows of Karnataka. Made in small batches, the ghee has a fresh and tempting flavour. Ghee is thoroughly lab-tested using 17 parameters to ensure quality standards.

Coconut Oil
Made from the fresh coconuts of Tamil Nadu, undergoing the no-heat process ensures that its contents remain pure and untouched. This multitasker oil is ideal for cooking, baking, oil pulling, skin, and hair care!
How to use it?

Apply On Rotis
Apply ghee on tawa fresh rotis and parathas to make them more moist and digestible.

Glowing Skin
Make a paste of besan and ghee. Apply it and wash after 15 min with lukewarm water.

Healthy Cooking Oil
Use ghee as a cooking oil to make your dishes richer, satiating, and delicious.

Strengthens Hair
Stir coconut oil with aloe vera gel, apply on scalp, leave it for 15 min and wash.
Baby Care
Take some coconut oil and rub it between your palms. Gently massage the coconut oil on your baby.

Cooking Oil
It is well-suited for frying, sauteing, baking, and salad dressing.
Frequently Asked Questions
Why is Anveshan Desi Cow Ghee costly as compared to other ghee?

Anveshan A2 Desi Cow Ghee is made entirely from the milk extracted from desi cows. The indigenous cow gives around 2-3 litres of milk per day which is more nutritious than foreign breeds that produce more milk. The cows are neither forced nor injected with hormones to enhance milk production.
Our ghee is bi-directionally bilona churned with a wooden churner. This is why our A2 cow ghee has a grainy texture, thicker consistency, tempting aroma, superior flavour, and is much healthier. Hence, A2 Desi Cow Ghee is costlier and better than regular ghee.

What should the consistency of my ghee be?

Generally, the consistency of ghee depends on the temperature at which you store it. At room temperature, it usually remains soft, and during winters, it solidifies. Depending on the temperature outside the jar, this process may happen quickly or slowly. It is perfectly normal for ghee to be liquid, solid, or a combination of consistencies.

How can we identify pure cow ghee?

The easiest method to check the purity is to do a pan test. Add a teaspoon of ghee to a pan and heat it. If the ghee starts melting immediately and turns dark brown, it is pure. However, if it takes time to melt and is yellow in colour, then it is adulterated.

How is the taste of your ghee different from any other ghee in the market?

Our ghee is obtained by churning curd and not cream (malai). So the nutritional content is more as compared to others. Therefore our ghee tastes a lot tastier and aromatic because it preserves the all-natural nourishment of ghee.

What is the difference between refined and cold-pressed oils?

Refined oils are colourless, odourless and flavourless fluids. The regular refined oils are extracted using solvents and grinding them at high speed, which can generate heat up to 100°C, which degrades the oil's taste and nutritional composition. Trans fats are produced in this process, making them unfit for your heart.
While our cold-pressed oils are extracted through pressing and grinding of seeds below a temperature of 50°C. Though it is a slow and time-consuming process, they retain their natural flavour, aroma, and nutritional value. They are high in antioxidants and vitamins and contain good fats for a healthy heart.

What is the difference between virgin and wood pressed coconut oil?

Both cold-pressed and virgin coconut oil are almost the same from the nutritional point. Moreover, both are superior to refined coconut oils, produced without adding any chemicals or bleaching.
The difference lies in their production procedures. Cold-pressed coconut oil is obtained from dried and flaked coconut flesh, while virgin oil is obtained from coconut milk.

Can I use it for my hair and skin?

Yes, you can apply Anveshan coconut oil to your hair and skin.
Coconut oil is rich in fatty acids and antioxidants that help prevent damage to our skin and hair. It also has antibacterial and antifungal properties that help keep skin and hair healthy.
Our coconut oil is 100% pure and chemical-free. Thus, it is safe to use unless you are allergic to it. However, we recommend first trying a patch test as a precautionary measure.
You may also like
Regular price

₹1,799

Sale price

₹729

Unit price

per

Regular price

₹450

Sale price

₹389

Unit price

per

Regular price

₹370

Sale price

₹329

Unit price

per

Regular price

₹370

Sale price

₹349

Unit price

per
A2 Desi Cow Ghee & Coconut Oil
A2 Desi Cow Ghee & Coconut Oil
Received a pack of pumpkin seeds expiring within a month. My in-laws carried the parcel all the way to U.A.E. only to be disappointed on opening the package. Did not expect this from Anveshan.
Ryan Fernandes
A2 Desi Cow Ghee & Coconut Oil