Roasted Flax Seeds
Roasted to perfection
100% Natural

Chemical-free

Gluten-free

Lab Tested
DESCRIPTION
Our premium quality certified flax seeds are selected carefully for their nutritive content. Sourced from Rajasthan, our heart-healthy flax seeds have ample fibre, omega-3 fatty acids, antioxidants, and dietary fibre. Bringing you the perfect solution for all your crunchy cravings.
View full details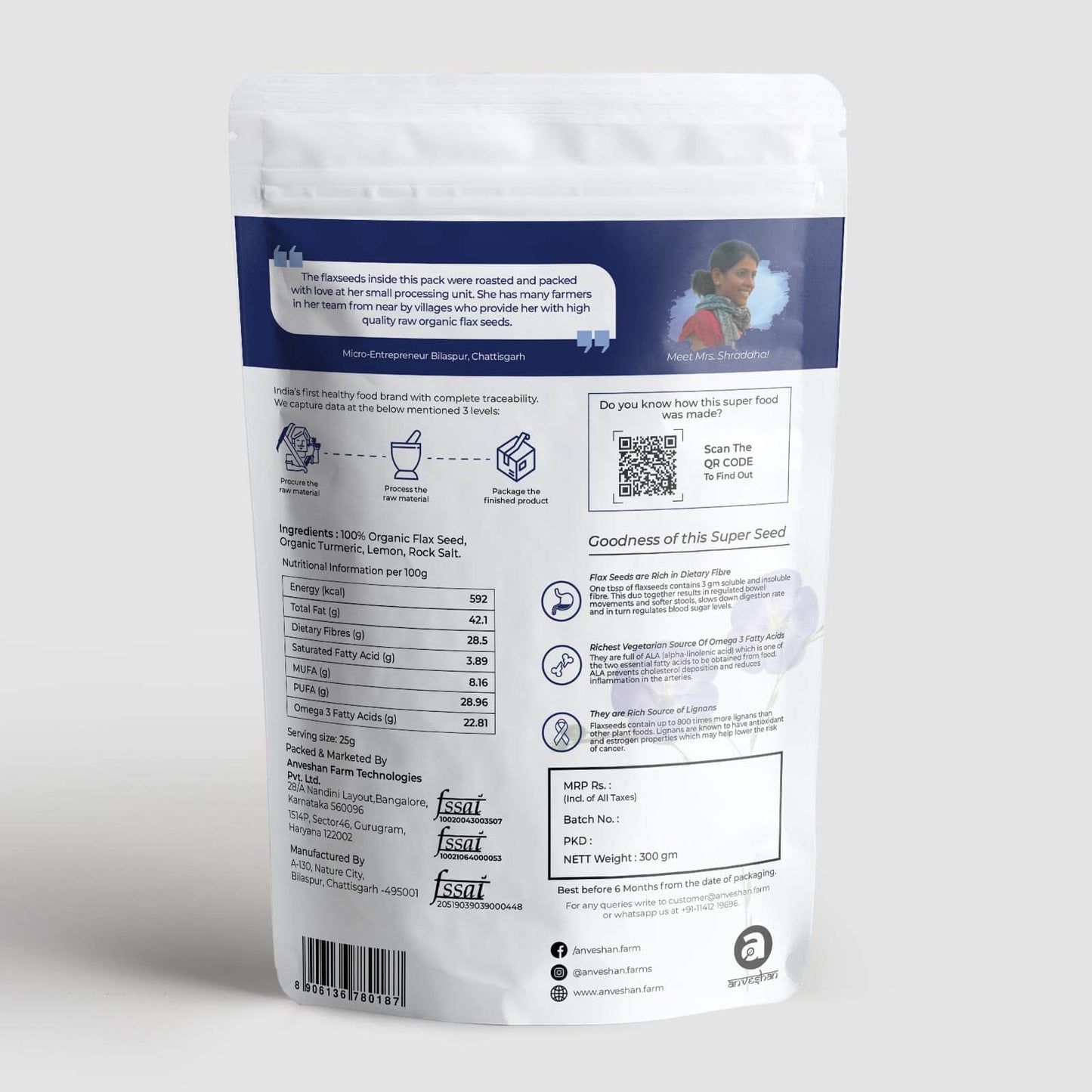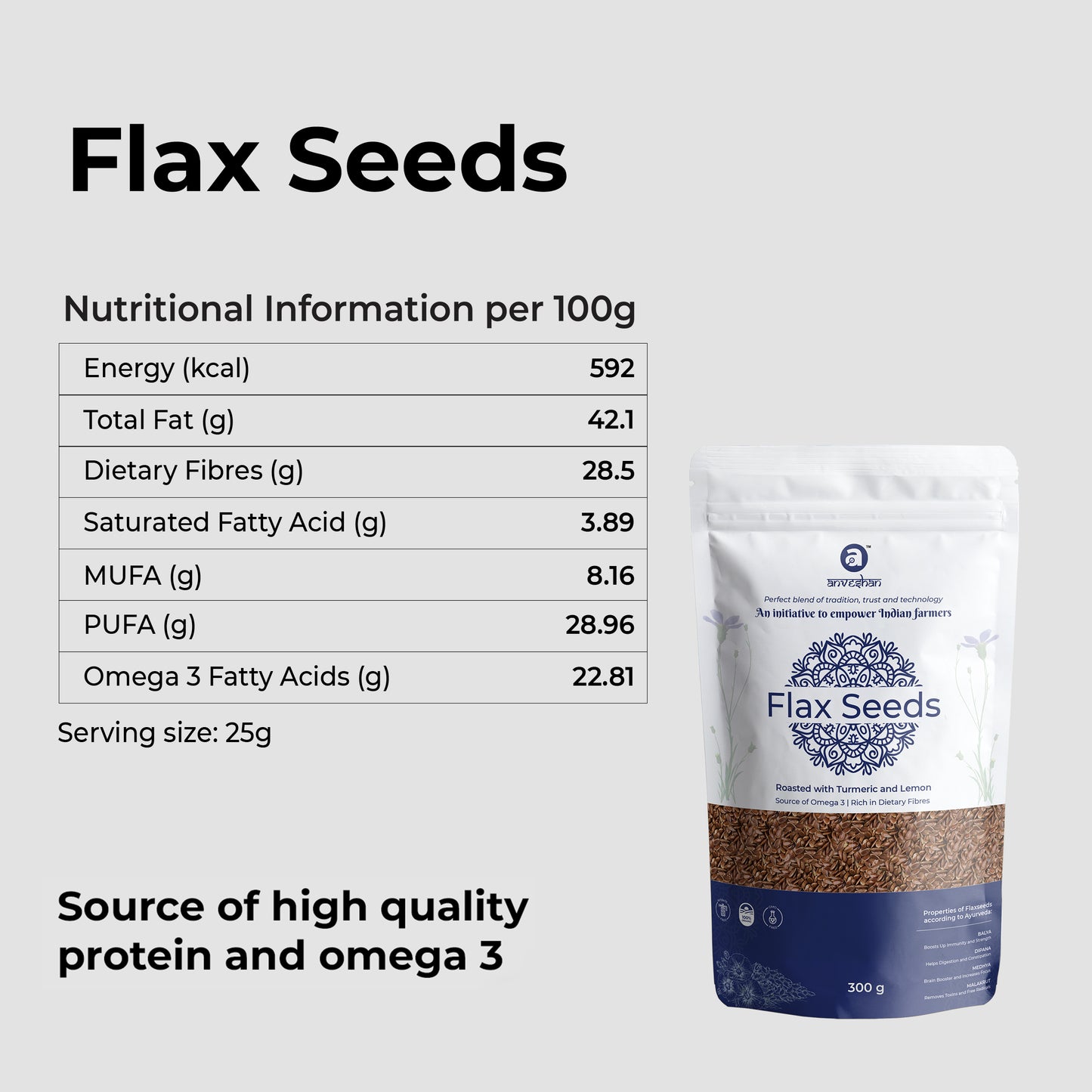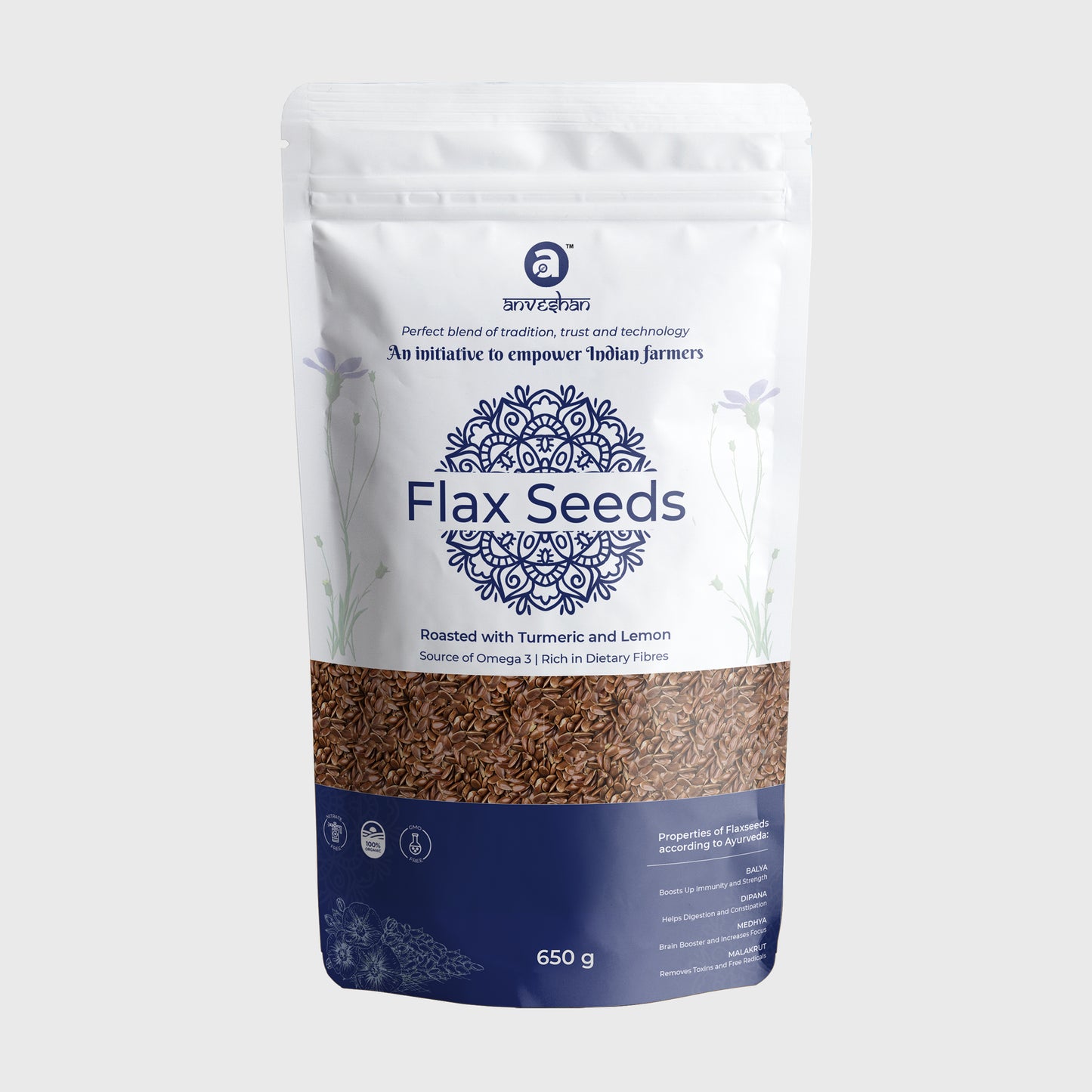 350+ Farmers Empowered

Procured from Rajasthan

12 Lab Tests Done
Why it's Awesome

Journey of our Seeds
We work with farmers directly and aim to produce the best quality products that are entirely natural. All our raw ingredients are processed, packaged, stored, and shipped by our trained staff.
Loaded with Nutrients

Contains dietary fibre, plant-based proteins, antioxidants, omega-3 fatty acids for your healthy lifestyle.

Good for Heart Health

The high fibre content helps maintain cholesterol and plays an important role in improving heart health.

Curb Your Cravings

Flax seeds keep you feeling full and help you manage weight by controlling your appetite.

Helps Boost Immunity

Flax seeds are rich in antioxidants and vitamin C that help in strengthening immunity.

Fibre-rich

They are extremely high in both soluble and insoluble fibre, which can support colon detoxification and fat loss.

Skincare

Flax seeds have alpha-linolenic acids that help in reducing the dryness of skin and improving the quality of the skin.
We love to add it to everything!

Healthy Snacking
Munch on roasted flax seeds as your evening snacks or your go-to travel snack.

Flax Drink
Pick any beverage of your choice- water or juice, mix 2 tablespoons of flax.

Flax Smoothie
Add flax seeds to your favourite smoothie to add some crunch.

Toast with Flax
On a multi-grain bread, spread peanut butter and honey. Sprinkle flax seeds.

Flax Oatmeal
Pour milk and add flax seeds, berries, and other fruits, 1 teaspoon honey into it.

Flax Chapati
Add ground flax while making your regular dough or sprinkle flax seeds on while rolling the chapati and cook.
Frequently Asked Questions
Why should flax seeds be roasted?

Unripe or raw flax seeds may have toxins that may be harmful. Roasting them helps destroy those toxins and make them safe for consumption. At Anveshan, flax seeds are roasted with turmeric and have lemon squeezed on them to enhance their flavour.

How many flax seeds should be consumed per day?

It is suggested to eat 1-2 tablespoons of flax seeds per day. Do not overeat these seeds as they can cause nausea, gas, stomach aches and other side effects.

Should I use whole or ground flax seeds?

You can use both whole and ground flax seeds in your recipes. Though at times, when you may not chew the whole flax seeds properly, they may pass undigested through the digestive tract and prevent you from getting all the benefits.
Therefore, you can add ground flax seeds to your dishes to improve their digestibility and nutrient absorption.

Why is it preferable to grind the flax seeds at home?

Flax seeds have healthy omega fats that tend to oxidise and degrade once they are ground. Therefore, it's best to grind your flax seeds rather than purchasing pre-ground flax seed powder.
Grind the seeds on your own to ensure that you are getting the most out of this powerful superfood!

Is the container resealable?

Yes, our seeds are packed in resealable sustainable paper pouches.
Best for making alsi laddoo
We made alsi ladoo from these flax seeds, undoubtedly the best quality seeds available in the market.
Stuck onto these seeds
What have you done Anveshan? I can't stop eating them!
Truly tasty
I added these flax seeds to my smoothie and they mixed well. My smoothie still retained it fruit flavor and they were not overpowering. The packaging the seeds came in is really good. They are very easy to pack away and pull out when needed. Smell and flavor wise they are pretty fresh. Adding these flax seeds to my daily diet will add tons of benefits to my health.
Sneak peak into the healthy world