Raw Chia Seeds
Snack right out of the bag!
100% Natural

No Additives

Nutrient rich

Lab Tested
DESCRIPTION
Our highest quality Chia seeds are sourced from Rajasthan. They are a myriad of essential vitamins, minerals, calcium, proteins, and dietary fibre. Our seeds have a mild, nutty flavour that will give you a nutritional boost. These are perfect for your healthy snacking.
View full details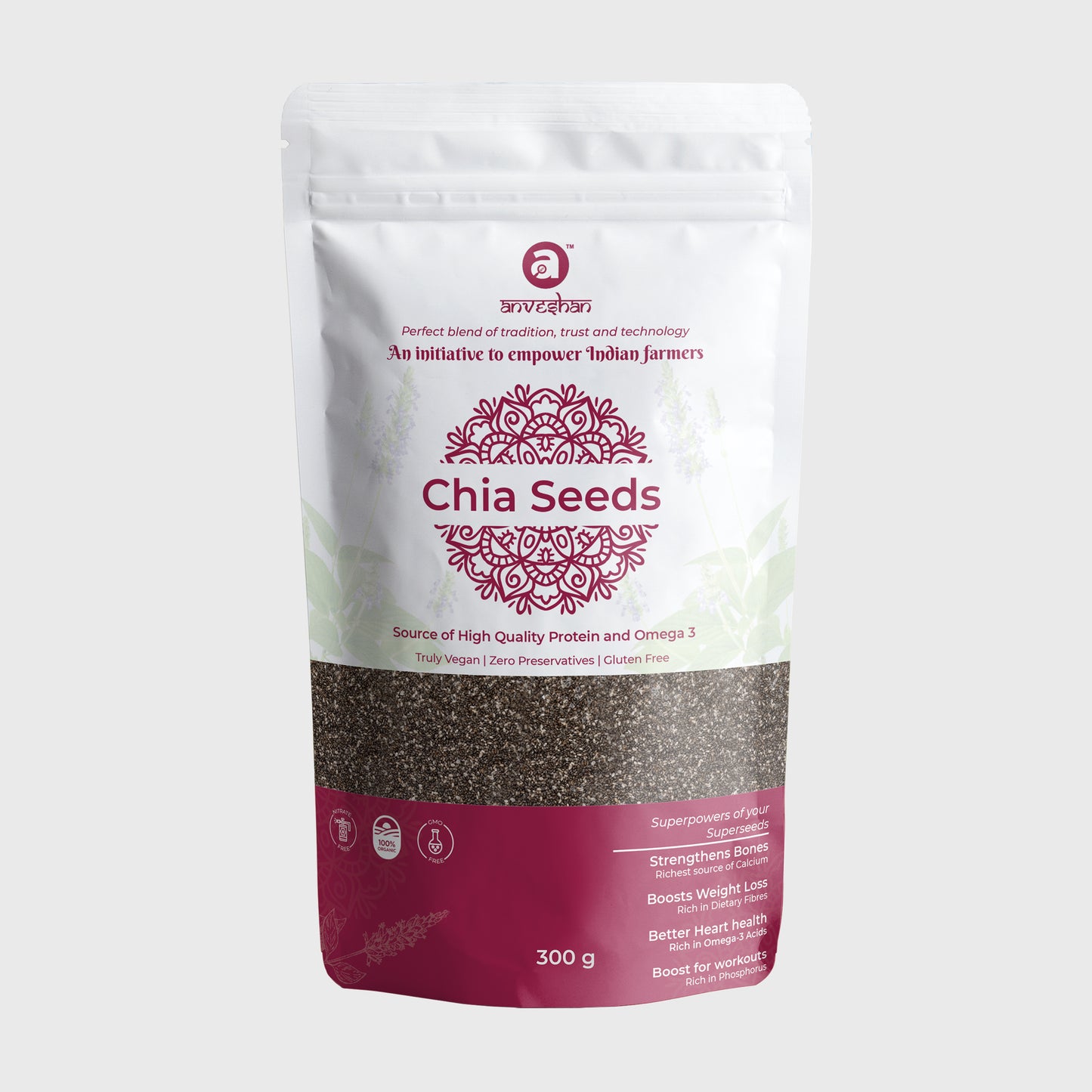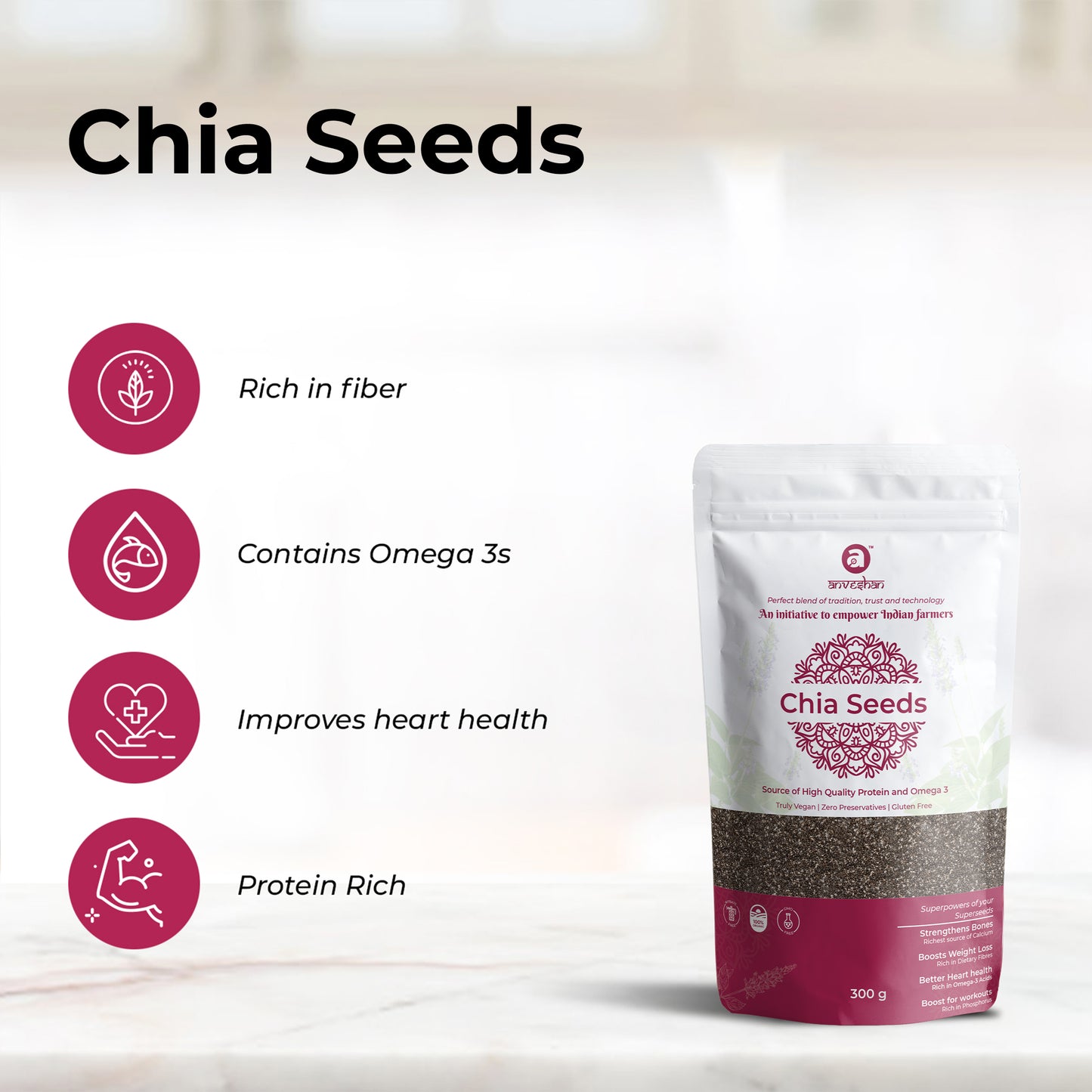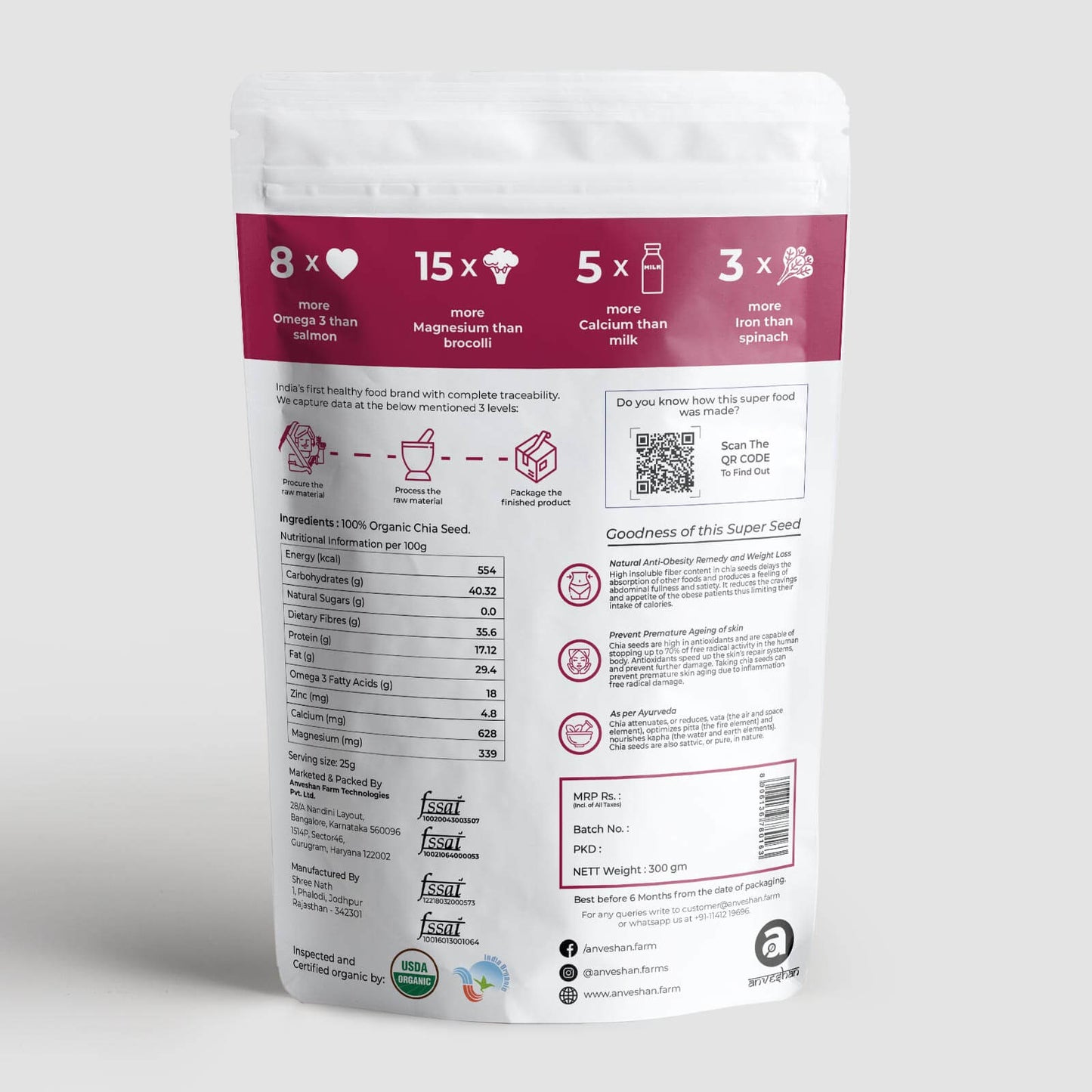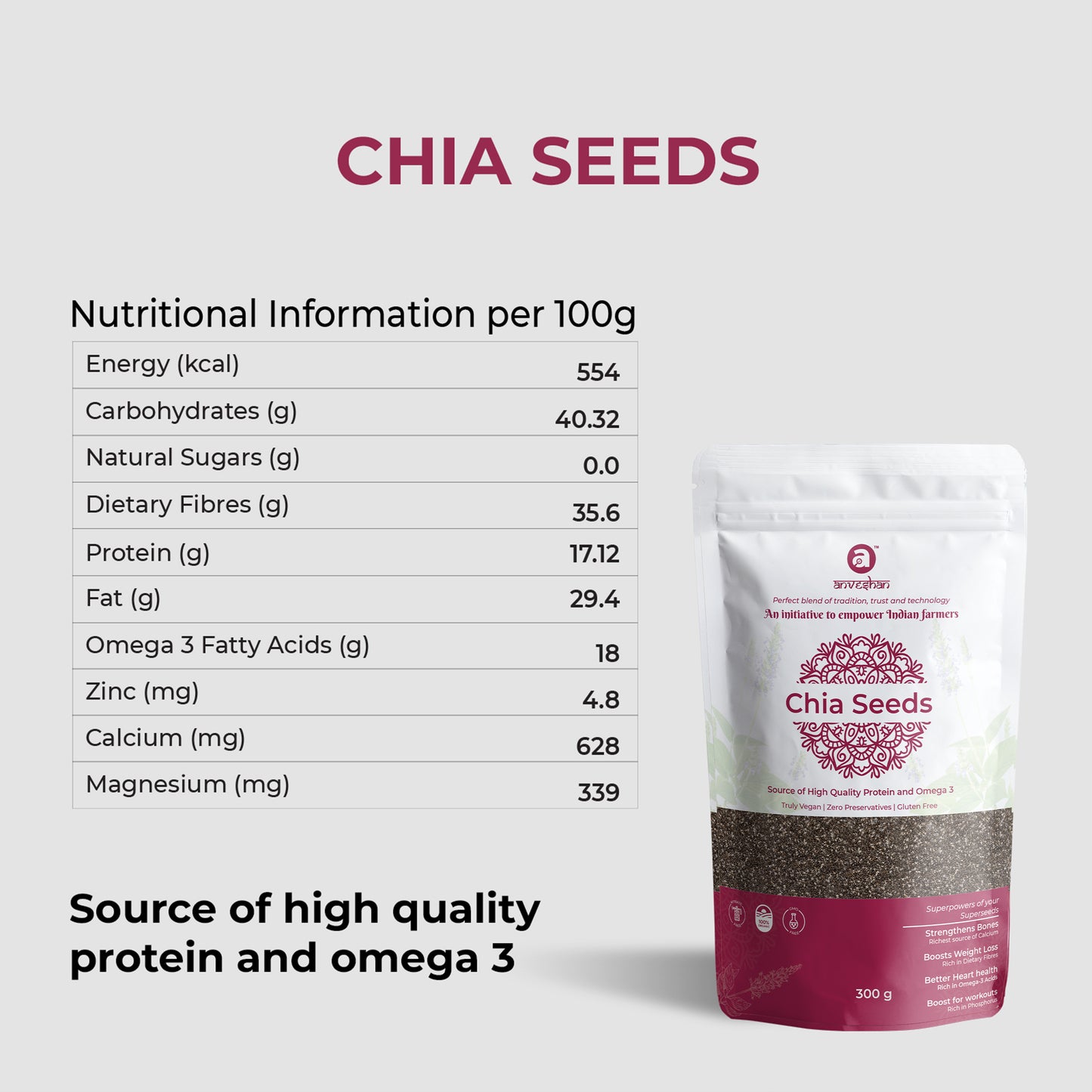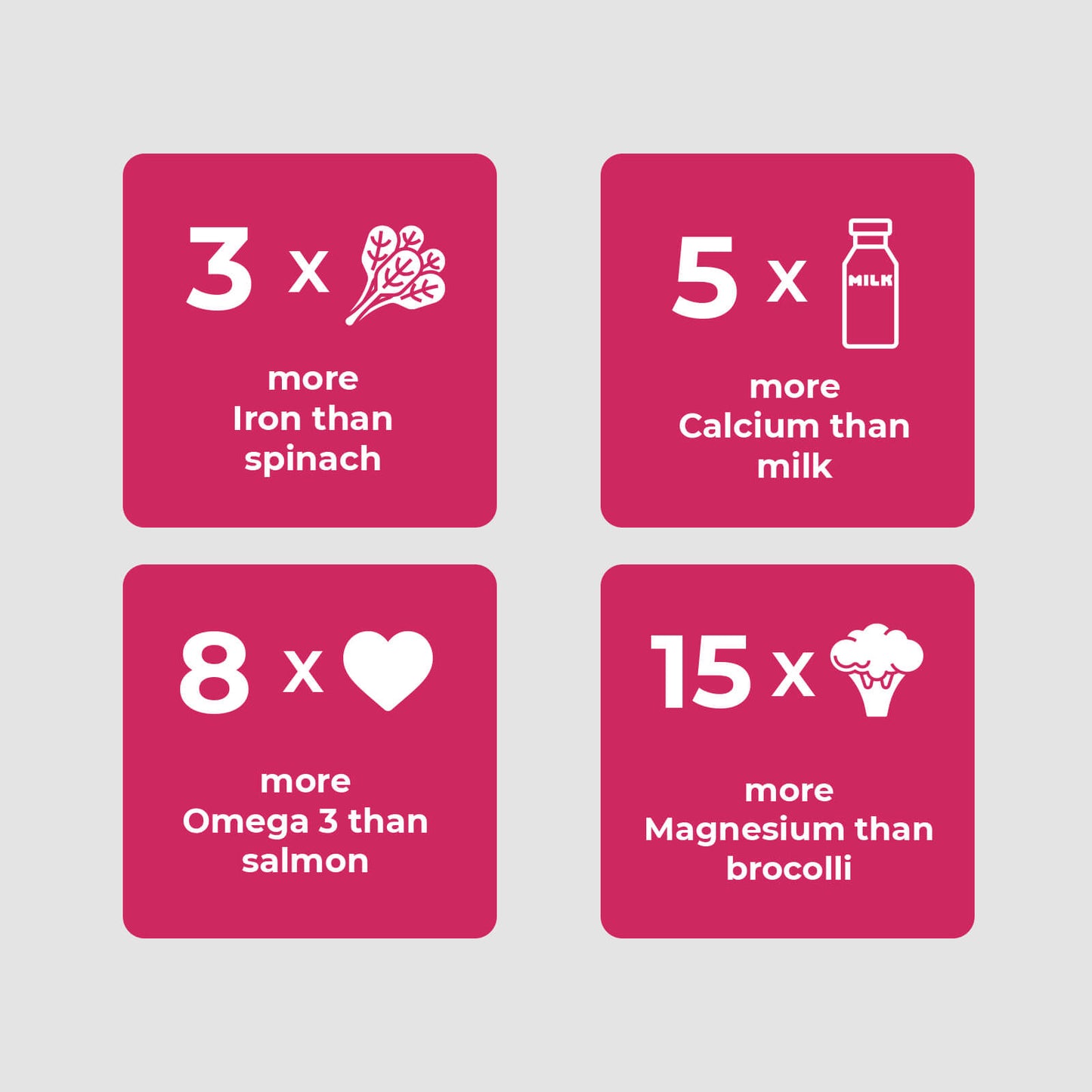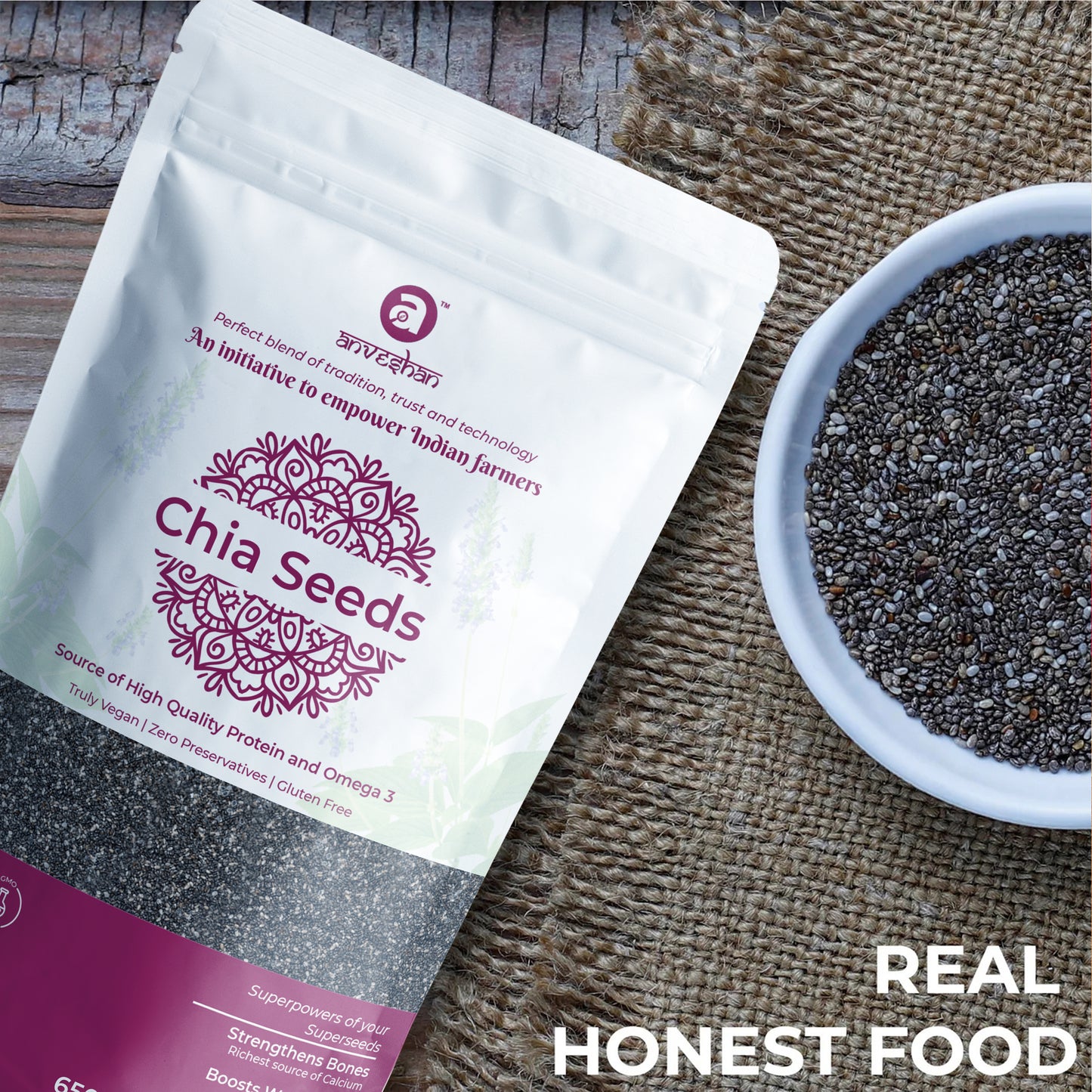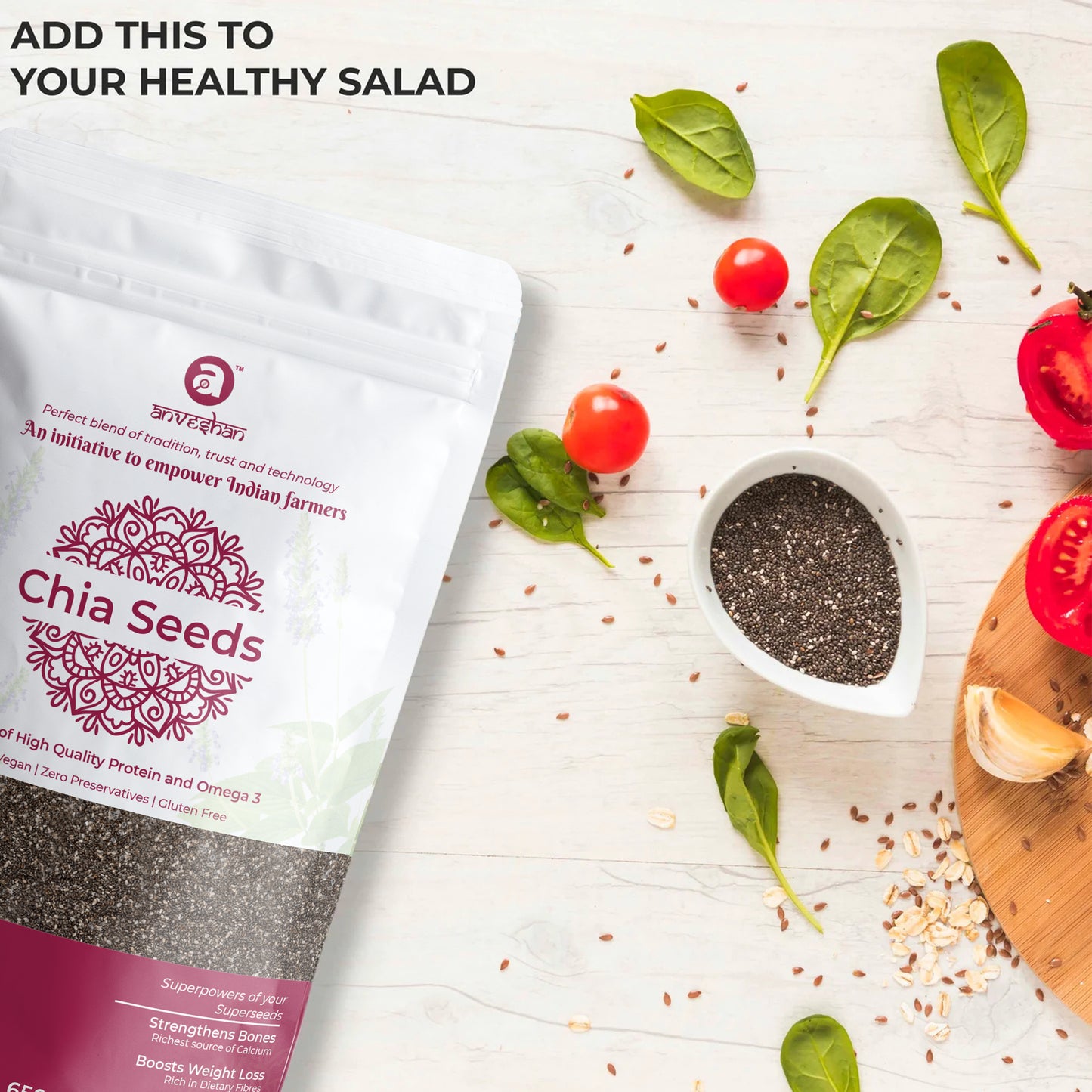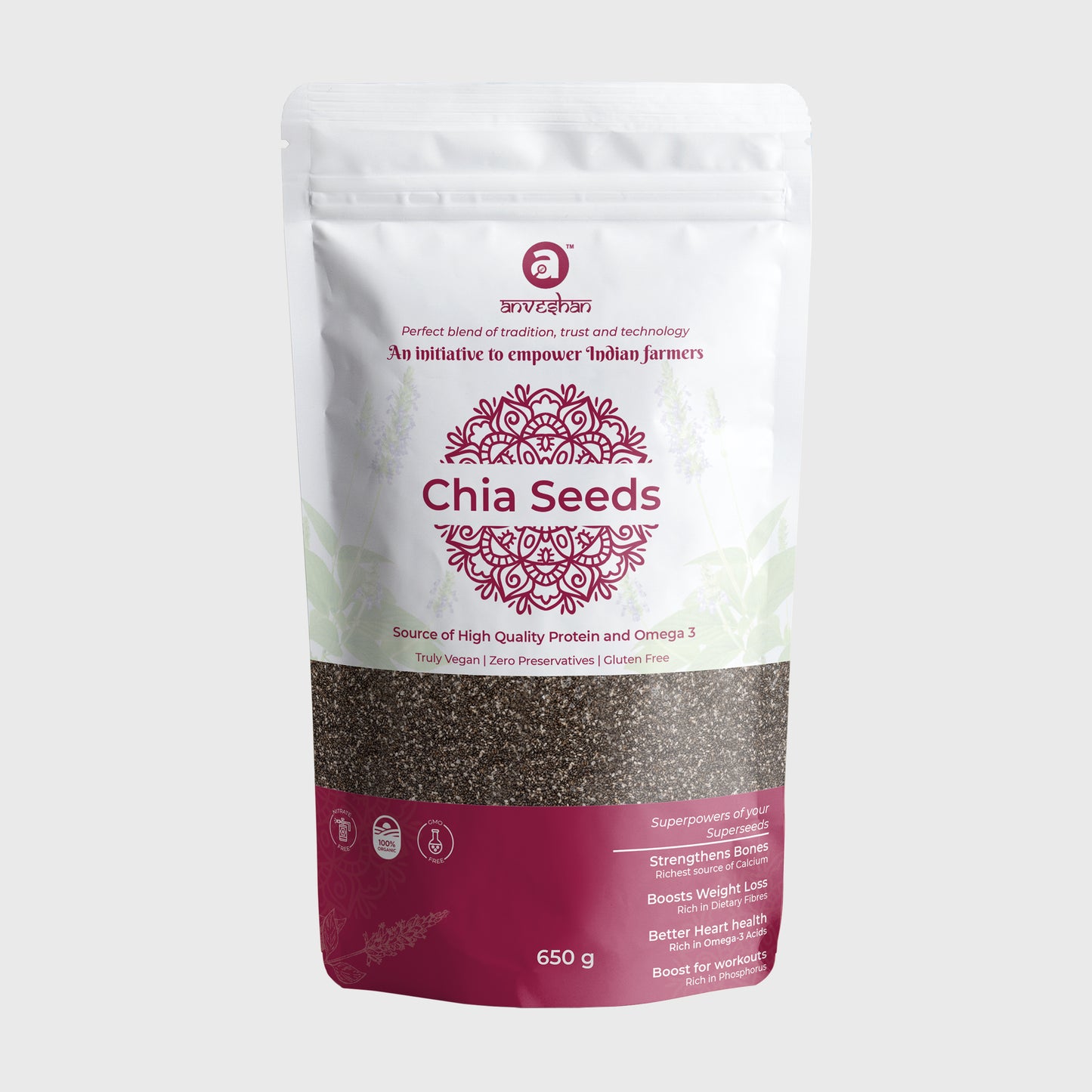 350+ Farmers Empowered

Procured from Rajasthan

12 Lab Tests Done
Why it's Awesome

Journey of our Seeds
We work with farmers directly and aim to produce the best quality products that are entirely natural. All our raw ingredients are processed, packaged, stored, and shipped by our trained staff.
Filled with Nutrients

They are high in antioxidants, vitamins, and minerals, and also contain protein for your health and fitness.

Stronger Bones

Good source of calcium & magnesium, which helps maintain strengthened bones and a healthy body.

Nourished Skin

Antioxidants present in chia seeds help protect & nourish damaged cells in your skin.

Curb Your Cravings

Full of fibre and protein, which helps keep you satisfied by curbing hunger pangs, overeating, and cravings.

Healthy Hair and Skin

Loaded with antioxidants, vitamins, fibre, and minerals all contribute to strong hair and skin.

Keeps You Hydrated

Chia seeds can absorb up to twelve times their weight in liquid, therefore they are ideal for hydration and appetite satiation.
We love to add it to everything!

Chia Pudding
Pour milk in a glass, add 1 tablespoon chia seeds, ½ teaspoon of honey. Mix well & let it settle. Top with fruits & nuts.

Chia Smoothie
Add chia seeds to your smoothie be it mango, banana, or an apple smoothie.

Baked in Cakes
Sprinkle chia seeds when baking cake at home to make it healthy.

Chia as Toppings
Top some chia seeds in your breakfast bowl, oats, cereal, salad, or yoghurt.

Chia Jam
Add 1 tablespoon of chia seeds to every 1 cup of your favourite mashed fruit.

Chia Tea
Add chia to your cup of tea, whether it's iced, hot, or room temperature.
Frequently Asked Questions
Do chia seeds need to be soaked?

Yes! Raw chia seeds carry the same health benefits as soaked chia seeds. But because chia seeds are high in fibre, some people can get stomach pains after eating them. So it is recommended to eat soaked chia seeds that also helps ease digestion.

What is the difference between black and white chia seeds?

Black chia seeds are more common than white ones, but there aren't that many differences. Black chia seeds have slightly more protein content, whereas white chia seeds have slightly more Omega-3's.

How many chia seeds can you eat in a day?

It is recommended to have 2 tablespoons of chia seeds daily. Overeating these seeds can cause digestive issues, so you should carefully add them to your diet.

How can I substitute chia seeds for eggs in my recipes?

Use 1 tablespoon chia seeds, mix it with 3 tablespoons of water, and let it sit for 10-15 minutes until the chia turns into a gelled texture.

Is the container resealable?

Yes, our seeds are packed in resealable sustainable paper pouches.
Best chia seeds
I always prefer buying them here .
Faith is a big thing
Sneak peak into the healthy world