Turmeric Latte Ashwagandha Mix
Get 7 immunity boosters in 1 pinch
Turmeric soaked in buttermilk

Stone-ground ingredients

Sourced from Indian farmers

Amazing aroma & flavour
DESCRIPTION
Anveshan brings you turmeric latte made with natural ingredients. It is infused with herbal ingredients, all of which have been lab-tested. Sip in this caffeine-free drink before bed to calm your mind, as an afternoon treat or a mid-morning tonic for an energy kick.
View full details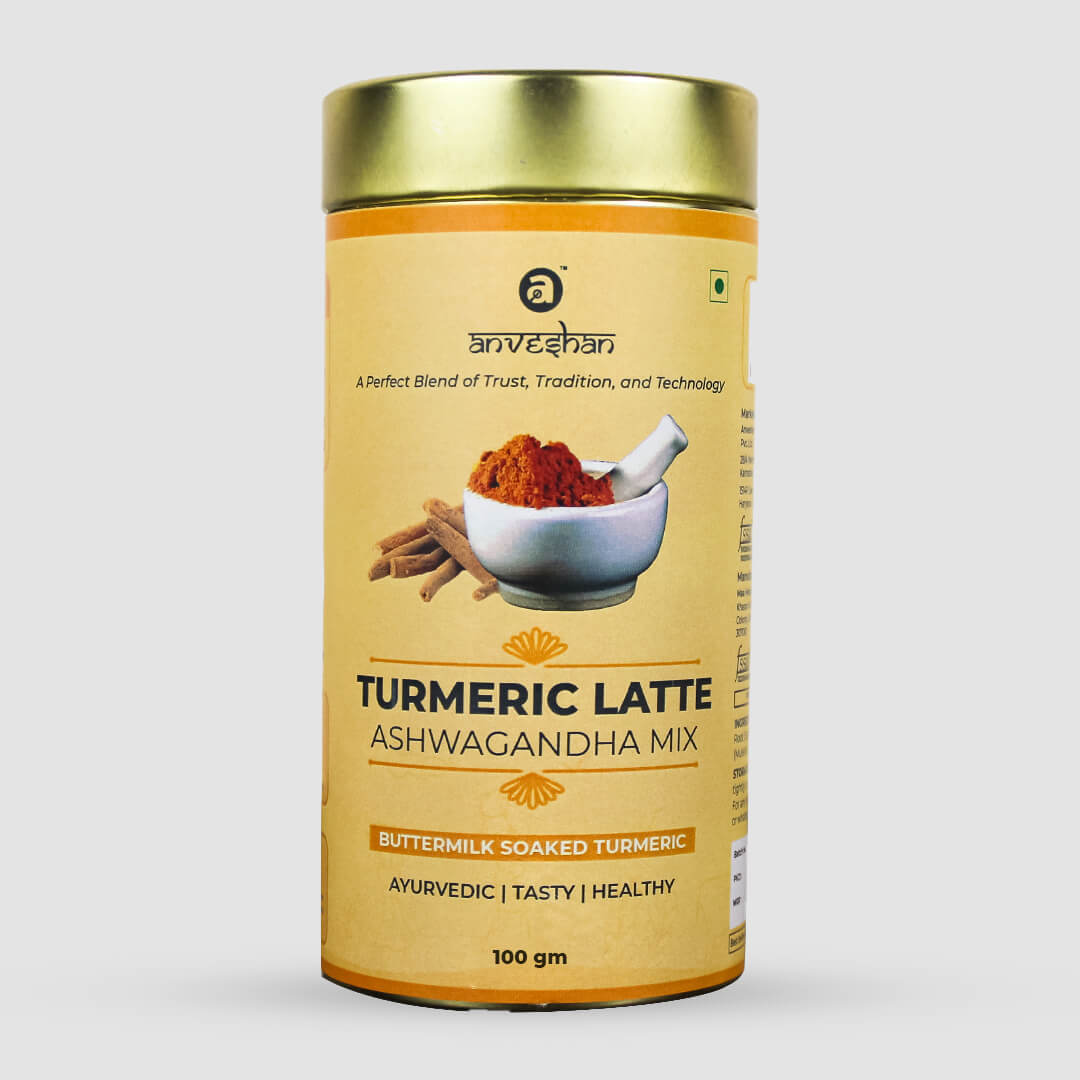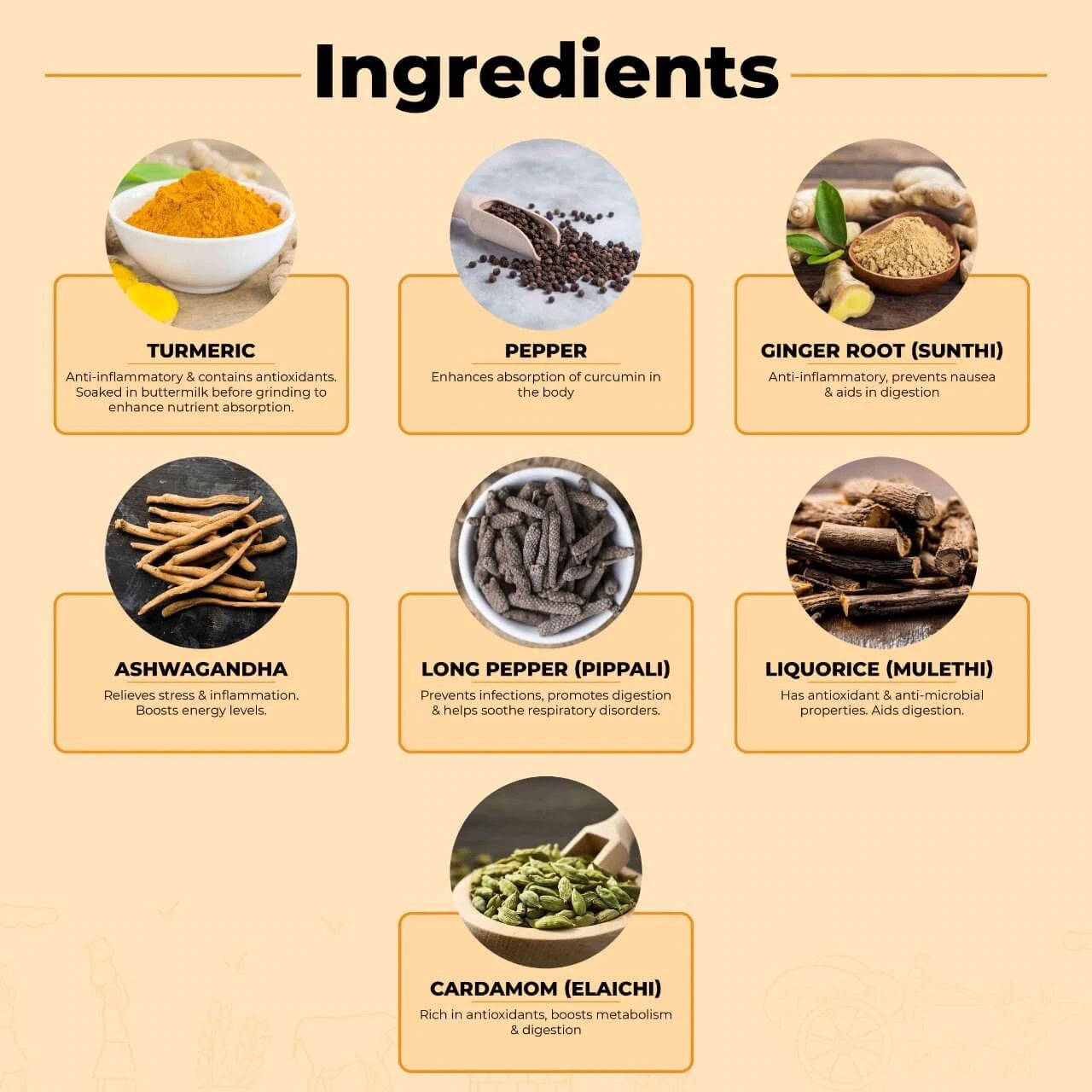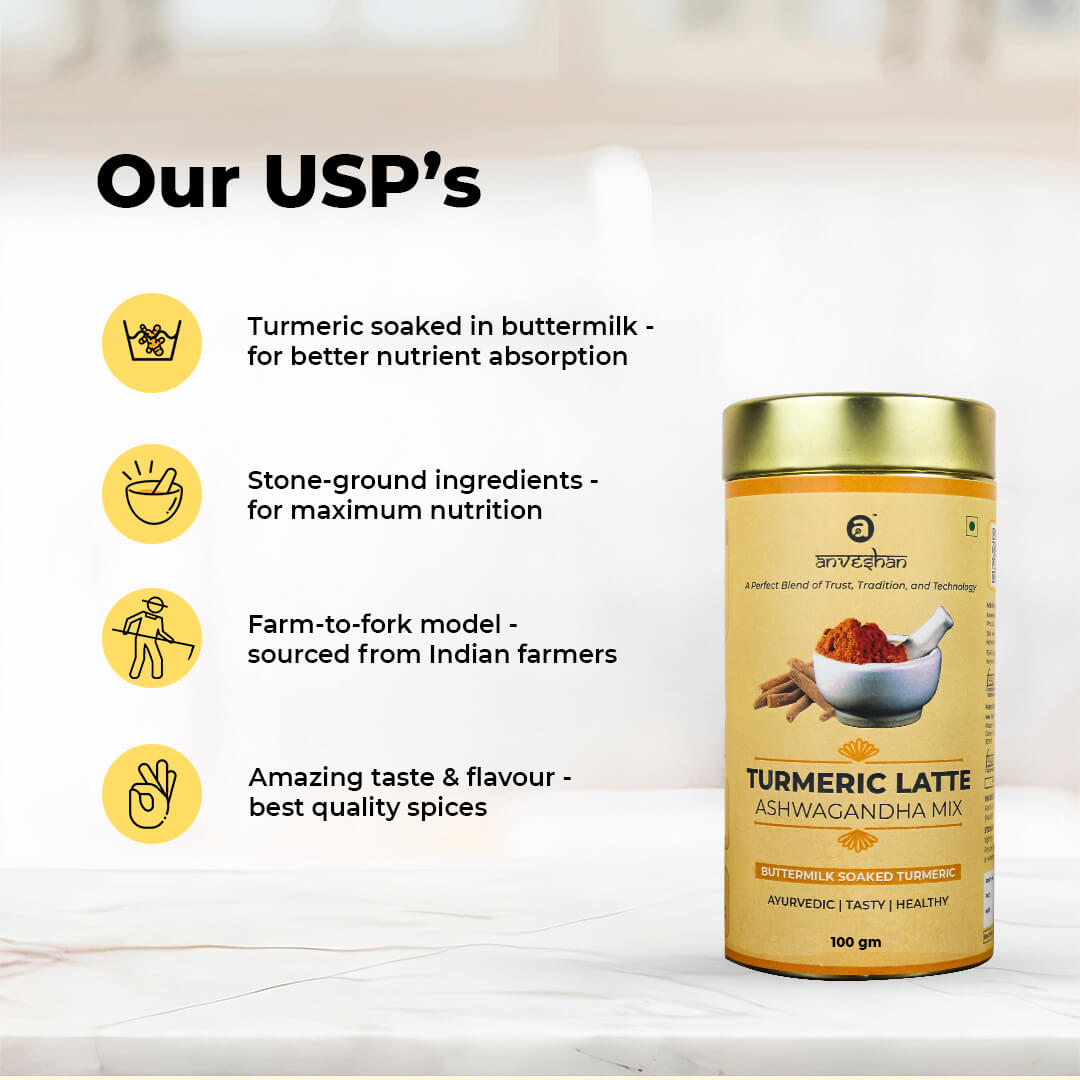 Why it's Awesome

Journey of our Latte
1

Buttermilk soaked turmeric

Turmeric roots from Uttarakhand are soaked in buttermilk to pacify excess heat before stone-grinding.

2

Authentic herbs

Best-quality herbs are sourced and freshly stone-ground to preserve their nutritional value.

3

Latte recipe is prepared

The ingredients are mixed in set proportions as recommended by Ayurvedic texts to provide you the best latte.
What's in it!
Turmeric

It is highly rich in curcumin and used in Ayurvedic medicine due to its antioxidant properties.

Ashwagandha

This medicinal herb is known to relieve stress and increase energy levels.

Cardamom

Contains phytochemicals that have anti-inflammatory and antibacterial properties.

Black Pepper

It increases the absorption of curcumin in the body and acts as an anti-inflammatory agent.

Long Pepper

It has therapeutic properties that help fight infectious agents.

Ginger

A highly potent antioxidant, anti-inflammatory agent, energizer, and stimulator.

Liquorice

Contains antioxidant, anti-inflammatory & anti-microbial properties. Used as medicine and flavouring agent.
Effective cold remedy

Used as a home remedy against colds in Indian households because of the antiviral and antibacterial properties of its ingredients.

Boosts immunity

Turmeric with ginger and ashwagandha supports a healthy immune response and optimal circulatory function by providing active defense.

Anti-inflammatory

It contains curcumin which is the active anti-inflammatory component that absorbs quickly to support joint mobility, and boost energy.

Energy-boosting drink

Drink this specialized herbal formula to boost your energy and mood after a hectic schedule.

Calms your mind

A hot cup of latte has a soothing quality and has been associated with reduced anxiety. Consuming before sleeping helps in having a sound sleep.

Keeps your gut healthy

Studies reveal that curcumin is good for gut health. It further helps reduce bloating, nausea and boost digestive health.
Ways To Consume Our Latte

Brew Hot
Add 2-3 grams of Turmeric Latte to a cup of 200 ml A2 milk and boil it. Add a healthy sweetener of your choice and serve it hot.

Brew Iced
Add a teaspoon of Turmeric Latte to a cup of cold milk or your smoothies! Have these for morning breakfasts or post-workout meals.

Have it for Breakfast
Add a pinch of latte mix to your pancake or bowl of oatmeal for a warm, delicious, and wholesome breakfast.
Frequently Asked Questions
What does it taste like?

Our Turmeric Latte is warm and soothing with a hint of spice.

Does it only contain turmeric?

No, our Turmeric Latte is a blend of seven incredibly beneficial spices, namely: Turmeric, Cardamom, Black Pepper, Ashwagandha, Ginger Root (Sunthi), Long Pepper (Pippali), and Liquorice (Mulethi).

Is it only for winters?

No, we soak our turmeric roots in buttermilk. This process cuts the excess heat and allows one to enjoy this wonderful drink all year round.

Does it contain a sweetener?

No, our Turmeric Latte does not contain any sweeteners. Feel free to add healthy sweeteners like honey or jaggery powder to your drink!
Expired products!!!!
Beware from purchasing their turmeric latte mix. I ordered one in November and received product expired in October itself. Customer care assured and sent me a new bottle but it was also expired in October. Certainly can not be trusted. Though I received a refund of my amount but anveshan lost my trust.
Aswagantha Turmaric is very good product
Amazing ! using daily ,& feel the natural benefit
Turmeric Latte Ashwagandha Mix
Turmeric Latte Ashwagandha Mix
Sneak peak into the healthy world