Eucalyptus Honey
All you need to feel better!
Unprocessed

No added sugar

Cruelty-free

NMR tested
DESCRIPTION
Our monofloral eucalyptus honey has a distinctive flavour, aroma, and colour. Sourced from beekeepers, it is fresh, natural, unpasteurised, and blessed with many medicinal properties. Enjoy the flavourful honey that soothes your throat and calms your soul.
View full details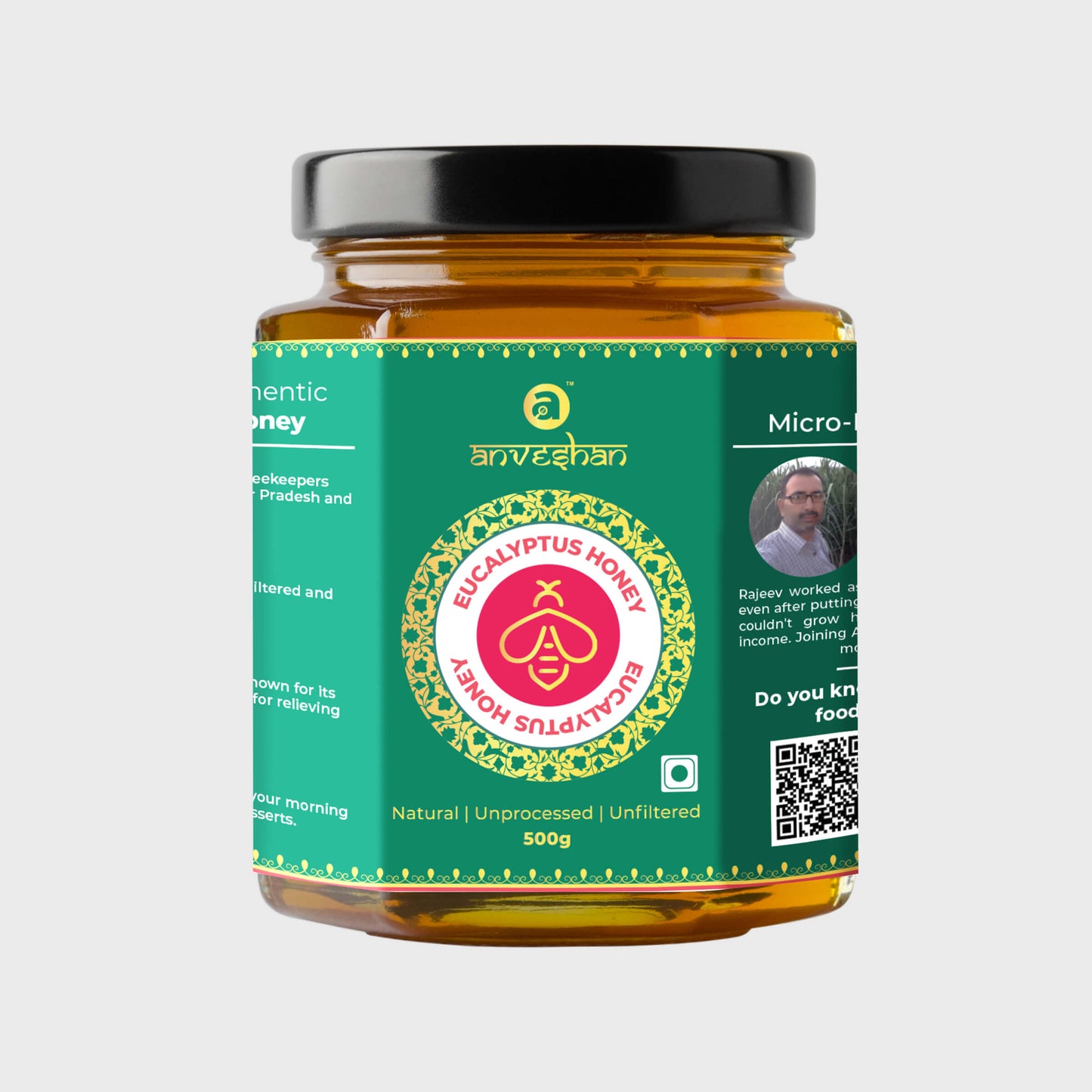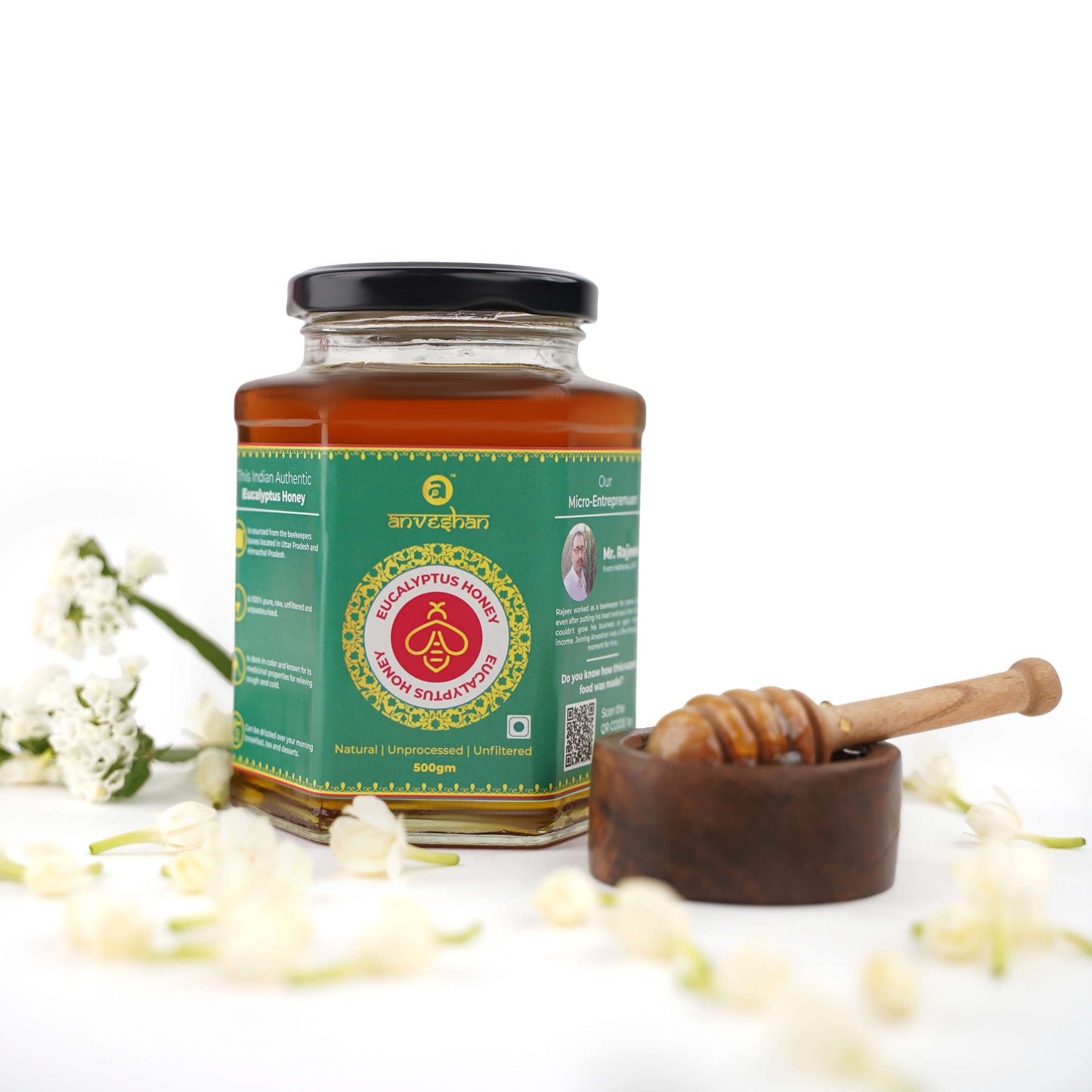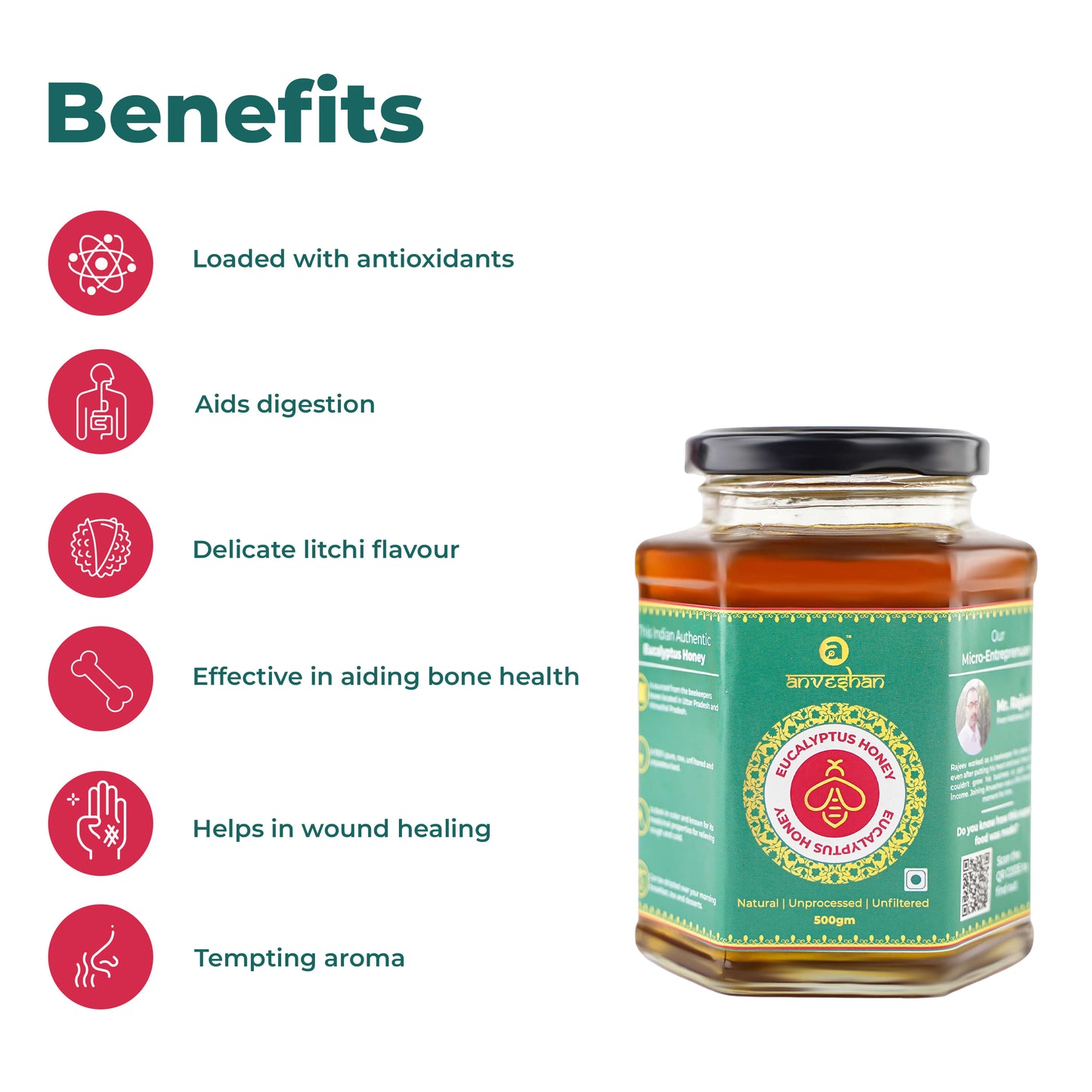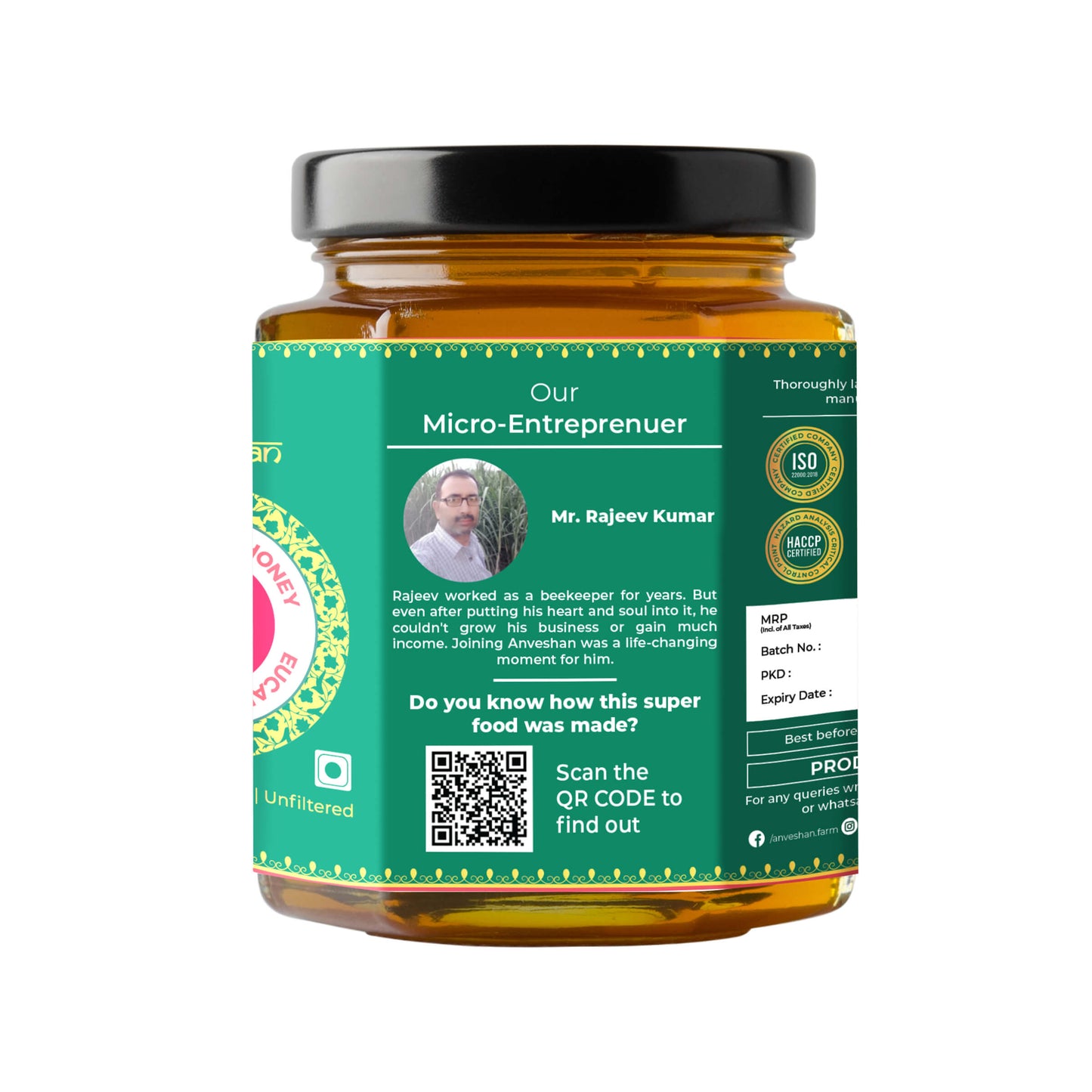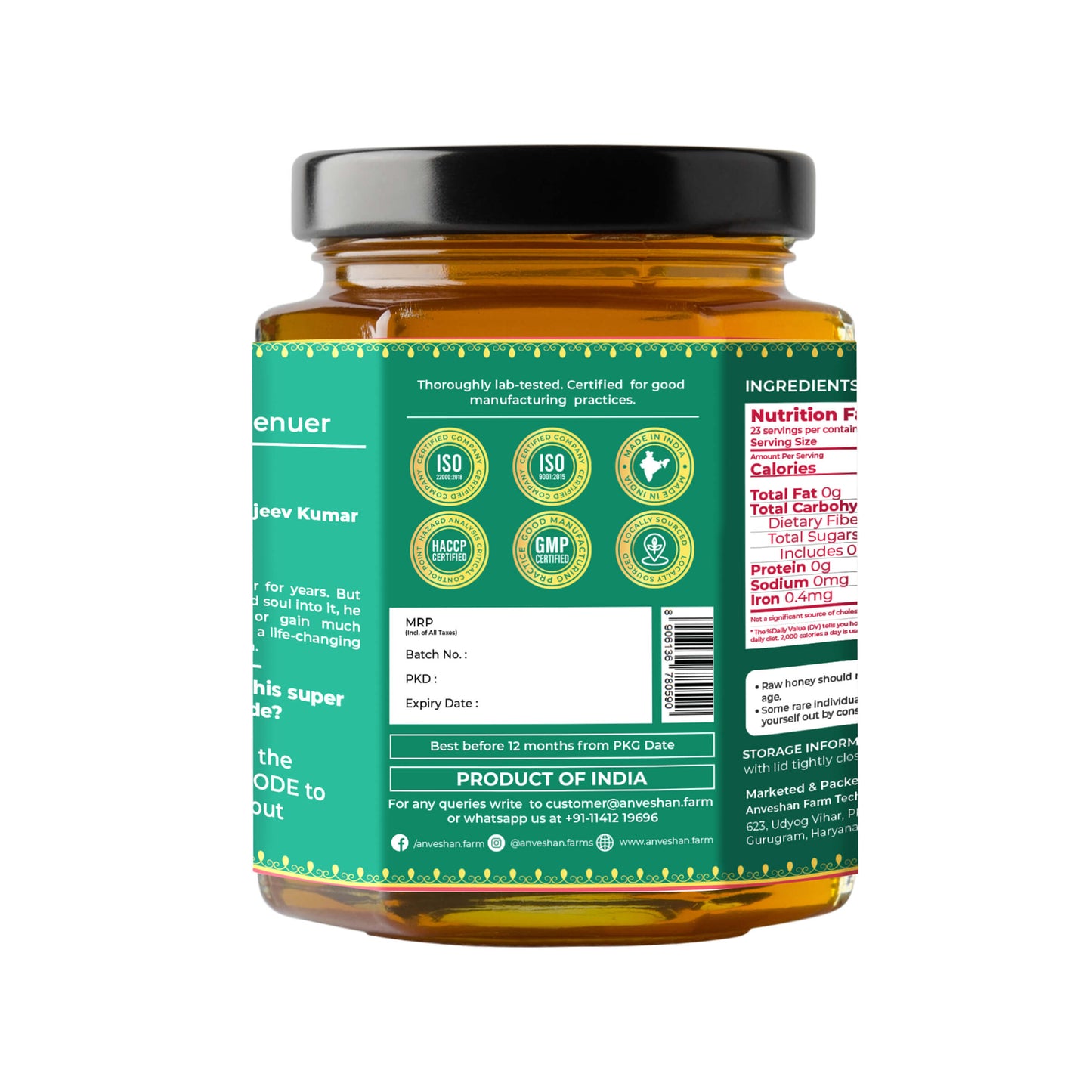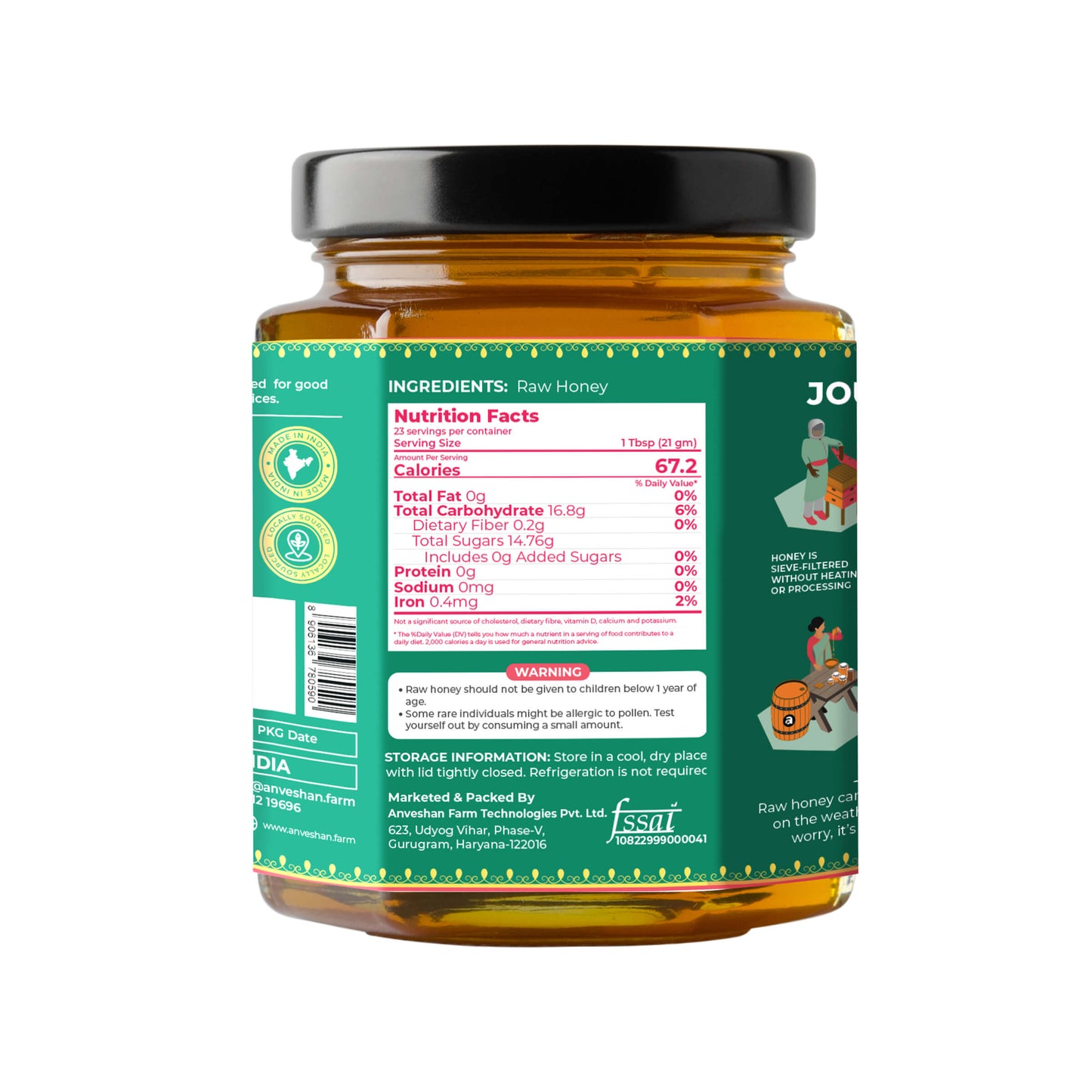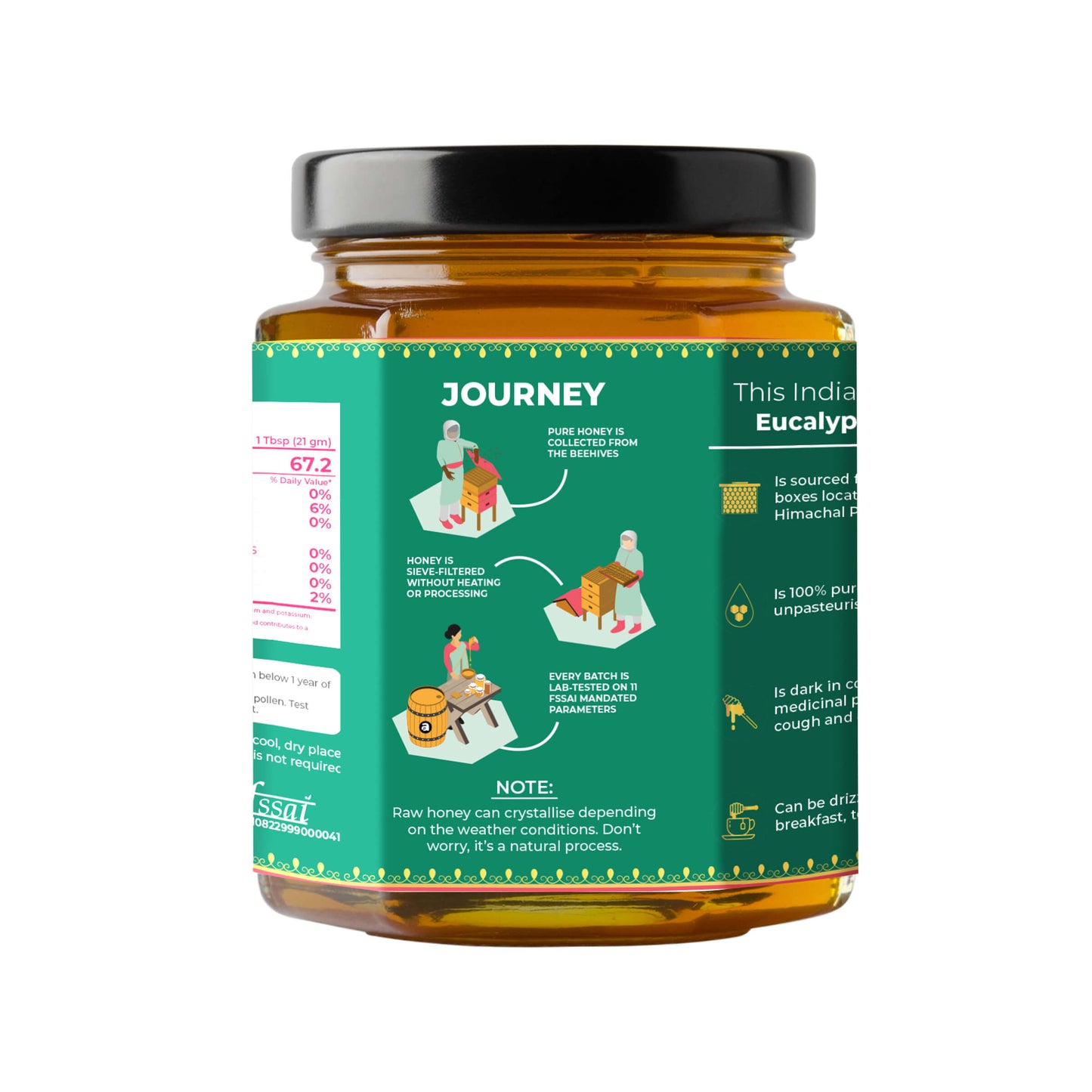 100+ Beekeepers Empowered

Procured from Dehradun

12 Lab Tests Done
Why it's Awesome

Journey of our Honey
We obtain honey with traditional knowledge and sustainable methods without destroying the hives. We don't add or remove anything from the honey produced by bees.
1

Certified Beekeepers

The entire processing of our honey is done by certified beekeepers in the eucalyptus forest located in the Kotdwar region, near Dehradun.

2

Site Selection

Our experienced beekeepers select good flowering areas and accordingly place the bee boxes.

3

Nectar Collection

The bees collect the nectar from the eucalyptus tree or the honeydew found on their bark. November and the end of February is the best time to harvest honey.

4

Bee-friendly Extraction

Once bees fill the boxes, we start extracting the honey. We set up a net tent so that the bees won't fight or run away.

5

In-house Testing

The collected honey is tested in our ME unit. The honey is indirectly heated in boiled water and sieve filtered.

6

Packed Securely

The honey is kept for 48 hours so that the air bubbles get settled. It is then packed and delivered to you.
Boosts immunity

A natural superfood rich in nutritional enzymes and minerals that helps to boost immunity and to stay fit.

Strong antioxidants

A good source of antioxidants, it prevents premature ageing, protects cells from free radical damage, and reduces the risk of developing heart diseases.

Relieves constipation

It is known for its mild laxative benefits. The enzymes that honey contains assist digestion and help to cure constipation.

Powerful decongestant

Eucalyptol in honey is also a powerful decongestant that helps treat coughs, colds, and respiratory infections.

Aids in digestion

It helps in better nutrient absorption from the food. Being prebiotic, it feeds the healthy bacteria in the intestines, essential for digestion and health.

Helps heal wounds

It has anti-inflammatory, antibacterial, and antifungal properties. Research shows that honey is applied to wounds to decrease inflammation and give a soothing effect.
We love to add it to everything!

Natural Sweetener
Mix honey into milk, yoghurt, cereal, oatmeal or while baking muffins, pancakes, etc., as a natural sweetener.

Flavour your fruits
Add some honey to your fruits, berries, and nuts to give a finger-licking flavour.

Power Snack
For a quick and nutritious snack, mix dry fruits, raw toasted oats, warm milk and three tablespoons of honey in a bowl.
Know how our honey is made by our founder
Frequently Asked Questions
How does eucalyptus honey taste?

Eucalyptus honey has a distinctive, medium-sweet taste with a unique herbal flavour. It can range from tart to sweet, refreshing and fulfilling flavour with a hint of menthol.

Does eucalyptus honey crystallise?

Eucalyptus honey is rich in fructose and crystallises quickly at a low temperature. It appears like cream in crystallised form and can be used on bread and toast. However, it melts down at a normal temperature.

How much honey can I eat every day?

Ideally, three to five tablespoons of honey a day is good enough. However, you can consume it according to your diet and preferences. But always remember to consume it in moderation.

Is it true that the thicker the consistency, the better the honey?

No, it is not. The thickness of honey does not define the purity of honey. It varies depending on multiple factors like the nectar source, place, climate, flower type, harvesting, etc.

Do you heat your honey?

No. Heating raw honey weakens or destroys beneficial enzymes, vitamins, and minerals. So, we do not heat our honey. Instead, it is delivered to you fresh and with its naturally occurring goodness.

Do you enhance the flavour of your honey?

No. We offer you raw honey without adding sweeteners, chemicals, or preservatives.
Very delayed delivery
I had to wait for more than 20 days for order delivery.Requeat to improve it.
Good for Sore Throat
Excellent quality of honey.
Give some relief in Cold, Cough & Sore throat.
You can feel the taste as compared to other brands.
If I have to buy honey then Anveshan honey only.