Stone-Ground Red Chilli Powder
It sure is chilli!
No added colour

Ground by women

Stone-ground

Locally sourced
DESCRIPTION
Made from handpicked chillies from the foothills of Himalayas. Our finest quality chillies can be distinguished by their brilliantly red colour and pungency, creating delectable dishes for our taste buds.
View full details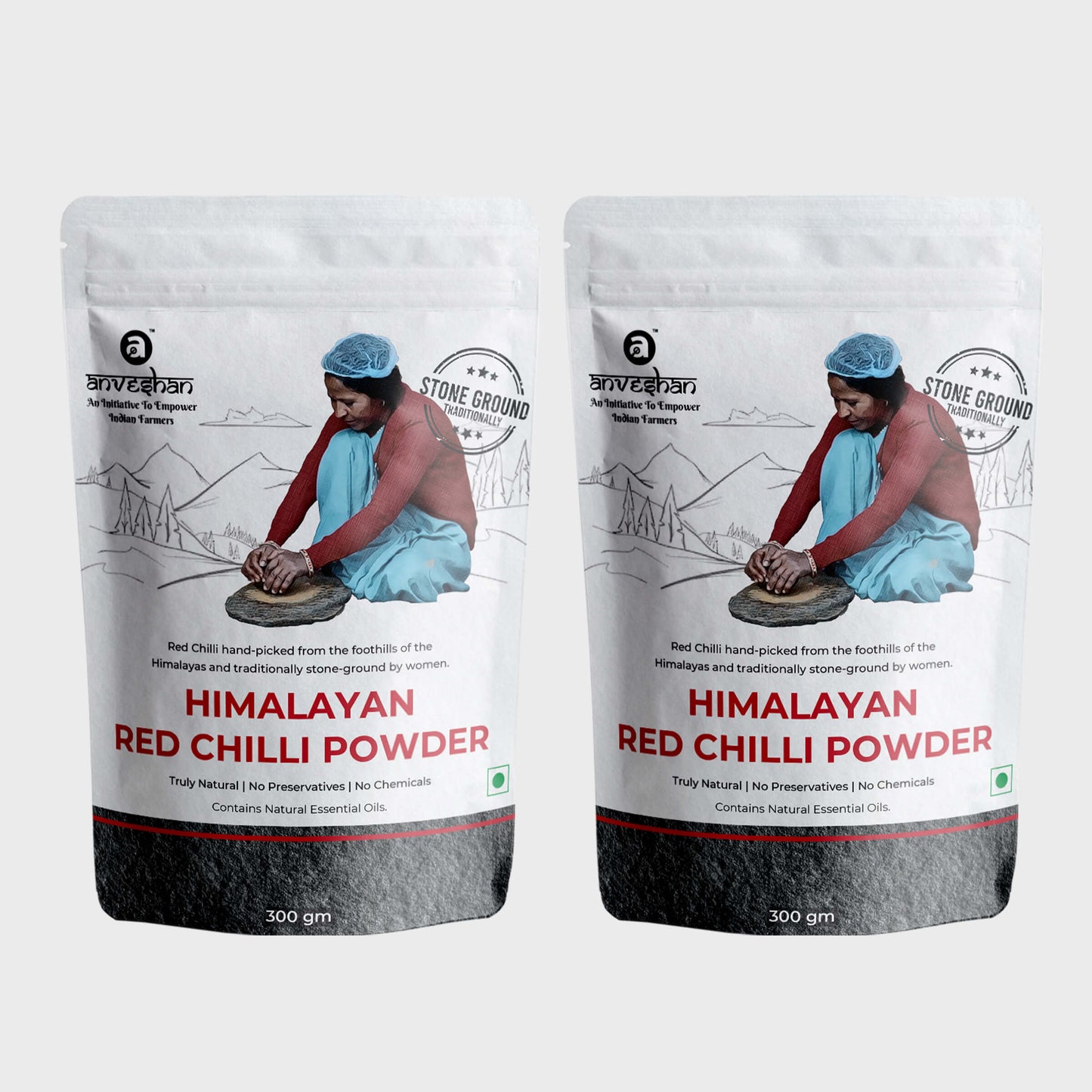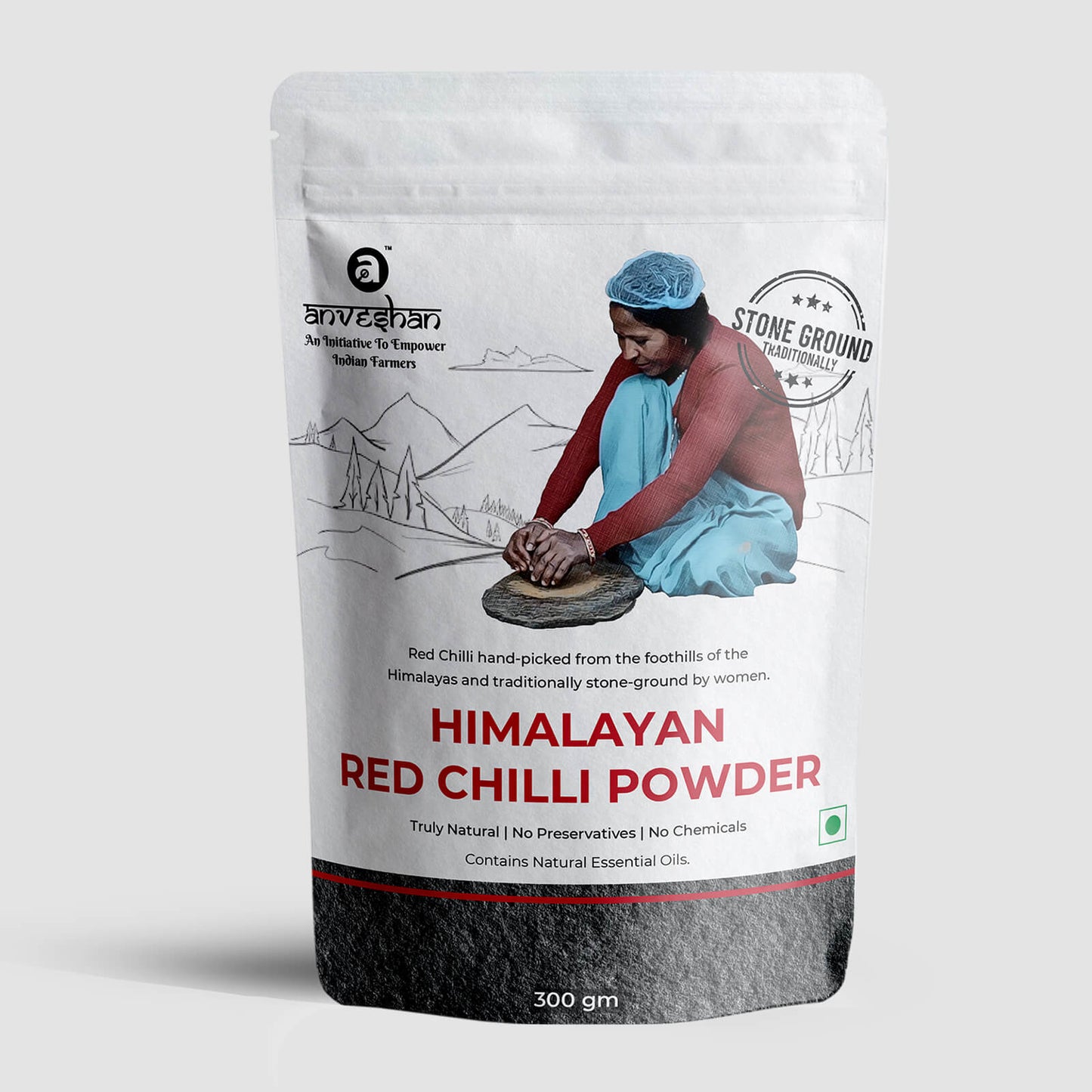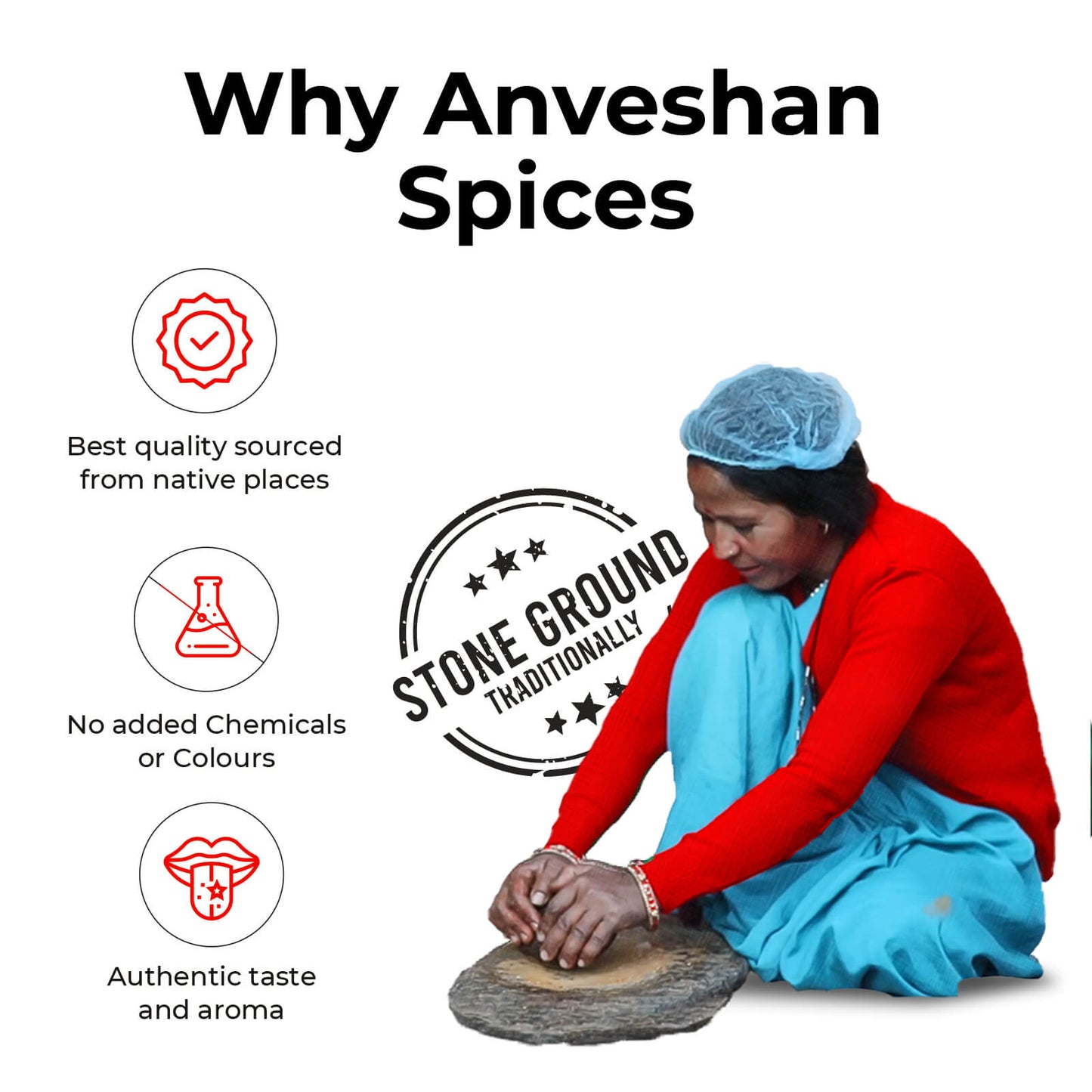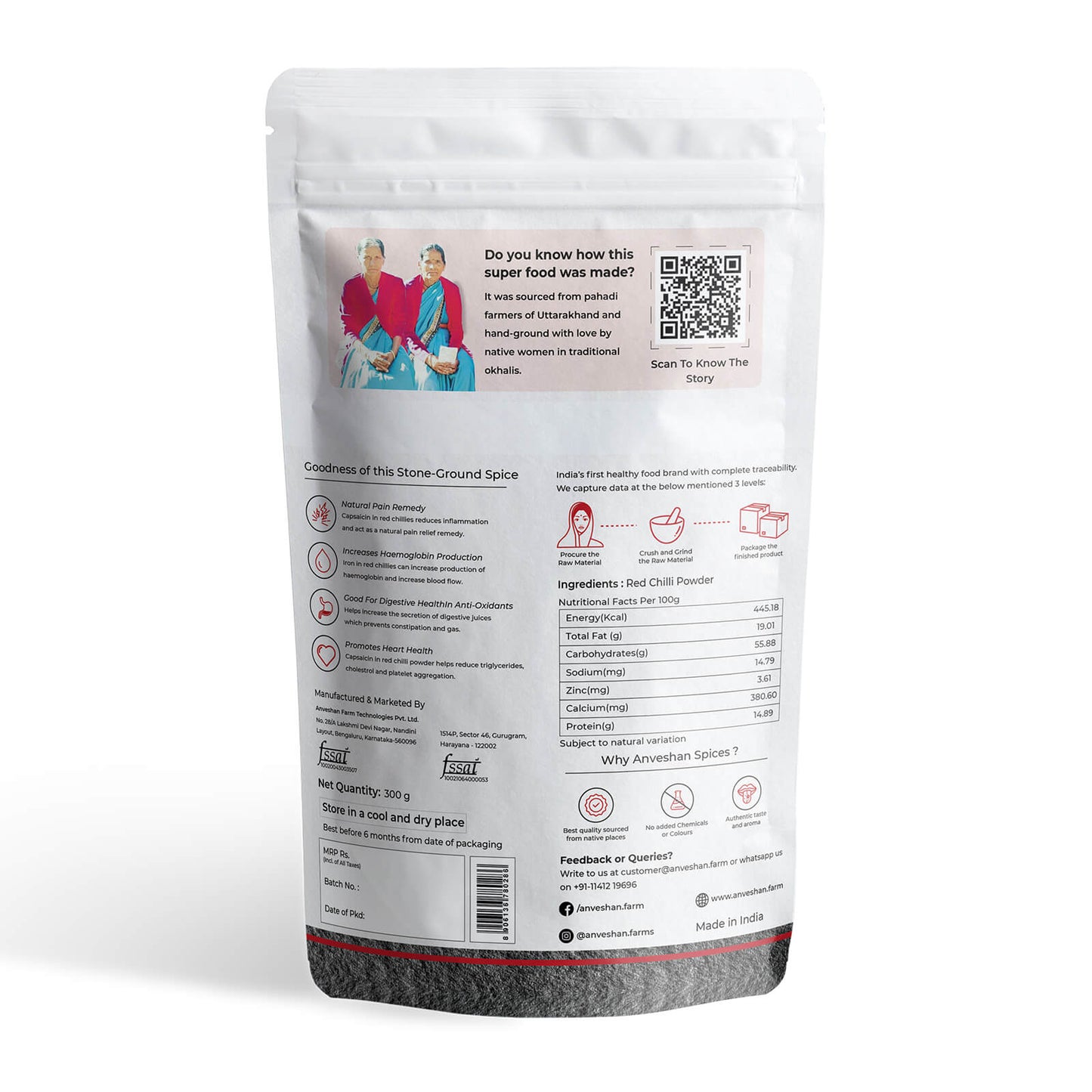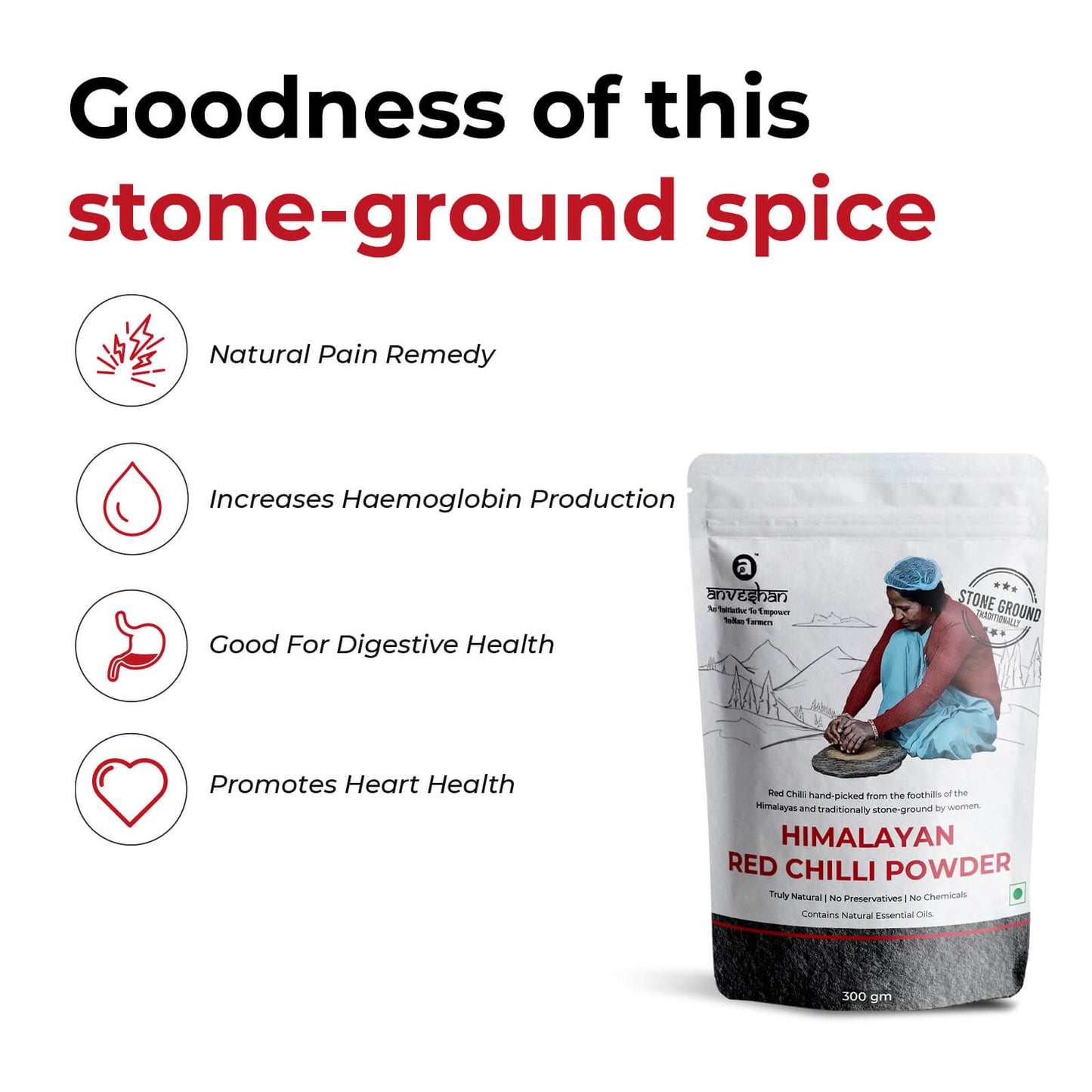 530+ Farmers Empowered

Procured from Himalayan Region

23 Lab Tests Done
Why it's Awesome

Journey of our Spices
Our spices come from farms, not factories. We work with farmers directly and aim to produce the best quality products that are entirely natural.
1

Ethically Sourced

We source our spices directly from farmers and offer them better prices. We also ensure fair treatment, community support, sustainable production and food quality.

2

Manually Cleaned

The red chillies are cleaned to remove the dirt, dust and stones. They are then sun-dried.

3

Stone-grinding

The chillies are ground traditionally by women in okhalis & chakkis at a low temperature to maintain their high nutrient value.

4

Quality Checks

Red chilli undergoes strict quality checks to make sure it is free from unwanted contaminants and follows FSSAI standards.

5

Packaging

Our red chilli is packed in a glass jar/ paper pouch only when it clears all the mandatory tests.
Nutrient-rich

Red chillies are rich in powerful antioxidants, potassium, copper, various vitamins, and minerals.

Helps Burn Fat

Contains a compound called capsaicin that helps metabolize excess fat from your body.

Better Digestion

It helps increase the secretion of digestive juices, which prevent problems such as constipation and gas. It also helps in detoxifying the body.
Frequently Asked Questions
What is special about stone-ground spices?

Stone-grinding is well recognized as the method best able to bring out the best flavours while retaining essential nutrients of our spices. Pounding the spices releases the natural oils and distributes them uniformly throughout, creating a wonderfully aromatic and flavourful spice. Therefore, our stone-ground spices are a better alternative for your dishes.

What is unique about Anveshan Red Chilli Powder?

Anveshan chillies are sourced directly from the foothills of the Himalayas. The handpicked chillies by our farmers are exceptionally dark red due to their rich source of capsaicin.
Additionally, our red chilli preserves all-natural oils and nutrients as it is hand-pounded by local women. Anveshan Red Chilli Powder is 100% natural and preservative-free. The distinctive flavour that it adds to the dishes makes it a preferred choice.

Is there artificial colour added to enhance the redness of the red chilli powder?

Absolutely not! All our products are 100% pure and have no added colours or preservatives.

What is the shelf life of the red chilli powder?

If appropriately stored in glass containers, our red chilli powder can easily last up to 2 years.

Is the pouch/jar glass or plastic?

No, we at Anveshan believe in sustainable packaging. Therefore, our spices are available in glass jars and paper pouches that are eco-friendly. The jars are reusable and lock in the freshness of the spices.
For pouches, we recommend emptying them in jars as they contain essential oils. Storing it in pouches for a long time may lead to oil secretion, and pouches may become oily.
Reliable product
I am recurrent buying this product from more than year and I can feel the difference compared to other products in market. I strongly recommend for others
Very Good Chilli
The chilli powder is very spicy and gives amazing flavour to your food. Use with caution as you cook. Very happy with the purchase. Please maintain the quality of the product. Thank you
Stone-Ground Red Chilli Powder
Sneak peak into the healthy world