Hallikar Ghee and Gir Ghee Combo
No bad cholesterol

Heart-healthy fats

Promotes weight-loss

Aids digestion
DESCRIPTION
Introducing our combo of premium ghee varieties to elevate your culinary experience. Indulge in the richness of our bilona churned ghee, meticulously crafted from the A2 milk of grass-fed Hallikar cows in Karnataka and Gir cows in Gujarat. Experience pure, natural ghee without compromising on quality. Each batch undergoes rigorous lab testing, ensuring its purity and quality before being presented in food-grade glass jars. Experience the perfect combination of flavor, tradition, and health benefits with our premium ghee combo.
View full details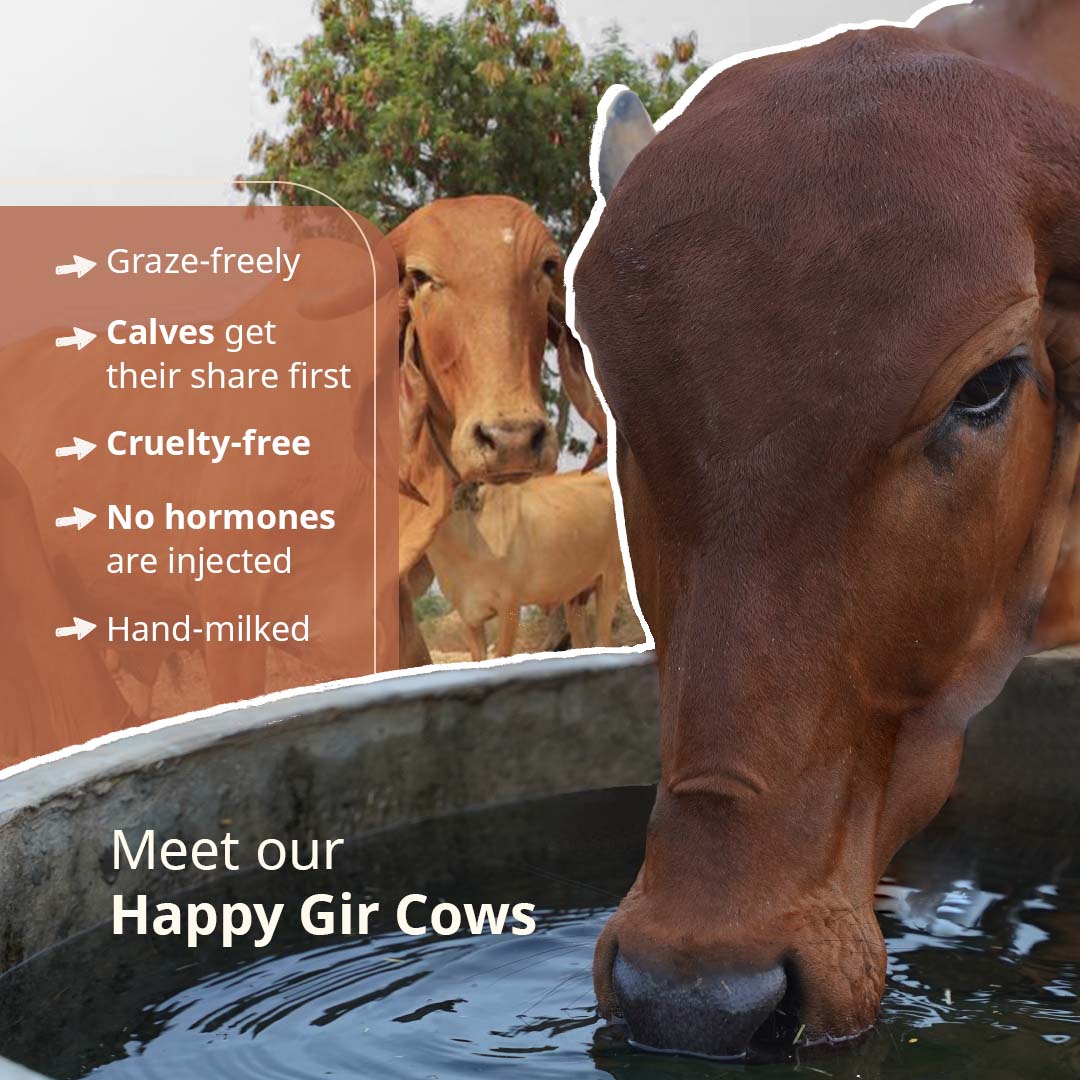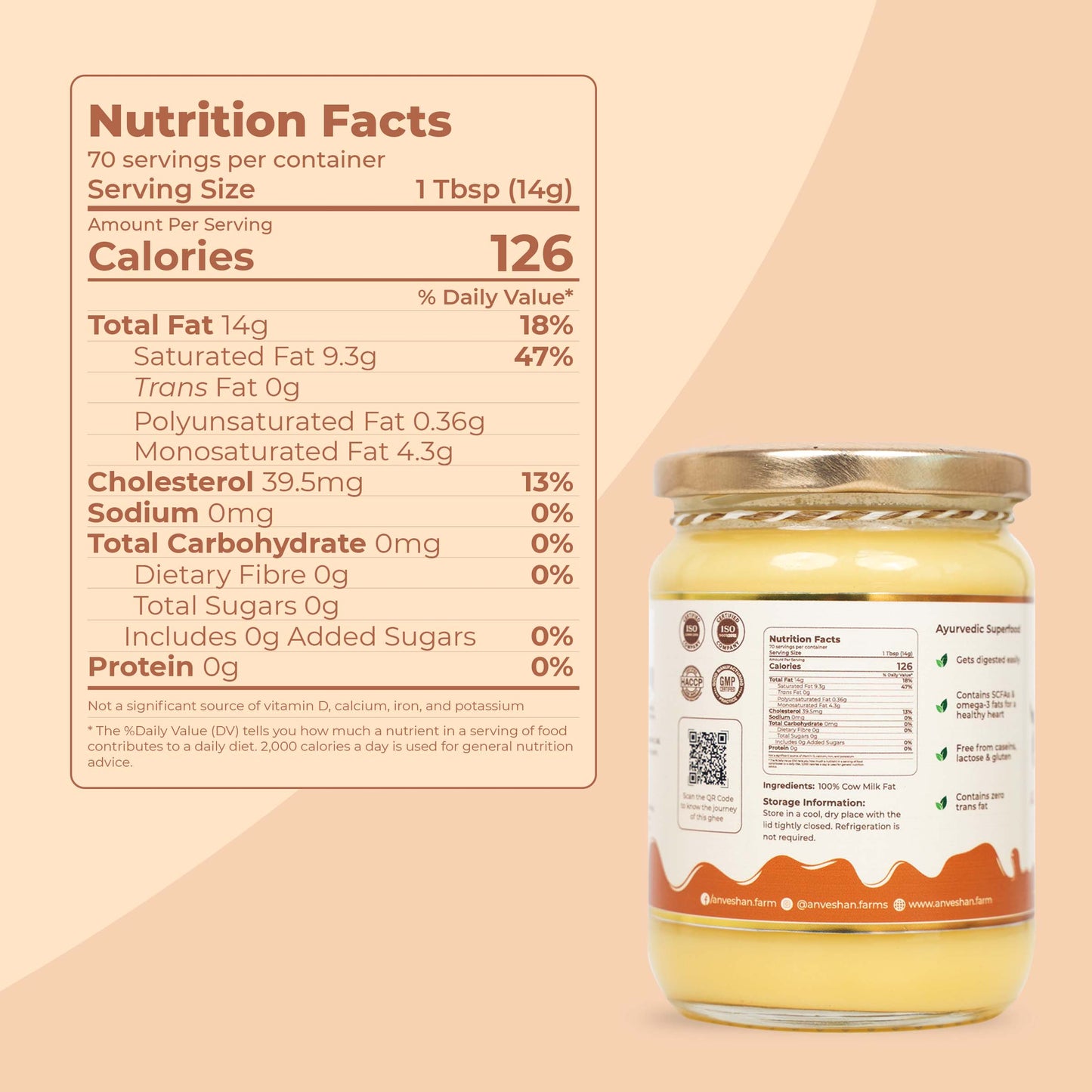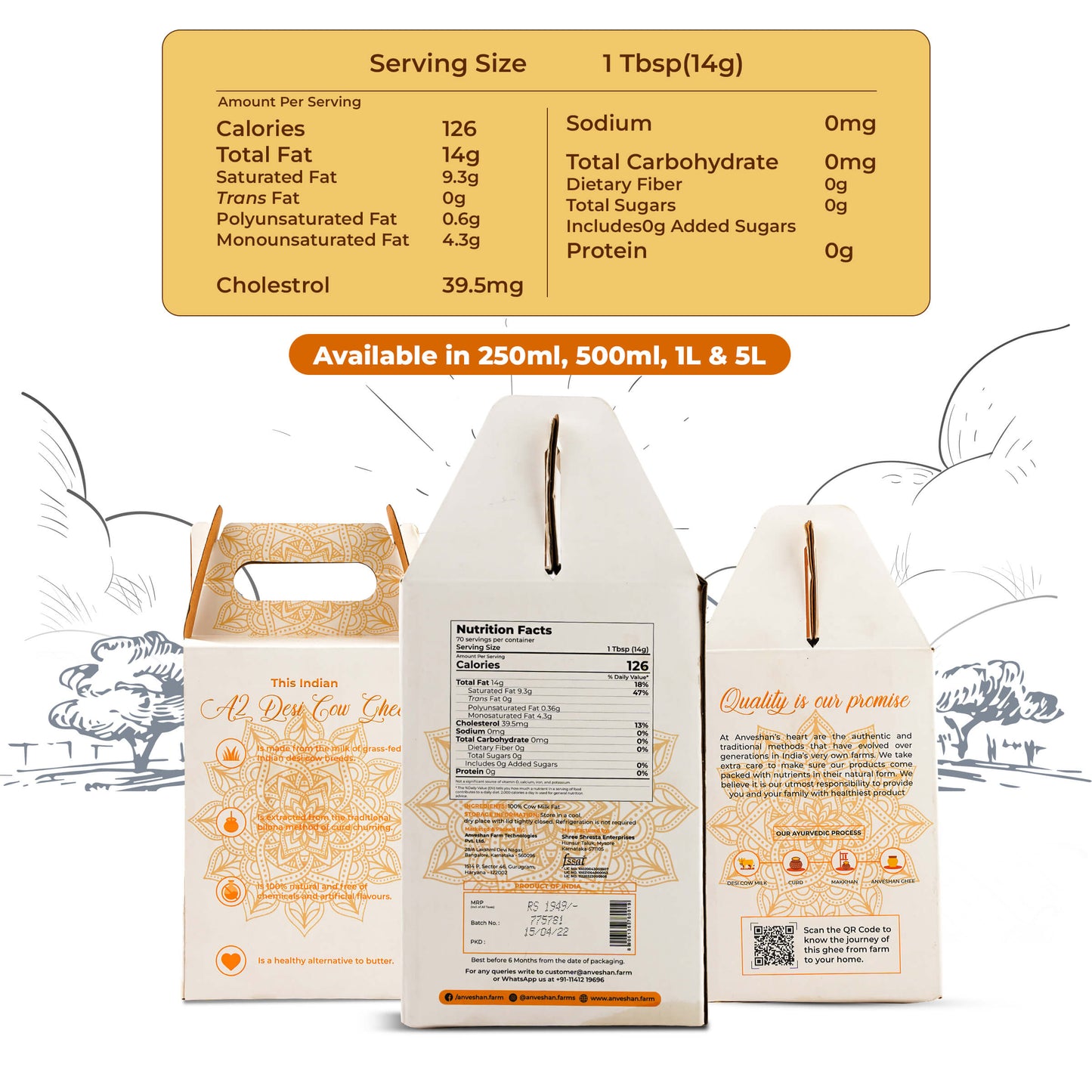 What's in it

Hallikar Ghee
Our bilona churned ghee is made from the milk of grass-fed Hallikar cows of Karnataka. Made in small batches, the ghee has a fresh and tempting flavour. Ghee is thoroughly lab-tested using 17 parameters to ensure quality standards.

Gir Ghee
Our A2 Gir Cow Ghee is prepared using the traditional bilona method to bring the best nutrition. Our Gir ghee is made in small batches from the fresh A2 milk of Gir cows of Gujarat. Every batch of our ghee undergoes 12 lab tests before being placed in food-grade glass jars.
All-in-one solution

Healthy Cooking Oil
Use ghee as a cooking oil to make your dishes richer, satiating, and delicious.

Relieves Constipation
Have 1 tablespoon of warm/melted ghee at night before bed to prevent constipation.

Baby Massage
It boosts the baby's immunity, metabolism, and digestion system. In addition, giving your baby ghee during the initial years will support the development of strong and healthy bones.

Your soothing companion during pregnancy
It supports a healthy immune system, removes toxins and repairs tissues. In addition, it helps combat acidity, which many pregnant women struggle with since a growing uterus forces the acidic secretions upward.

Healthiest ghee for aged people
Bilona Cow ghee improves cholesterol levels, relieves constipation, is good for eyesight, and boosts immunity, making it a good choice for senior citizens.

Recommended ghee for weight loss
Consuming ghee with hot water in the morning or adding it to your daily meals helps lubricates the gut and helps get rid of toxins, thus improving the metabolism. In addition, ghee pushes the stored fat cells in the body to be burnt in exchange for energy. Hence, it helps in reducing weight faster.
Frequently Asked Questions
How to check the purity of A2 desi cow ghee at home?

The easiest method to check the purity of A2 desi cow ghee is to do a pan test. Add a teaspoon of ghee to a pan and heat it. It is pure if the ghee starts melting immediately and turns dark brown. However, if it takes time to melt and remains yellow in colour, it is adulterated.

What are the benefits of A2 cow ghee?

A2 cow ghee is regarded as the healthiest ghee available. It decreases bad cholesterol, promotes digestion, boosts immunity, and aids in better nutrient absorption, unlike regular ghee made from A1 milk , which can cause indigestion, inflammation, cholesterol build-up, and other adverse health effects.

Why is Anveshan Desi Cow Ghee costly as compared to other ghee?

Anveshan A2 Desi Cow Ghee is made entirely from the milk extracted from desi cows. The indigenous cow gives around 2-3 litres of milk per day which is more nutritious than foreign breeds that produce more milk. The cows are neither forced nor injected with hormones to enhance milk production.
Our ghee is bi-directionally bilona churned with a wooden churner. This is why our A2 cow ghee has a grainy texture, thicker consistency, tempting aroma, superior flavour, and is much healthier. Hence, A2 Desi Cow Ghee is costlier and better than regular ghee.
The ghee is more dilute
Last time when I purchased the quality was superb , however . This time the quality was not as earlier n was more dilute. That needs to be improved
Hallikar Ghee and Gir Ghee Combo
Superb quality
Both ghee has purity in quality.
Quality is very good
Good service and Ghee quality is very good