Chia and Sunflower Seeds Combo
100% Pure

Nutrient rich

No additives

Lab-tested
DESCRIPTION
Anveshan fibre and protein-rich seeds are sourced directly from farmers. These seeds are a nutritional powerhouse that keeps you healthy and curbs your craving. So kick-start your morning with Anveshan premium quality seeds.
View full details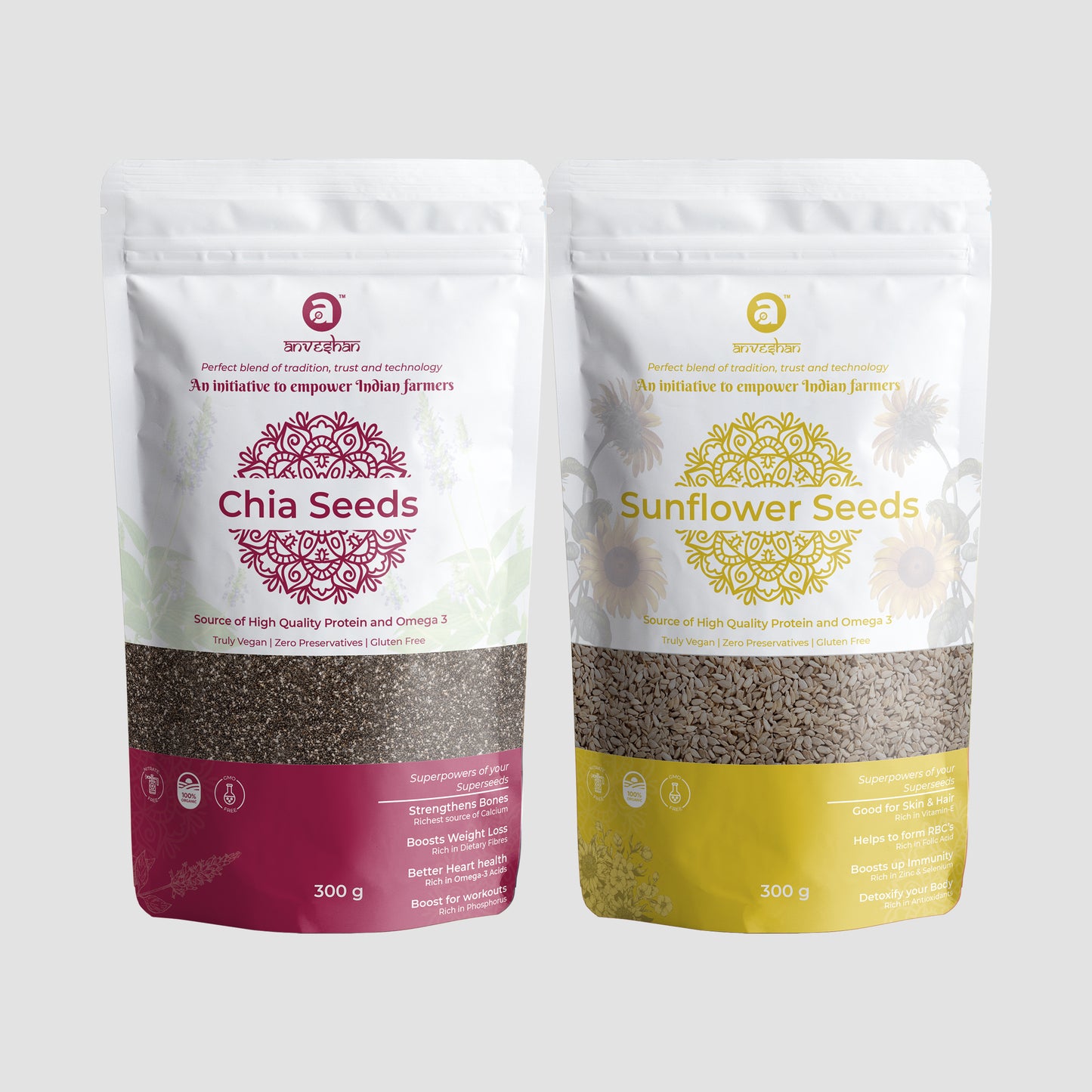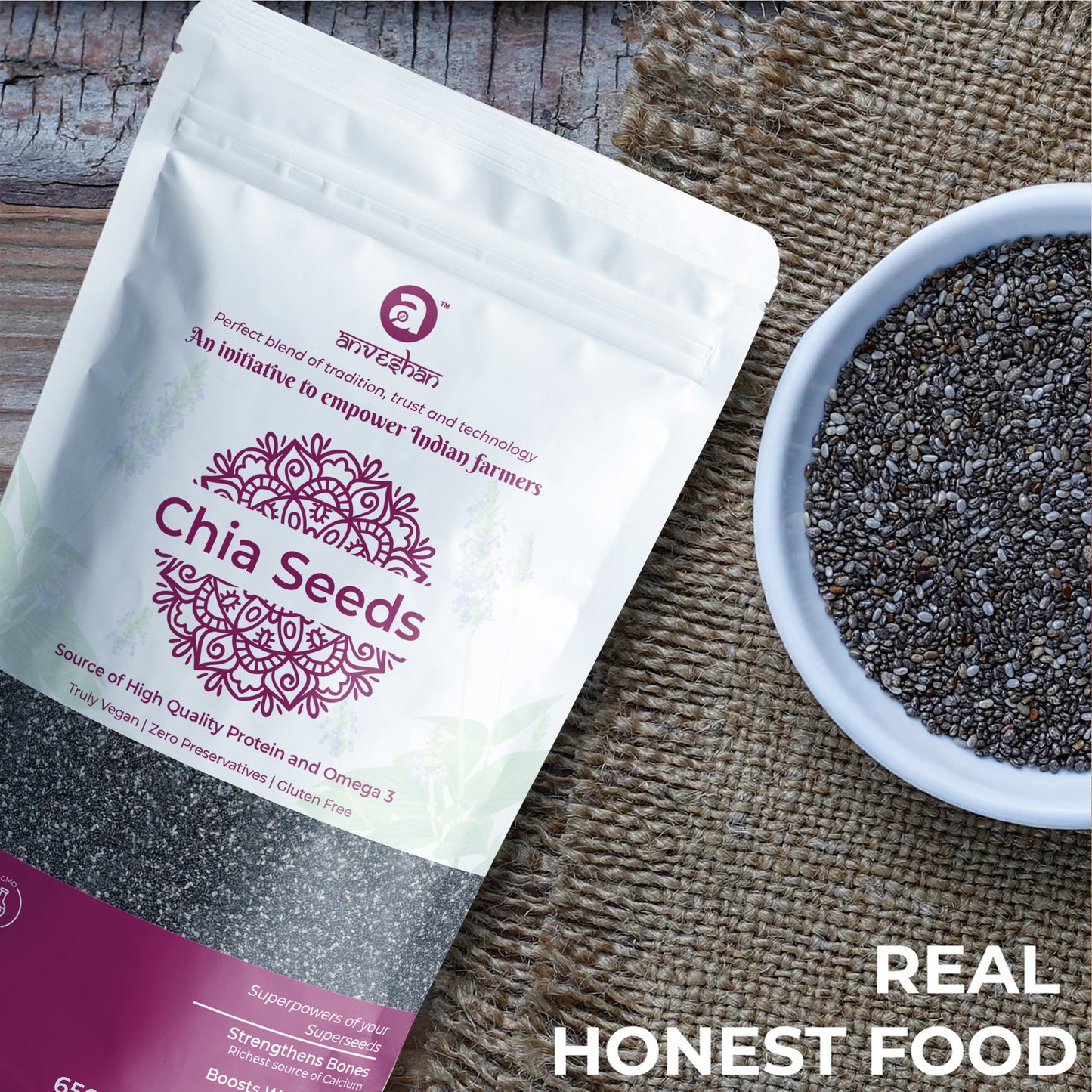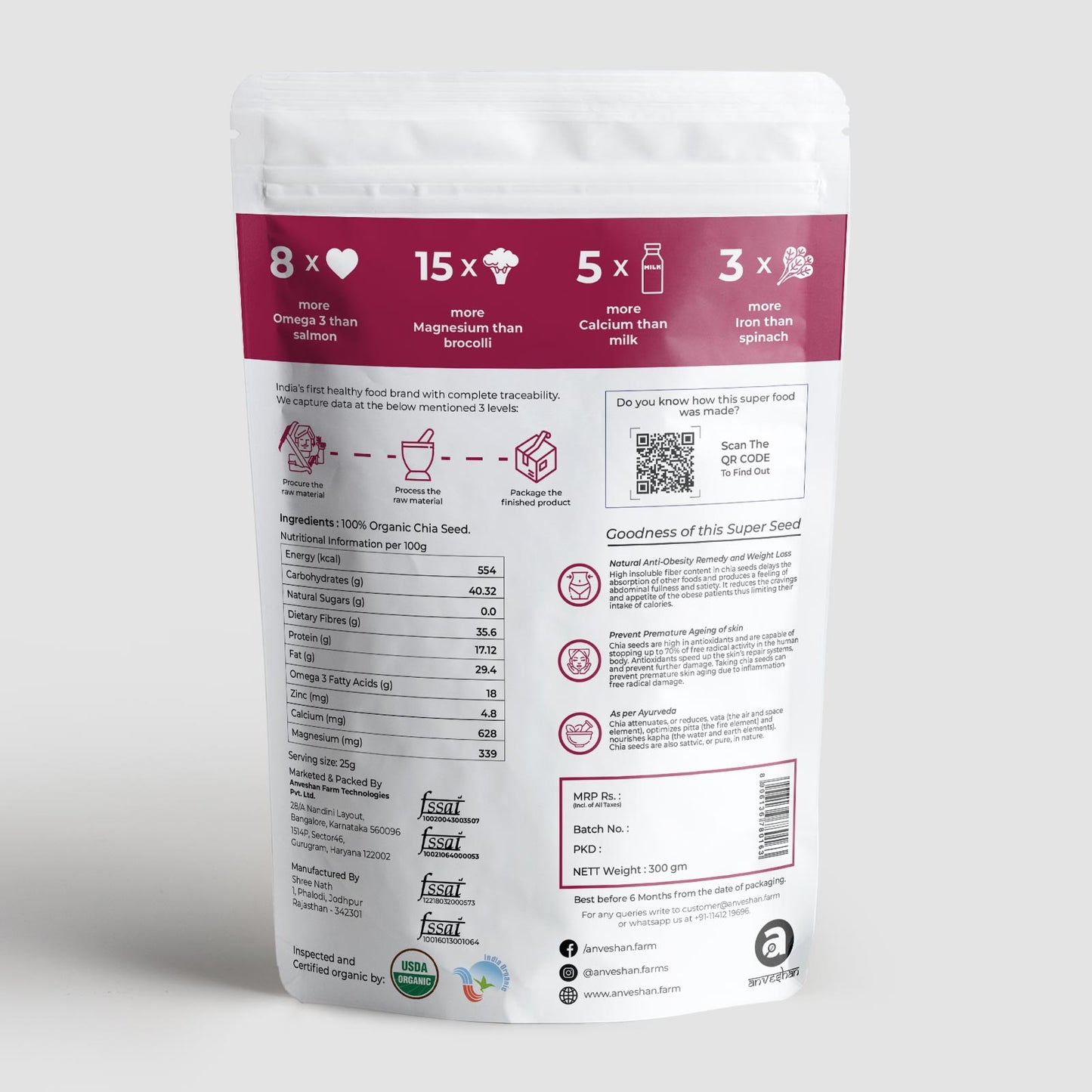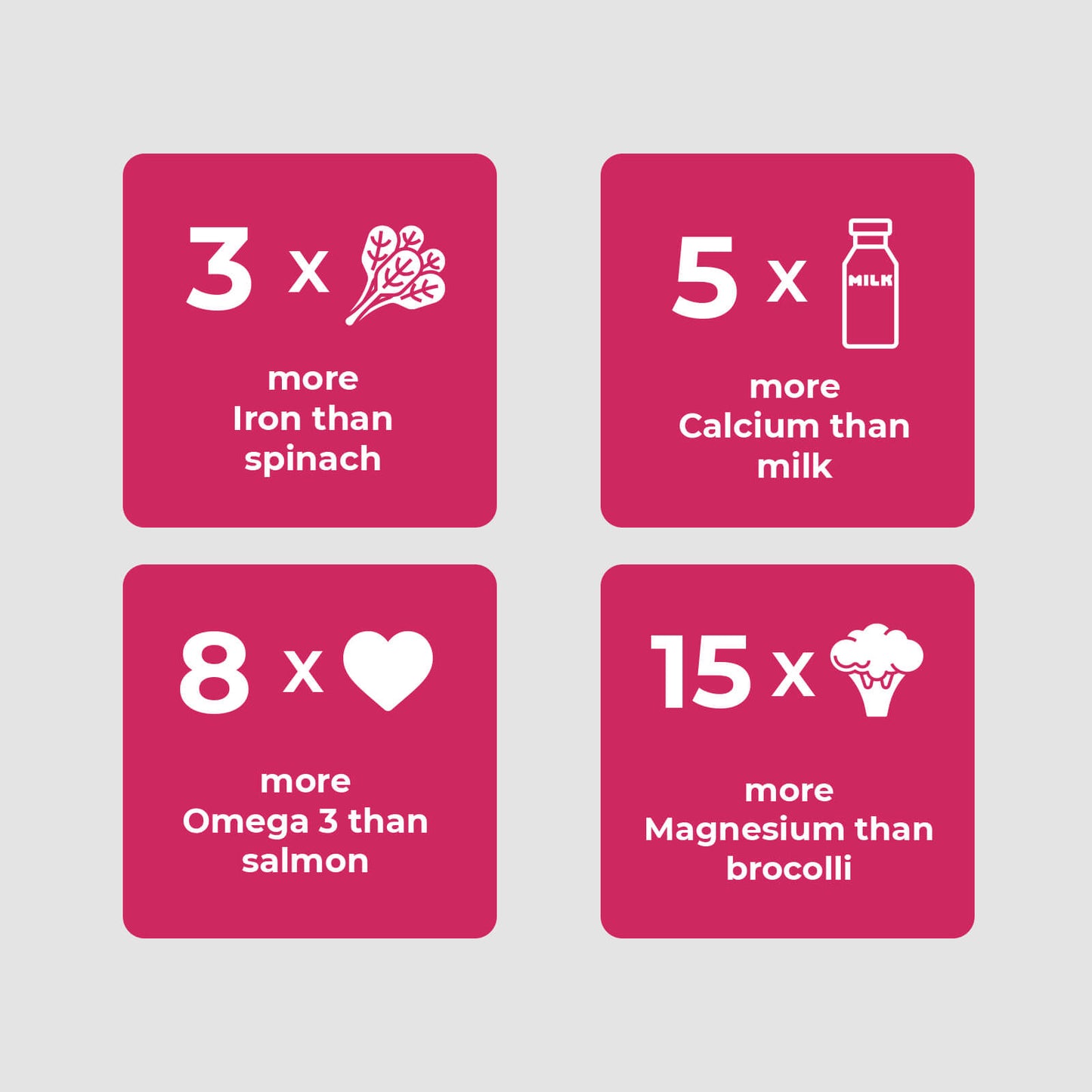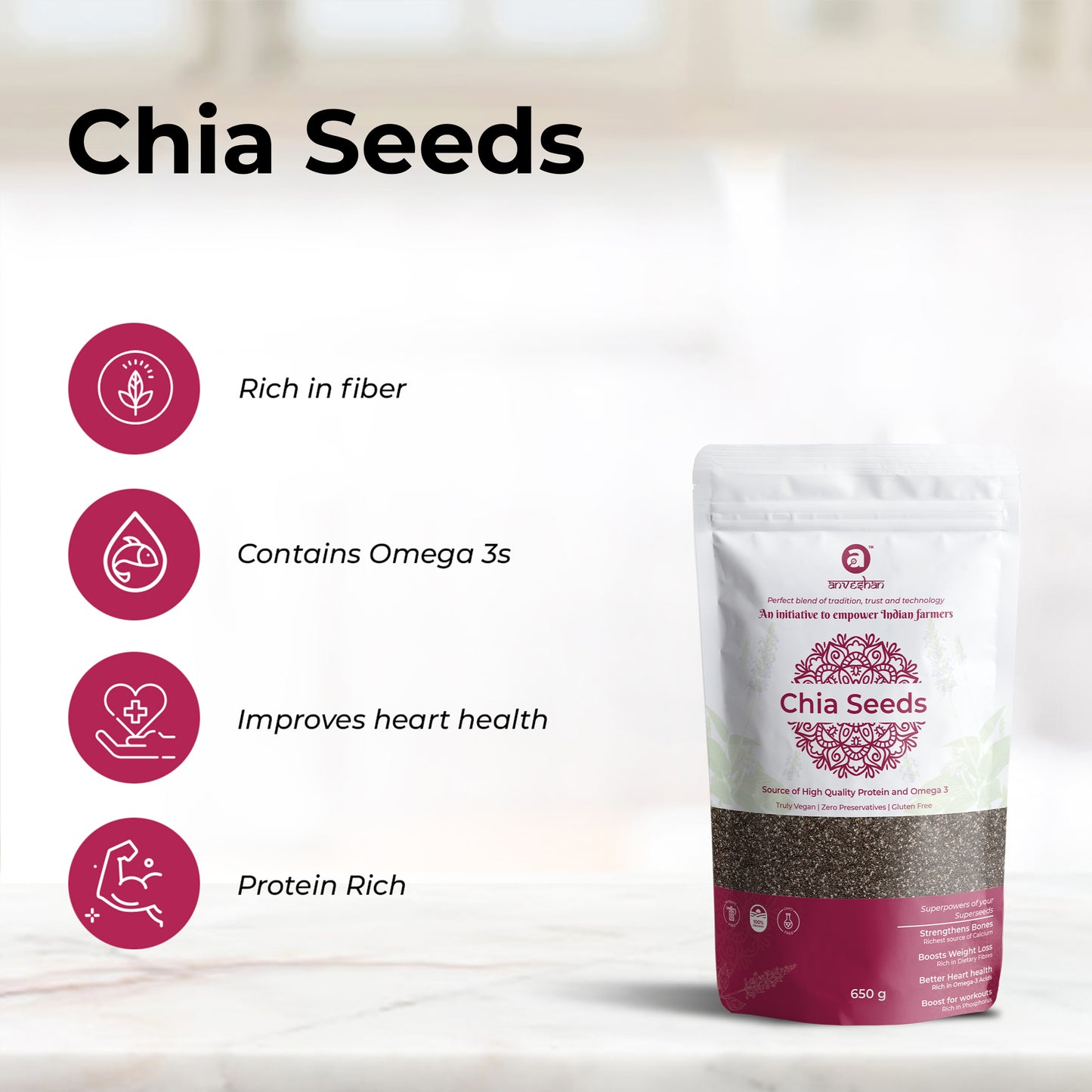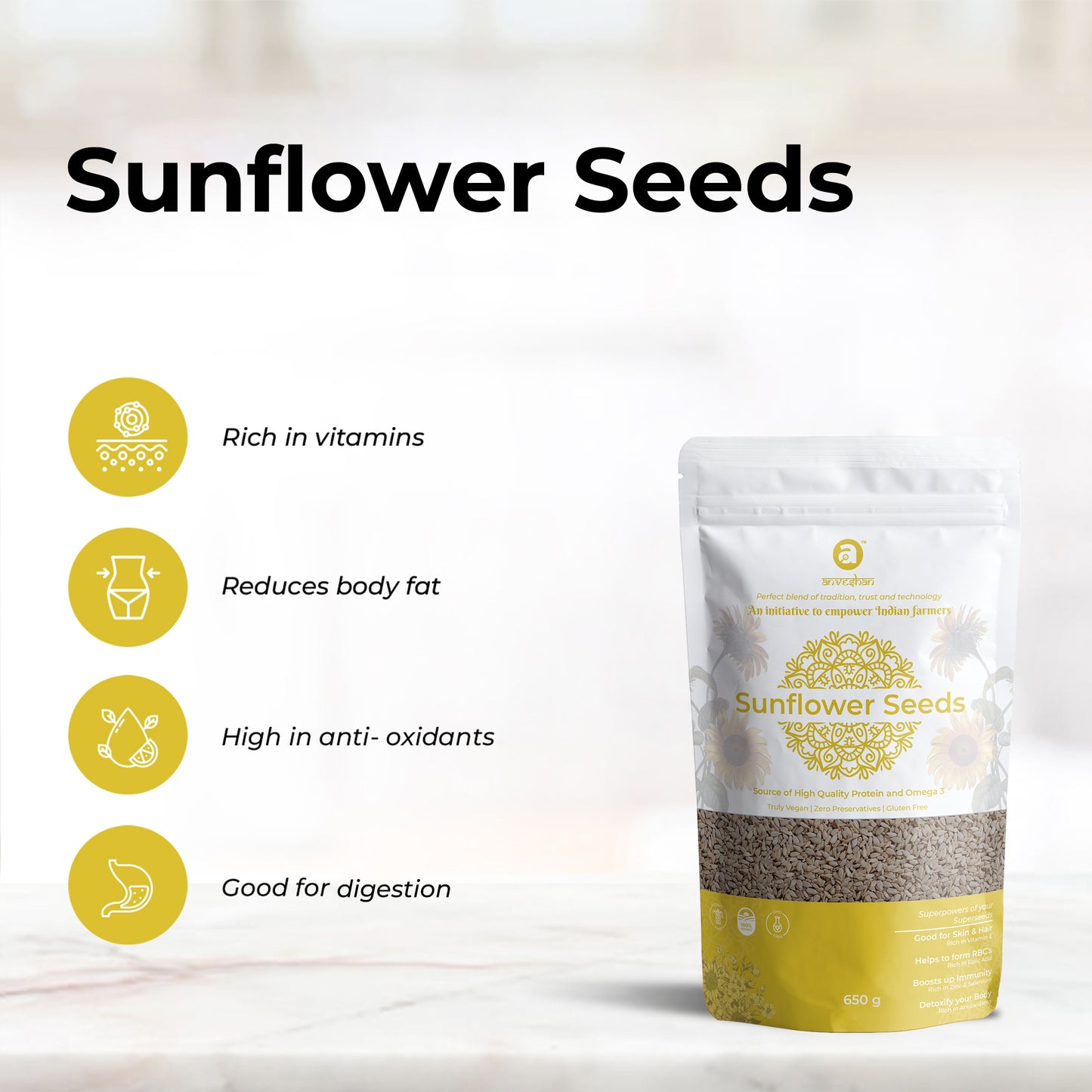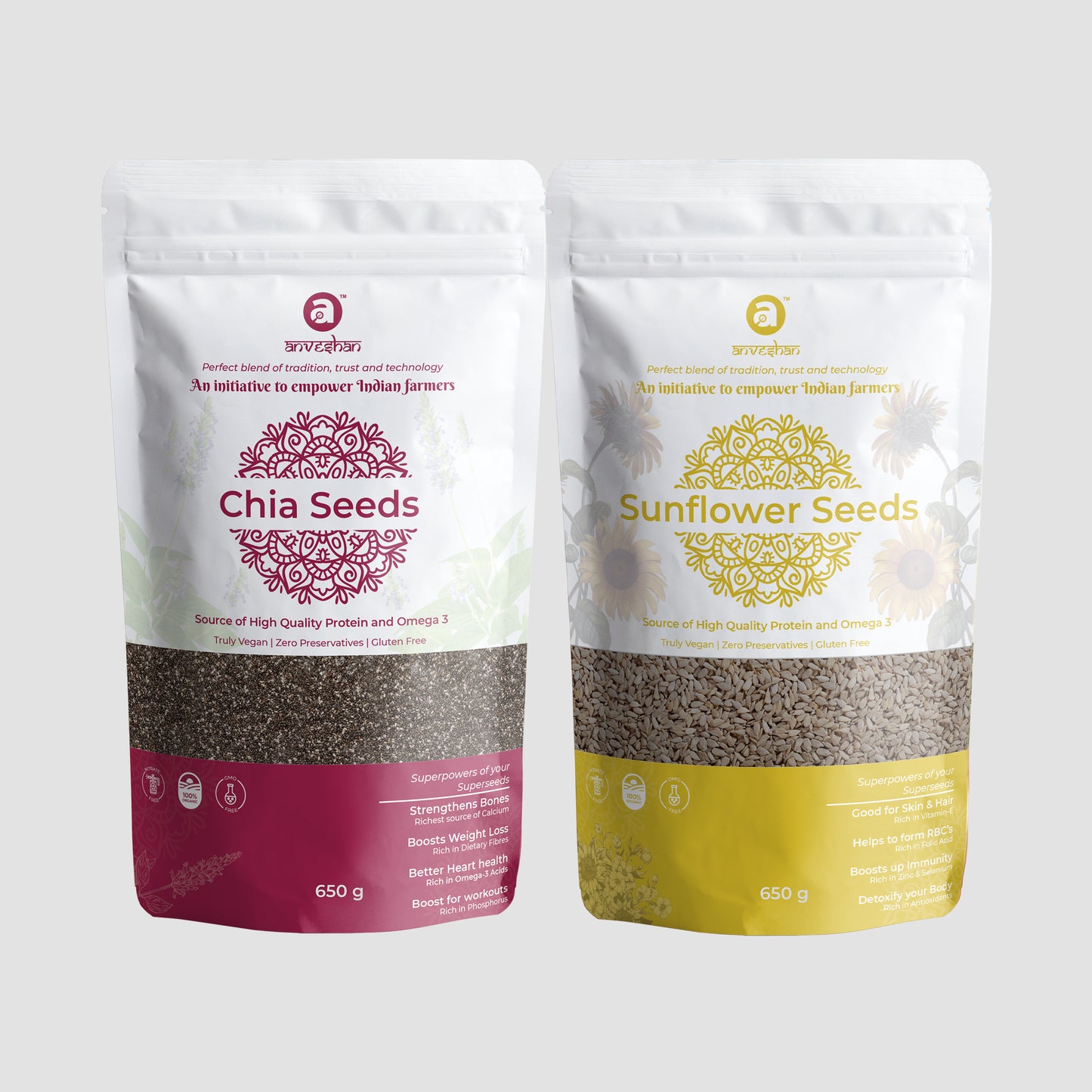 What's in it

Chia Seeds
Our chia seeds are sourced from Rajasthan. They contain essential vitamins, minerals, calcium, proteins, and dietary fibre. In addition, they are flavourful and are perfect for your healthy snacking.

Sunflower Seeds
Our sunflower raw and unsalted seeds are sourced from Rajasthan. They are deshelled to help you reap the health benefits without extra effort. They possess a mild nutty taste and are the perfect mouth-watering seeds to munch!
How to Use it

Chia Smoothie
Add chia seeds to your smoothie, be it mango, banana, or an apple smoothie.

Chia Jam
Add 1 tbsp of chia seeds to every 1 cup of your favourite mashed fruit.

Chia Tea
Add chia to your cup of tea, whether it's iced, hot, or room temperature.
Sunflower Snacking
Eating raw sunflower seeds is considered a great healthy snack.

Sunflower Seed Butter
Mix sunflower seeds, sea salt, and sugar. You can add sunflower oil to it as well.

Sunflower Laddu
Garnish your pancakes, smoothies, cereals, and breakfast bowl.
Frequently Asked Questions
Are Anveshan seeds vegan and gluten-free?

Yes! Our edible seeds are vegan and gluten-free. They are suitable for vegan diets because they contain a healthy dose of plant protein.

How to store your Anveshan organic seeds?

Store your seeds in an airtight, dark-coloured, Or opaque container. Keep them away from direct exposure to sunlight or excessive heat. You can freeze them too to keep their freshness locked.

Is the container resealable?

Yes, our seeds are packed in resealable sustainable paper pouches.
Great combo, grat quality
I placed an order for the first time and I was very impressed when the order was delivered this morning. I just tasted your chia seeds and they are simply AMAZING! I was so impressed with the speed of delivery for my order and the fabulous quality of both the seeds. wonderful experince will buy again.
Handy seeds
Bcoz of covid i refrain buying or eating anything from shops when i travel. So i carry these seeds with me and I don't feel hungry too much. So these are perfect!
Organic
When you use the seeds you can cleraly see the difference of quality of anveshan and other brand seeds. it is 100% natural!
Must try!
These seeds have been a regular part of my diet for awhile no. I searched online and found these. I prefer to buy these more locally grown seeds that are better than any other pumpkin seeds I've had. When you open the pouch you're treated to a delicious aroma and the taste is simply amazing. Eat them raw, gently toast them, spice and bake them, grind them into, they are on another level compared to the organic pumpkin seeds I'd been getting before.
Sneak peak into the healthy world