A2 Desi Cow Ghee and Turmeric Latte Combo
100% Natural

No added chemicals

Boosts immunity

Lab-tested
DESCRIPTION
Bringing the best immunity boosting combo with the goodness of A2 Desi Cow Ghee and Turmeric Latte. Filled with nothing else but pure and natural ingredients sourced directly from farmers. Get this healthy combo to have your taste of health!
View full details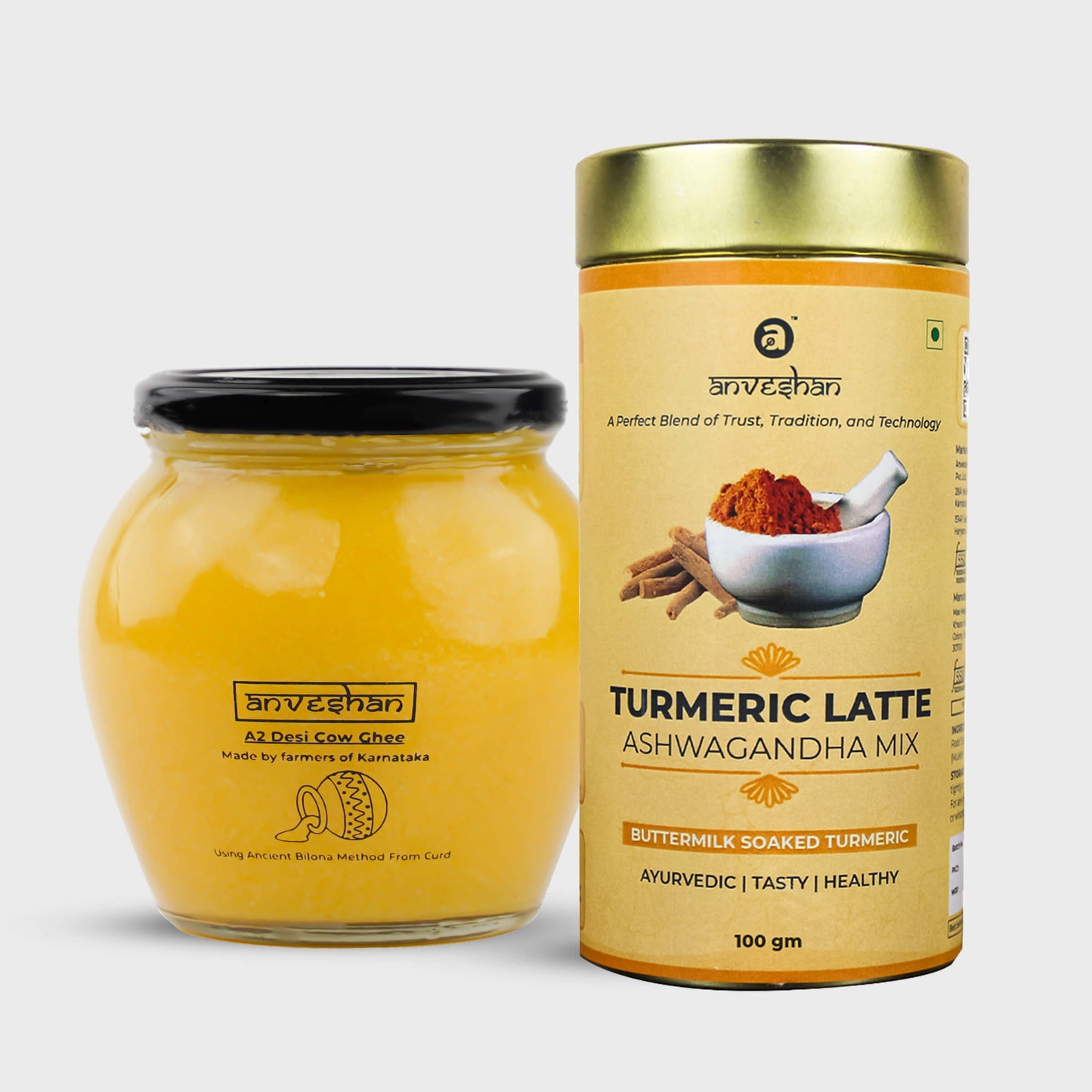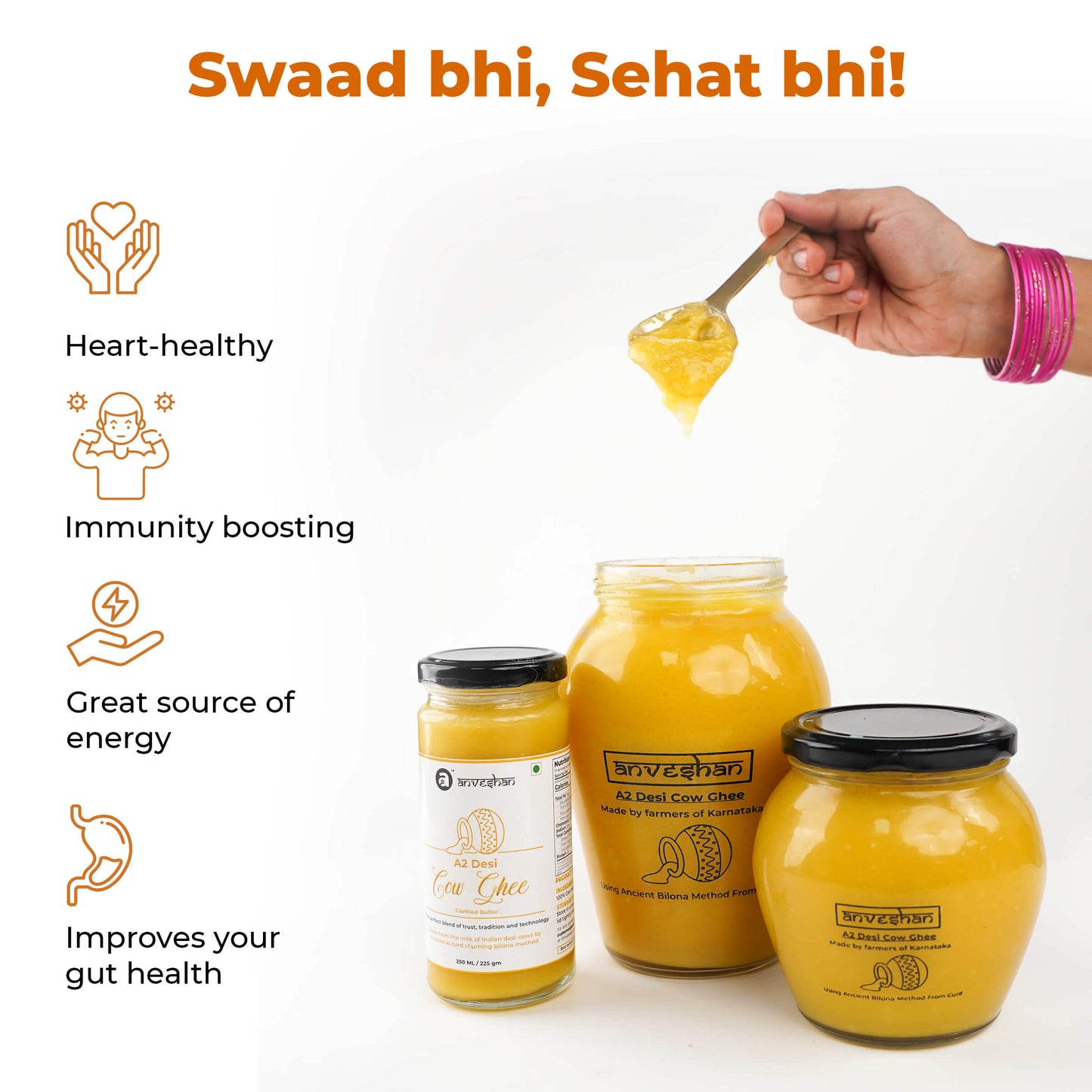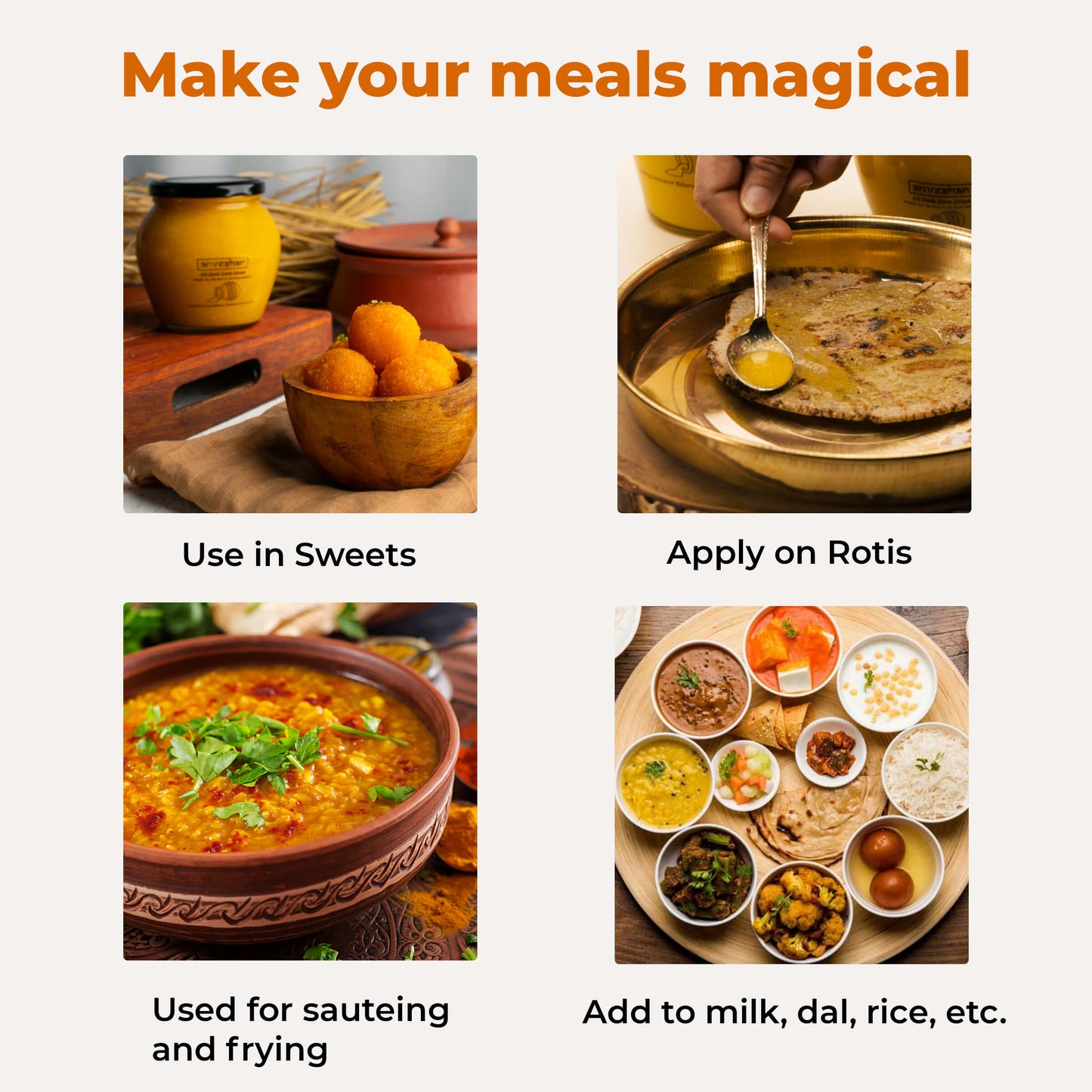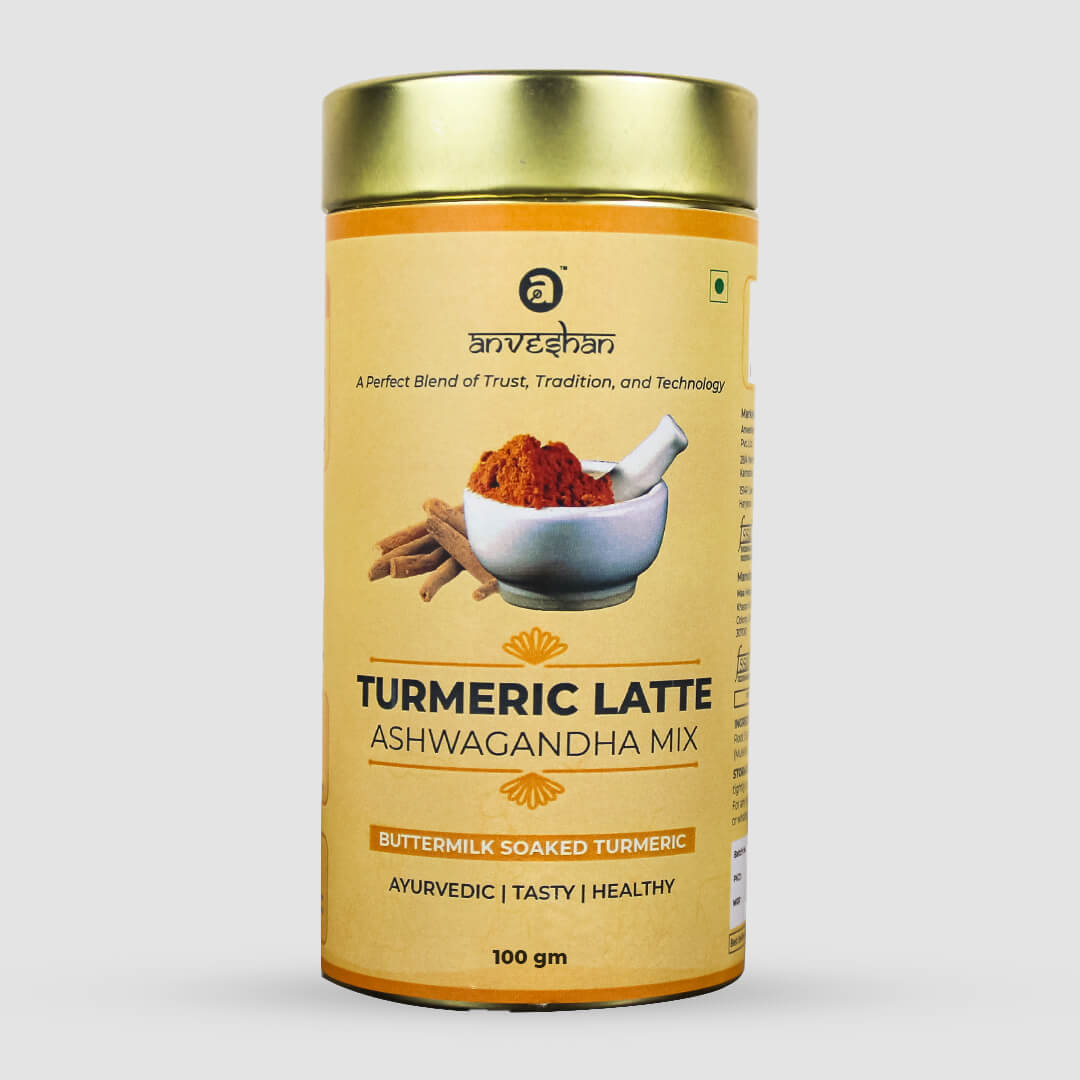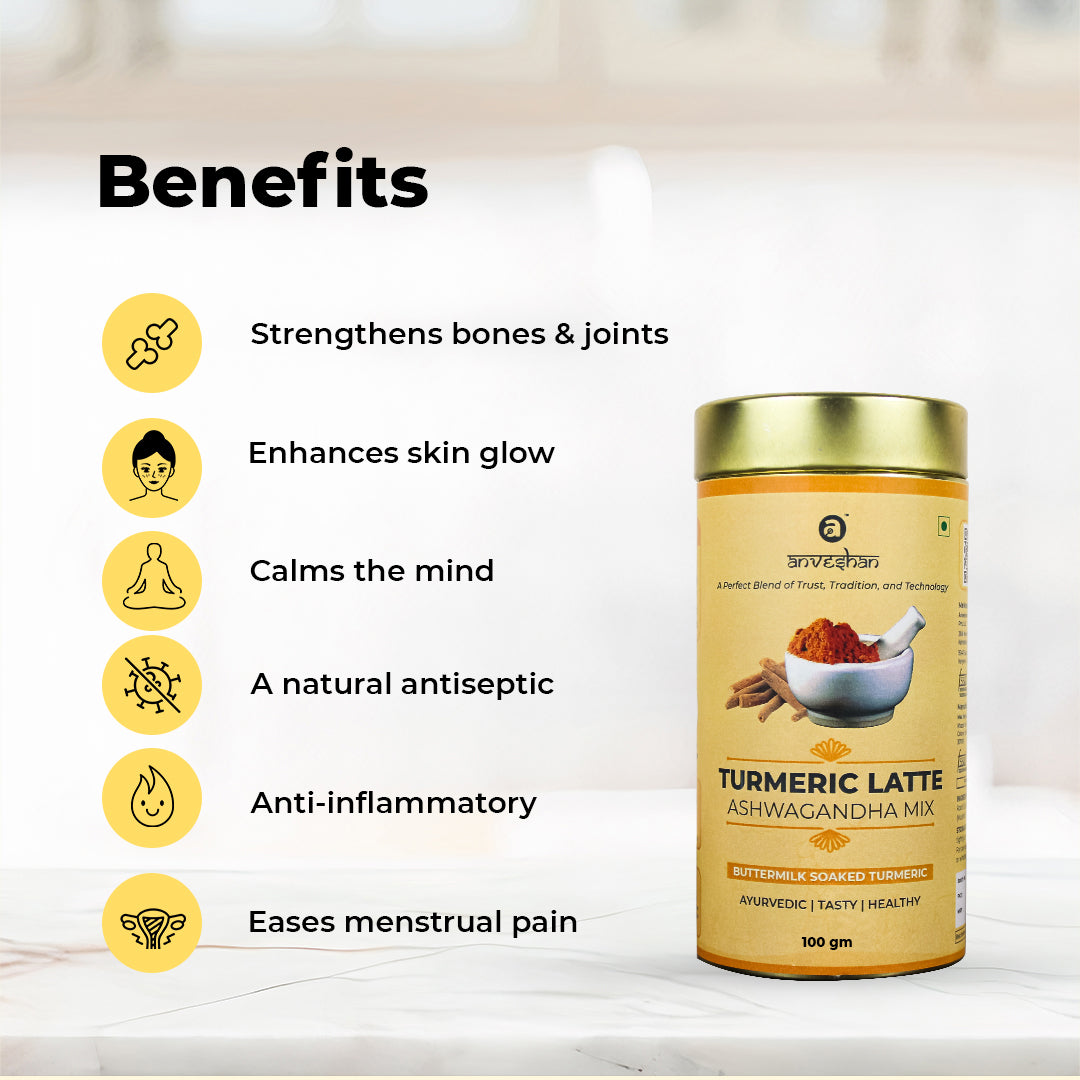 What's in it

A2 Desi Cow Ghee
Our bilona churned ghee is made from the milk of grass-fed Hallikar cows of Karnataka. Made in small batches, the ghee has a fresh and tempting flavour. Ghee is thoroughly lab-tested using 17 parameters to ensure quality standards.

Turmeric Latte
Made with 7 natural ingredients- turmeric, ginger, cardamom, ashwagandha, black pepper, long pepper and liquorice. Turmeric used is first soaked in buttermilk to enhance curcumin absorption. All the spices are stone-ground and mixed in set proportions.
How to use it?

Cures Cough
Mix a tsp of warm ghee mixed with ginger powder and have it.

Relieves Constipation
Have one tablespoon of warm/melted ghee at night before bed.

Baby Massage
Apply ghee and massage the baby gently. It has natural nourishing and moisturising qualities.

Brew Hot
Add a pinch of Turmeric Latte to a cup of boiling milk. Add a healthy sweetener of your choice.

Brew Iced
Add a teaspoon of Turmeric Latte to a cup of cold milk or your smoothies! Have these for morning breakfasts or post-workout meals.

Have it for Breakfast
Add a pinch of latte mix to your pancake or bowl of oatmeal for a warm, delicious, and wholesome breakfast.
Frequently Asked Questions
What should the consistency of my ghee be?

Generally, the consistency of ghee depends on the temperature at which you store it. At room temperature, it usually remains soft, and during winters, it solidifies. Depending on the temperature outside the jar, this process may happen quickly or slowly. It is perfectly normal for ghee to be liquid, solid, or a combination of consistencies.

Does the latte contain any sweetener?

No, our Turmeric Latte does not contain any sweeteners. Feel free to add healthy sweeteners like honey or jaggery powder to your drink!

Can I add ghee to my turmeric milk?

Yes, that is a super healthy combination! Add 1 teaspoon Turmeric Latte in boiling milk, 1 teaspoon A2 Desi Cow Ghee and your preferred sweetener.
You may also like
Regular price

₹1,799

Sale price

₹729

Unit price

per

Regular price

₹450

Sale price

₹389

Unit price

per

Regular price

₹370

Sale price

₹349

Unit price

per

Regular price

₹370

Sale price

₹329

Unit price

per
Coconut Oil and Ghee and Turmeric Latte and Moringa Satu
Both are good and we are enjoying them. Keep up the good work.
Excellent Product
The turmetic latte is excellent and goes well when given to all at home.
The ghee has a good natural aroma and the fat content is excellent. Perhaps thats how it should be taken considering the fact that its processed in the traditional way and the goodness of the minerals gets easily absobed at cellular levels in our body.
A2 Desi Cow Ghee and Turmeric Latte Combo
A2 cow ghee
Vary Vary good .good taste and my family people have loved it.it is required to reduce the price of ghee and I recommend others to use
Costly but good
It's easy to use and tasty. I have tried this with milk as Turmeric latte and with warm water as a Kadha and both works wonders for my body.
The pricing alone is on the higher side but when the health side is seen I just wanted to try it. I wish the price gets reduced.
Sneak peak into the healthy world